If you intend to stay in France as a visitor beyond your initial time period, it's necessary to renew your visa with the French authorities!
This post applies to people who are current holders of a Long Stay Visa in France. You must have already validated your visa online after moving to France and completed the required medical exam at the OFII.
I'll be describing my experience renewing my visa in Paris, but the post is relevant to anyone who lives in France on this visa!
If this is your first renewal, it means you'll be switching to the physical Carte de Séjour once this process is complete. It's an actual card that is separate from your passport. Keep in mind that "Titre de Séjour" and "Carte de Séjour" are interchangeable in French.
Update: Renew Online
2022 Update: Since writing this post, the process to renew a carte de séjour in France has changed. Now, in order to renew a titre de séjour in France, you must visit the Ministry of the Interior website and click "Je demande ou renouvelle un titre de séjour."
You can change the language setting at the top of the page if you don't yet speak French.
The website will walk you through the steps you need to complete in order to renew your visa online. You can fill in forms and upload documents directly online. You can even stop halfway through, save your progress, and come back to where you left off later on.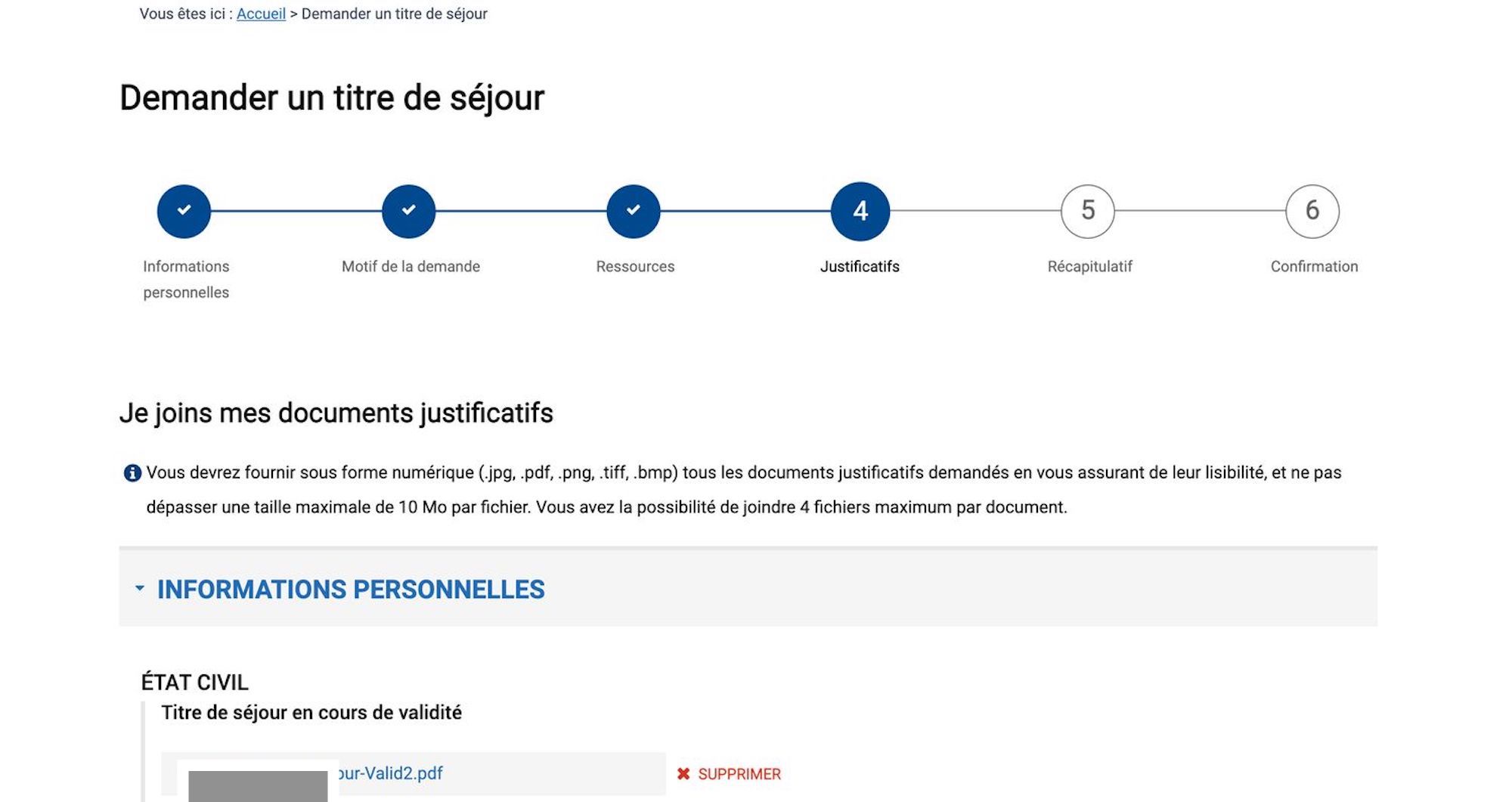 To submit a photo, you'll have to visit one of the many Photomaton kiosks around Paris to submit an ePhoto using a number. They are usually found in metro stations and at the local town hall.
Once your renewal request is submitted, you'll receive a PDF document titled "Confirmation du Depot" as proof that you have submitted your renewal.
At that point, you wait to have news from the Préfecture!
Here is the timeline of my French visa renewal this year:
August 21: I submitted all my renewal documents online and received a "Confirmation de dépôt" PDF document by email stating my application was processing, but travel was not authorized through Schengen borders.
August 29: I received an email stating I had a notification which was an "ATTESTATION DE DÉCISION FAVORABLE SUR UNE DEMANDE DE RENOUVELLEMENT DE TITRE DE SÉJOUR" PDF document, presumably replacing the récipissé we used to get. This document stated I had the right to residency in France and the ability to travel.
September 26: I received a text message saying my visa was available for pickup.
September (x): I used the Préfecture website to book a titre de séjour pickup appointment. Click the link that says "Prendre rendez-vous en ligne en cliquant ici." The earliest appointment was on November 28. I checked again the next day and luckily someone had canceled their appointment so I got an appointment for much sooner! Keep checking every morning for cancellations. Pay the tax online before going. The documents to bring include: valid passport or the attestation de dépôt de demande, the old titre de séjour, and in the case of theft, a police declaration stating so. Bring the QR code to prove you paid the tax.
I showed my convocation on my phone at the appointment. The tax to pay went up quite considerably this year to 405€!
Old Process: Renew In-Person
Some Prefectures in France still require residents to renew their long-stay visas in person. Here is the process to do so!
1. Make the Appointment
You must make an appointment to renew within two months before the expiration of your current valid visa with your local Prefecture. Don't worry if the actual appointment is after the expiration date of your visa, as long as you confirm the appointment within the two-month time frame, you'll be ok.
If you live in Paris, to renew your visitor visa, you need to visit this page and enter some information. If you have another type of visa, this page on the Préfecture website is where you'll find the right link to make an appointment.
The "N° de votre titre de séjour" section can be misleading. If you have a full-page visa sticker in your passport, that's not the number you need to enter. The actual number is found on the paper document you received after validating your long-stay visa online and paying the timbre fee. It typically begins with 99. The other information should be straightforward.
On the next page, you'll simply pick a time slot and confirm it. Be sure to download the "Convocation" PDF that will be generated – you'll need to bring this with you on the day of your appointment!
If your renewal appointment date falls after your visa expiration date, then it's wise to get a récipissé (receipt) from the Préfecture to keep you legal during the time in between.
2. Prepare the Documents
The Préfecture will also provide you with a list of documents you need to bring with you to the appointment. It's likely that more than what is on there will be required.
Here is what I brought and what was required during my French visa renewal appointment. Keep in mind you need to bring the original plus one copy of each document. Any English documents need to be translated into French by a certified court translator, a traducteur assermenté, which I'll explain how to do.
Items
Here are the physical items to bring:
Passport and/or Carte de Séjour
3 photographs (I got these taken at one of the many official photo machines you can find in different Paris metro stations. These cost 5€ each.)
A black ink pen
Paper Documents
Here are the paper documents to prepare:
Health Insurance
Proof of health insurance is required, just like it was during the initial long-stay visa application. I went with the Schengen Multi Trip plan from AXA which covers all medical expenses up to 100,000€. It costs 298€ per year. You receive a document certifying you are covered immediately after signing up online. I recommend doing this in French (you can change the language at the top) so that you receive the certificate in French and you don't have to pay to have it translated.
Financial Resources
You must show proof of either monthly income greater than the SMIC (French national minimum wage), or the equivalent of 12 months SMIC in a savings account. Do a Google search for "SMIC France" to see the latest figures. During my most recent visa renewal, the figure cited was 1231€ available per month to live in France.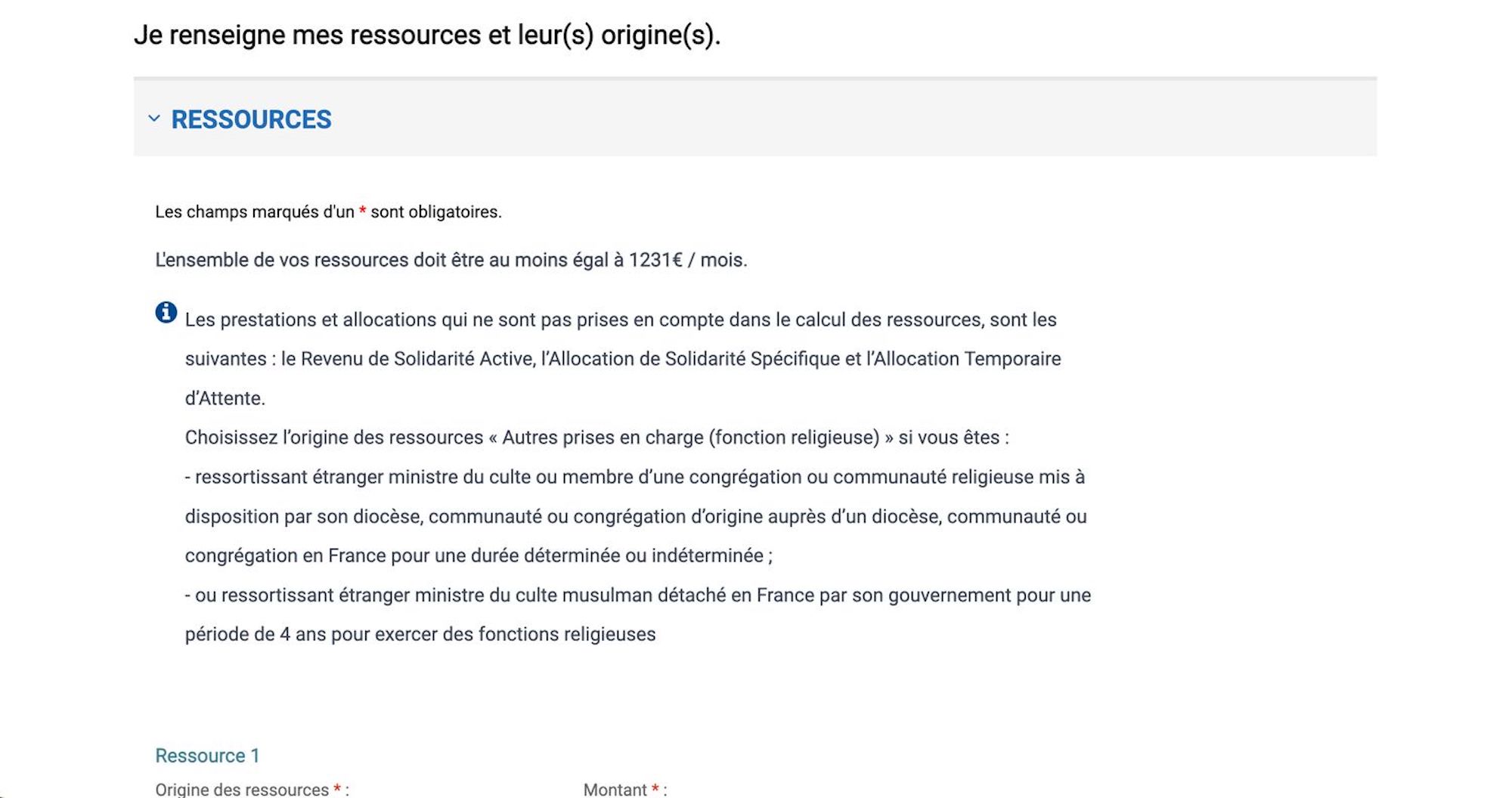 You can have this money in a foreign or French bank account. I have heard that the French authorities like to see you have opened a bank account in France as well, even though it's not stated as obligatory. I have the vast majority of my money in a US bank account, and only a few thousand in a French account to pay my rent, and this was acceptable. I submitted 3 months of translated US bank statements and one month of my French bank statement.
Passport Copy
You need to scan your passport with ALL entry/exit stamps and your original visa. You must make a copy of your passport and include the main identification page, your stamped visa page, and any other small stamped visa pages you currently have.
To save paper, I put four passport pages on one sheet of A4 paper. If you don't have a scanner, then I recommend the app Scannable. I held up my passport pages to a window in my apartment with one hand took the scan using that app through the other side of the window!
Birth Certificate
I had originally ordered a long-form birth certificate with Apostille from my state's Vital Records department. I later read that a traditional short-form birth certificate was acceptable. I am happy I got the long-form though because with French bureaucracy, it's best not to risk it! In any case, you need to have this document professionally translated into French if it's in another language.
Proof of Address
Proof of address, or justificatif de domicile, is a common request when it comes to French administration. For this requirement, an electricity bill or Quittance de Loyer from your landlord is sufficient. In my case, I moved about one week before my appointment so I brought a Quittance de Loyer and a document from my electricity company saying that I had signed a contract with them at my address. It seems like one or the other would be sufficient but both were taken at my appointment.
Statement to not work
Just like on the original application, you need to handwrite a statement saying you will not exercise professional activity in France. I used this template to write the following sentence:
Je soussignée (my name), demeurant à (my address), atteste sur l'honneur que je n'exerce aucun activité professionnelle en France.
OFII Medical Visit Certificate
I kept the printed copy of the OFII Medical Visit certification that I was given by OFII several months back and brought this along with me.
Extra
Here is what I brought just in case, but it actually was not required:
Home Insurance: Called Assurance d'Habitation, this is a requirement to have in France. I heard from several people that this was required, but they did not ask me for it, and refused it even after I volunteered it! I honestly would bring proof of this just in case if I were you.
Apartment Lease: I brought a copy of my lease as I had just moved apartments a week prior, but this was not needed.
3. Get Foreign Documents Translated
While it was ok to submit some documents in English to the Consulate in America, once you're in France, everything must be in French!
But here's the thing about getting things translated in France: it isn't as simple as calling up your friend who's obsessed with French grammar and asking them to translate for you. Like just about everything in France, there is an official government organization dedicated to certifying official translators, known as traducteurs assermentés. They are certified by the Court of Appeals, or Cours d'Appels.
Here are two sites that will be helpful in your search for a certified English to French translator:
Of course, translators certified by the French courts charge a premium for their services as they know that people are required to use them. It's just part of the joys of a big government system!
Translating documents from English to French will run you about 50€ per page. That means a few pages of documents can quickly add up to a hefty invoice. If you look around, you can find translation quotes for around 30€ per page.
Personally, I messed this part up a little bit for my situation. When I originally looked at booking my renewal appointment, there were many slots available in July and August, so I sent in my June bank statement to be translated. After just one week, all those appointments were taken and the next available appointment was not until September!
(Side note: definitely book your appointment before sending documents to get translated. That seems obvious but I was actually waiting for my birth certificate in the mail at the time and wanted to wait until I had that physically in hand before making my visa renewal appointment.)
So since I had already paid for the June statement translation, I used the same format and translations the "official" translator used to translate my July and August bank statements. I have a design program on my computer so this was relatively easy for me to do. It's just a little risky because there is a very official stamp on each page that has been translated by a traducteur assermenté and obviously I couldn't have this stamp on my personal translations.
But I decided to try it anyway. I figured that because the officially translated June statement was within the last 3 months (the time limit for many French documents), it might be ok. I had no idea if this would be acceptable and luckily it was!
So all in all, I paid about 30€ for the birth certificate translation and 100€ for two pages of bank statement translations.
4. Go to the Renewal Appointment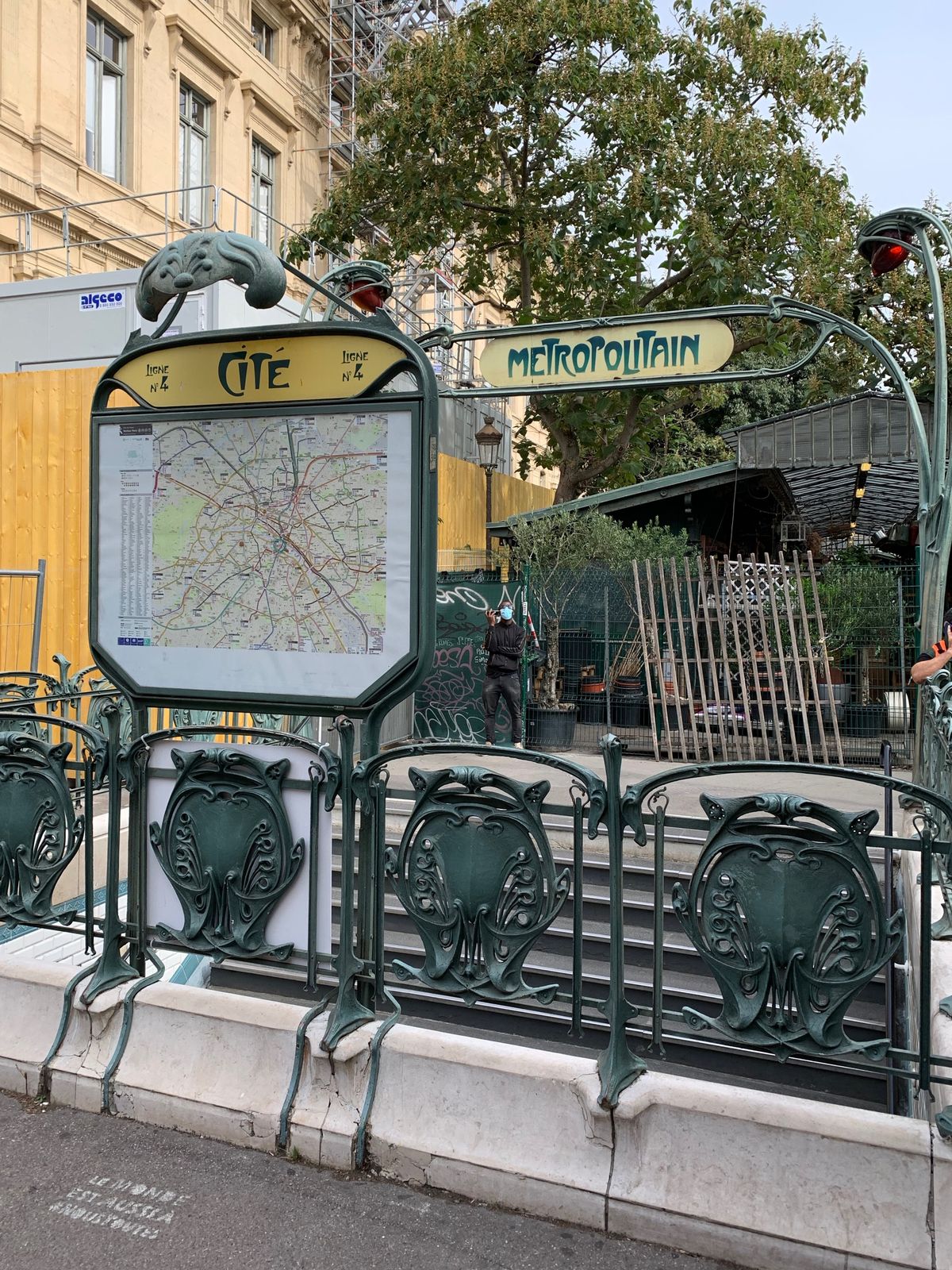 Once my paperwork was in order, it was time for the actual renewal appointment!
My rendezvous was scheduled for 11:45 am on a Tuesday. I arrived at 11:15am to the Paris Préfecture de Police on Île de la Cité. I walked to the building but you can also take the Paris metro line 4 and get off at the Cité stop. The Préfecture building is quite large, and I wasn't sure where the right entrance was, but I did find it: right on Rue de Lutèce. You'll see a large brown door and a line of people waiting outside.
As with most things in France, just because you see a line, doesn't mean you have to wait in it! The people waiting in line don't have an appointment, so just ignore them.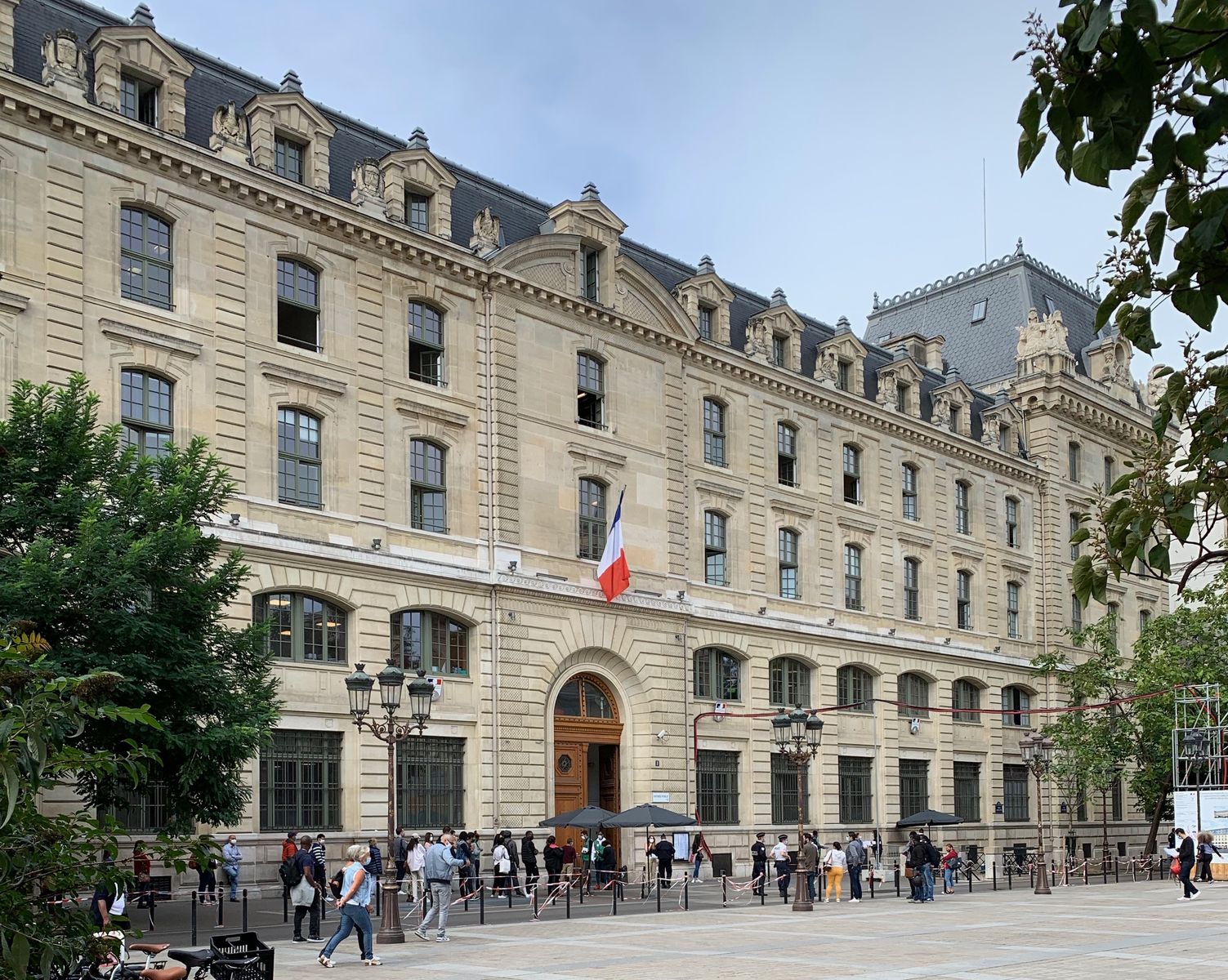 You actually want to walk right up to the cops guarding the entryway and show them your Convocation. Yes, you need to print out your Convocation paper and show it to the various security guards about three times before you can even enter the building! This should be the first page on top of your dossier for easy access. Don't arrive more than 30 minutes before your scheduled appointment time or they will not let you in.
Once inside, I wasn't sure if I should wait in the lobby or continue onwards. No one stopped me so I kept moving until I saw a long outdoor hallway. This is where I needed to go and find my assigned room or Salle. For me, it was Salle 3 (vert/green) which was easy enough to find, as there were large signs in the hallway.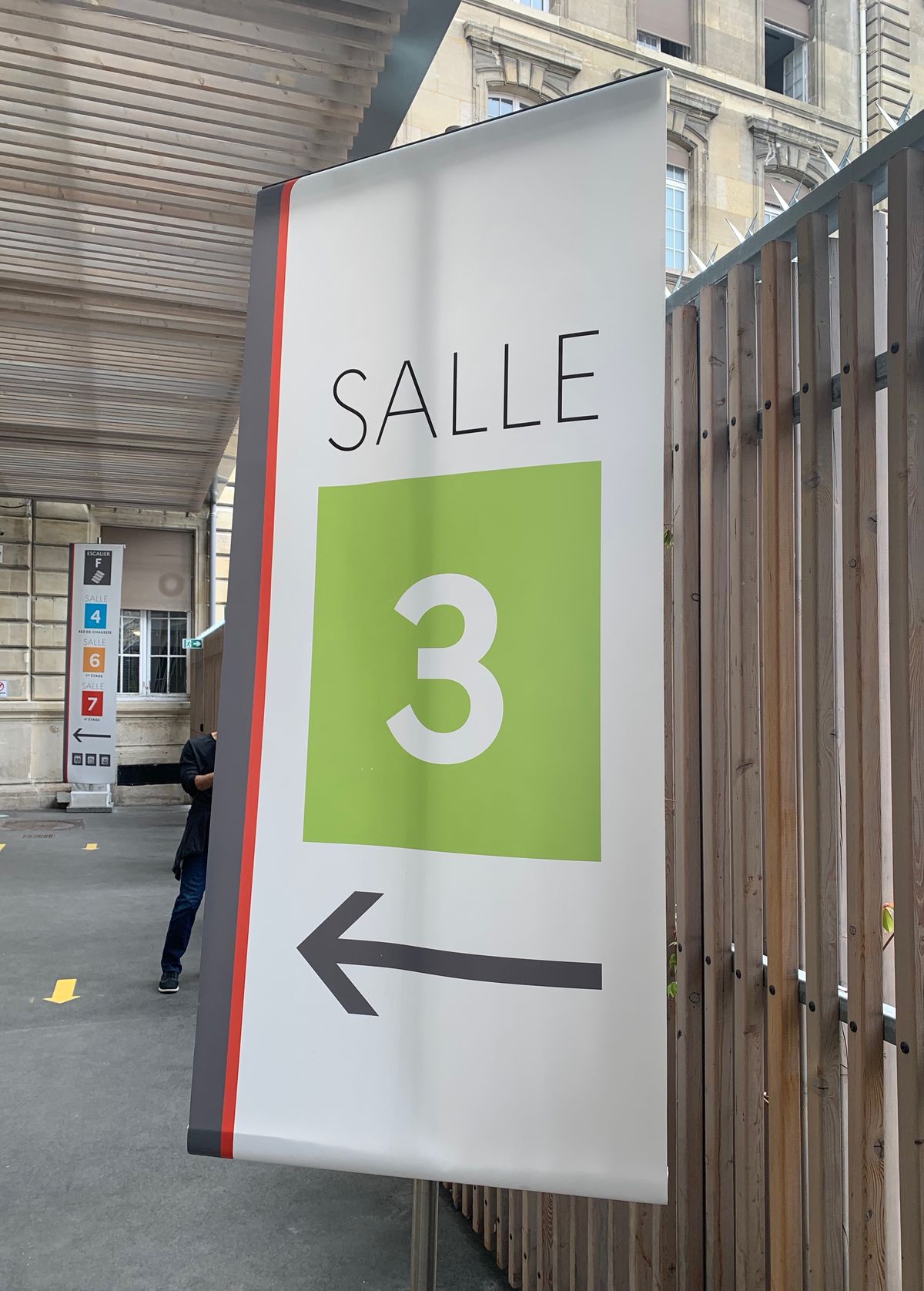 Once inside Salle 3, I saw two separate waiting rooms. Luckily I spotted the ticket machine because otherwise, I wouldn't have known to take a ticket in order to get called. There were two options: Salarié and Visiteur so I pressed the second one and got a ticket marked "V13."
I also took one of the paper visa applications available nearby and filled it out. There wasn't a reception desk there so I was essentially guessing what I needed to do. This paper form ended up being necessary so it was a good thing that I filled it out while I was waiting! Be sure to bring a pen with you so you can fill out the form and avoid touching one of theirs.
Bizarrely, there was some sort of alarm that went off right after I took my ticket and we all had to wait outside in the hallway for 15 minutes. This slowed things down, but eventually, around 12:10pm I was called in for my meeting.
I sat across from a woman who was very kind and asked me for my documents one by one. She wanted to see my passport first and then took my photos. She said only two photos were necessary now but I would still advise bringing 3 as noted on the list. The rest of my documents she took one by one and compiled them in a paper folder with my name on it. She did examine each document to ensure it was compliant before adding it in.
Funnily enough, she actually forgot to ask for my OFII Medical Certificate which I got after completing my medical exam in Montrouge. When I saw her wrapping up the preparation of my folder, I asked if she needed this and she replied, "Ah oui, vous avez raison," or "Yes, you are right," and she happily included it in my folder. Good thing I said something!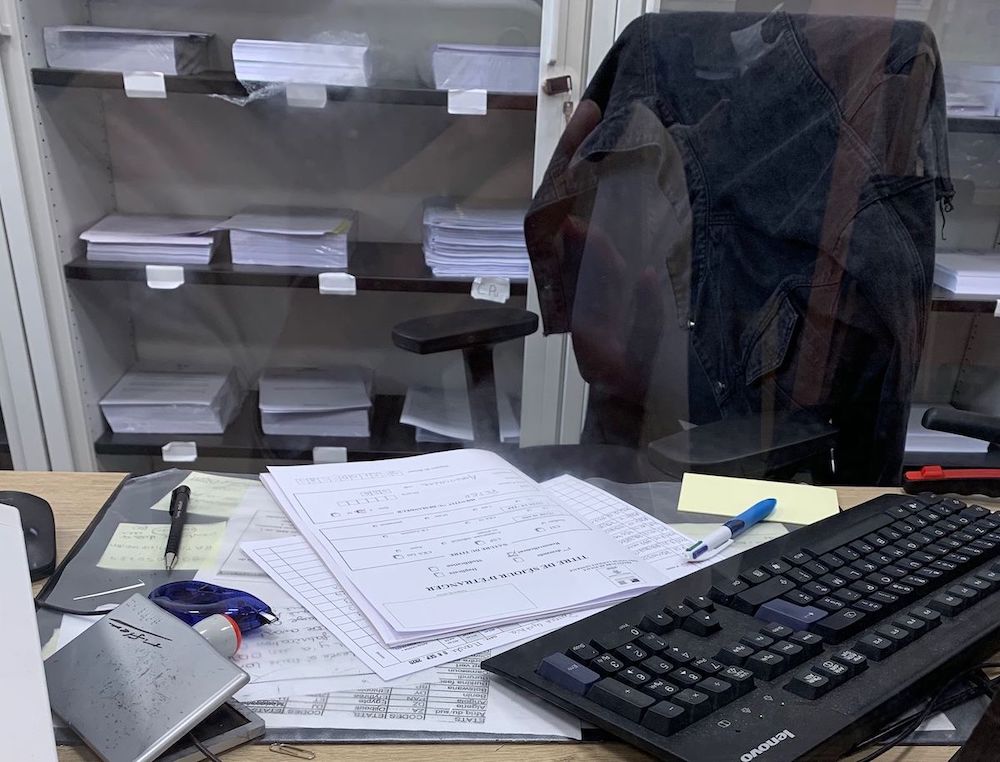 My fingerprints were taken on the nearby machine next. She then printed a récipissé which is an official document extending the validity of my visa. I asked her if I could travel with this visa (I had a trip to the US planned) and she said yes, thankfully! My récipissé was valid for the next 3 months. She explained that I would receive a text within 2 months with a date to pick up my Carte de Séjour. I would also need to pay the tax stamps, or timbres, online in the amount of 225€ and bring proof of payment in order to receive the card.
The only thing left to do now is to wait!
I hope my experience at the Paris Préfecture de Police on Île de la Cité was helpful in informing you on what to expect during your long-stay visitor visa renewal appointment in France!
Next, read about my experience picking up my Carte de Séjour after my visa was approved.