If you are in the situation where your French visa expires before the soonest appointment available for renewal, it's highly recommended to get a récépissé from your local Préfecture to bridge you for the time in between.
A récépissé is an official French document that declares that you have submitted a visa renewal request and are awaiting its processing.
Send a Message
If you live in Paris, you need to start by sending a message to the Préfecture here.
I sent a very simple message on a Tuesday morning and much to my surprise, 10 minutes later, I received an email response back from the Préfecture with a Convocation to get a récépissé just two days later!
Here was my original message:
The email response was very simple and the Convocation included a short list of documents I needed to bring in order to get my récépissé.
Gather the Documents
Here is what the document listed that I needed to bring:
Photo

Quittance de Loyer

My Convocation for Visa Renewal

Passport
I also printed out the Convocation I needed to get the récépissé. So essentially I brought the two convocation papers.
Visit Your Assigned Prefecture
If you live in Paris, you will likely be directed to the 17th arrondissement of Paris with the exception of residents of a few arrondissements. I arrived by metro and the Préfecture is just a short walk away.
My appointment was at 9:45 and I arrived at 9:30. There were 3 people ahead of me. Two of them did not have a Convocation and were turned away, though it appears that the security guard gave them instructions on what to do. The other woman said her appointment was at 9am and she was late. The security guard and the police officer in the lobby were not happy but gave her a number anyway. I got my ticket at 9:40 and was called in at 9:50.
The woman who assisted me first asked for my Carte de Séjour, which was the large visa stamp on my passport. I handed it over to her. She then asked for my "Justificatif Domicile" which for me was my most recent Quittance de Loyer proving my address.
She asked if I had my birth certificate. This surprised me as it was not on the list of required documents. I thought I didn't have it, so she asked me to write my parents' names on a piece of paper. I then realized I did in fact have this on me in my folder and gave that to her to make it easier.
Lastly, she asked me for a photo which I had already prepared in a metro station and cut out. She took the cut photo and started printing my récépissé!
All in all, it was a smooth and easy process. I was out of the Préfecture by 10:04 with my récépissé in hand! 30 minutes total, not too bad.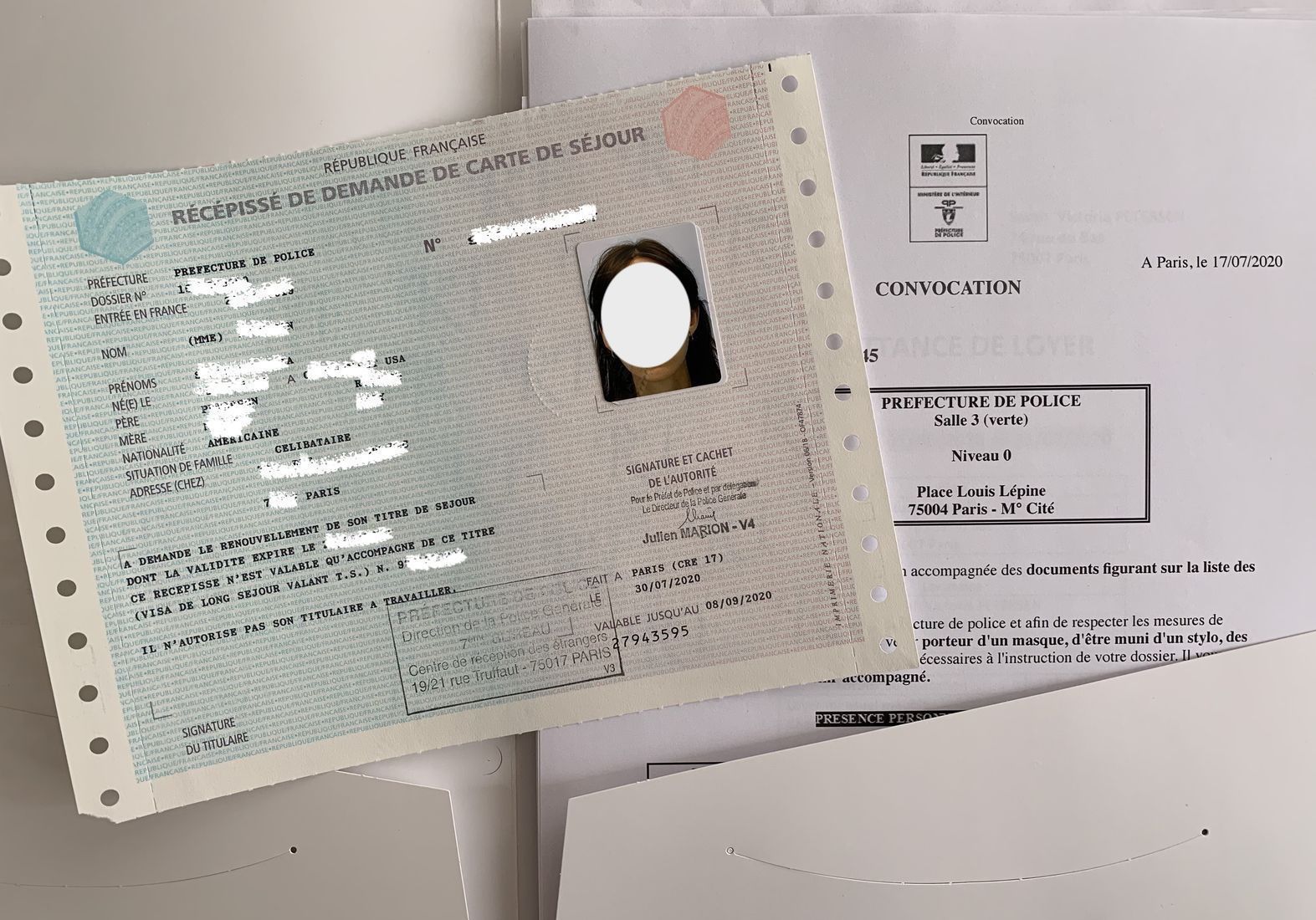 More from the French Long Stay Visas series: