The notoriously bureaucratic ​​Paris Prefecture has recently integrated some digital technology to streamline the reception of foreigners by way of a kiosk installed outside in front of its headquarters at 1 rue de Lutèce.
If you live near the capital, you can benefit from the assistance of a friendly immigration employee to carry out certain procedures relating to French residence permits. Simply make an appointment and then show up to the E-kiosk, set up by the police headquarters of Paris.
The move isn't surprising as each time I visit the Prefecture for an immigration appointment, there is always a small group of people without an appointment beginning to be let in so they can ask questions.
Proposed by the immigration department of the police headquarters, this support kiosk is intended to support applicants in person with some of the immigration procedures like French visa renewals. It will hopefully help field non-scheduled visitors away from the Prefecture entrance.
According to the Prefecture, the following situations can be handled by the kiosk:
Formal Applications like a Travel document for foreign minors (DCEM), Récépissé renewal, Change of address
First applications for a residence permit (young adults, spouses of French nationals, family members, professional immigration)
Administrative procedures for foreigners in France (namely students and passeport talent visa holders)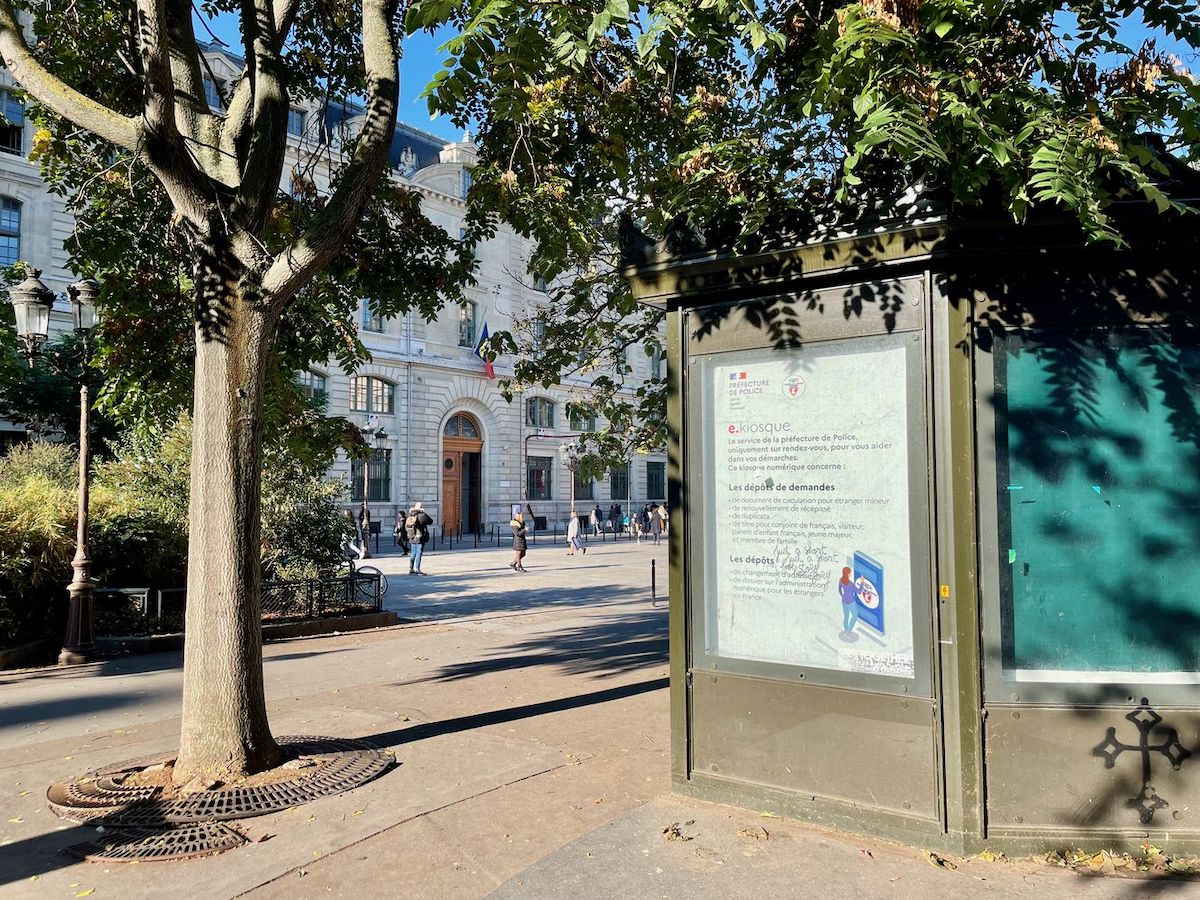 What is the E-kiosk?
Since many foreigners may find it difficult to apply online for the renewal of certain residence permits or difficult to organize the different documents required, the E-kiosk can assist those in need.
By appointment, foreigners can go and complete their applications online with the help of the French in-place civil servant advisers.
Despite it being called an "e-kiosk," rest assured that there are physical attendants (civil servants) waiting to assist you. It's considered a digital initiative because you must make an appointment with them online beforehand.
Who can benefit from this digital support?
To take advantage of this service offered by the Paris police headquarters, all you have to do is be a foreigner and need to apply for a permit, which is now obtained completely electronically.
If your request can go through the internet, all you have to do is make an appointment with the E-kiosk and show up with the supporting documents requested to take advantage of this free assistance.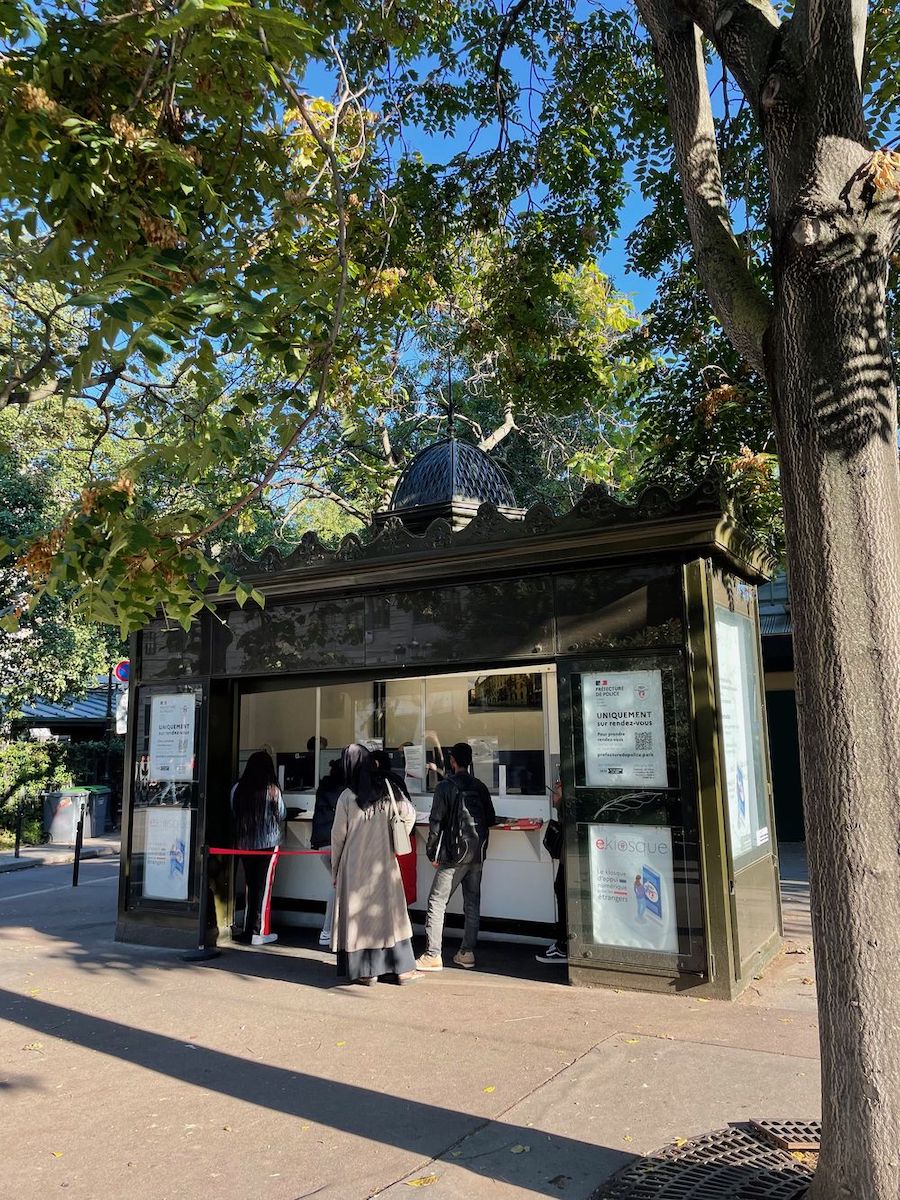 What applications can be done at the E-kiosk?
During your appointment at the E-kiosk, a civil servant can make the following requests online.
Applications for a first residence permit
With the help of a civil servant, you can apply for a first residence permit when you are in the following situation:
you have just reached the age of majority
you are a foreigner, but the spouse of a French person
you are a child or the parent of a French person
you are a professional in France, such as a seasonal worker
Requests to renew certain permits
You can also benefit from the support of E-kiosk advisors for:
apply for a DCEM (circulation document for foreign minors)
Renew your Récépissé
request a duplicate or the modification of an existing residency permit because you lost yours or need to change the address
Administrative procedures for foreigners in France (ANEF)
By visiting the E-kiosk, it's also possible to make requests for:
student residence permits
passeport talent residence permits
modify your personal situation on an existing residency permit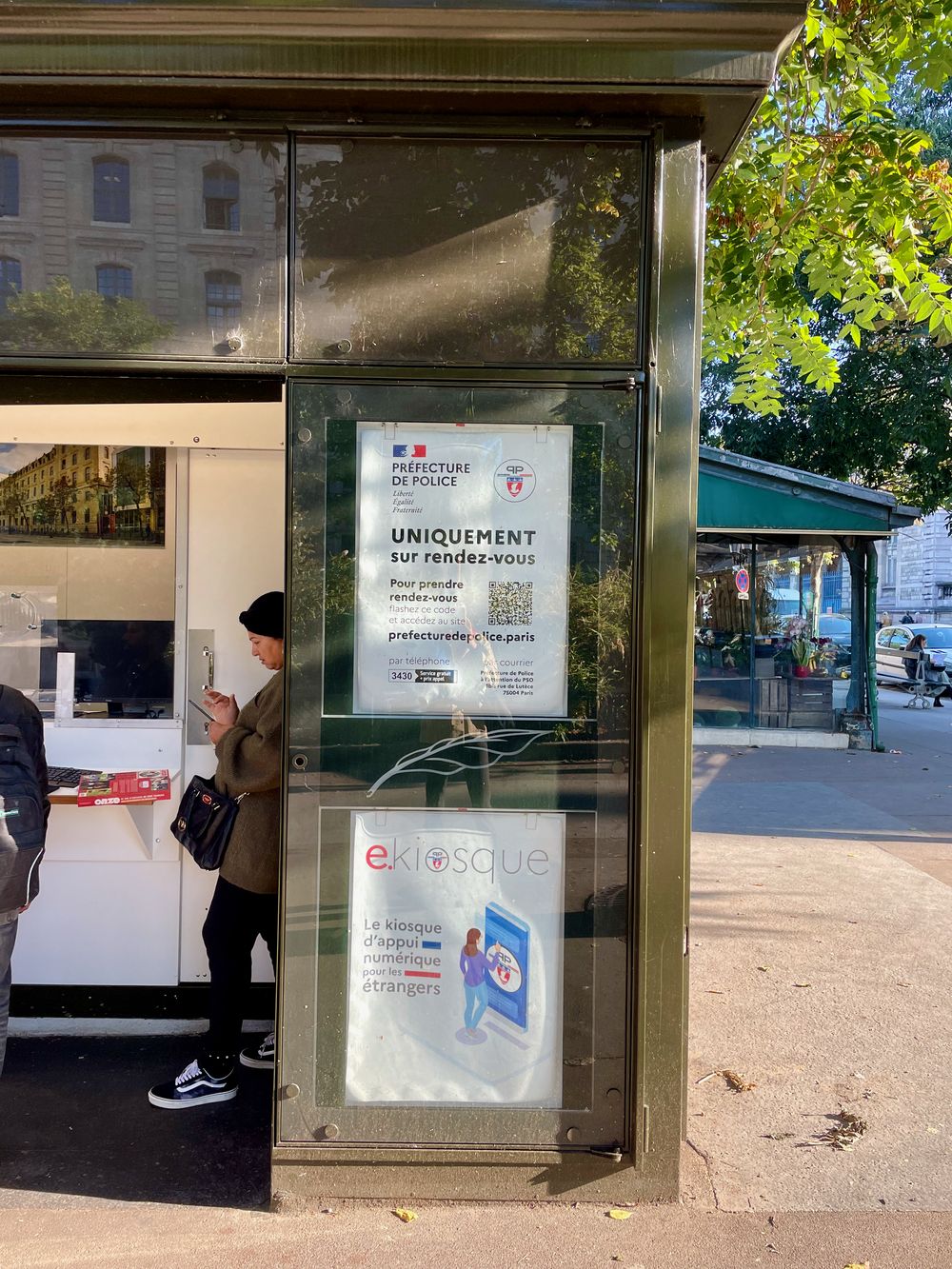 How do I get an appointment with a civil servant at the e-Kiosk?
To get an appointment with a civil servant at the E-kiosk, request a meeting slot online here or by calling 3430 on your phone.
Remember, you can only meet with a civil servant by appointment only!
Alternatively, you can send a letter to the Préfecture de Police, Attention PSO, 1, rue de Lutèce, 75004 Paris and request an appointment by mail.
Make sure you arrive at the appointment with the requested documents (in digital or printed format, depending on what you need.
What supporting documents should I bring?
Depending on the reason for your visit to the premises of the E-kiosk, the supporting documents that you must bring in the form of a photocopy or in digital format may vary. Check ahead of time to verify what you need!
DCEM request
If you are here to apply for a circulation document for a foreign minor, you must bring the following supporting documents:
a document that proves your identity
a document attesting to your nationality and that of your minor child
photocopy of your family record book
a photocopy of your resident card
documents attesting to your child's schooling in France
a proof of address that is less than 3 months old
3 recent identity photographs
an electronic fiscal stamp (timbres) with a value of €50
First residence permit application
If you go to the E-kiosk in order to make a first application for a residence permit online, you must come to your appointment with the following additional documents:
proof of civil status
birth certificate
proof of nationality
proof of address less than 3 months old
3 recent identity photographs
a sworn statement committing you not to practice polygamy in France
An official document that certifies that you reside in France, whether through your spouse, your parents or your children
proof of purchase of the tax stamp that you must present on the day your residence permit is issued to you
Application for a residence permit for professional reasons
If you have to stay in France for professional reasons, go to the E-kiosk with the documents listed below:
your valid residence permit
proof of your nationality
proof of address
3 passport photographs
proof of payment of the tax stamp relating to your request
a certificate from your employer
a work permit
a medical certificate issued by the OFII certifying that you are healthy
I hope this new e-Kiosk is helpful to the many foreigners who call France their home – or wish to!