Amid the cafes, museums, and high-end stores, there are hundreds of plazas in Paris, the capital of France. These public spaces are the perfect spots to unwind and enjoy the city before embarking on your next adventure. They're a huge part of what makes the City of Lights such a special, unique place to visit, compared to the other bustling, tower-filled skylines of other big cities.
With so many plazas in Paris to choose from, you'll want to focus on the best of the best for your trip to the city. They have "squares," typically considered to be smaller green spaces, and "places," large landmarks with history and monuments. It's all well worth visiting, but there are 12 beautiful plazas in Paris that demand to be seen.
Place de la Concorde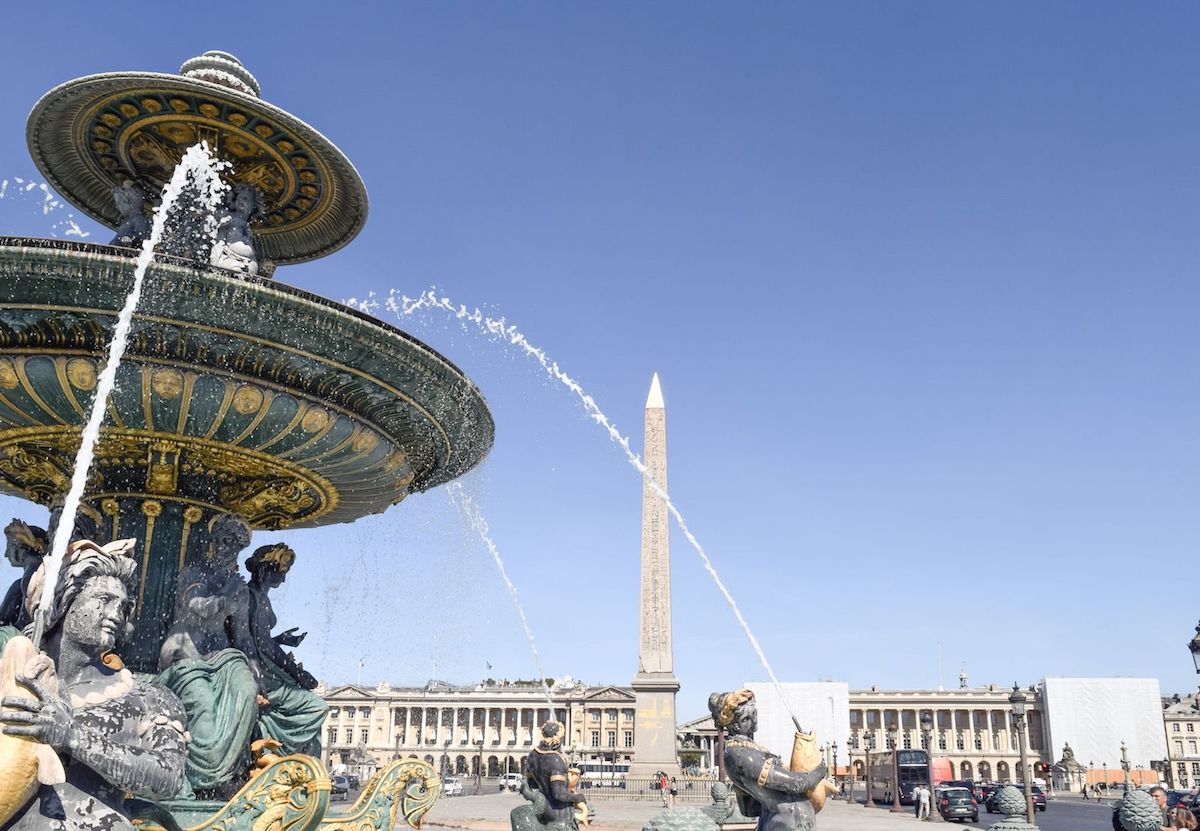 The biggest plaza in Paris is 19 acres and was once dedicated to Louis XV, but the people reclaimed it in the French Revolution, naming it Place de la Concorde. At the center of the plaza are the two Fontaines de la Concorde, incredibly elaborate fountains of iron and bronze celebrating the rivers and seas of France. Between them is an ancient Egyptian obelisk, created thousands of years ago.
Adjacent to Place de la Concorde lies Avenue des Champs-Elysees, the Tuileries Gardens and a bridge across the Seine. Stand in the plaza where King Louis XVI and Marie Antoinette were executed, where the Tour de France crosses the finish line, and where the beauty of Paris surrounds you.
Place Vendôme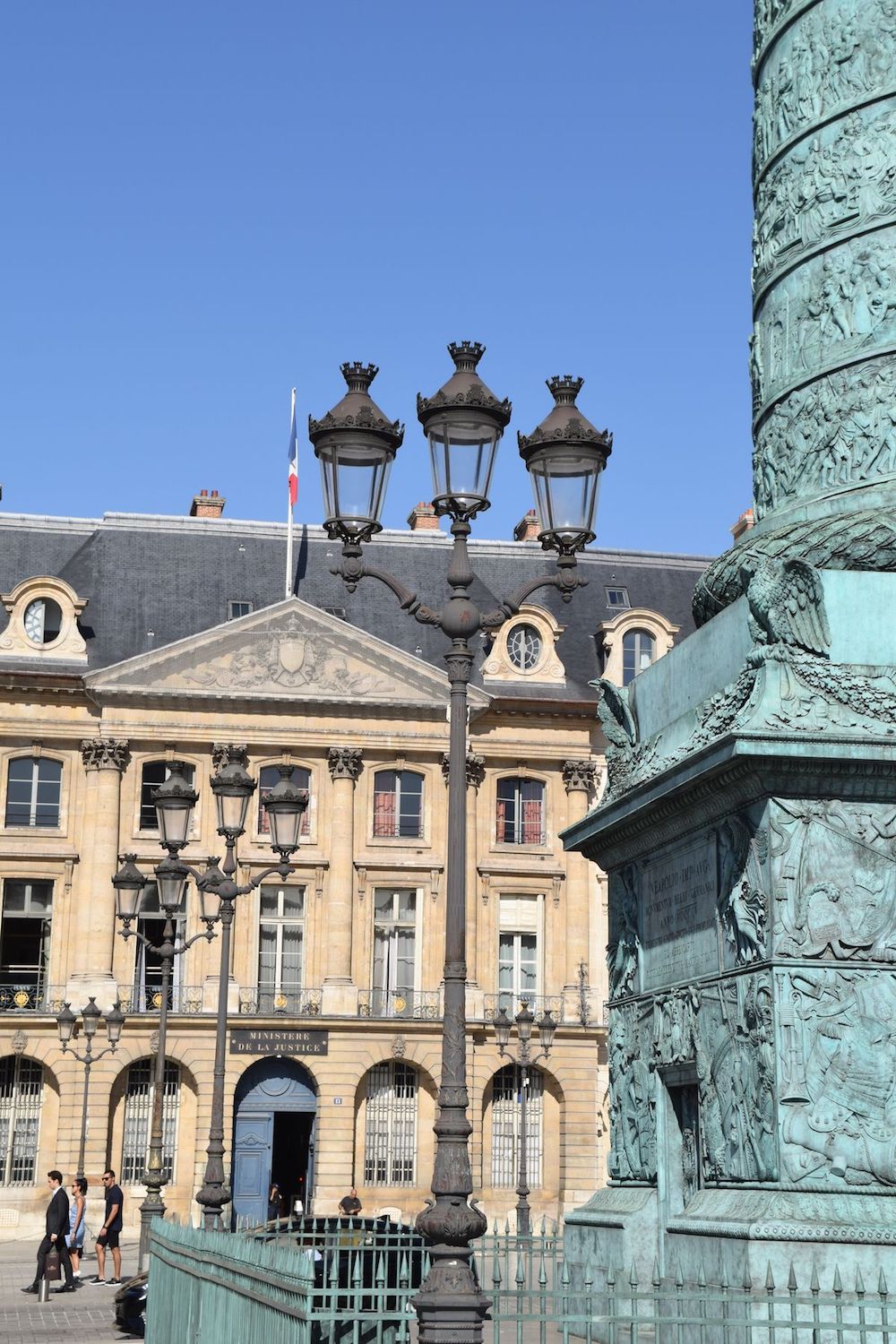 Perhaps Napoleon's favorite of the plazas in Paris, Place Vendôme once belonged to King Louis XIV, with one of the world's largest equestrian statues at the center. However, it was torn down in the French Revolution and later replaced by Napoleon with the massive Vendôme Column.
This historic 145-foot-tall column is made from hundreds of captured enemy cannons and is topped with a statue of Napoleon. Surrounding the plaza are upscale jewelry boutiques and luxe hotels like the Ritz.
Place des Vosges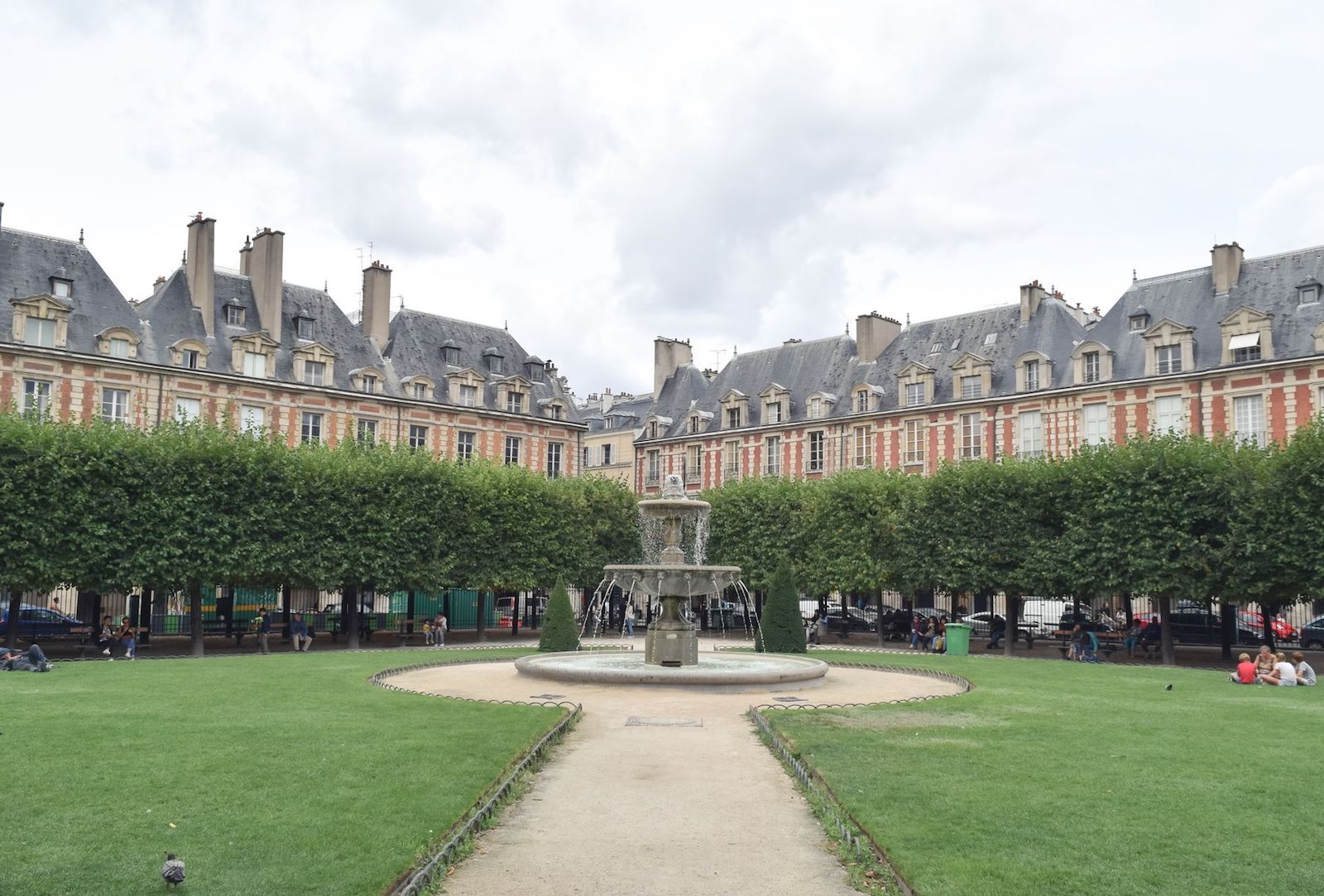 Welcome to the city's oldest planned public square, originally known as Place Royale. Located in the medieval yet fashionable Marais district, Place des Vosges is marked by red-brick facades, lovely greenery, and renowned museums. If you're looking for a picnic or afternoon socialization, this is the plaza for you, with easy access to a buffet of nightlife. During the week in summer, you'll see many students lounging on the green grass in this sunny park! Place des Vosges is a must-visit in the 3rd arrondissement of Paris.
Place Dauphine
While creating Place des Vosges, King Henry IV began work on Place Dauphine, named after his young son. Located on Île de la Cité—also home to the Notre Dame Cathedral—this purposefully planned, peaceful plaza is surrounded by cafes, cobblestone streets, and galleries. Come for the calm, stay for the shade, and leave via Pont Neuf, the oldest standing bridge across the Seine.
Place Saint-Sulpice
Some plazas stand out due to one particular feature, and for Place Saint-Sulpice, it is of course the Saint-Sulpice church. The 18th-century Roman Catholic church is the city's second-largest, close behind Notre Dame. The square also features a Fountain of the Four Bishops, featuring four statues of renowned 17th-century bishops. Visit at the right time for pink-flowering chestnut trees and antique flea markets. This plaza is located in the chic 6th arrondissement, home of Saint-Germain-des-Près.
Place de Furstenberg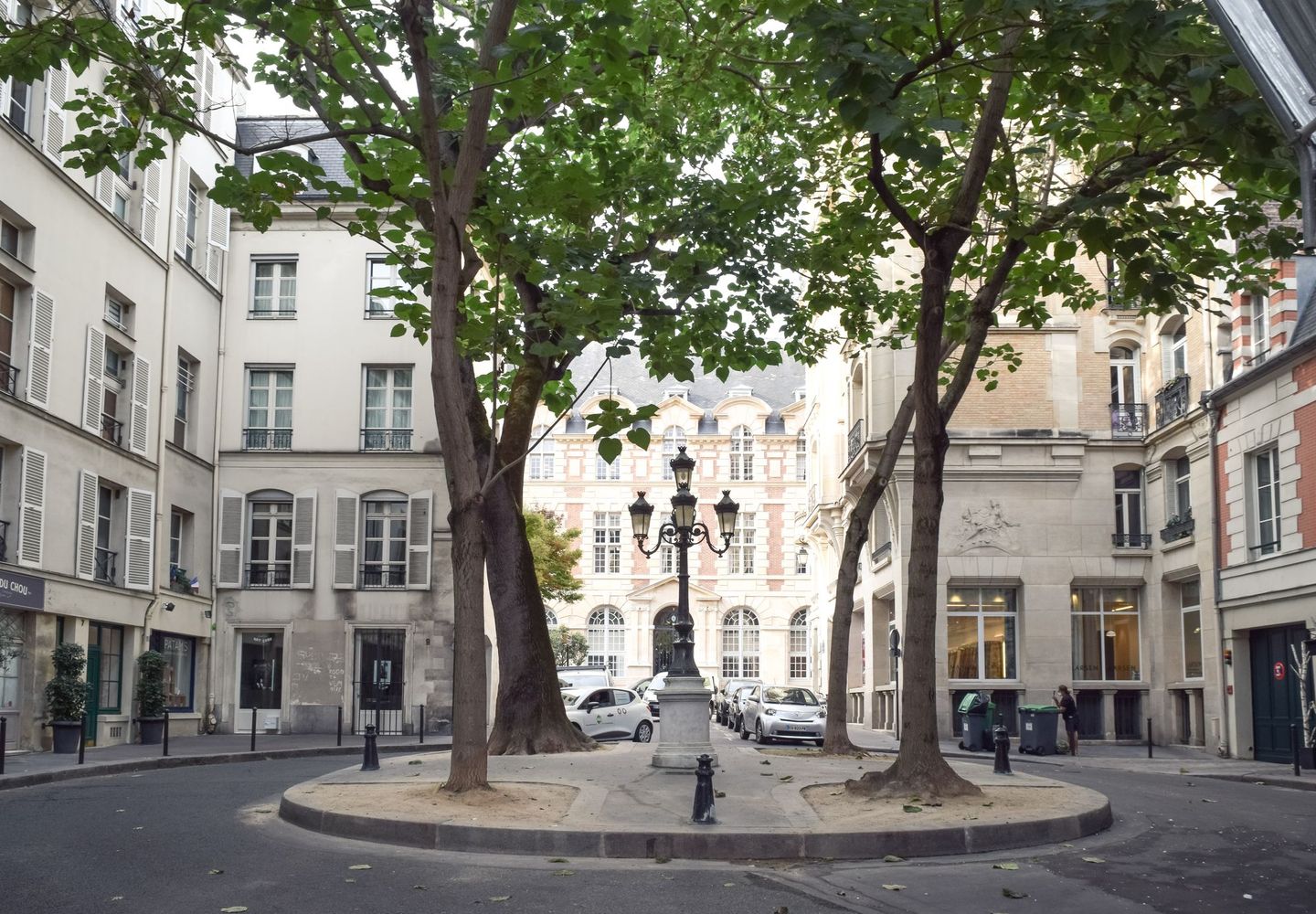 The plaza that doesn't officially exist, Place de Furstenberg—or Rue de Furstemberg—is a small faux courtyard created by beautiful buildings surrounding a small central "island" with four Paulownia trees. Don't mind the road, as cars aren't common here, making this the perfect place to stroll aimlessly. Admire the independent Paris art galleries, boutiques, and cafes, and say thanks to the statue of German cardinal Guillaume-Egon de Furstenberg while you're at it!
Place Rodin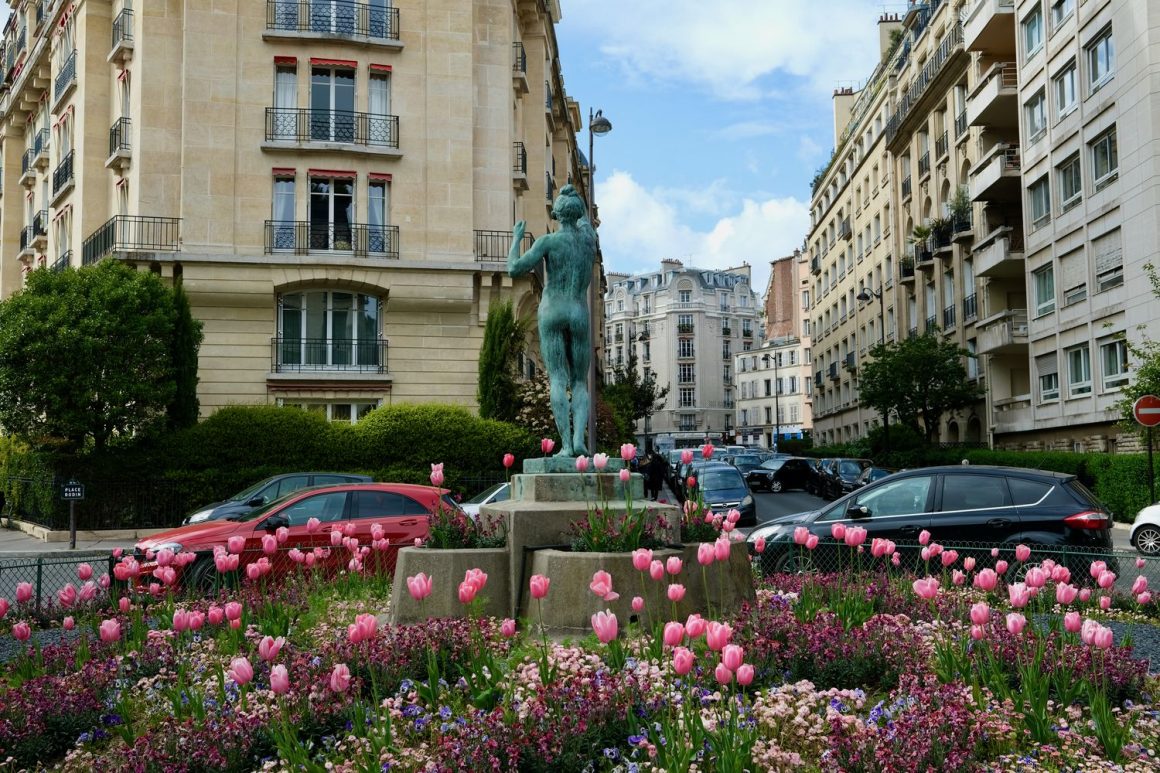 Another plaza defined by its surrounding streets, Place Rodin is really a large roundabout connecting five wonderful avenues full of shops and eateries. At the center lies a statue of sculptor Auguste Rodin, built in 1877, surrounded by flowers.
Right nearby is the Jardin Christiane Desroches-Noblecourt. This grassy, flower-filled public park has a playground for children, ping-pong tables, and a beautiful garden. Start here and then walk the streets, exploring the surrounding area.
Place Saint-Georges
A very similar plaza in Paris is Place Saint-Georges, created by the intersection of Rue Saint-Georges and Notre-Dame-de-Lorette. At the center lies a fountain and bust of illustrator Paul Gavarni, but the square is really made up of the luxurious surrounding mansions.
Most people visit the library museum of Dosne-Theirs Foundation, and tucked behind that building is the quiet little Square Alex Biscarre, an urban park, and garden with a playground. The neighborhood is alive and well, close to everything you could want from the city.
Place des Victoires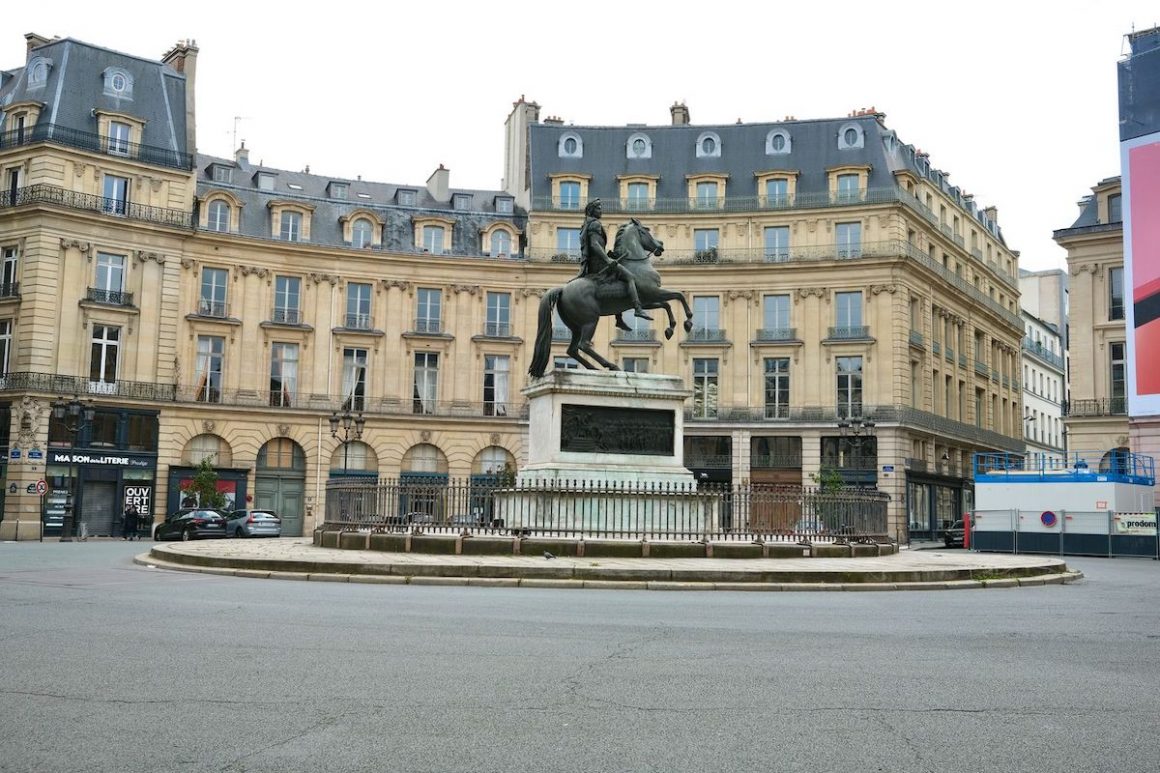 King Louis XIV may have had his own monuments torn down in the Revolution, but later monarchs erected statues to honor the former kings. What was once a gloating statue at the center of Place des Victoires placed by Louis XIV was later replaced with a wooden pyramid, then a nude statue of General Louis Desaix, then of an equestrian statue depicting Louis XIV as a Roman emperor.
Now, this circular plaza with six connecting streets is home to a fashionable neighborhood, with boutiques from high-end designers, the German Forum for Art History, and the nearby Institute National d'Histoire de l'Art. It's a bustling area filled with shoppers!
Place du Tertre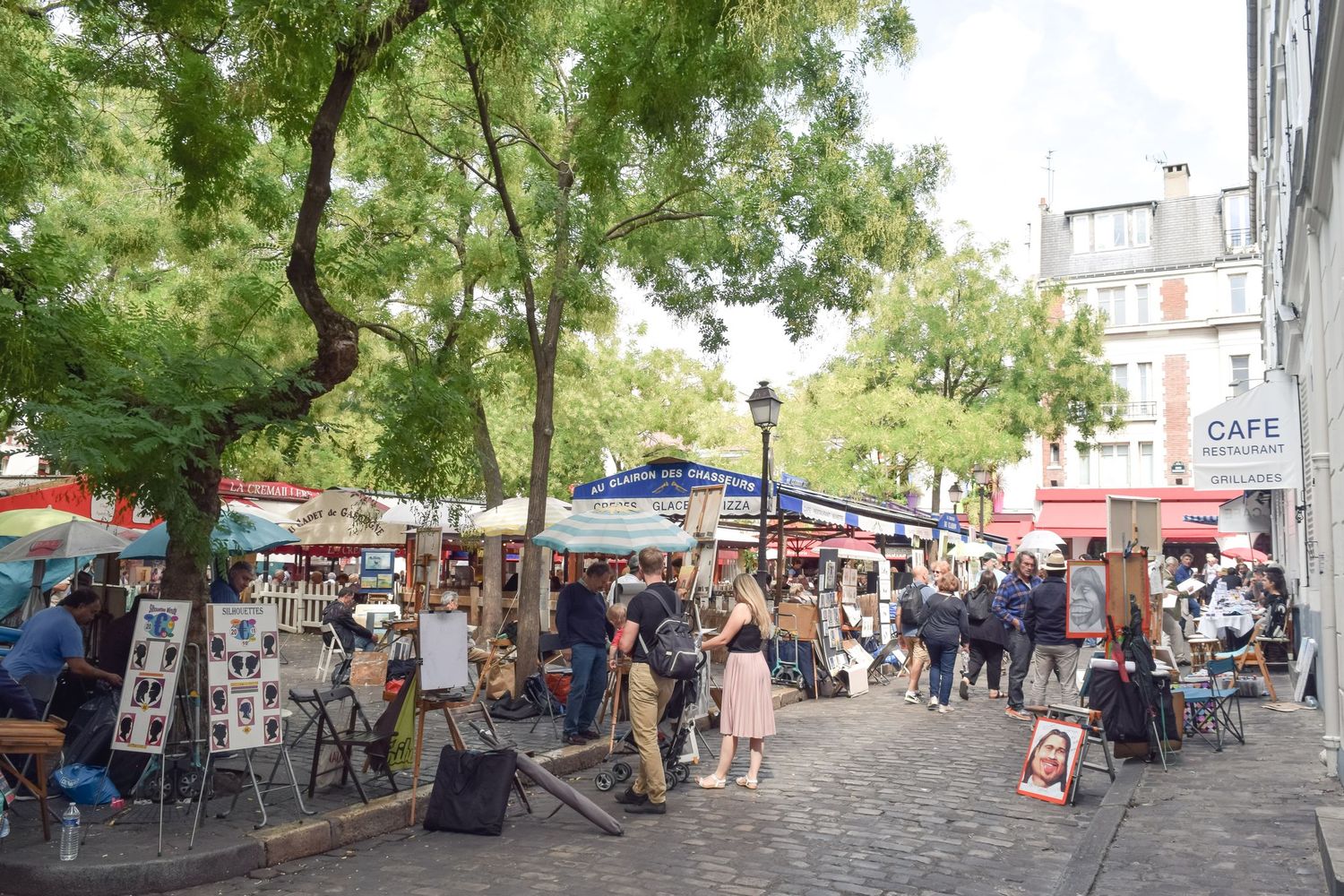 If you're visiting Paris, you don't want to miss the Place du Tertre. Over 100 artists gather every day to set up easels, painting for themselves and tourists alike—this tradition goes back to the 18th century! This is also a plaza of restaurant terraces, the birthplace of the word "bistro" and people-watching. Nearby, visit L'Espace Salvador Dali, a museum dedicated to the legendary Spanish surrealist.
Square Édouard VII
No cars are allowed in this square at the end of a busy boulevard. Instead, you can walk right up to the statue of British King Edward VII, who adored Paris and made friends with France. Right behind the sculpture is Theatre Edouard VII, alongside a number of cafes and restaurants. When you're tired of the hustle and bustle, tuck yourself into this little pedestrian square. Square Édouard VII is truly like no other!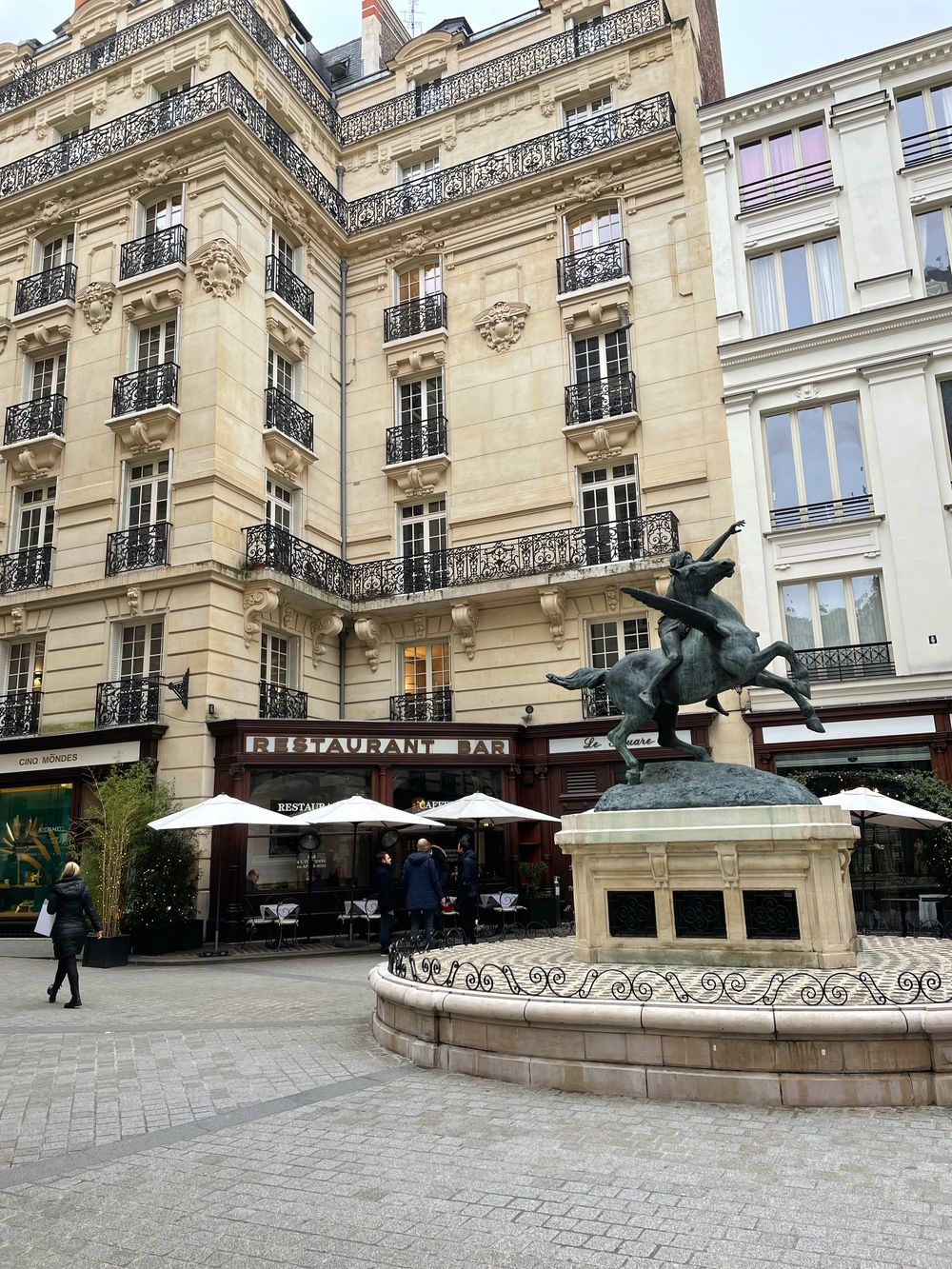 Don't miss the other gorgeous square just behind this one, called Square de l'Opéra-Louis Jouvet.
Place Valois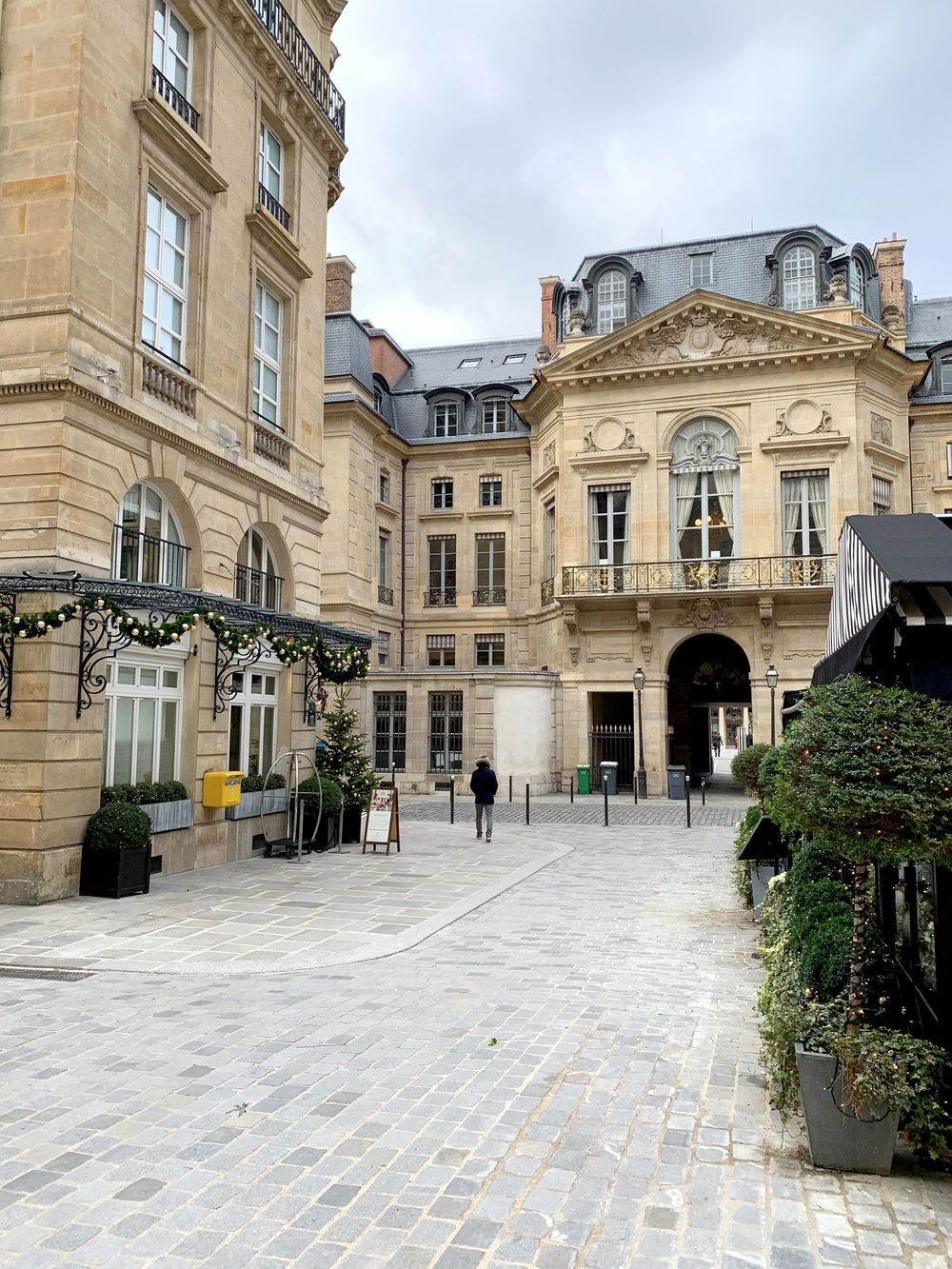 Many of the plazas in Paris are quite obvious, and thus frequented by other visitors, but not Place Valois. To enter this hidden pedestrian courtyard, walk through the covered passageway off Rue des Bon Enfants. Despite being right by the lavish Palais-Royal, not many tourists know of this plaza offering pleasant drinks from excellent bistros and absolutely gorgeous architecture. People walk past it all the time, so if you want to feel in the know, visit Place Valois, one of the best-kept secrets of Paris. Unfortunately, the hit Netflix TV show "Emily in Paris" has exposed this gem, and now fans of the show visit the plaza which serves as the entryway of the Savoir office!