Bonjour, dear readers! The shimmering lights of Paris are beckoning, and you've decided to answer the call. Whether drawn by the tantalizing aromas drifting from corner bistros or the allure of iconic landmarks, moving to the City of Light is a dream nurtured by many Americans.
But before you pack your bags, it's essential to equip yourself with the right information to navigate this significant life transition. In this post, we'll delve into the step-by-step process that will metamorphose this dream into reality, easing your transition from an American locale to the enchanting streets of Paris. Let's embark on this exhilarating journey together!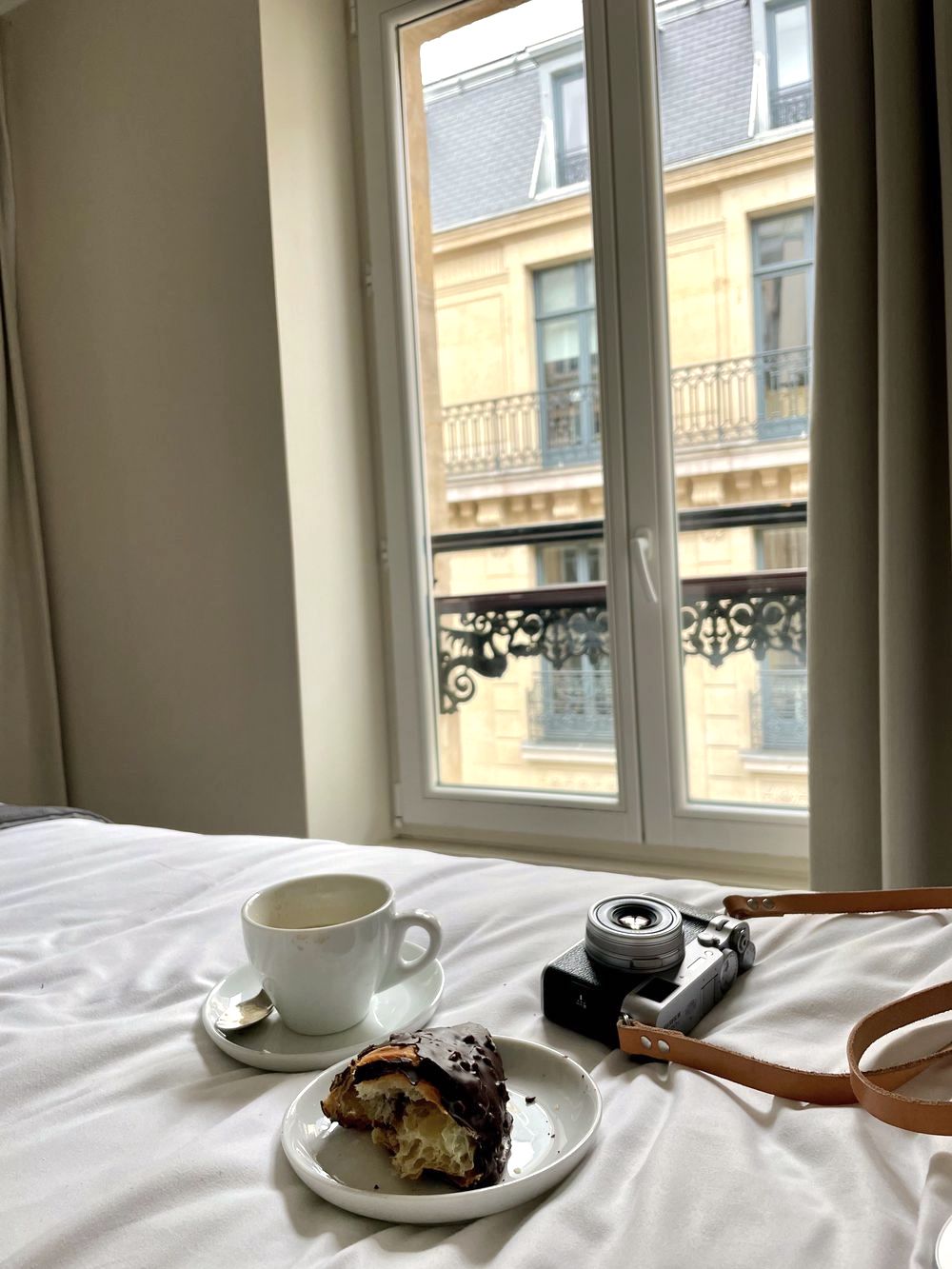 Determine the Visa You Need
If you only want to move to Paris for 3 months, you don't need a visa. You can simply arrive in Paris with your American passport and stay the 90 days everyone is allowed.
If you want to stay for longer than 90 days, then you'll need a French long-stay visa, or visa de long-séjour. You can apply for a visa to live in Paris for up to 1 year to start. You can then renew your visa after the year is up if you want to continue living in France.
There are 4 types of long-stay visas in France:
Visitor Visa
This type of long-stay visa is meant for people looking to live in Paris for personal reasons such as tourism, to receive medical care, or retirement. They don't plan to work in France while they're here. This is the visa I applied for and obtained back in 2019.
Professional Visa
This type of visa is for people who plan to work during their time in Paris. Here are the types of professional visas you can apply for:
Self-employed visa: For this visa, you might want to take part in a long-term business trip and grow your business in France. Otherwise, you might want to work as a self-employed freelancer indefinitely or pursue what's called a "liberal activity," also known as profession libérale.
Employee visa: This is a company-sponsored visa for employees of companies who want them to work in Paris. The company doesn't have to be French, but it must have an established presence in France. Getting an employee visa to live in France is difficult unless you already have an established relationship with the company or you have many years of experience in your field. To get this visa, your employer would need to prove that a French person isn't capable of filling the position, and the foreigner is required to be there.
International Talent visa: If you're a renowned person, you can get a passeport talent visa, which contributes to France's economic attractiveness. You'll need to show ample press coverage and demonstrate proven success in your field of work. This could be as an actor, musician, writer, or otherwise. These are the only visas that are valid for 4 years instead of just 1. Your family is allowed to join you.
Student Visa
The student visa, or visa étudiant, is meant for people who want to move to Paris for educational purposes such as to attend classes or get a degree. You could be enrolled at a higher education university in Paris, live with a French family while attending school, or take entrance exams to attend a French university.
Family Visa
The family reunion visa is for people who simply want to join their family members who are already living in Paris.
Check Your Passport
You'll need to have a valid US passport to apply for a visa to live in Paris. It must be valid for at least 3 months after your intended day of departure (so longer than 1 year and 3 months).
Write the Purpose of Your Stay
You need to tell the French authorities why you want to live in Paris. They need to understand the purpose of your stay in France before letting you live there! If you want to be a tourist for a year, then say what sights you plan to see while you're in Paris. You'll also need to write a statement promising not to work while you're in Paris.
If you're moving to Paris as an employee, include a letter from your employer. If you're self-employed, provide proof of business ownership. If you're retired, show your pension certificate. If you're a student, add your certificate of enrollment at a university or school.
Find an Apartment in Paris
The hardest part of moving to Paris is finding a suitable apartment to live in while you're there. I'm not going to lie – getting a good apartment in Paris is difficult. I have some tips for finding and renting an apartment in Paris, but it's easier said than done.
If you have the means, you can buy an apartment in Paris and show the property deed as your proof of accommodation.
Proof of Funds
You need to show ample proof of financial resources to support yourself while you're living in Paris. They typically want to see at least a year's worth of living expenses in your bank account for 3 months or more, at a minimum.
Travel Health Insurance
You need to take out a travel health insurance policy to cover the duration of your visa. The insurance must cover medical repatriation costs, emergency treatment, hospital visits, and more. It must cover at least €30,000 in expenses. Your American health insurance card is most likely useless in this case and you'll need to take out private insurance. I went with AXA Schengen insurance to cover this requirement.
Send in Your Visa Application
Once you have determined the best visa for your situation, found a place to live, and got the required documentation, you can apply for your French long-stay visa and initiate the process of moving to Paris!
A visa application fee of 99€ applies to all applications. You'll need 2 photos in ISO/IEC format.
Wait for the Decision
It can take up to 2 months for your visa to be processed by French authorities. Once you receive a favorable decision, you can start getting settled into your new home! If you get rejected, don't worry, you can always reapply!
Moving to Paris
Once your visa is approved, here are some tips for what to do immediately after you move to Paris. A few prompt tasks await to facilitate a smooth transition into your Parisian life!
Get a French Cell Phone Plan
Your first order of business should be securing a French cell phone plan to stay connected with your loved ones and navigate your new surroundings efficiently. France offers a variety of cell phone providers, each with a range of plans to suit different needs and budgets. Research and compare the leading providers such as Orange, SFR, Bouygues Telecom, and Free. Opt for a plan that caters to your data usage habits and communication preferences. Having a local number will also simplify administrative procedures and service registrations in France.
Open a Bank Account
Setting up a bank account in France is a pivotal step in establishing your financial foundation in Paris. A local bank account will facilitate transactions like paying rent, receiving a salary, and managing daily expenses.
To open an account, you'll generally need to provide a valid passport, proof of address, and sometimes, a visa or residence permit. Major banks in Paris include BNP Paribas, Société Générale, and Crédit Agricole. Visit with a bank representative to guide you through the process and help select the right type of account for your financial situation.
Validate Your Visa with the French Authorities
You must validate your visa with the French authorities within two months of arriving in Paris. This procedure is typically completed online on the official website of the French Immigration and Integration Office (OFII). You'll be required to fill in details from your visa.
Following the online submission, you might be asked to attend a welcome appointment, take integration classes, and complete a medical appointment where your visa will be officially validated, granting you the legal status to reside in France. Ensure that you complete this step promptly to avoid any complications concerning your legal status in France!
FAQ
Is it worth it to move to Paris?
Yes! There's no better way to experience life in Paris than by living there.
Can I move to Paris without a job?
Yes! You can absolutely move to Paris without a job and get a "visitor" visa as long as you save up enough money to show that you can survive without working for 1 year.
How can I legally move to Paris?
To legally move to Paris, you must obtain a long-stay visa from the French government immigration authorities. There are 4 main categories of French long-stay visas that you can apply for to legally live in Paris.
Is it easy to move to Paris?
No, it is not easy to move to Paris. The French authorities require substantial proof that you won't be a burden on society. Renting an apartment in Paris is difficult for foreigners. Learning to speak French is also difficult in Paris as most French people are used to tourists and will switch to English once they hear your accent. French people are reluctant to become friends with foreigners who aren't fully established in their city. Despite the challenges, moving to Paris is doable for those who are motivated!
How much money would I need to move to Paris?
I recommend you have at least $36,000 USD saved up before moving to Paris for a year. This will allow you to budget $1500 for renting a small but central studio and $1500 for spending money each month.
---
I hope this post was helpful! Let me know your questions in the comments below!