If you're thinking about flying Air France, you might be curious about some of the Air France business class benefits and perks that come with your fare.
I've already written a comprehensive Air France business class review where I discovered that it is the ultimate experience in luxury European travel. You'll enjoy the highest level of comfort and personal service, with spacious and comfortable seating, exquisite French cuisine, and a selection of fine wines and champagnes to choose from. The generally friendly and attentive service of the Air France staff will ensure that you are well taken care of.
Passengers who have Sky Priority Business Class tickets can enjoy a range of benefits, bonuses, and extras, such as priority boarding, access to the SkyPriority lounge, and a dedicated check-in desk. Let's discuss all the perks!
Sky Priority Business Class Check-in Line
The Sky Priority Business Class check-in line at Paris CDG airport offers an efficient and convenient way to get to your flight. The dedicated check-in area allows passengers to check in quickly and hassle-free. The Sky Priority check-in line also offers access to a number of services and amenities, including personalized assistance, fast-track security, and a dedicated baggage drop-off area. Passengers can expect to be in their seats faster with the Sky Priority Business Class check-in line at Paris CDG airport.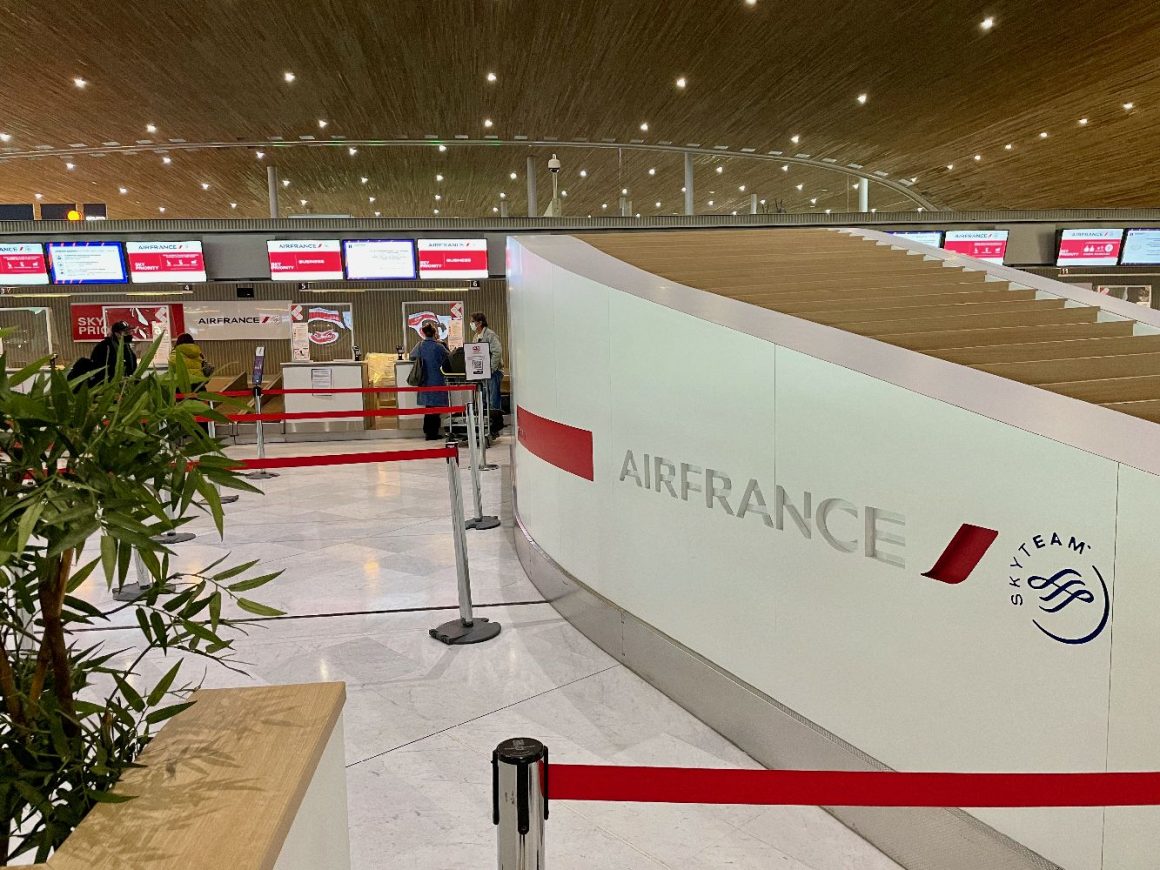 2 Checked Baggages + Additional Weight
You get to check in 2 bags as part of your fare as opposed to 1 bag with economy tickets. Business class checked bags can weigh up to 70 pounds (32 kg), as opposed to the maximum weight of 50 pounds (23 kg) for economy and premium economy fares.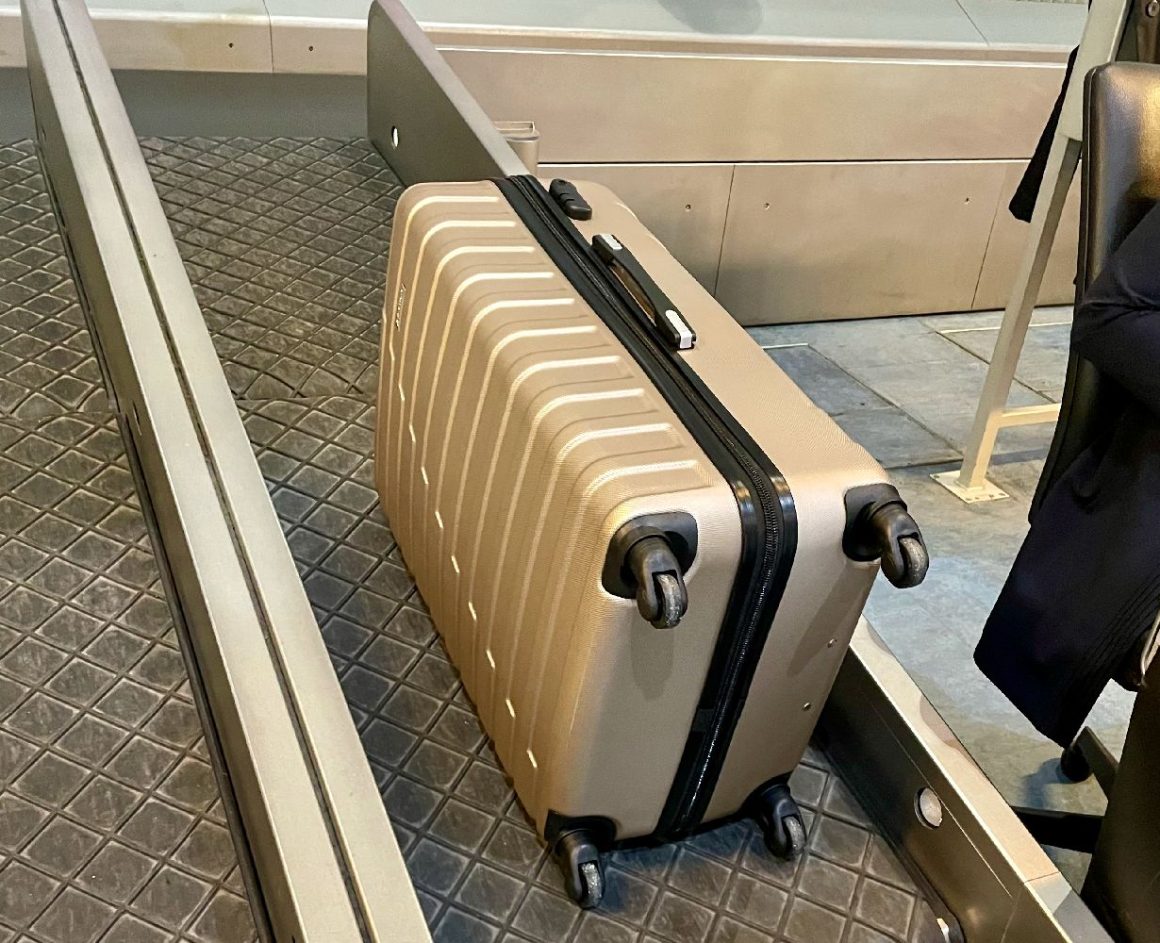 Sky Priority Lines
A business class ticket gets you to put into the express Sky Priority border control, boarding, and security lines at Paris CDG airport. The entrance is in terminal 2E near the pharmacy and under a big red overhang. It is a great perk for travelers looking to streamline their Schengen zone exit experience. As a business class ticket holder, you can take advantage of the Sky Priority line and breeze through the border control process quickly and easily. The line is usually shorter than the regular lines, allowing travelers to save time and get to the lounge or boarding gate faster. While it isn't totally stress-free, it's certainly a more comfortable experience.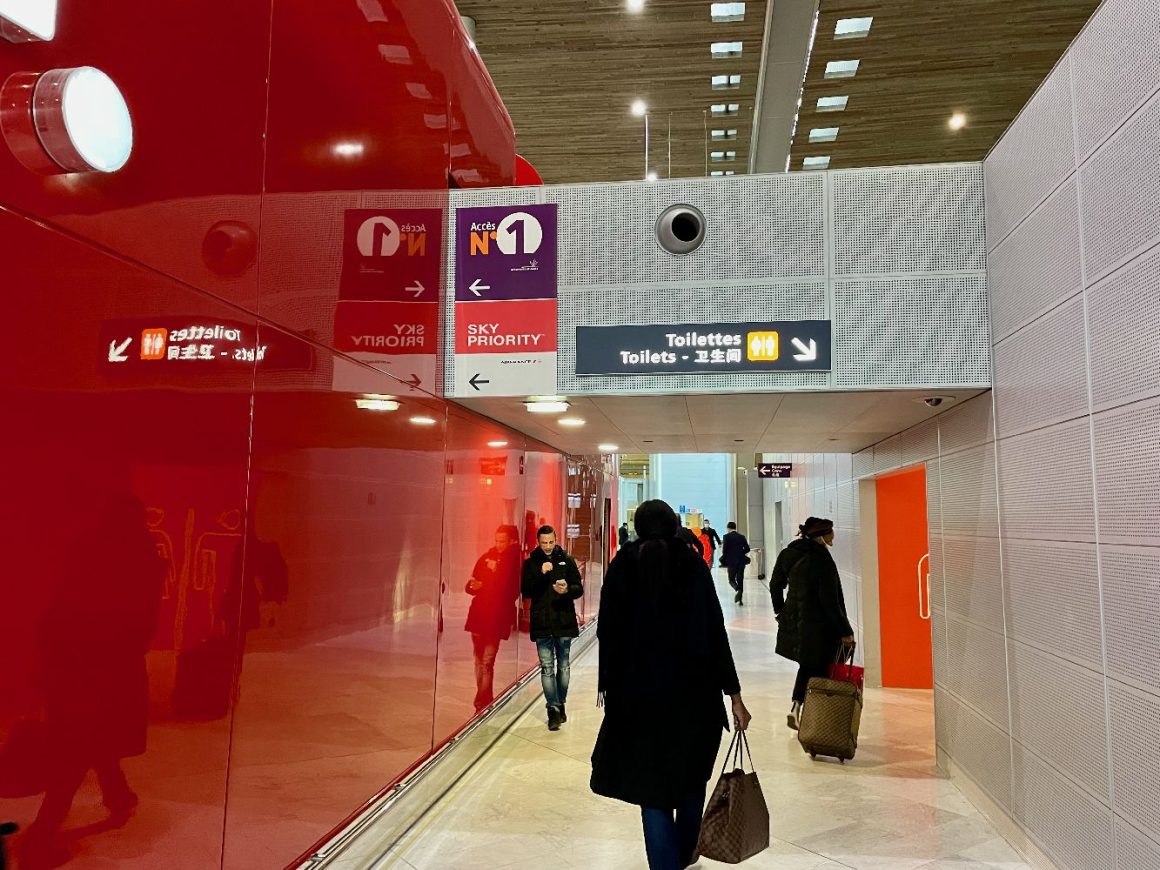 Air France Lounge
The Air France Lounge at Paris CDG Airport is a luxurious destination for passengers who wish to relax and unwind before their flight. The lounge offers a variety of amenities, including complimentary refreshments and snacks, comfortable seating areas, a business center, complimentary Wi-Fi, and a wide selection of newspapers and magazines. The lounge also has showers, a quiet area for reading, and a selection of international newspapers. Passengers can also take advantage of the Air France Concierge Service, which can help with any last-minute travel needs. The Air France Lounge at Paris CDG Airport is the perfect way to start your journey in comfort and style.
Free Clarins Facial Treatment
The Air France Lounge at Paris CDG airport is a luxury facility that offers a range of amenities to business class ticket holders. One of the most sought-after services is the free Clarins facial treatment. This complimentary treatment is designed to relax, refresh, and rejuvenate passengers before their flight. The facial includes Clarins' signature products, including cleansers, toners, masks, and moisturizers. The luxurious experience also includes a relaxing massage, which helps to reduce tension and stress. The facial treatment helps to restore skin's natural balance, leaving passengers looking and feeling refreshed and ready to take on their journey.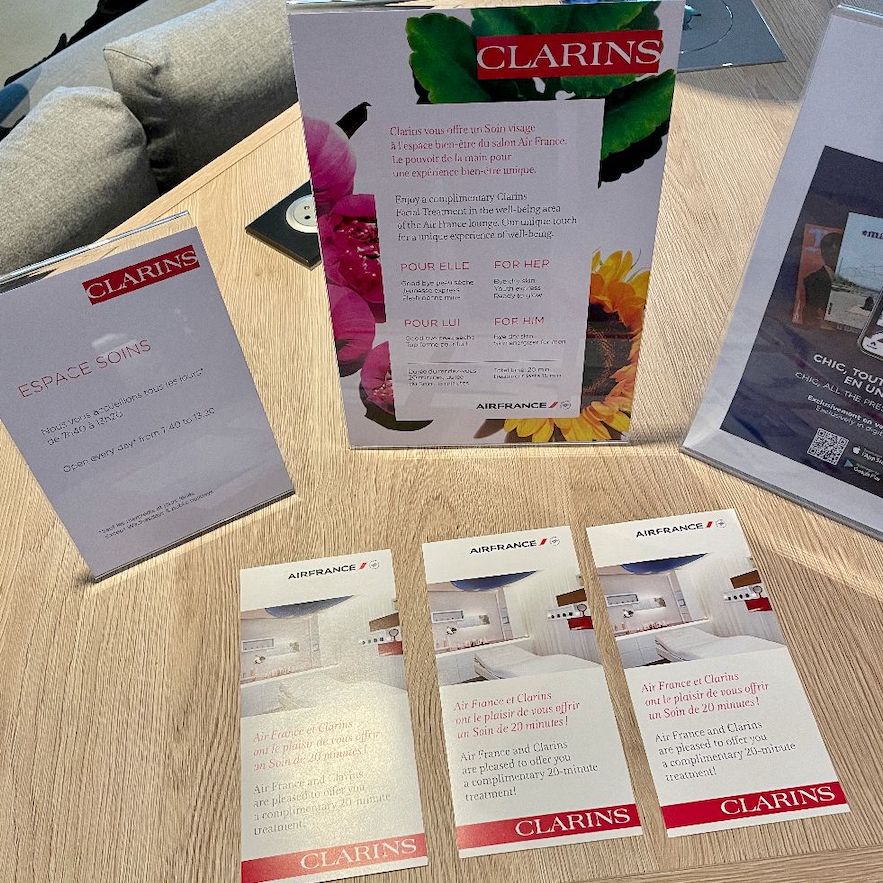 Extra Big Reclining Lie-Flat Seat
Air France business class ticket holders enjoy the ultimate in luxury and comfort with the extra large lie-flat reclining seats. These seats are the widest of their kind at an astounding 25 inches wide and up to 80 inches long when fully reclined. The seats come with a range of features, such as adjustable headrests, footrests, and lumbar support, as well as an adjustable calf rest and leg support. Passengers can even enjoy a massage function, which helps to ease muscle tension and promote relaxation during the flight. For added convenience, the seats also come with personal reading lights, USB ports, and AC power outlets. With all these features and more, Air France business class ticket holders can enjoy a comfortable and luxurious experience when they fly.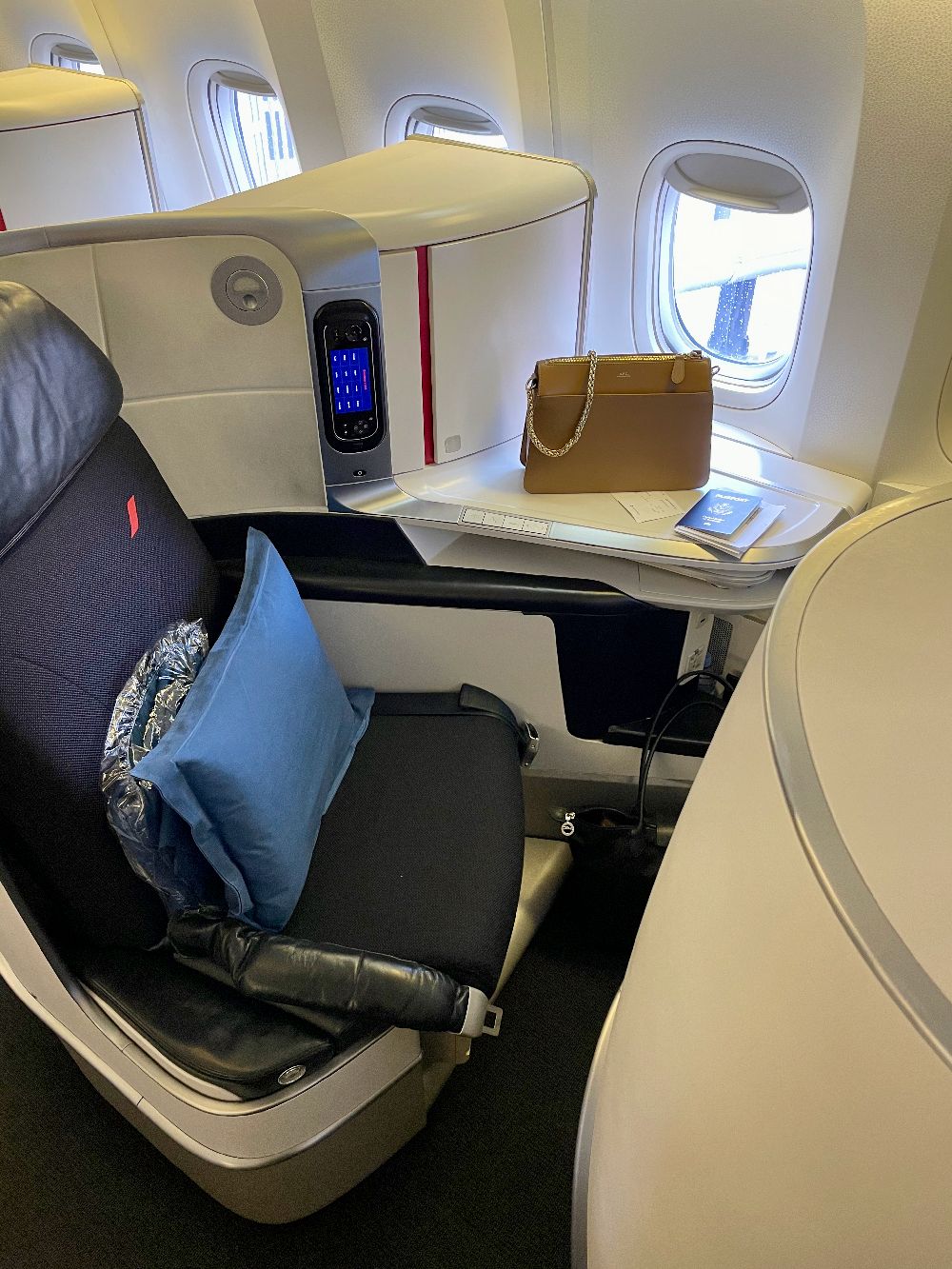 Oversized TV Screen and Noise-Canceling Headphones
The entertainment experience for Air France business class ticket holders is second to none. Passengers can enjoy a big TV screen with access to hundreds of movies, shows, and music. To make the experience even more enjoyable, they are also provided with noise-canceling headphones, ensuring a distraction-free viewing experience. This combination of entertainment and comfort makes it easy to relax during long flights, making Air France the perfect choice for business class travelers.
Amenity Kit with Clarins Skincare and Evian Water
The Air France business class ticket holders receive a luxurious amenity kit with Clarins skincare in addition to a fresh Evian bottle of water. This exclusive kit is crafted with sophisticated style, and comes with all the necessary items to keep you and your skin hydrated and refreshed during the journey. It contains a Clarins Hydra-Essentiel moisturizer, a lovely-smelling Clarins hand and nail cream, Clarins lip balm, and a sanitizing wipe. All of these items are designed to pamper passengers in the air and make their flight as comfortable as possible. This kit is a perfect way to show passengers how much Air France values their in-flight comfort and well-being.
Champagne Toast Before Take-Off
Air France business class travelers are treated to a luxurious experience even before take-off. Upon boarding, they are offered a complimentary glass of premium champagne. The champagne is carefully selected from a variety of fine French champagnes, ensuring the highest quality for each journey. Air France takes pride in providing top-notch hospitality.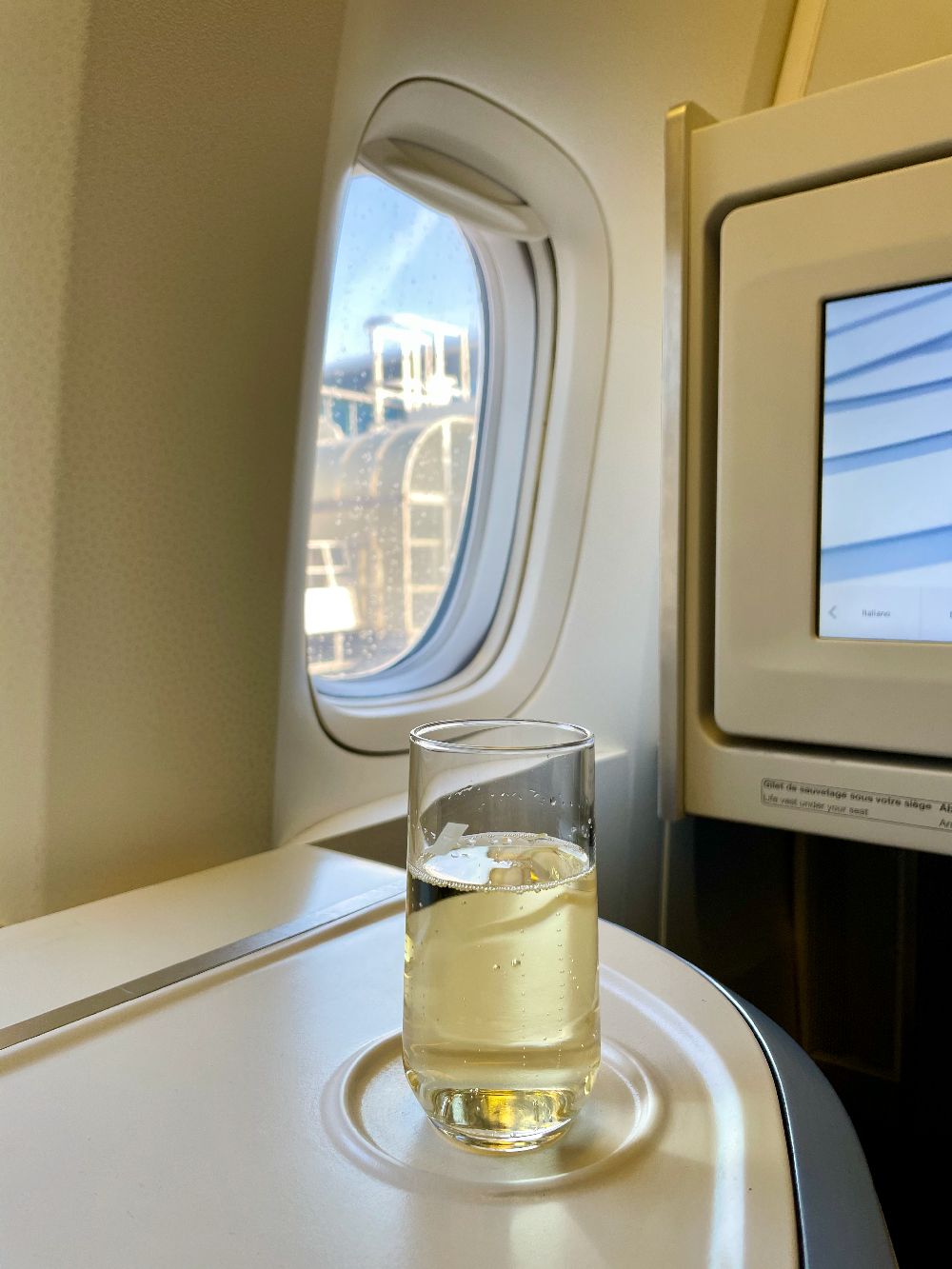 Chef-Prepared Meals
Air France offers its business class ticket holders the ultimate in-flight dining experience with its chef-prepared meals. On your flight, you will be served delicious French meals created by top chefs using the freshest ingredients. All meals are prepared with great attention to detail, and you can expect a variety of flavors and presentations to choose from.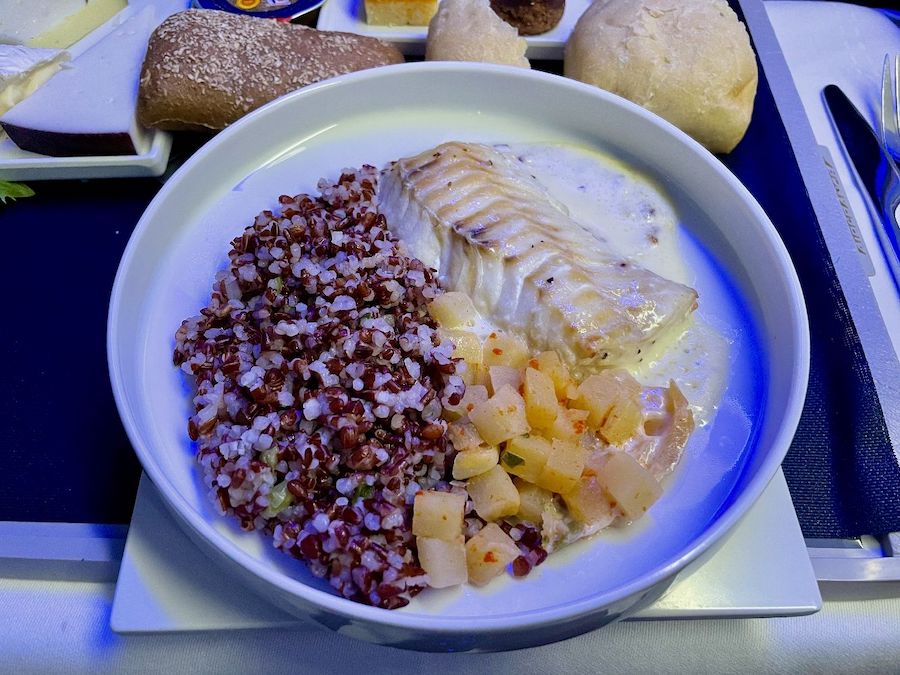 From classic French cuisine to modern fusion dishes, Air France's business-class meals are sure to satisfy even the most discerning palate. Each meal is served with an assortment of bread, cheeses, fruits and vegetables, and a selection of wines and other beverages. After your meal, you can enjoy an exquisite selection of desserts, all available to business-class passengers.
Access No1 Expedited Border Control Line into Paris
The expedited border control line for Air France business class ticket holders is a great way for passengers to save time when traveling. If you've ever traveled economy to Paris, you know how dreadfully long the border control line is. It can easily take over 1 hour to get through it! The No.1 expedited line allows business passengers to quickly and easily pass through the border control process with minimal wait time – as little as 15 minutes in my experience. It is available to all Air France business class ticket holders and provides a more efficient way of checking in and getting through customs. Look for the purple line barriers.
When traveling Air France business, you can cut the security lines, both departing your origin country and entering your arrival country! This is one of the best perks I love about traveling Air France business class. I can get through the border control lines much faster than without it. This is especially beneficial after traveling all night long when you're tired.
Sky Priority Checked Baggage Retrieval
Air France business class travelers benefit from the Sky Priority expedited baggage delivery service. This service allows business class travelers to enjoy a seamless journey, with their baggage arriving quickly and efficiently. Sky Priority baggage delivery guarantees that business class passengers' baggage will be the first to be released at the baggage carousel, meaning they can quickly move on with their journey. Sky Priority also ensures that business class passengers' baggage is handled with care, and is never lost or delayed. Sky Priority allows Air France business class travelers to travel with the peace of mind that their baggage will arrive on time, every time.
From the moment you step onto the plane, you'll be treated to an unparalleled level of hospitality and attentiveness. Whether it's for business or pleasure, flying Air France business class is the perfect way to experience the joys of air travel.