Traveling to France in December, January, or February? Here are the best winter destinations in France to consider.
France is a country of all-season beauty; no matter what time of year you're in the country, you're sure to enjoy whether it's 30 degrees Celsius on the beach in Monaco or Parisian springtime accompanied by bright pink cherry blossoms. But there's something special about visiting France in the winter that many first-time visitors overlook, instead choosing a different season to plan their trip. To inspire future travelers, here are some places that may change your mind.
During the winter season, France's top destinations may not be your first choice during spring or summer, and that's what makes them so special. Getting to know these small, historic villages spread throughout the world-renowned French Alps leave a lasting impression on its visitors for their dazzling Christmas markets, snow-clad buildings, and breathtaking landscapes. Here are some of the best winter destinations in France to choose from.
Strasbourg
Nestled right along the German border in the region Grand Est, Strasbourg offers stunning holiday markets during the wintertime. Elegant lights combined with a gothic architectural style like its neighbor, Germany, create the ambiance of Northern European elegance. Homes with wooden accents line the ancient village's river, and roofs are blanketed in snow. Residents and local shops fully embrace the winter theme leading up to and immediately following Christmas, from hanging colorful lights on their homes to hanging reefs on doors and balconies.
The Strasbourg Cathedral, the most notable monument in the city, stuns in its gothic style but even more so during wintertime, where you can see it lit towering over the village.
Strasbourg is also home to France's oldest Christmas market, Christkindlsmarkt, and is a must when visiting during the winter. The market typically runs from the end of November through December. Hundreds of wooden stalls are spread throughout the town squares, all under the glow of fluffy, green trees and twinkling lights, showcasing local cuisine, entertainment, and holiday gifts.
Strasbourg has been around since medieval times, and you can sense this in its ancient beauty. Even in the winter, it's worth setting up a private walking tour of Strasbourg to learn about its beginnings, its iconic canals, and its history during World War II.
These three activities combined with grabbing the occasional local favorite, warm white wine, can fill even a 3-day trip to this winter town. Sharing the same enthusiasm for wintertime beauty as its Swiss and German counterparts, the unique style of Strasbourg makes it one of the best winter destinations in France.
Colmar
A 1-hour car ride south of Strasbourg is the town of Colmar, in the Alsace region, another one of the best winter destinations in France. Like Strasbourg, Colmar is a picturesque winter village set along a river canal. This canal area known as La Petit Venise – Little Venice – resembles the famed city of Venice, Italy. Even in winter, walking the area of La Petit Venise is an essential part of visiting Colmar, taking in the small boats sifting through the canals and pastel-colored homes nearly floating along the edges of the canal walls. Much like Venice and Amsterdam, there are charming bridges to stop and take photos before crossing over to shops on each side of the water.
During winter, Colmar also has its own Christmas Markets sprinkled throughout the town, with usually more than 100 booths to choose from, and each area has a unique theme. One of the highlights of these markets besides their stunning environment is the food scene. This time of year is a great time to wander through the markets, trying local food along the way. Some typical finds are special cheeses (it is France after all), mulled wine, and the special pain d'epices – a spiced, seasonal bread made especially in Alsace.
Charming Colmar in winter is also a great time to visit the town's museums to catch a break from the cold, outdoor weather. The Unterlinden Museum, one of France's most visited museums outside of France, showcases fine art and relics from around the 15th century. Just as impressive, the museum buildings themselves date back to Medieval times, and the property in itself is sure to wow its guests amid winter in France.
Megève
Moving into the region of the French Alps, the cold months in this area of the country will kick you into active mode with its impressive mountain ranges, staggering trees, and log cabins just barely poking through piles of snow. Historically a popular destination, many well-to-do French citizens and aristocrats spent their holidays here, and today it remains one of the most luxurious ski resorts in the country.
While visiting in winter you can bundle up in a cabin tucked away in the mountains, and enjoy the simplicity of a warm fire and a hot drink in the comfort of your temporary French home. When you're ready to face the cold, head into the town center and stroll through streets and buildings dating back as early as the 14th century. Whether it's covered in snow during your visit or you find a break with sunny, blue skies, the town is sure to impress its charm on you as you explore local shops and take in the glamorous mountain backdrop of Megève.
To experience Megève from a different perspective, you can see the town and its surrounding mountains, Mont Blanc, from the sky with a flight tour. A pilot will show you unforgettable views from above the French and Swiss Alps, and you'll be able to spot small towns and overall captivating winter landscapes during your journey.
For those who enjoy the action but not from heights, there is also the popular activity of dog sledding. Visitors can sign up with a company to take part in a dog sled ride, and even take pictures with the husky pups who are leading the way! These excursions are usually done in the morning, so you'll also get a beautiful sunrise as you shred the mountains with the help of your dog drivers.
Chambéry
A little further inland from the French Alps is the village Chambéry, found in the Savoir department of France. In one of the most impressive French winter backdrops, the town is truly tucked between mountains and looks like a small group of buildings under the careful watch of the enormous, snowy mountains surrounding it. Chambéry is ideal to make your home base as you explore the rest of the Alps throughout your stay in France, a perfect place to immerse in beauty after a long day of activities.
Apart from relaxing and walking through this stunning mountain town, the first sights to take in are Chambéry's landmarks, starting with the Fontaine des Elephants – the Elephants Fountain. Erected back in the 1830s this fountain is unique in that it has two large elephant heads coming out from the bottom of the fountain; certainly worth seeing for yourself. Leaving the elephant fountain, you can head down the street Rue de Boigne, eventually arriving at the next most important landmark in the town, Château des ducs de Savoie – the Castle of Dukes of Savoy. Since its beginnings in the 11th century, updates have been made throughout the years and famously housed some of the former counts and dukes of the region. Complete with stained-glass windows, gardens, and a courtyard, you can wander around the stunning property to see evidence of past aristocratic life.
For culture aficionados, Chambéry also has a stunning fine arts museum which contains a variety of works dating back to the 1300s, Musee des beaux-arts, and also holds temporary exhibitions throughout the year. In terms of the gastronomy of Chambéry, that's also a highlight of this town, where you're encouraged to indulge in the finest wines and cheese of the Savoie region.
Courchevel
As we continue our way through the Auvergne – Rhône – Alpes region, Courchevel is a winter town sure to satisfy all ski aficionados. This resort is also part of the "Three Valleys" ski area in the country, the biggest connected ski area in the world. For those who are looking to settle into one winter sports destination and not move around too much during their trip, Courchevel is a solid option.
In Courchevel, they make it easy for skiers by offering lifts and a three-valleys pass, where visitors can use all three surrounding mountain-top areas. And while skiing is by far the most popular activity in this resort village, Courchevel also offers alternatives like tobogganing, ice skating, snowmobiling, and snow-shoe mountain walks.
Apart from sports, Courchevel is an impressive winter destination for its hot air ballooning and paragliding. Yes, even in winter! A hot air balloon ride will give you breathtaking views of snow-covered peaks and will be an unforgettable experience for you and whomever you're traveling with. A bit cheaper in comparison but an aerial adventure nonetheless is paragliding. Carried by the winter winds, you can swoop above the white landscapes and ski runs until you glide back down to the ground.
Val d'Isere
Another popular ski destination situated in the crevice of a large valley, Val d'Isere, is near the Italian border and makes up one of the largest snow parks in all of Europe. Sharing an extensive ski zone with its nearby town Tignes, it rose to fame after playing partial host in the 1992 winter Olympics, which were spread across the Albertville area.
From beginner lessons to cross-country skiing, it's a destination where everyone can find their comfort zone. Val d'Isere also has entire runs dedicated to safe sledding for kids or those who are less inclined to stand up on the skis. And with nearly 100 ski lifts, winter athletes will have plenty of chances to hit the slopes.
One of the best things to do in Val d'Isere after hitting the slopes (or in place of) is après, the custom of enjoying oneself in a winter wonderland. Val d'Isere has a very social scene of après, complete with local happy hours, DJs, and bars to wrap up the tail end of your day or night.
For those who prefer a more relaxed experience, Val d'Isere is also a great destination to treat yourself to a wellness day. Pick your choice of a luxurious spa for a massage, facial, or just a break from the cold outdoor weather.
Chamonix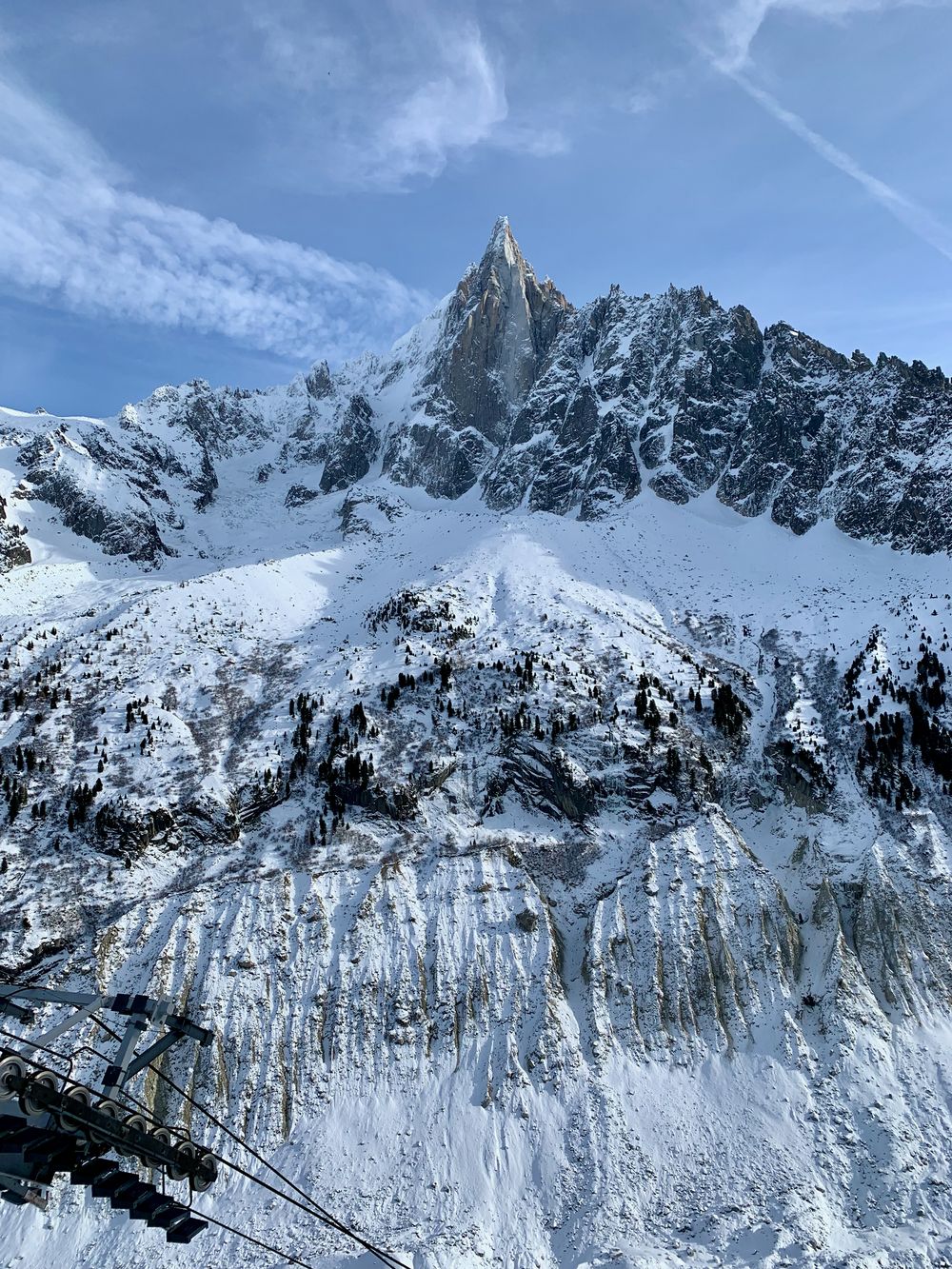 Rounding out the best winter destinations in France is Chamonix. At the crossroads of France, Switzerland, and Italy, its natural beauty encompasses elements of all three countries' splendor. The most impressive thing about Chamonix, though, is visiting its glacial landscapes during the winter months.
The panoramic train Montenvers starts in Chamonix and leads you through the winter forest to a viewing point of the Mer de Glace – the largest glacier in France at nearly 700 feet deep and 4 miles long. Visitors will see for their own eyes the impact of climate change, as the glacier shows signs of where it once stood versus where the glacier stands now. Once there, you can visit the Glaciarium to learn about glaciers around the world and their formation, and enjoy a meal atop the balcony at restaurant Le Panoramique Mer de Glace, with striking views of the glacial valley.
For those who have no fear, one of Chamonix's most popular winter attractions is the Aiguille du Midi. Visitors are taken up more than 12,000 feet above sea level for white-washed panoramic views of Mont Blanc and Chamonix, even offering the "step into the void" experience, where daring guests step into a glass box suspended thousands of feet over the empty landscapes below.
In addition to the unique things to do around the glaciers of Chamonix, it's truly an all-encompassing winter destination that offers an alpine roller coaster, indoor leisure, dog sledding, and helicopter rides.
---
France in the depth of winter offers visitors the same sense of wonder as its warm weather months, and arguably even more so. Arriving at one of France's drastic valleys covered in white snow among toppling mountains is a memory that soon won't fade from its visitors. Without the same pressures of "doing it all" in a trip to Paris, for example, the best winter destinations in France provide a chance to appreciate nature, and every tourist should consider a cold weather jaunt to the country.