Even though France is a fantastic destination all year round, it takes on a special charm all its own during the winter months.
Winter in France
The beauty of winter in France, from snow-capped mountains and alpine ski lines to a ray of Mediterranean sun, is guaranteed to astonish and thrill those who aren't bothered by the prospect of layering up in warm coats and snug scarves.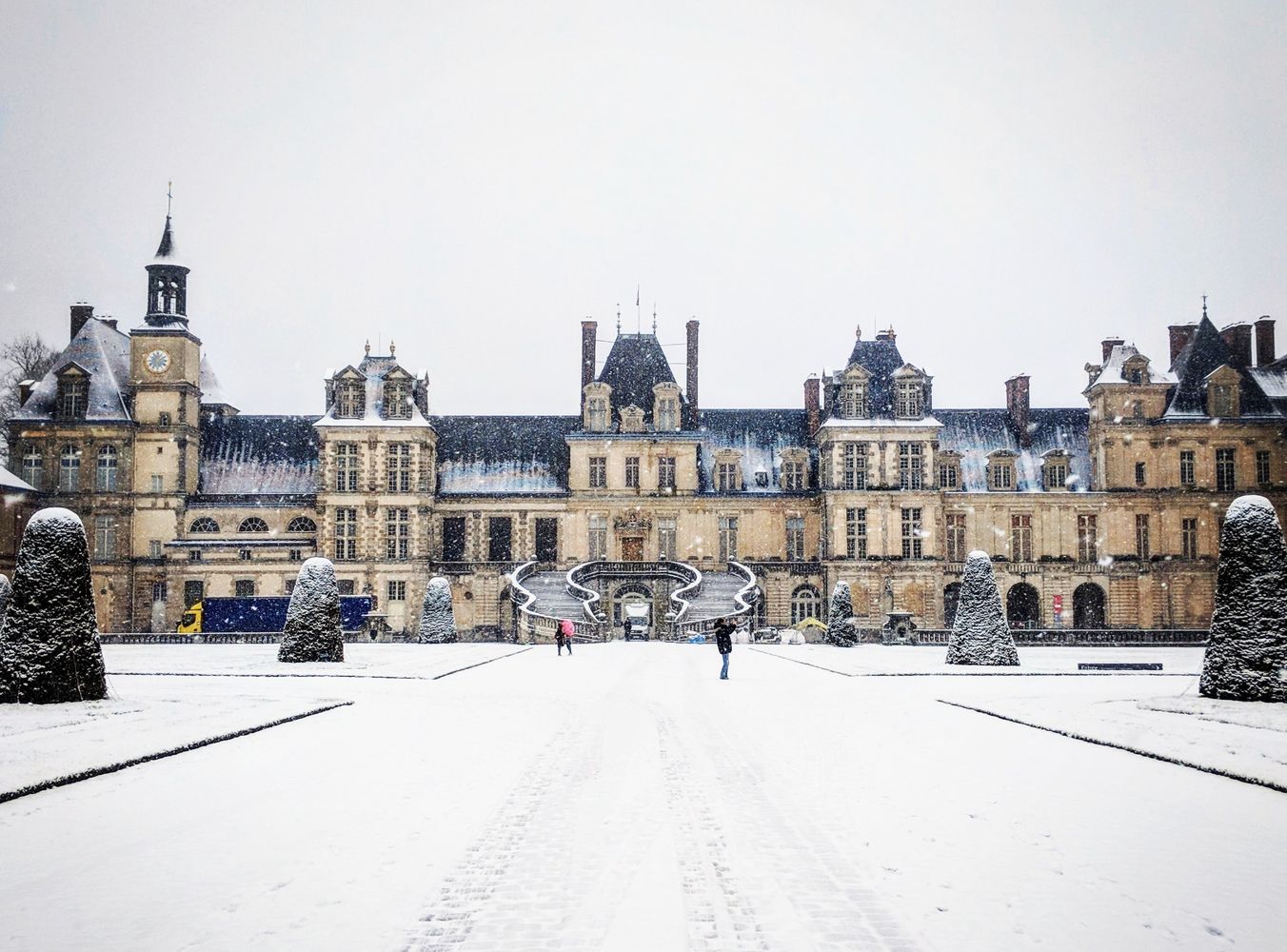 Best Winter Destinations in France
Perhaps you see a vacation in France as being reserved for the summer months, with beach vacations on the Cote d'Azur and city getaways in the garden-friendly Paris basking in the sunlight.
Yet, in addition to the lack of tourist crowds and undeniable charm, traveling to French in the winter may also be just as enchanting. The best French winter destinations offer exciting activities like fairytale Christmas markets in Alsace to adrenaline-pumping ski excursions in the French Alps. France has justifiably earned its reputation as a bonafide European winter wonderland.
Visit the German Border of France during Winter
Our first recommendations for French winter destinations lie in the northeastern part of France.
Strasbourg
Strasbourg should be described as the "Capital of Christmas," you know that winter is an amazing time to visit–and it is true that Strasbourg in December is an absolute festive treat that you absolutely must experience for yourself. Located on the border with Germany, winter in Strasbourg exudes a mix of French and German cultures, making it unique.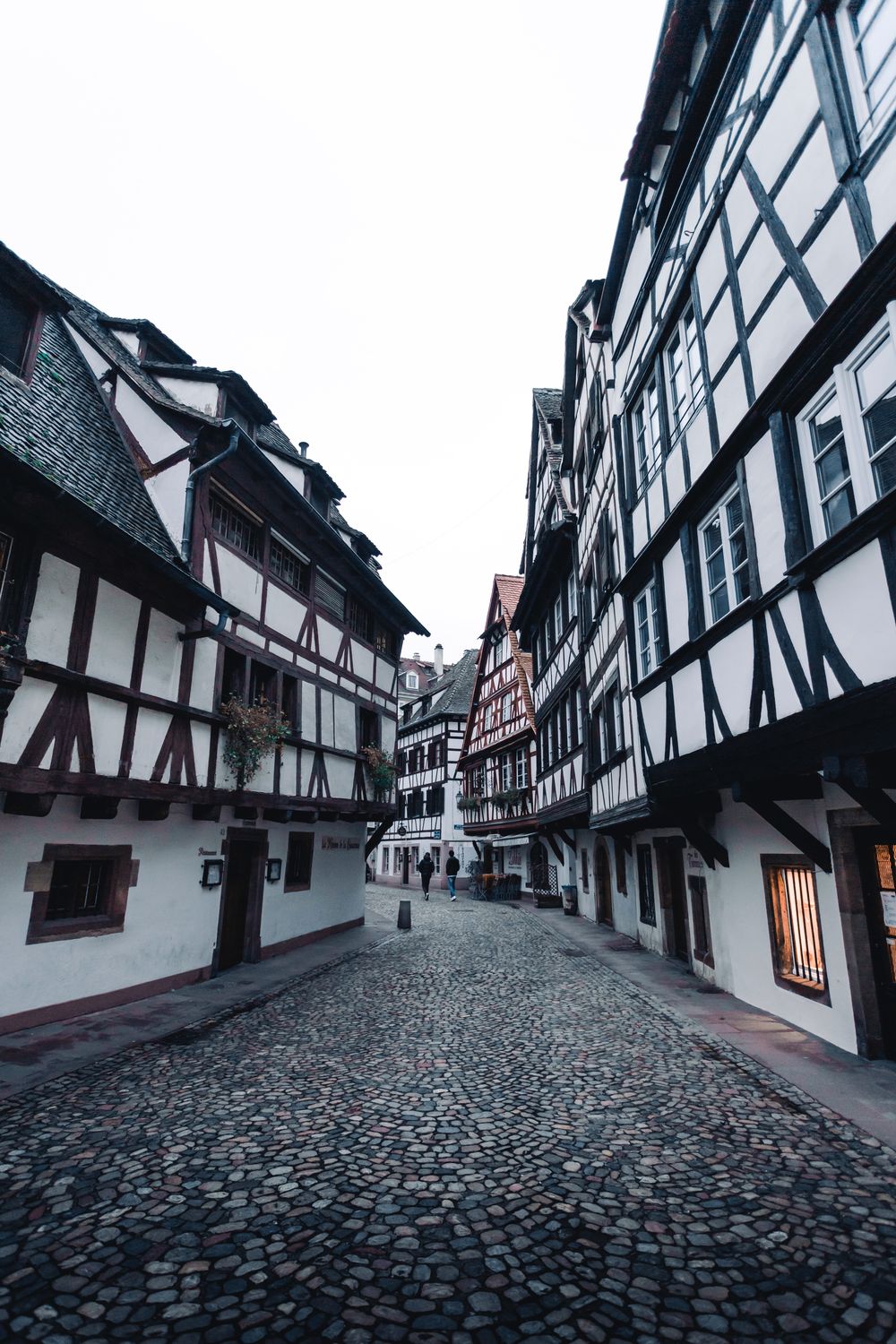 Its generally outstanding beauty is elevated to an even higher degree during the holiday season, thanks to the city's charming half-timbered homes, countless glasses of vin chaud (hot wine), and Strasbourg Christmas markets on every corner.
For winter in France, you should wrap up warm and take a leisurely stroll around the streets of Strasbourg, where you're sure to come across something that will take your breath away. The ancient city center was the first in the world to be designated as a World Heritage Site by UNESCO, so you can only imagine how lovely it is.
The Strasbourg Cathedral dates to the 13th century and is one of the city's most popular attractions. This grandiose cathedral, which has spectacular Gothic architecture as well as a magnificent astronomical clock, offers several aspects that are deserving of your attention.
Colmar
While Strasbourg has a stunning cathedral, better canal scenery, boat rides, more art museums, and more diverse architecture, Colmar is more picturesque and quainter. Colmar has an art museum that houses a renowned altarpiece.
Colmar is the gateway to the Alsacian wine country and its picturesque villages, all within driving distance. Visiting Colmar during the winter months is an incredibly magnificent experience, and it is unquestionably one of the most festive things to do in all of Europe during the holiday season.
In late November and December, you'll be met with some of the greatest Christmas markets on the earth, which are seemingly located around every corner. Featuring everything from sweet snacks and savory pleasures to handcrafted crafts and children's rides, Colmar's Christmas markets are among our top favorite places to visit in Europe during the holiday season.
Embrace your inner child and rent a pair of roller skates for your winter vacation in Colmar! You should stop at one of the neighboring food carts for some churros, crepes, or waffles to go with your glass of vin chaud once you've completed ice skating (hot wine).
Take a leisurely stroll through La Petite Venise. The neighborhood of La Petite Venise is Colmar's most beautiful and attractive area–and I'm sure you can understand why just by looking at the name!
Visit the French Alps during Winter
If you love skiing you should head to the French alps and hit the slopes for your winter trip to France!
Chamonix
Chamonix Valley is turned into the ultimate winter sports lover's paradise during the winter months, offering some of the greatest skiing in Europe as well as a variety of other winter activities such as dog sledding, snowshoeing, glacier walks, and much more to keep the whole family delighted.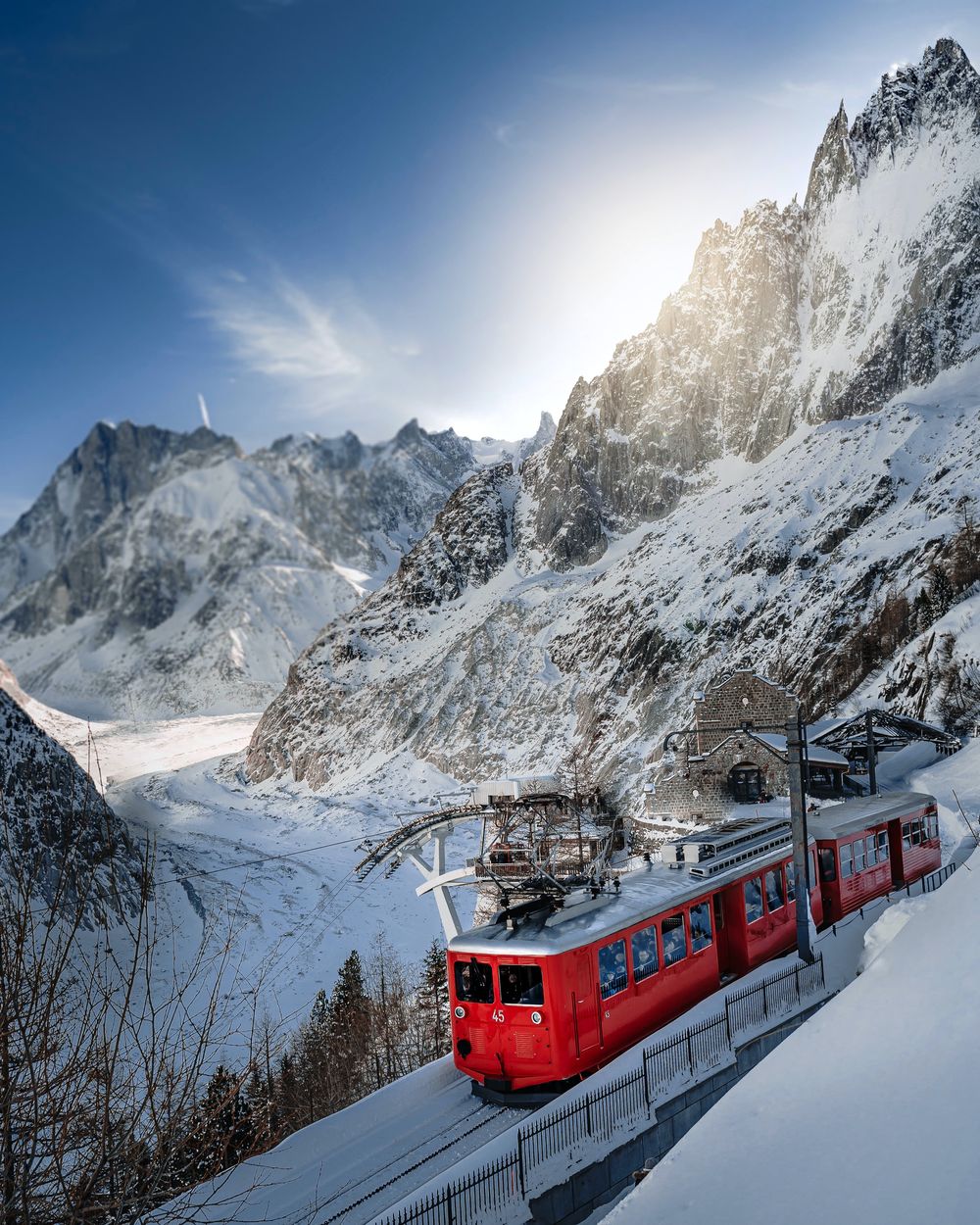 With the town of Chamonix situated in a steep environment, there are several hiking options in and around the renowned winter resort town. Hiking trails between la Flegere and Brevent and riding a cable car between Plan de l'Aiguille and Mer de Glace are also popular winter attractions. You can even catch a glimpse of the famous Mont Blanc from here.
Winter in France always includes heart-warming Christmas markets. It is customary for a Christmas market to spring up in the heart of town during the weeks leading up to the holiday season, with vendors in little wooden huts offering products of various types, along with food and beverages. This is the ideal location to pick up a last-minute present or something to take home with you. While you sip on some vin chaud or a local beer, you may peruse the artisanal gifts, jewelry, soaps, and other items handcrafted by local artisans.
If you're one of the many people who like following several hours of activity (you can even skip the exercise part) with several hours of drinking, especially during the holiday season, you may attend one of a number of local après-ski sessions held across the region.
Down at the bottom of the Brévent slopes, you'll discover the world-famous apres-ski outdoor party La Folie Douce, or you can travel to Rue du Moulin for a variety of cafes and pubs, or to Cham Sud for bars that provide live music, fantastic food, and happy hour deals. On most days of the week, the clubs host unique late-night entertainment events, which are open to the public.
Méribel
Skiers from all over the world flock to this discreet and exquisite resort, which makes the heart of the Three Valleys beat faster. It is a genuine skier's paradise. Whether you are a novice or an experienced skier, you must ski on the slopes of such a dreamy location at least once in your life! If you dream of great skiing, thrills, sumptuous panoramas, varied landscapes surrounded by great white or immersed in the middle of a pine forest, easy or very steep slopes, exceptional off-piste sessions, or simple contemplative walks, your wildest dreams are possible in Méribel, France.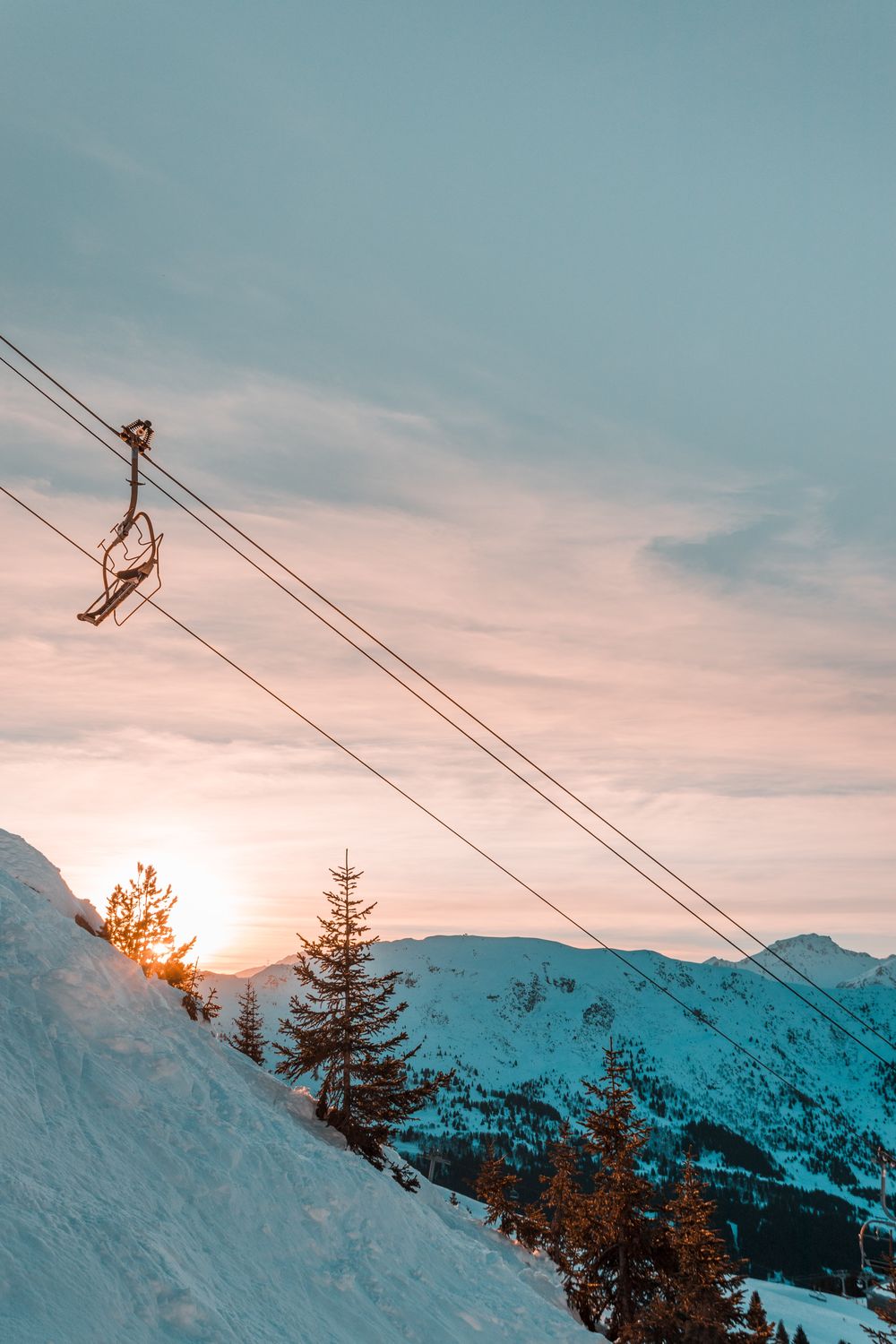 Méribel also features a plethora of off-slope activities, so those who do not wish to ski may take advantage of the many other things that this famous resort has to offer.
Snowshoeing is the ideal sport for friends and family to enjoy together while exploring the spectacular scenery of Méribel. You will be guided by a competent teacher along paths that are accessible for half-day or full-day trips, allowing you to appreciate the serenity and tranquillity of the highlands.
Along the journey, you will learn about the flora and creatures of the area while visiting the unspoiled woodlands away from the throngs of skiers on the slopes and learning about their adaptations. Snowshoes, poles, and transportation are all given as part of the trip, so there is no need to have any prior expertise to participate in this winter pastime.
Courchevel
The best French winter travel vacations may be found in Courchevel: considerably more than simply a ski resort, the world-famous ski region in Courchevel offers a diverse choice of things to enjoy throughout the winter months. This world-famous ski resort in France's Three Valleys region — the world's largest ski area – was the first to be purpose constructed, according to its creators who built it in 1946.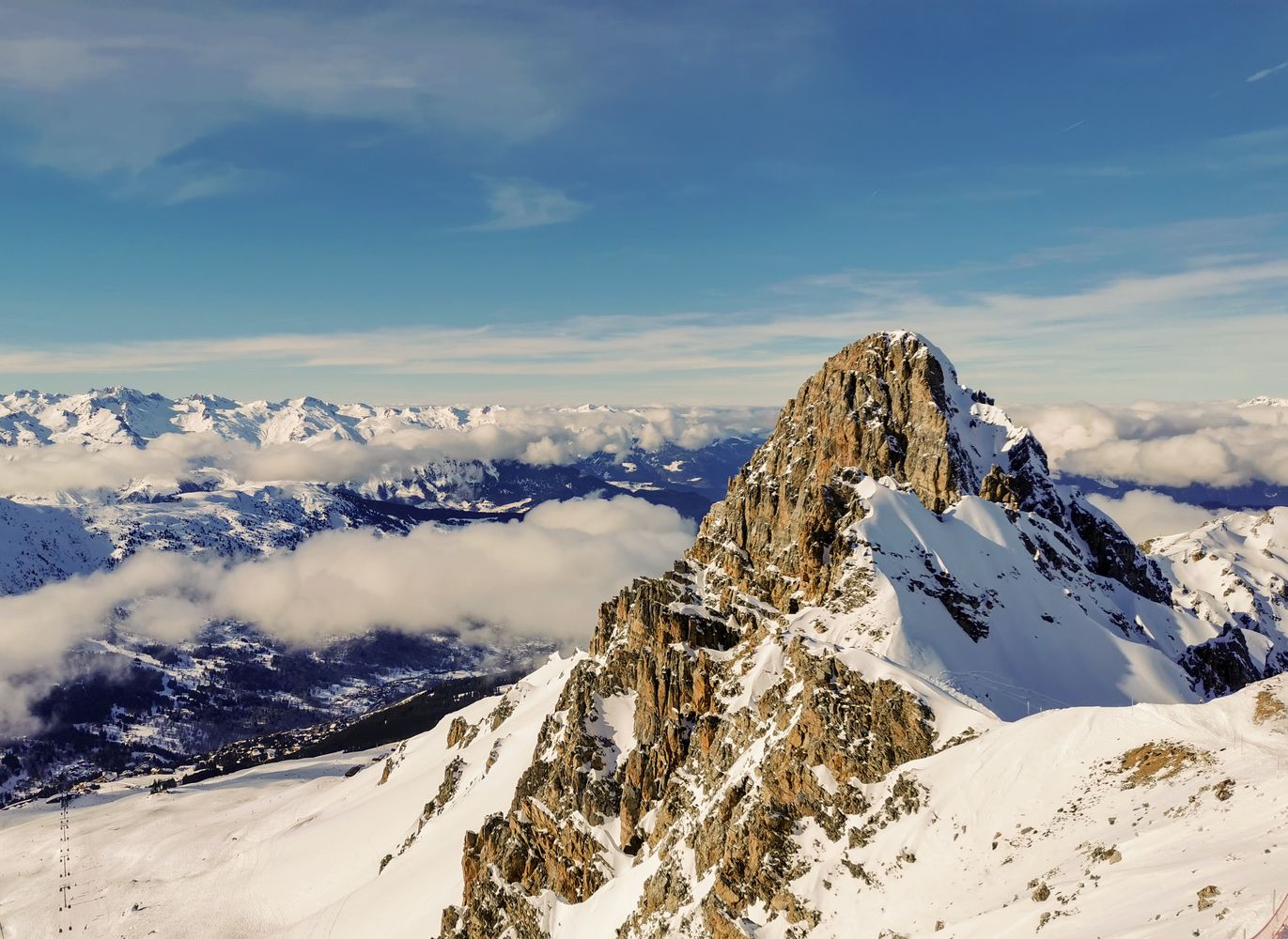 Snow is guaranteed here for a winter trip to France. For a skiing vacation, you'll need snow, and Courchevel makes sure you'll get it. It helps that more than 80 percent of the ski area is over 1800 meters in elevation and that the bulk of the runs are north-facing.
As far back as the 1980s, this Savoyarde resort was one of the first to make an investment in artificial snow, when fluorocarbons were still in vogue. Over 600 snow cannons have been installed throughout the ski resort, covering approximately 60% of the runs.
Gastronomic innovation has always been at the forefront of Courchevel's culture. Le Chabichou, owned by Michel Rochedy, was the first restaurant in the resort to get a Michelin star in 1979, and it went on to receive a second star five years later. Visitors – whether on family vacations or business visits – may now choose from seven restaurants that have received Michelin stars, the biggest concentration of Michelin stars in any single ski resort.
In addition to Michelin-starred restaurants, the resort offers a diverse selection of dining options. There are more than 100 alternatives to suit all tastes and budgets, including bistros, brasseries, crêperies, international cuisine, Italian, pizzerias, classic and atmospheric restaurants, as well as traditional and casual dining establishments.
Megève
People who enjoy snow activities, mountain eateries, and cocooning periods by the fire will find the winter season to be particularly enjoyable.
The 400 km of slopes in the ski area of the resort and its environs are separated into two distinct sectors, one of which is the main ski area. There are four places accessible from the center of the village: Caboche, Mont-d'Arbois, Cote 2000, and Saint-Gervais, which are all within walking distance of one another. These ski areas join together to form a ski region with many hundred kilometers of slopes.
Park in one of the many car parks in the city center, head out early in the morning to enjoy the freshly groomed slopes, stop at one of the many mountain restaurants, continue to the Mont-d'Arbois area, take in the views of Mont Blanc, ride the Mont-Joux chairlift, and finish with a small café in town with a stunning view and a jovial atmosphere.
It is in this zone that the domains of Combloux and Jaillet are located. These two south-facing terraces will provide you with breathtaking views of the Megève valley. You will love its many mountain eateries with original charm, as well as its blue slopes that traverse through woodland regions, which have a more family vibe and are less crowded.
For art enthusiasts, Megève welcomes you to visit its blue-chip art galleries throughout the year and take advantage of the exhibitions of painters, sculptors, and photographers.
The city's museums and the majestic Saint-Jean-Baptiste cathedral are among the cultural attractions you may enjoy while in town for activities. In addition, the Palais Megève is the largest sports complex in the region, offering pools, rock climbing, ice skating, spas, and quiet intellectual moments in the media library, where visitors may learn about the history of the region.
When it's raining or cold outside, the sports center provides a variety of indoor activities such as a skating rink, a climbing wall, a spa with saunas and hammams, and a variety of aquatic pools for both children and adults.
Visiting France in Wintertime
Winter Weather in France
In general, winters in France are rather frigid, especially in the country's more moderate coastal regions. Outside of the hilly regions of the Alps and the Pyrenées, snowfall is quite uncommon. It is common for temperatures to drop below zero, with typical temperatures ranging from 32 F to 45 F, depending on the location, throughout the winter. Unusually warm temperatures have been observed in various parts of the world during the past few years.
What to Pack for Winter in France
When planning a trip for Winter in France, If you're traveling to the south of France or the west coast of France, you may usually get away with carrying clothing and equipment for mild winter weather. But remember to carry a heavy jacket, sweater, and scarf in case the weather drops into the 40s during your visit. Bring a heavy winter coat, scarf, gloves, and hat for travels to Paris, the Central, Eastern, and Northern regions of France, as well as a hat and gloves. Warm sweaters and socks should also be included in your packing list.
Enjoy your winter trip to France!