I couldn't be more excited to announce that I'm heading to Spain and Portugal this fall, for a one-month or 6-week trip through the southern part of these beautiful countries! I'm writing to you from the airport in New York, where I'll take off shortly with TAP Portugal.
Barcelona will be my first stop, with a quick change of plane in Lisbon. After spending the weekend in Barcelona, I'll head to Valencia, the seaside city known for one of my favorite dishes: Paella!
I'll continue south and west through the cities listed below, staying in each city for one week.
The Flights
My flight was really reasonably priced at just $600 round trip! I'm flying to Barcelona (BCN) from Newark (EWK) and leaving from Lisbon (LIS). It's funny because I had originally planned to do the opposite: fly into Lisbon and make my way eastwards before leaving from Barcelona.
At the last minute, I decided to check prices for arriving in Barcelona and leaving from Lisbon, and sure enough, I shaved around $70 off the price! So, I have two flights to Europe and one direct flight home from Lisbon. Not bad for 600 bucks!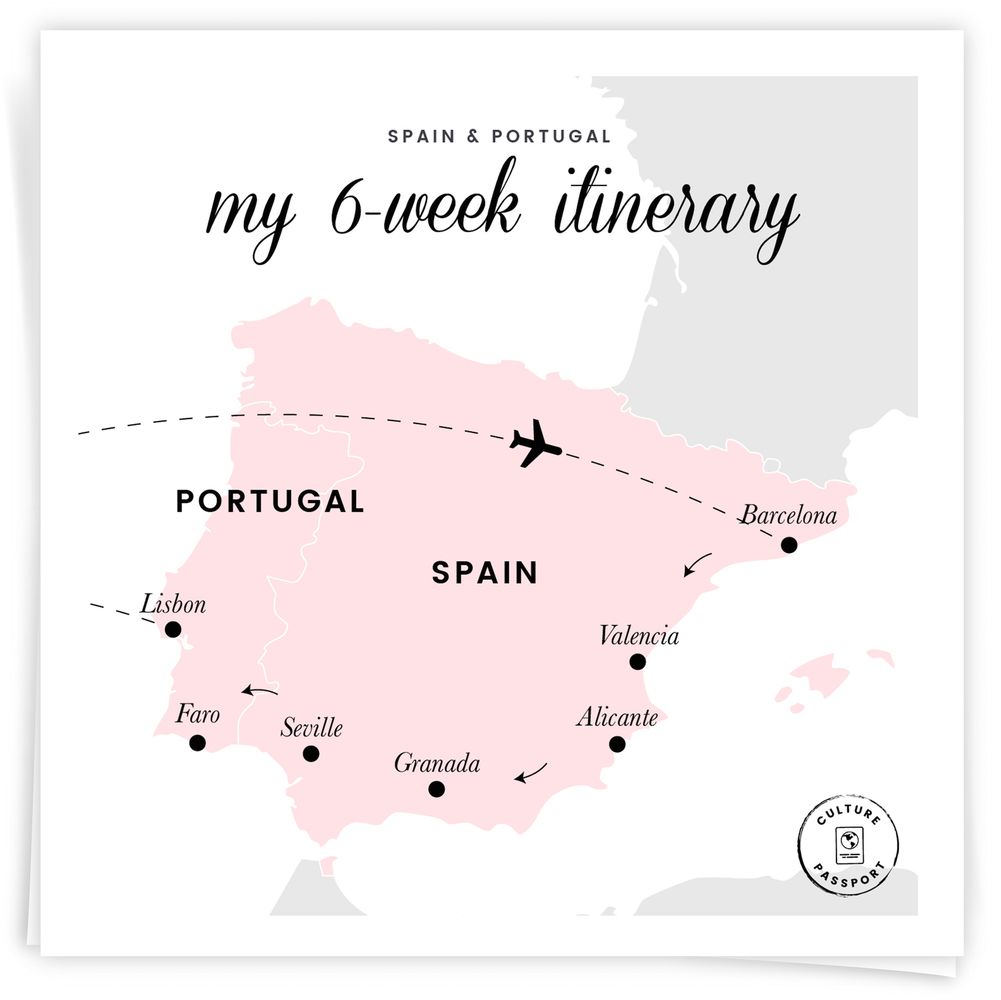 Without further ado, here are the seven cities I'll be staying in overnight. Of course, many day trips will be planned to neighboring areas every weekend!
In Spain, I'll visit Barcelona, Valencia, Alicante, Granada, and Seville.
In Portugal, I'll see Faro and Lisbon.
Trains Between Cities in Spain
I originally planned to book trains for most of the travel between cities, but it turns out that Spain's train system looks more like a spider than a web, and most everything goes out from Madrid, making long-distance travel impractical without passing through the capital.
It's not possible to take a train along the coast like I would have liked, so it looks like I'll be taking the bus on several of the destination transfers.
Thankfully ALSA has me covered where the trains fall short and many of the routes are direct – even crossing the border between Seville and Faro!
Hello Sunshine
A huge part of why I chose these destinations is because it's nearly winter and the weather is probably most favorable in these areas. I am not a fan of the cold! Many of them are known to have 300+ days of sunshine per calendar year. A lot of them are coastal cities that become packed in the summer so I'm thinking it will be nice to visit them during the off-season.
We'll see if this turns out to be a good thing or a bad thing, especially in the smaller towns like Alicante and Faro, but I'm hoping for the best!
I haven't been to any of these cities except Barcelona in 2008, and Lisbon in 2012, so everything is gonna feel brand spankin' new to me and I couldn't be happier to have chosen them!