Lisbon is the capital city of the country of Portugal in western Europe. With stunning views over the vast Atlantic ocean, it is also a popular tourist destination for visitors from all over the world.
If you are planning a trip to Portugal, there are plenty of things to do in Lisbon during your trip. Whether you are taking a long excursion or a short weekend getaway, Lisbon has plenty to offer.
Lisbon offers amazing cultural activities, shopping areas, scenic viewpoints, and unique dining opportunities that people of all ages and backgrounds can enjoy.
There are plenty of things to do in Lisbon, without leaving the city at all. Enjoy these historic sites, museums, and viewpoints as a part of your trip to Lisbon, Portugal.
Castelo de São Jorge
The Castelo de São Jorge is open to visitors seven days a week. This national monument offers education opportunities, guided tours, and a wide variety of other amazing cultural opportunities for guests. The castle was originally built during the 11th century to house military troops and serve as a fortress. There are also gardens and permanent exhibitions on site.
Mosteiro dos Jerónimos
Jerónimos Monastery is located in west Lisbon. It was designed by an architect named Diogo de Boitaca. The monastery is built in the Manueline architectural style.
Praça do Comércio
This large square is located in the middle of downtown Lisbon. It faces the Tagus estuary harbor. It hosts restaurants, outdoor concerts, art exhibitions, and more. Before a 1755 earthquake, this area was called the Terreiro do Paço, or Royal Yard.
Go up the Arco da Rua Augusta
There is a special elevator that allows you to see the view from the top of the arch. Only about 35 people at a time are allowed up, but there is not usually a long wait for visitors. The sculpture at the top of the arch is Glory crowning Genius and Valor. On the bottom are sculptures of Portuguese heroes including Vasco da Gama, the Marquis of Pombal, Nuno Álvares Pereira and Viriato.
Take in the View from Miradouro São Pedro de Alcantara
The Miradouro São Pedro de Alcantara is a beautifully landscaped terraced area surrounding a large fountain. Many people enjoy sitting in the area to pause from walking, enjoy a beverage, and check out the view of Lisbon.
Eat a Pastel de Nata from Pastéis de Nata in Belém
A pastel de nata is a Portuguese tart pastry made with egg custard and dusted lightly with cinnamon. You can eat a pastel de nata either warm or cold, and they are best when eaten freshly baked. Pastéis de Nata in Belém is perhaps the most famous place where these yummy treats are sold!
Ride on Tram 28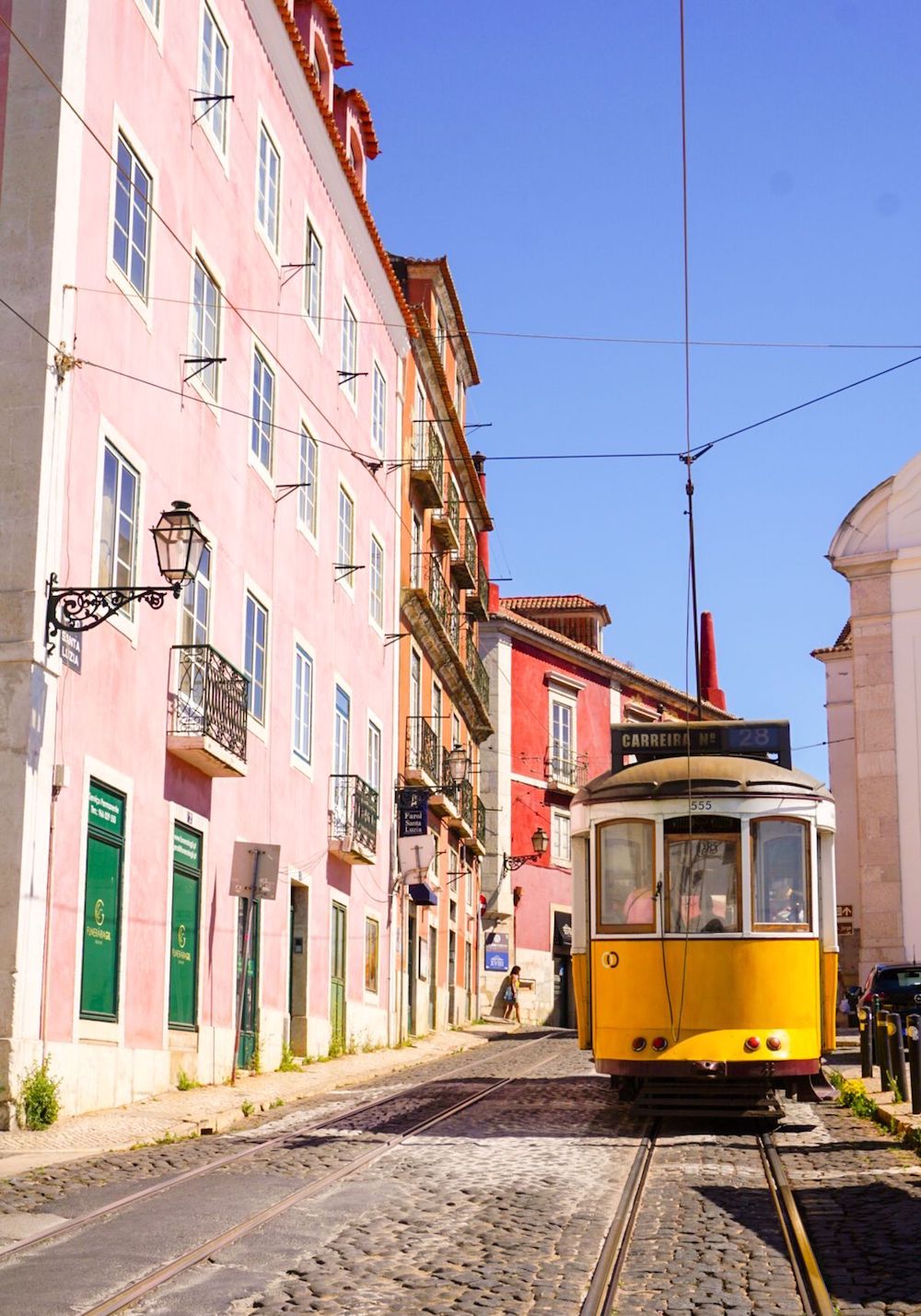 Tram 28 is an old school yellow tram that travels through a variety of popular areas including Graca, Alfama, Baixa and Estrela. The tram connects Martim Moniz and Campo Ourique.
Check out the Pink Street
Rua Nova do Carvalho, or Pink Street, is located in the Cais do Sodre area of Lisbon, Portugal. This picturesque street is a popular place to visit to do some photography or take snapshots for social media.
Berardo Collection Museum
The Berardo Collection Museum serves as the main contemporary and modern art museum in the country of Portugal. The museum was founded in 2006 and it gets over one million visitors yearly.
Lisbon Oceanarium
The Lisbon oceanarium hosts a permanent aquarium with 8000 sea creatures. It also hosts a rotating selection of temporary exhibits. They offer guided tours, sleepovers, and a manta conservation experience.
Museu Nacional de Arte Antiga
This gallery hosts art from the 15th through 19th centuries. The museum also features a beautiful garden that overlooks the River Tagus.
Elevador de Santa Justa
The Elevador de Santa Justa goes up approximately 7 stories, or 45 meters high. The building also features eye catching gothic architecture. There can be long waits to go up the lift, so keep that in mind.
See the World's Oldest Operating Bookstore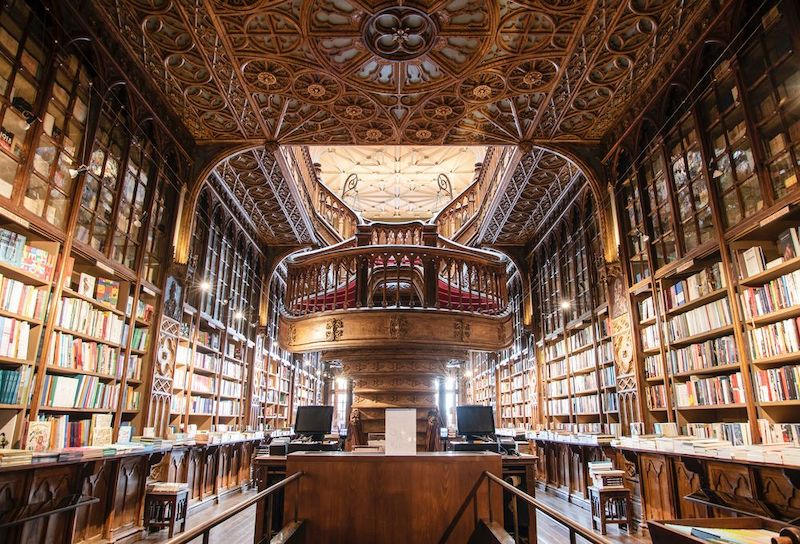 The Livraria Bertrand was originally opened in 1732, making it the world's oldest operating bookstore. You can read books, purchase books, enjoy the cafe, or talk with others there.
Sé Cathedral
The Sé Cathedral was originally built in the 12th century. The massive building has two large clock tours and two tourist areas. Evening mass is held in Portuguese at 7pm daily, and before mass the cathedral is open to the public. The cloisters are also accessible to visitors for a small fee.
Torre de Belém
The Belém Tower, or Torre de Belém, is a large fortification that stands approximately 98 feet tall. This historic tower was originally constructed in the 1600s to serve as a protective fortress to guard the city of Lisbon. Over half of a million people visit this destination yearly in the cute town of Belém. Make sure to buy tickets in advance.
Day Trips from Lisbon
There are plenty of things to do in Lisbon but there are also plenty of great day trips that you can take close to the city. Here are a few day trips that you can take while visiting Lisbon.
Sintra
Sintra is a wildly colorful resort town located just outside of Lisbon. Sights to see in Sintra include the Sintra National Palace (Palacio Nacional de Sintra), The Quinta da Regaleira, The Castelo dos Mouros, the Monserrate Palace, and the hills of the Serra de Sintra. For a long time, it served as a royal getaway, but now it welcomes tourists from around the world who admire its myriad colorful architectural wonders.
Cascais
Cascais is a gorgeous tourist destination with sandy beaches and clear, cool water. If you are looking for a place to take a beach day trip during your stay in Lisbon, Cascais is the perfect place to go.
Cabo da Roca
Cabo de Roca is the most western point in mainland Europe. It is a beautiful place to enjoy panoramic views or take photos. There is also a coastal walking trail located in Cabo de Roca, great for sightseeing and exercising.