I'm the first to admit I love booking hotels based on their interiors. After all, if you're going to spend your mornings and evenings there, you want it to look good. The brightly colored pictures online didn't disappoint when I arrived to the H10 Villa de la Reina in central Madrid. This lovely classic hotel is located on the famous Gran Via of Madrid, nestled between historic Sol and trendy Chueca. The hotel was built during the early 20th century. It has since been restored for modern comfort without removing too much of its original vintage charm.
I arrived to check in at 1 pm, but the room wasn't ready which was fine as check-in is officially at 2 pm, so I sat down near the front of the lobby to have a cappuccino.
About 15 minutes later, a boy of about 17 or 18 walks in wearing a gray sweatshirt that says NYC. At first, I thought he was with the adult man who walked in before him, but then he came up to me alone. I had my wallet and phone next to me on my left, and my suitcase on my right. He had a menu in his hand and he pushed the menu towards me, covering my phone and wallet. He motioned towards his mouth, not saying very much. Once I gathered he was asking for money, I said "No" about three times while trying to discreetly clutch my phone and wallet. He kept on motioning to me so finally I raised my voice and said, "Hello?!" as loud as I could without screaming. Looking back, I probably would have said something else, but that was my first instinct at the moment. At that point, he ran away and out the door.
Although this interaction lasted no more than 30 seconds, I was a little shocked, to say the least. I know that this type of thing is common in Europe, especially at outdoor sidewalk restaurants, but I would not have guessed this would happen inside the hotel lobby. I'm glad nothing happened though because just a few minutes prior I had actually left my bags alone while I ordered my cappuccino at the bar. I definitely won't be doing that again.
While I didn't exactly scream, I did raise my voice quite loudly in the lobby. To my surprise, none of the staff came over to see what happened. I know there was one bartender and two receptionists, and while the lobby is very large, I am somewhat surprised no one seemed to have heard me. I think this hotel could use a doorman to prevent issues like this. While nothing bad happened, this situation could have easily been prevented if the hotel had enough staff around to make their guests feel safe.
At about 1:45 pm, the receptionist came over to me and told me that my room was ready, which I found quite polite. I was happy to find that although I booked a basic room for one, I was on the third floor of the building and had a balcony! While I didn't have a view of the front-facing Gran Via, I was actually happier to be on a quiet street behind the building in the Chueca district of Madrid. Although there were no tables or chairs on the balcony, it was still nice to get some fresh air and check the weather.
The room itself was tiny but beautifully decorated in a vintage 1920s style. A pink rug lay over espresso-brown wood floors. The doors and walls featured geometric molding. The black and white marble bathroom was bright and well-equipped with almost everything you could need – hair conditioner was the only thing missing! I was happy to get comfortable in the robe and slippers provided.
A Nespresso machine was available on the small desk in the room. I actually moved it into the closet where the safe and refrigerator were so that I could use my laptop on the desktop. The wifi was very strong and fast and worked perfectly in the room as well as the lobby. I was happy to find that it was a standard wifi connection, meaning there is no need to enter a login code or anything. My computer and phone just remembered the password and connected automatically.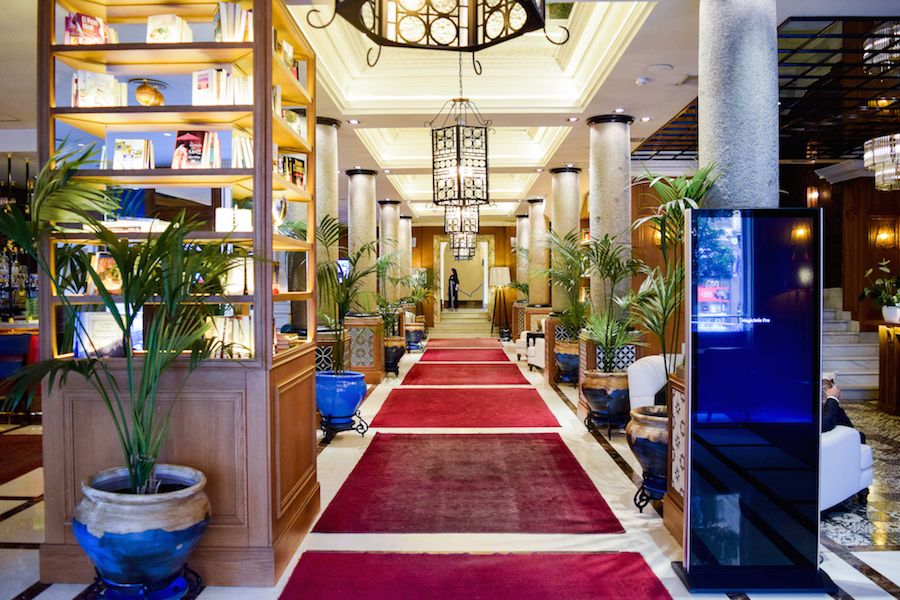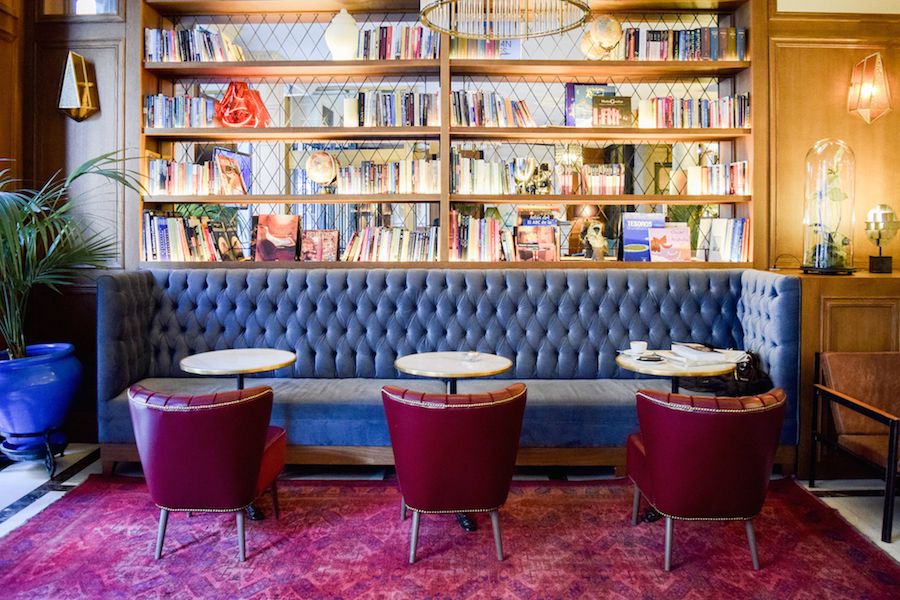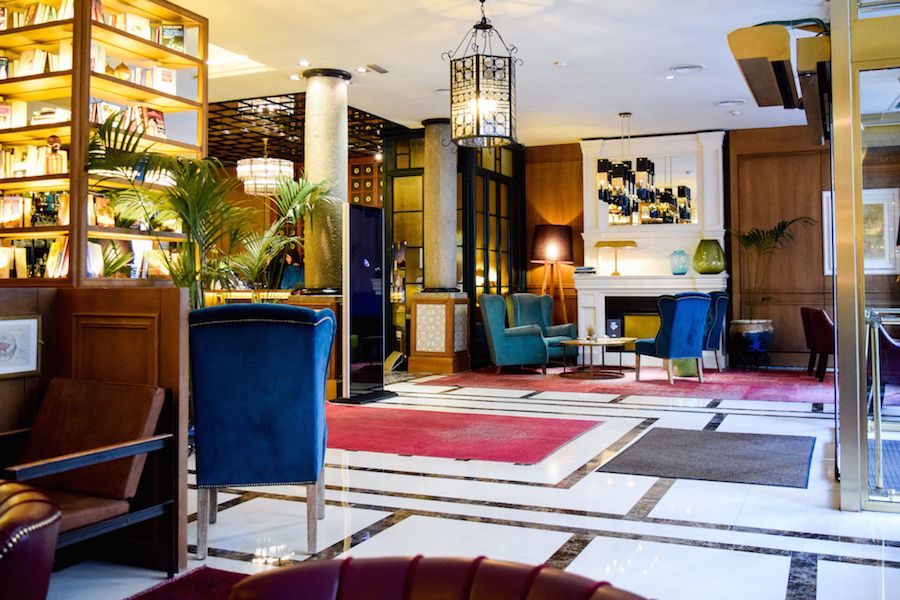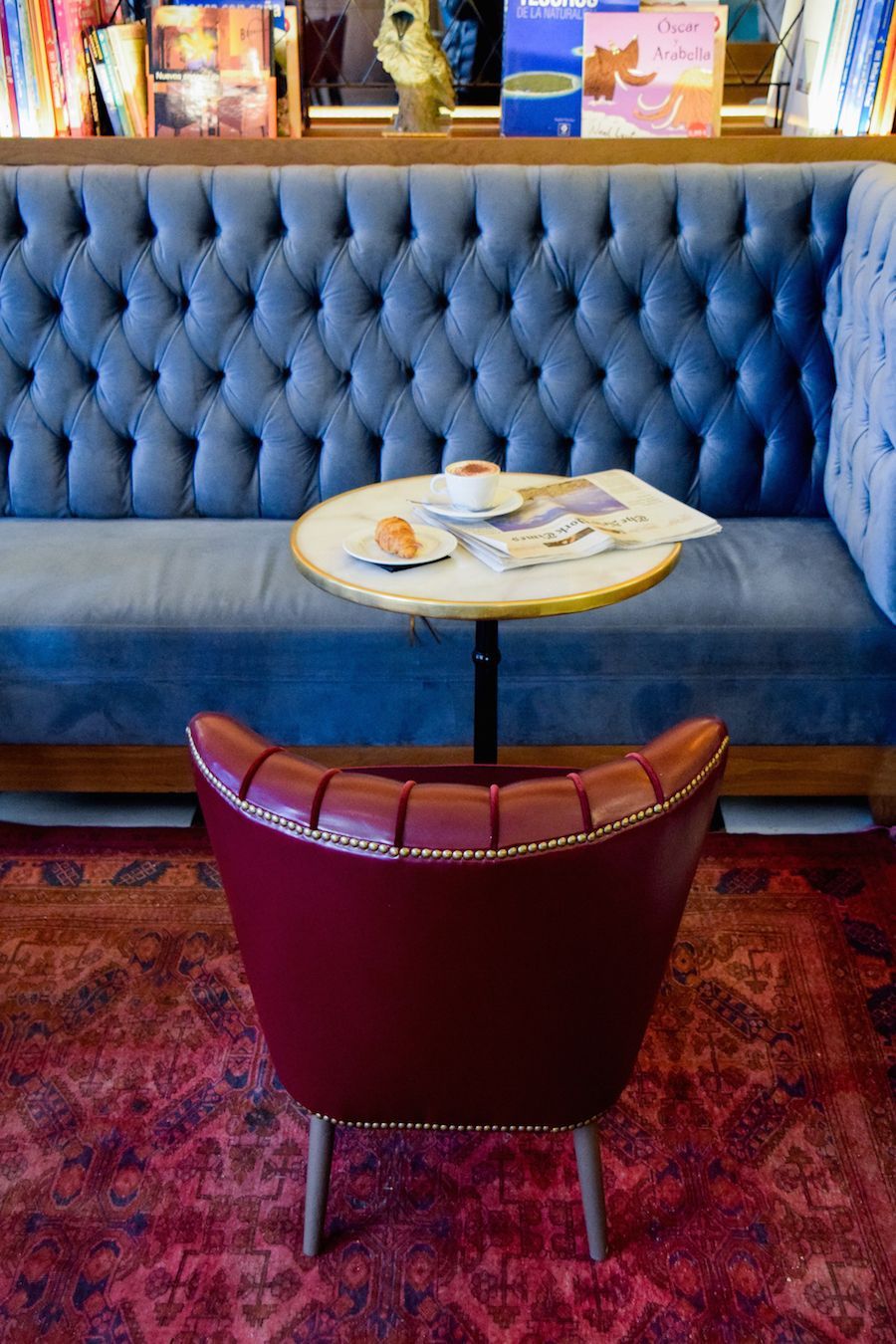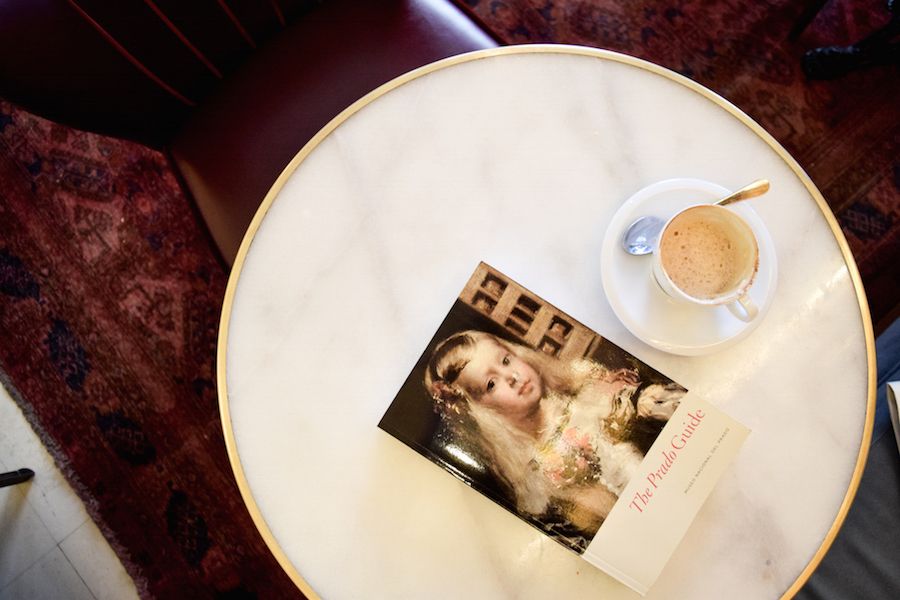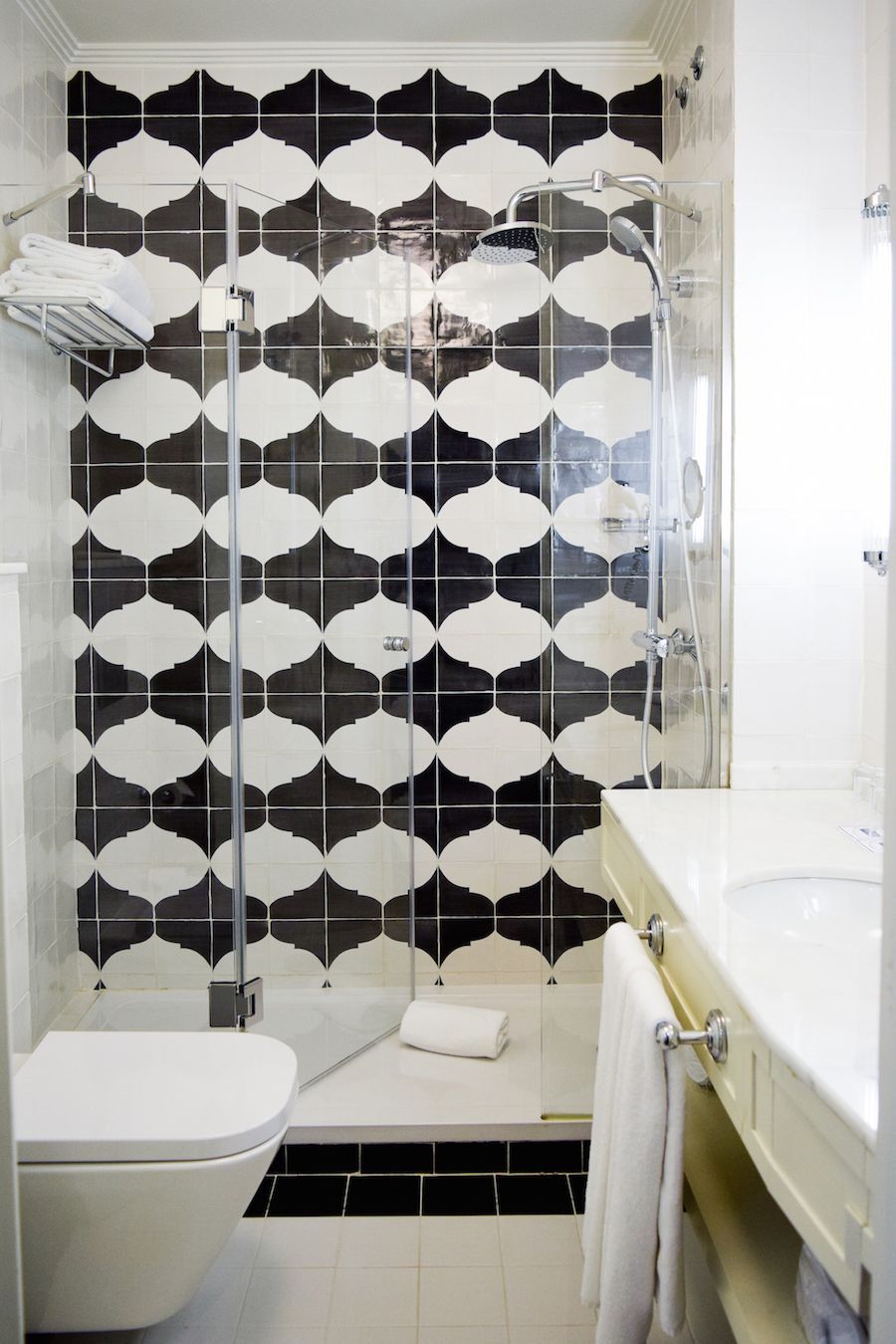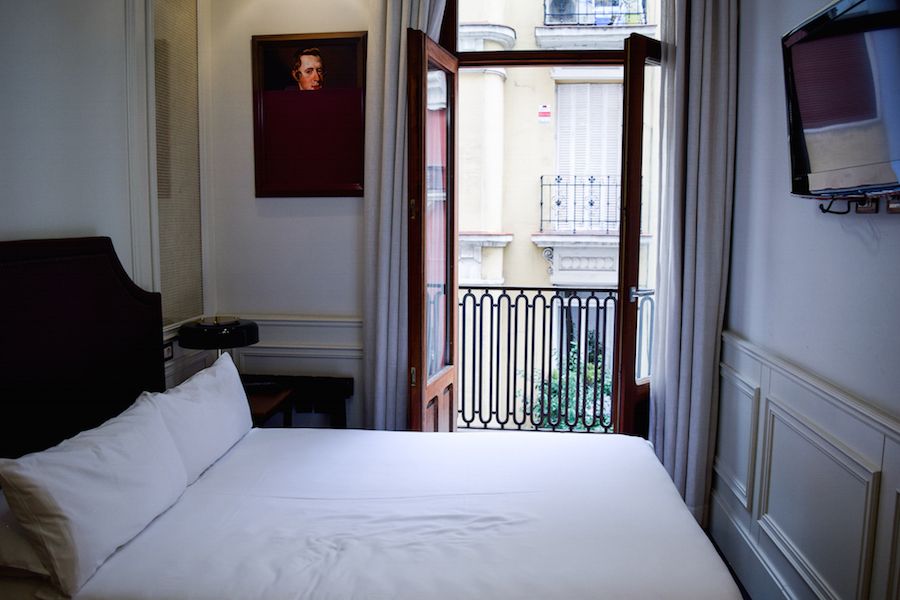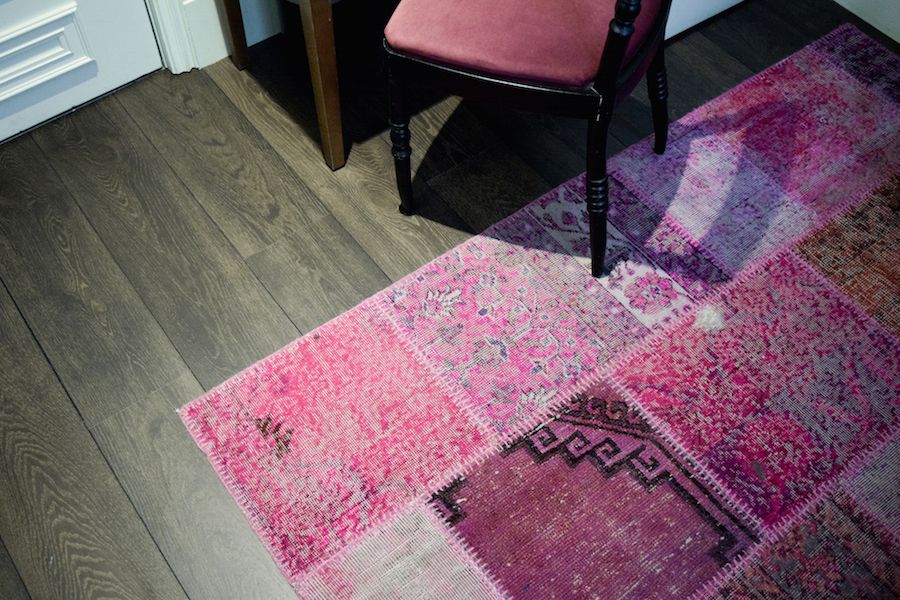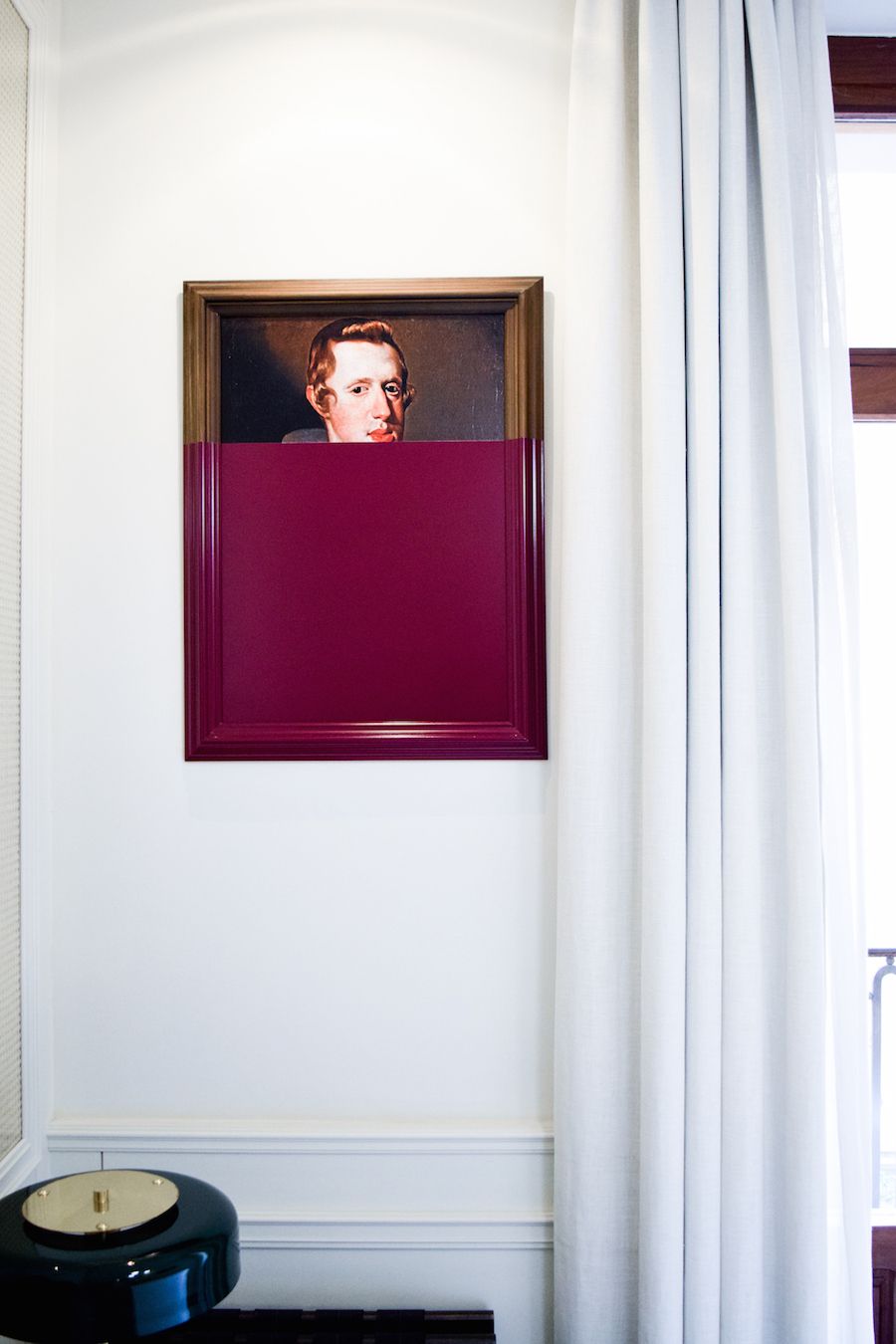 H10 Villa de la Reina
Gran Vía, 22
28013 Madrid, Spain