If you are moving abroad shortly, but want to keep your United States cell phone number for receiving calls, making calls, and sending and receiving text messages, I can show you how to keep your US phone number while abroad and actually use it!
As globalization advances, more and more Americans are moving abroad and looking for ways to keep their American phone number during their time overseas. You might want to keep it in case you decide to return to the US one day, in case you need to make and receive calls from friends and family, in case you need to verify your identity when accessing your bank accounts, and for many other reasons.
Holding on to your US number while abroad is a smart idea for everyone. Our phone number is a part of our identity nowadays, as many financial services require us to "verify" our identities using an automated phone call or text message in order to log in.
I'm going to share a great way to use your American number abroad without overpaying on international calling fees. You can even use it on the same phone where you have a foreign cell phone service.
I moved to France in 2019 and this was the exact process I followed!
Keep Your American Number While Abroad
You can keep your American phone number in a variety of ways. The first way is to check with your current cell phone provider if they offer a way to "suspend" your phone number temporarily. T-Mobile offers to temporarily suspend its customers lines twice a year for a maximum of 90 days during each period. You still pay a fee each month for them to hold on to your number.
That's not really useful in our case, as most people move abroad for longer than 6 months. You're also not able to receive texts and calls while the line is suspended.
In order to keep a US number while abroad, I find that Google Voice has been a better choice than most national American cell phone service providers' solutions.
What is Google Voice?
Google Voice is a VoIP service from Google that launched about a decade ago. It allows users to sign up for a free additional phone number linked to their current one. Calls made to the secondary number are forwarded to the primary one, and users can send and receive texts through the Google Voice app.
You can also port your existing phone number Google Voice in order to replace the secondary number they give you. This is the ideal solution for Americans moving abroad.
Porting your number to Google Voice allows you to make calls, receive calls, send texts, and receive texts just as you would normally through the Google Voice app, available for iPhone and Android.
Google Voice is a VoIP service, which stands for Voice over IP. That means that all calls are made on the app using data (unless you elect in the settings to make them through your carrier) from your new foreign cell phone service provider, or through wifi.
Most international cell phone networks offer generous amounts of data with basic plans, so this means that as long as you only use Google Voice with data, you'll get totally free calling and texting with the US.
The Cost to Port Your Number
There is a one-time $20 fee to port your number to Google Voice and use it just as you would normally. I think this fee is fair, especially if you plan to stay overseas for longer than one year.
There are no ongoing fees or monthly fees at all. You do not need to continue paying your old cell phone provider once your number has been ported away from them.
Does Google Voice Work With All Companies Who Require 2FA?
Two-Factor Authentication (2FA) is a relatively new security feature employed by many American companies that requires a user to verify their identity in more than one way before gaining access to the account. Banks and financial services companies are particularly stringent with requiring 2FA especially from new devices and locations.
I have used my number as normal for 2FA and general business text messaging after porting it to Google Voice.
It has helped me receive verification texts and calls from Capital One, Charles Schwab, TD Ameritrade, Robinhood, Uber, Doordash, Yahoo, Microsoft, AWS, Air France and many more companies. I would say it works very well with the vast majority of companies who require 2FA to log in.
The only company I've encountered so far which is not compatible with 2FA using a Google Voice number is Chase Bank. Luckily, I can still log into my account from abroad and verify my identity using my email address but I cannot verify nor receive account alerts by text the way an American could with an American cell phone plan. It's not a big deal, but I thought I'd mention it.
Important: Before You Begin
Please read these important tips to know before you begin porting your number to Google Voice!
You must port your number to Google Voice before moving abroad.
You'll need your US cell phone plan's account number and PIN for porting so call your current cell phone provider to get this information before initiating the port.
Handle any important financial transactions before beginning this process if your bank requires 2-factor authentication login using your cell phone. Your number could be stuck in limbo for up to 3 days during the porting process.
Porting Your Number to Google Voice
Now that you've got everything ready, here is how to initiate the port. These are the basic steps to porting your number to Google Voice. It's a relatively painless process so don't stress too much! Once again, be sure to initiate this process before you go overseas!
Sign up
The first step is to sign up for a free Google Voice account if you do not have one already. You will need a Gmail account to sign up, so be sure to log in. Choose "for personal use" as you sign up.
You will need to select a new Google Voice number to use. Don't worry about this, just pick any number and verify your current phone number when it prompts you. This new number will be replaced by your current number after you port it over.
Verify
In order to port your cell phone number to Google, you then need to verify that it is eligible to be ported. Go to https://google.com/voice/porting and type in your number to see.
Landlines and corporate mobile numbers are not allowed. I didn't have any trouble porting my T-Mobile number and others have ported Verizon and AT&T numbers without issue.
Once you determine it's eligible, Google will call you and ask you to verify a code. This should be straightforward.
Enter Your Current Cell Phone Billing Information
You'll then have to enter the information associated with your current cell phone provider's bill each month exactly as it appears. You may have to call your cell phone service provider to get that information if you don't have it already. You'll need things like your account number and PIN for number porting.
Make the Payment
You'll then be prompted to make the $20 payment through the Google Payments portal.
Wait for the Transfer
Now you just have to wait for the transfer to complete! The porting process takes up to 24 hours to finish, and you might not be able to send or receive texts for three days.
Install the App on Your Phone
While waiting for the port to complete, you can install the Google Voice app on your iPhone or Android cell phone.
Remember, Google Voice is accessible via both web and mobile!
---
Once the port has been completed, you will notice in your Settings that your real number appears, not the temporary one you signed up with!
Adjust Your Google Voice Settings
Be sure to take a look at all the settings of the Voice app as soon as you can.
As I mentioned earlier, the Google Voice app typically uses data in order to facilitate calls, but you can choose for these calls to pass through your normal cell phone network if you prefer. That would make sense for an American using the app in America as they would pay the same price to have a better quality call.
For us Americans abroad, it doesn't make sense as we would be paying extra for an incoming international call by using the network instead of a "free" call using the VoIP in combination with our cell phone data or wifi.
Immediately, you want to go into your Settings of the app, scroll down to "Make and receive calls" and select "Prefer Wi-Fi and mobile data."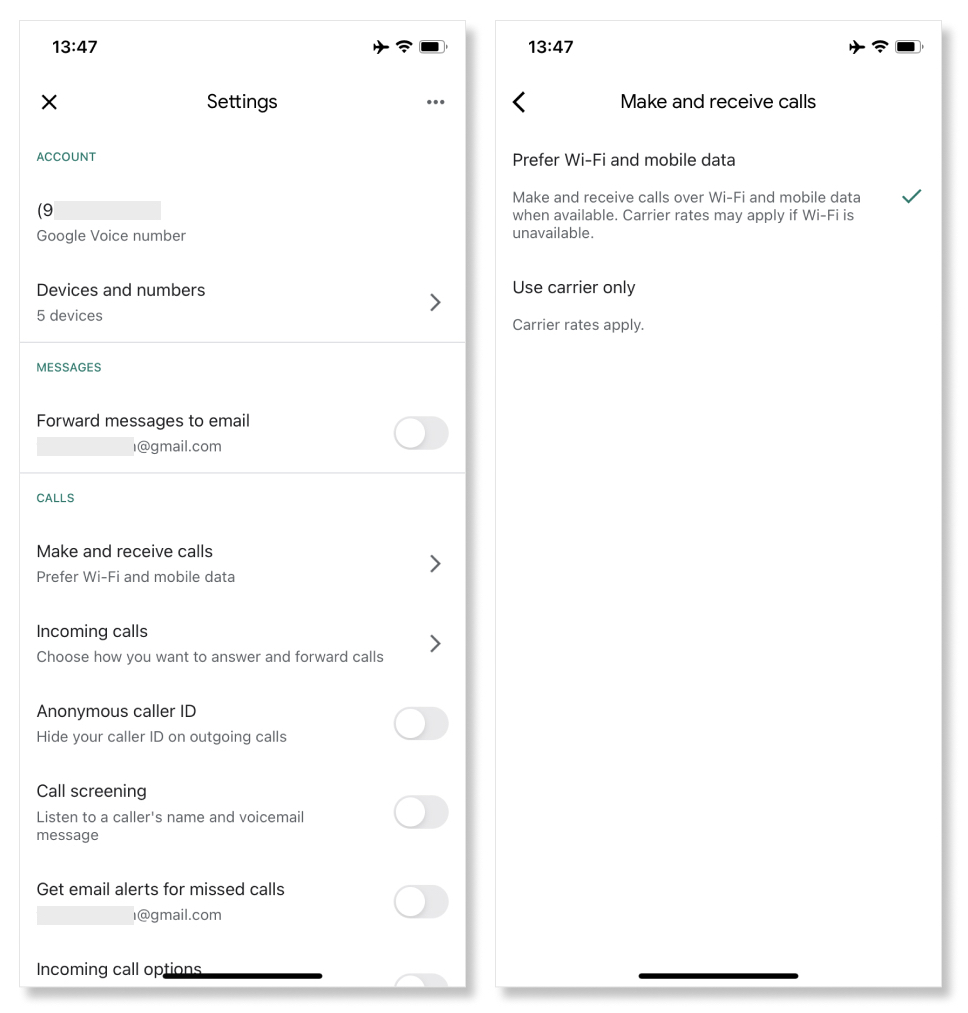 Check the Settings Regularly
You have to be really careful about this particular setting in the app in order to avoid any excess charges to your foreign cell phone service bill. Check it regularly before making any phone calls using the app and especially after the app updates.
Unfortunately, a couple years ago after an update of the app, my setting was switched from "Prefer Wi-Fi" to "Use carrier" automatically by Google. When my Dad called twice, I ended up with a $50 charge on my next bill from T-Mobile because the call passed through their network while I was abroad in France. I didn't even think to check it because I had been using Google Voice previously without any issue.
Now, I always check the settings before making a call using the Google Voice app. Sometimes I even turn off the cell network while leaving the wifi on and then make my call.
What if You Move Back?
If you decide to move back to the United States in the future, you can easily port your number to back to an American carrier. According to Mint Mobile, the porting process from Google Voice takes up to 7 days.
---
That's it! I hope this post helped you learn how to keep your mobile number after moving abroad. Let me know if you have any questions in the comments!