If you're heading to France or Europe for a short period of time, you may be looking for an inexpensive no-contract cell phone plan with data to use your phone abroad. Let's talk about the best cell phone plans for tourists in France!
If you are an expat in France or plan to be a resident, then please visit our article on the best French cell phone plans for expats instead!
In the past, French cell phone providers, like American ones, only offered long-term contracts that were difficult to get out of. Cell phone companies wanted to lock their customers into their plans so they couldn't drop out and lose revenue for the company.
Luckily, that has all changed and many French cell phone service providers offer prepaid or inexpensive cell phone plans that can be taken advantage of by tourists or citizens alike. The major cell phone operators are Orange, SFR, Free Mobile, and Bouygues Telecom.
Today I'm going to share with you two cheap prepaid cell phone companies to compare and determine which suits you best.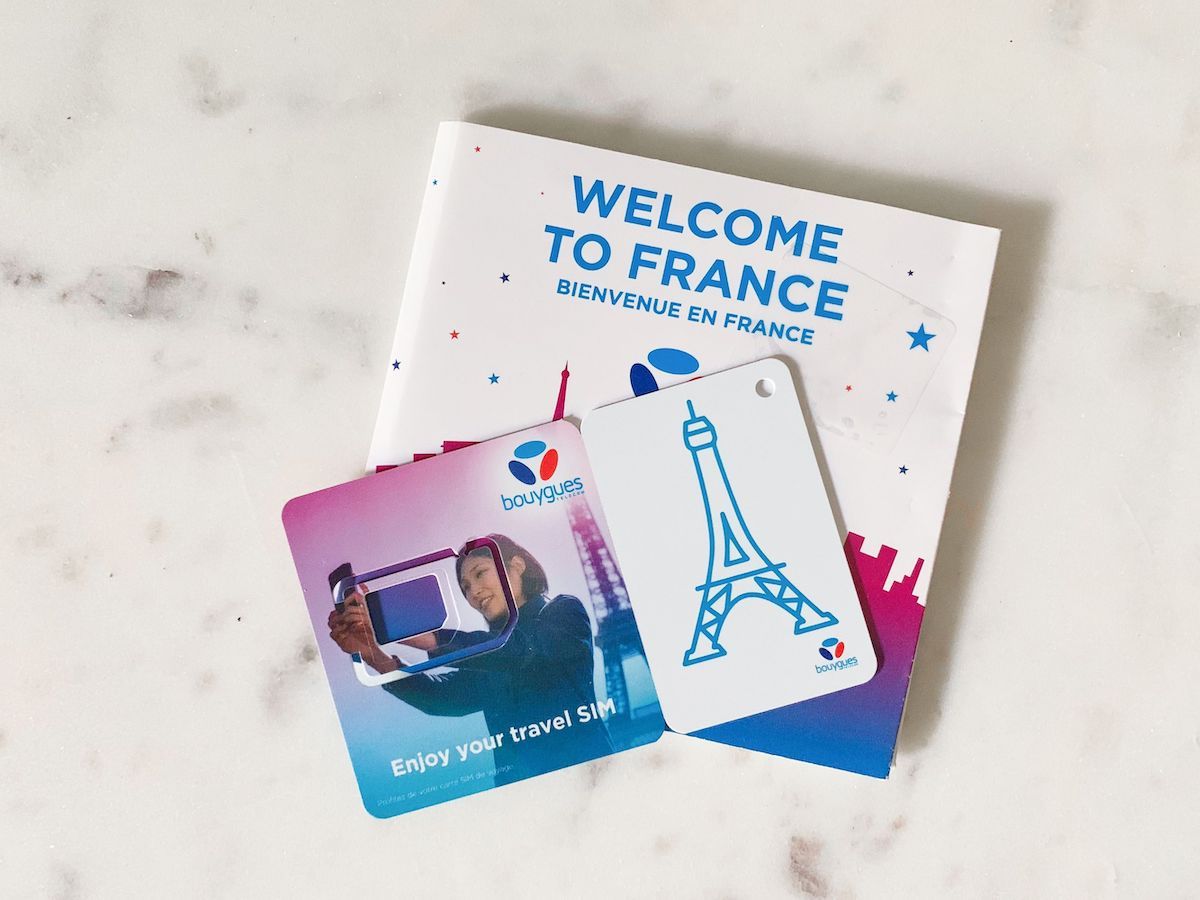 Bouygues Telecom
The first is by Bouygues Telecom – a major French cell phone and internet provider. Bouygues offers a tourist-friendly temporary cell phone plan called the Holiday SIM card.
The prepaid SIM card offers you service in France and greater Europe during 60 days for a total of €39.90. During that time, you get 20MB of data, as well as unlimited texting and calls throughout France. You can also take this plan with you and 15GB of the original 20GB can be used anywhere in Europe! Sharing the connection is allowed, and you can top up your card with more data whenever you need to.
Bouygues is a major telecom provider so you can expect great service wherever you go.
As you can see, the fact that this one SIM card can be used throughout Europe makes this option really tourist friendly, especially for travelers who will be visiting multiple countries on their trip.
Free Mobile
The next best company for cell phone plans for tourists in France is by Free Mobile – a start-up company which disrupted the French telecom market when it launched the first suite of low-cost, no-contract cell phone plans in France. The company is comparable to T-Mobile in the US in that it offers low prices with a slightly more spotty network.
For example, you may not have great service outside of the major metropolitan areas of France if you go with Free. I've never had this problem, but some people have, so I thought I'd mention it!
Free offers a month-to-month plan that some tourists choose to take advantage of. For €19.99 per month, you get 100MB of data, and unlimited texting and calling on the Free Mobile network. If you don't need that much, you could also opt for the €8.99 plan which gives you 50GB of data during one month.
Sounds great, right?
Here's the catch: you have to go to the store in Paris to buy the SIM card for this plan, and the only way to cancel their renewable plans (anything beyond one month) is by sending a written letter and form to the Free offices. The store is located near Madeleine at : 8 Rue de la Ville-l'Évêque, 75008 Paris, France.
Free recently started offering a one-month long plan for €19.99 plus a €10 SIM card fee. The plan does not renew automatically and cancels at the end of the period. So for around €30 you get 100GB of data that lasts you an entire month, tethering and connection sharing included!
Essentially, Free was originally meant as a long-term month to month solution for locals, and now it can be taken advantage of by tourists!
Which plan is best?
Personally, I ended up going with Bouygues because it fit my needs perfectly. I was in France for two months, and didn't want to deal with canceling a contract before my departure.
Personally, I'd recommend Free for stays of less than one month, and Bouygues for stays of more than one month.
Whatever you choose, it's good to know that companies are starting to serve more diverse needs when it comes to cell phone plans. I hope this post helped you find a short-term, no-contract and inexpensive cell phone plan to use during your time in France.