Bonjour, literary aficionados! The world of literature is vast and varied, teeming with works that encapsulate human experiences across continents and centuries. Among the world's most influential and revered literary traditions is that of French literature, a rich tapestry woven with threads of passion, philosophy, drama, and unflinching human truths.
French novels, in particular, have left indelible marks on the literary landscape, shaping the art of storytelling with their unique blend of elegance, profundity, and unapologetic exploration of the human condition.
Today I'll dive into the heart of French literature, exploring ten of the most famous French novels that you simply must read. From the revolutionary works of Victor Hugo to the existential musings of Albert Camus, these novels have transcended time and culture to establish themselves as universal classics.
Whether you're a seasoned literature lover looking to delve deeper into French classics, or a newcomer to the world of French literature, this list will offer you a glimpse into the extraordinary depth and diversity of French storytelling. So, sit back, grab a cup of café au lait, and get ready to discover the ten most famous French novels you must read.
You can buy original copies of these books from the best Paris bookshops if you get lucky. Or you can browse the famous Bouquinistes bookseller stalls along the banks of the Seine and try your luck at finding these French literary classics.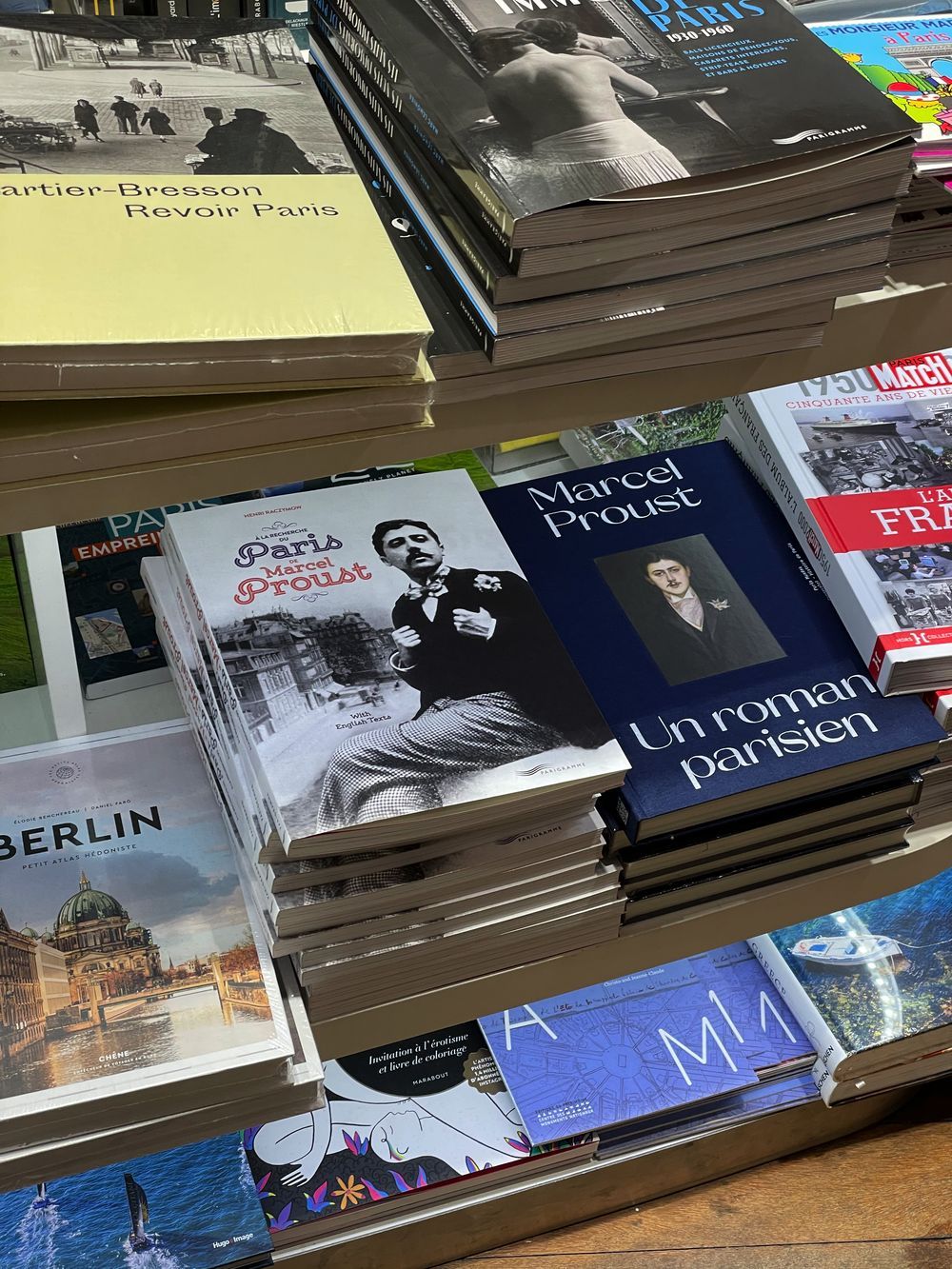 Candide by Voltaire
In "Candide," Voltaire presents a satirical critique of the philosophy of optimism. The novel follows the naive protagonist Candide on his journey around the world, facing countless horrors and disillusioning experiences. The relentless misfortunes encountered by Candide cast doubt on the notion that "all is for the best in the best of all possible worlds."
This book should be on your reading list for its timeless examination of optimism, human cruelty, and resilience in the face of suffering. Its dark humor, ironic tone, and razor-sharp critique offer a powerful reading experience.
Les Misérables by Victor Hugo
"Les Misérables" is a sprawling epic that covers themes such as love, justice, politics, and the human condition. The story revolves around the life of Jean Valjean, a man forced to steal bread to feed his family and consequently imprisoned, and his redemption.
Hugo's portrayal of the social injustices in 19th-century France offers a poignant reading experience. The novel's depth, the complexity of its characters, and its raw depiction of humanity make it a must-read.
The Three Musketeers (Les Trois Mousquetaires) by Alexandre Dumas
The historical adventure novel "The Three Musketeers" tells the tale of the young D'Artagnan and his friends – the three musketeers: Athos, Porthos, and Aramis. Their escapades, intrigues, and duels in service of the king and queen of France make for an engaging, action-packed read.
Dumas's novel is renowned for its exciting plot, humor, and insight into 17th-century French politics. It is a vibrant tale of friendship and adventure that will capture any reader's imagination.
It's also recently been adapted into a 2023 movie starring Eva Green.
Madame Bovary by Gustave Flaubert
In "Madame Bovary," Flaubert masterfully explores the discontent and despair of Emma Bovary, a woman trapped in a stiflingly mundane provincial life. Her quest for passion and excitement leads her down a path of extramarital affairs and accumulating debt.
"Madame Bovary" stands as a milestone in literary realism, offering a searing depiction of the discontent that can lurk beneath the surface of ordinary lives. Its exploration of unfulfilled desires and the consequences of romantic illusions make it a profoundly compelling read.
The Stranger (L'Étranger) by Albert Camus
"The Stranger" introduces readers to Meursault, a man who refuses to conform to societal expectations and remains emotionally detached throughout the narrative. When he commits a senseless act of violence on a sun-drenched Algerian beach, his life is irrevocably changed.
Camus's work confronts readers with existential questions about life's purpose and the freedom found in the rejection of societal norms. Its thought-provoking themes and stark depiction of the human condition make it an essential read.
In Search of Lost Time (À la recherche du temps perdu) by Marcel Proust
"In Search of Lost Time" (À la recherche du temps perdu) is a seven-volume masterpiece and is one of the most influential works of 20th-century literature. It's an intimate exploration of memory, art, time, love, and loss as experienced by the narrator throughout his life.
Proust's intricate and immersive style may challenge readers, but the payoff is a breathtakingly vivid, deeply introspective journey into the human mind and heart. Its exploration of subjective memory and experience makes this monumental work an essential part of any literary journey.
Germinal by Émile Zola
"Germinal" paints a bleak and dramatic picture of the coal mining industry in 19th-century France. It explores the harsh, often tragic lives of miners, their families, and the wealthy bourgeoisie who profit from their labor.
Zola's vivid and harrowing depiction of poverty, social inequality, and struggle for survival offers a searing critique of capitalist exploitation. The novel's powerful social commentary and the humanity of its characters make it a compelling and worthwhile read.
The Count of Monte Cristo by Alexandre Dumas
The tale of Edmond Dantès and his transformation into the Count of Monte Cristo is a captivating adventure full of revenge, treasure, and intrigue. Wrongfully imprisoned on his wedding day, Edmond escapes after many years, finds a hidden treasure, and sets out for revenge against those who wronged him.
This gripping story of betrayal, perseverance, and retribution will engage readers from start to finish. Its complex plotting, memorable characters, and exploration of themes like justice, vengeance, and mercy make it an unforgettable reading experience.
The Plague by Albert Camus
"The Plague" is a haunting tale of a devastating plague that strikes the Algerian city of Oran. The story is told through the eyes of Dr. Rieux and presents a philosophical exploration of the human condition in the face of death and suffering.
Camus uses the plague as a metaphor for fascism and the resistance against it. The novel's exploration of human resilience in the face of the seemingly insurmountable makes it a poignant and timeless read on our list of classic French novels.
The Hunchback of Notre Dame by Victor Hugo
The classic and beloved novel "The Hunchback of Notre Dame" tells the tragic story of Quasimodo, the deformed bell ringer of Notre Dame, and his love for the gypsy Esmeralda.
Hugo masterfully weaves a story of love and tragedy against the backdrop of 15th-century Paris. Its vivid historical setting, complex characters, and exploration of themes such as societal outcasts and unrequited love make it a deeply affecting and memorable read.
The Red and the Black by Stendhal
The novel "The Red and the Black" is a keen psychological portrait of Julien Sorel, a young man from a humble background who rises in French society through his intelligence and ambition.
Stendhal's detailed character study of Julien and the satirical depiction of French society make for a compelling read. Its exploration of themes like ambition, hypocrisy, and social maneuvering makes it a classic of French literature.
Journey to the End of the Night by Louis-Ferdinand Céline
The semi-autobiographical novel "Journey to the End of the Night" presents a pessimistic view of life through the cynical and disillusioned voice of its protagonist, Ferdinand Bardamu.
From the horrors of World War I to the despair of life in colonial Africa and the grim streets of Paris, Céline's work is a powerful commentary on human nature and society. Its raw, unique style and bleak yet incisive portrayal of life make it a standout work in French literature and one of the all-time best French novels.
Twenty Thousand Leagues Under the Sea by Jules Verne
A classic of science fiction, the "Twenty Thousand Leagues Under the Sea" novel tells the thrilling adventure of Professor Aronnax, his servant Conseil, and harpooner Ned Land, who are kidnapped by the mysterious Captain Nemo aboard his submarine, the Nautilus.
Verne's vivid descriptions of undersea life, along with the intriguing character of Nemo, make this novel a captivating read. Its blend of adventure, science, and exploration make it a must-read for any fan of speculative fiction.
Dangerous Liaisons by Pierre Choderlos de Laclos
"Dangerous Liaisons" is a scandalous epistolary novel that explores the moral corruption of the French aristocracy in the 18th century. The manipulative Marquise de Merteuil and the rakish Vicomte de Valmont use seduction as a weapon to humiliate and degrade others, but their plot eventually leads to their downfall.
Laclos's exploration of power, desire, and deceit make this a shocking yet insightful reading experience. The book inspired the cult-classic 1990s modern-day take Reese Witherspoon film Cruel Intentions.
Gargantua and Pantagruel by François Rabelais
The series of five novels, "Gargantua," written in the 16th century, is a masterpiece of Renaissance literature, known for its satirical and humorous take on society. The gigantic Gargantua and his son Pantagruel go on numerous adventures, meeting a variety of peculiar characters.
Rabelais's playful use of language, satire of educational and religious institutions, and the sheer joy of his storytelling make these novels a unique and entertaining read.
---
Which of these French novels do you consider to be the most classic?