From the dawn of filmmaking, France has been a powerhouse of cinematic art. France has cultivated a rich film culture and produced some of the most influential and acclaimed directors, actors, and films in the history of French cinema.
In the golden, flickering light of a Parisian silver screen, the spirit of French cinema comes alive. French cinema, often hailed as the cradle of the film world traces its roots back to the late 19th century, when the Lumière brothers ignited the spark that would illuminate the world of storytelling through moving pictures.
From realism that wove grace into the gritty facets of life, to the defiant brilliance of the Nouvelle Vague that challenged conventions and reshaped the cinematic landscape, French cinema stands as a beacon of innovation and a testament to the transformative power of film.
History of French Cinema
The history of cinema in France is both rich and significant, being home to the birth of cinema. In the late 19th century, the Lumière brothers, Auguste and Louis, pioneered early filmmaking technology. They held their first private screening of projected motion pictures in 1895. Later that year, they had the first public screening at the Grand Café in Paris. This marked the inception of cinematic history not just in France, but globally.
In the early 20th century, France became a hub for artistic innovation in film, fostering the talents of directors like Georges Méliès, known for pioneering narrative cinema and special effects. During the 1920s and 1930s, French cinema saw the rise of poetic realism, which focused on portraying realistic narratives with a touch of poetry and beauty.
After the Second World War, France witnessed the emergence of the New Wave (Nouvelle Vague), a movement in the 1950s and 1960s, characterized by its rejection of traditional filmmaking conventions. Iconic directors like François Truffaut and Jean-Luc Godard were central figures in this movement. They embraced experimental techniques, creating a fresh, dynamic narrative and visual style.
In the latter part of the 20th century and into the 21st century, French cinema continued to flourish, consistently producing critically acclaimed films and fostering new generations of talented filmmakers. It has maintained a reputation for producing art-house films, as well as commercial cinema.
Best French Films
Determining the best French films of all time can be subjective, however, several French films have received universal acclaim for their artistic merit, narrative innovation, and influential techniques. Here are the most noteworthy French movies:
"La Grande Illusion" (1937) – Directed by Jean Renoir, this film is hailed for its profound humanism and its piercing look at the futility of war.
"La Règle du Jeu" (1939) – Also by Jean Renoir, it is often praised for its complex characters and a scathing critique of the French society.
"Les Enfants du Paradis" (1945) – Directed by Marcel Carné, it offers a vibrant portrayal of the 19th-century Parisian theatre scene.
"The 400 Blows" (1959) – A François Truffaut's film, it marked the arrival of the French New Wave, showcasing a deeply personal narrative.
"Breathless" (1960) – Directed by Jean-Luc Godard, this film brought a revolutionary narrative and stylistic approach to cinema.
"The Umbrellas of Cherbourg" (1964) – A musical film directed by Jacques Demy, it's known for its vivid imagery and beautiful score.
"Amélie" (2001) – A modern classic by Jean-Pierre Jeunet, it is beloved for its whimsical style and the heartwarming portrayal of its titular character.
"La Laïcité, c'est Blue" (1993) – A profound exploration of friendship and cultural diversity by Mathieu Kassovitz.
"Blue" (1993) – The first installment of Krzysztof Kieślowski's Three Colours trilogy, it is praised for its deep emotional resonance and beautiful cinematography.
"La La Land" (2016) – Although not a French film, it prominently features the influence of French cinema, drawing heavily from classics like "The Umbrellas of Cherbourg".
Each of these films, distinguished by its unique artistic vision, has left an indelible mark on the landscape of French cinema, showcasing the depth and diversity of storytelling that French filmmakers have brought to the global cinematic stage.
Famous French Actors and Actresses
In French cinema, a number of actors and actresses have risen to prominence, leaving an indelible mark with their remarkable performances and star power.
Gérard Depardieu: An iconic figure in French cinema, Depardieu has displayed his versatility across a myriad of roles since the 1970s, garnering numerous awards and accolades.
Catherine Deneuve: A luminary of French cinema, Deneuve has graced the silver screen since the 1960s, known for her roles in masterpieces like "The Umbrellas of Cherbourg" and "Belle de Jour".
Jean-Paul Belmondo: A key figure in the French New Wave, Belmondo's charismatic performances in "Breathless" and "Pierrot le Fou" have cemented his legacy as a French cinematic legend.
Brigitte Bardot: An icon of French cinema in the 1950s and 1960s, Bardot captivated audiences with her beauty and talent in films such as "And God Created Woman".
Alain Delon: Renowned for his striking looks and compelling performances, Delon has been a prominent actor in French cinema since the 1960s when he made films like "Le Samouraï" and "Rocco and His Brothers".
Isabelle Huppert: Huppert is a revered contemporary actress with extensive filmography, known for her powerful performances in "The Piano Teacher" and "Elle".
Marion Cotillard: A modern star with global recognition, Cotillard has received acclaim for roles in movies such as "La Vie en Rose", for which she won an Academy Award.
Jean Reno: With a career spanning several decades, Reno is recognized for his roles in films like "Léon: The Professional" and "The Big Blue".
Audrey Tautou: Tautou became an international sensation with her lead role in "Amélie", showcasing her range in various other films thereafter.
Omar Sy: A newer face in French cinema, Sy has won acclaim for his performances in movies like "The Intouchables" and "Lupin", a popular Netflix series.
Cannes Film Festival
The Cannes Film Festival is one of the most prestigious and renowned film festivals in the world. Established in 1946, it is held annually in the city of Cannes, located on the French Riviera.
The festival serves as a platform where international filmmakers showcase their works, competing for various awards, with the highest accolade being the Palme d'Or, awarded to the best film presented at the festival.
During the festival, Cannes transforms into a hub of cinematic activity, drawing industry professionals, celebrities, and film buffs from around the world. It is known for its red-carpet events, as well as its strict invitation-only policy.
The Cannes Film Festival has played a significant role in promoting art-house films alongside mainstream cinema, providing a global stage where both established and emerging filmmakers can present their work to a discerning audience.
Apart from the competition, the festival also hosts marketplaces for international film and television sales, and forums for discussions on various industry topics, offering networking opportunities for film industry professionals.
The Cannes Film Festival celebrates cinema while fostering cultural exchange and collaboration within the global film community.
Cesar Awards
The César Awards are the national film awards of France, established in 1976 by Georges Cravenne to honor achievements in French cinema, much like the Academy Awards in the United States. Named after the French sculptor César Baldaccini, who designed the trophy awarded to the recipients, the César Awards are presented annually by the French Academy of Cinema Arts and Techniques.
The ceremony acknowledges excellence in various categories including, but not limited to, Best Film, Best Director, Best Actor, and Best Actress, fostering and recognizing the talents and accomplishments of filmmakers, actors, and technical crews in the French film industry. A specific characteristic of the César Awards is the "César du Meilleur Espoir", which recognizes the promising talents of young actors and actresses.
The César Awards have become a significant event in the French cultural calendar, playing a pivotal role in promoting and celebrating the richness of French cinema. The ceremony is broadcast on French television, drawing a wide viewership and bringing together the French film community in a grand celebration of cinematic artistry and achievement.
French Movie Theaters
In France, a country with a rich cinematic history, several movie theaters have gained fame due to their architectural grandeur, historical significance, or unique offerings. Here are some of the most famous French movie theaters!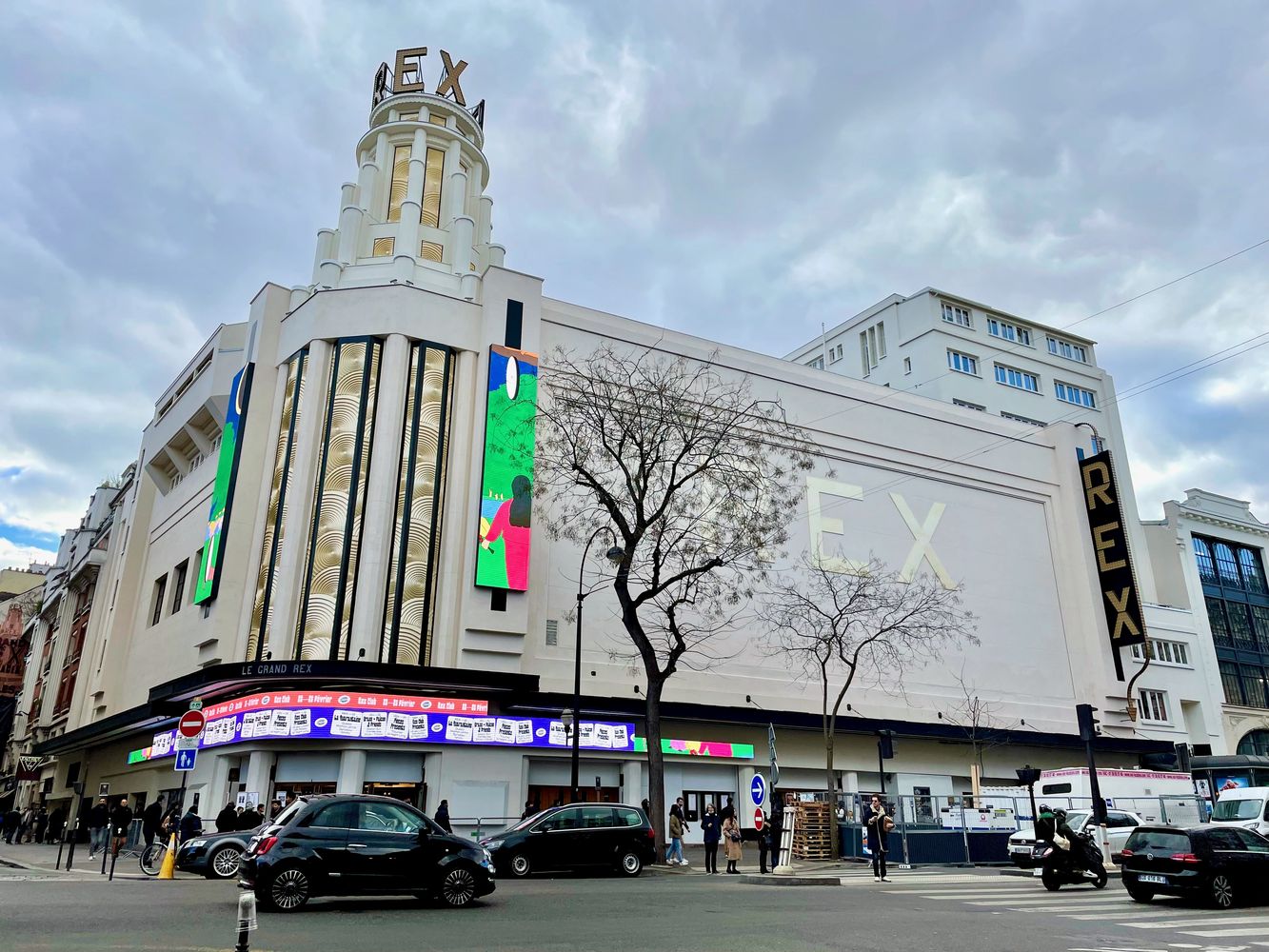 Le Grand Rex: Situated in Paris, this is the largest cinema, theater, and music venue in France. It is renowned for its Art Deco design and a starry "sky" that adorns its ceiling.
Le Louxor: A historic venue in Paris, it stands as a fine example of neo-Egyptian architecture. After being closed for several years, it reopened in 2013, restoring its status as a popular movie venue.
Le Champo: A historic and cultural landmark in Paris, Le Champo has been a favorite haunt for film students and cinephiles since the 1930s, often screening classic films and retrospectives.
UGC Ciné Cité: A modern cinema chain in France, with locations in various cities, known for its comfortable settings and a wide selection of films, including the latest releases.
French Film Production Companies
Pathé Films is a French film production and distribution company. It was founded in 1896 by Charles Pathé and his brothers. The company played a significant role in developing the French film industry, both in France and internationally. Pathé is one of the oldest film companies in the world.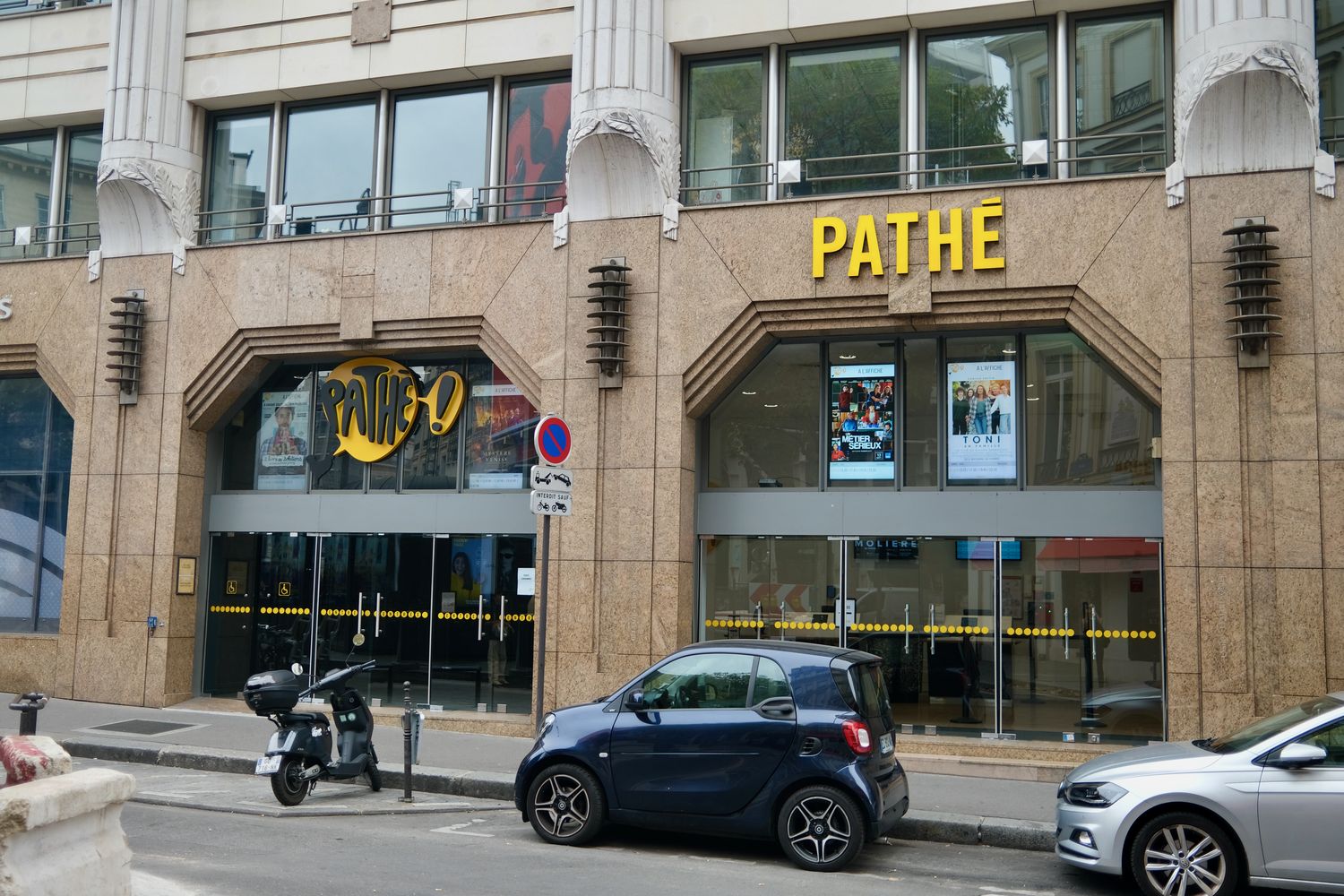 It has expanded its operations to include television production and other forms of entertainment. The company's logo features a rooster, which is also a national symbol of France. Pathé has been involved in producing and distributing hundreds of films, from early silent films to contemporary blockbusters.
Morris Columns Advertise French Films
Morris Columns, known as "Colonne Morris" in French, are distinctive advertising columns found in Paris, France. They were introduced in the mid-19th century by Gabriel Morris, a printer, as a means to declutter the streets of numerous posters and flyers by centralizing advertisements in one place. These columns, often dark green in color and adorned with ornate domed tops, quickly became an iconic element in Parisian street furniture.
Functionally, Morris Columns serve dual purposes. Firstly, they act as advertising spaces, where posters for cultural events, theatre productions, and movies are displayed. Secondly, some of these columns house small utility rooms or electrical cabinets, making them functional structures on the Parisian streets.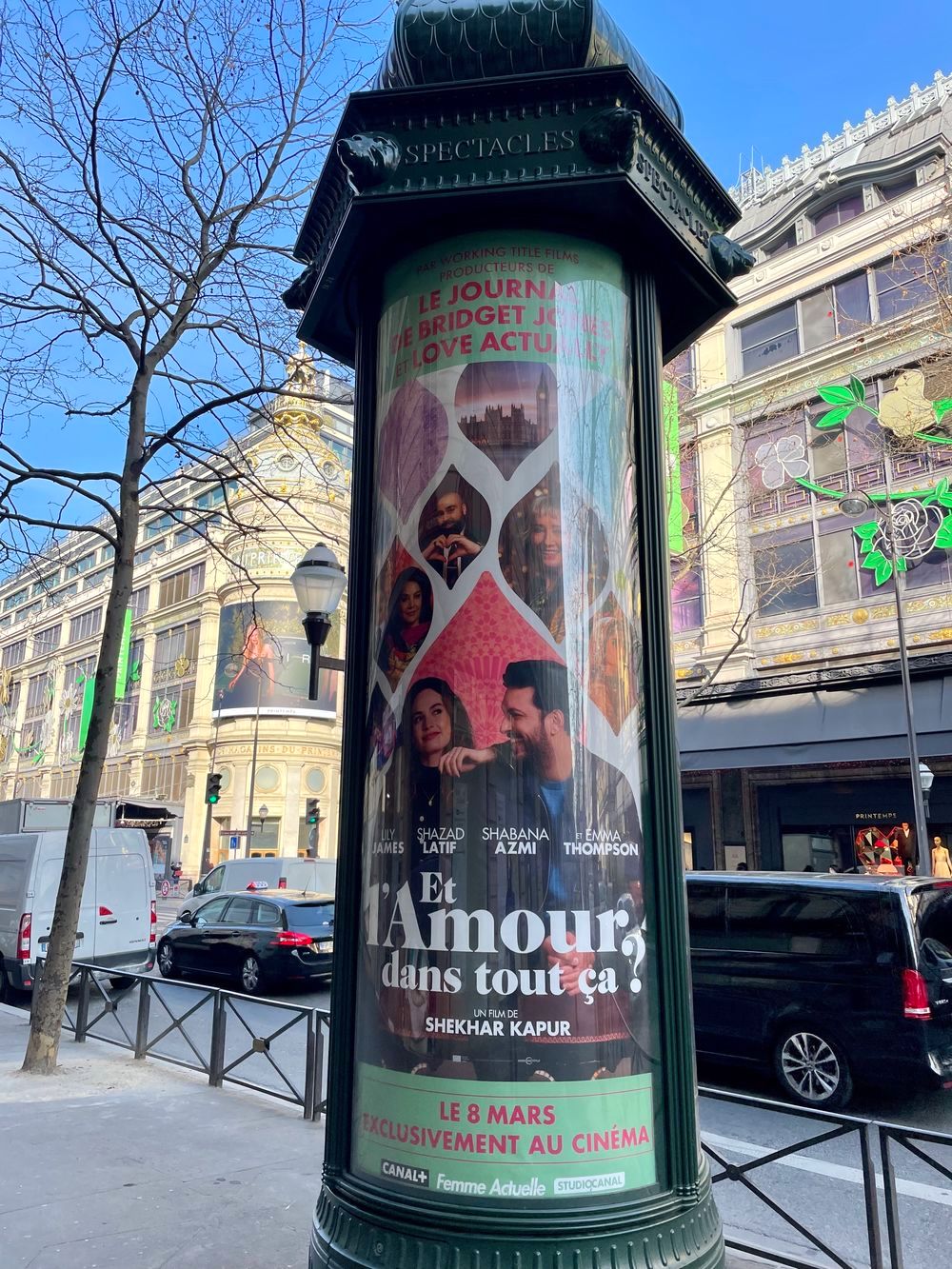 Morris Columns are cylindrical in shape, and their revolving frames allow for multiple advertisements to be displayed at the same time, making efficient use of the space. They serve as advertisement pillars and have also become a distinctive part of Paris' cultural and historic identity, adding to the aesthetic of the city. Their presence in various locations in Paris means they remain a common sight for all.
---
In France, film is not just a medium, but a living, breathing entity, a pulsating heart at the core of French culture, and a mirror reflecting the intricate and ever-changing panorama of human experience.