Though most think of France as a place to visit museums, eat escargot in Parisian cafes, or sip wine in the French countryside, the country actually boasts some of Europe's most beautiful beaches.
With coastlines on the Atlantic Ocean and the Mediterranean Sea, France proves that she can have it all when it comes to a beach vacation!
Where are the best beaches in France? Let's explore.
Take a look at our list of France's best beaches – some have even been voted the best in all of Europe!
Lacanau Ocean Beach
Located in the Aquitaine region, Lacanau is a sandy resort town situated on the Atlantic Ocean. The beach itself is a wide sandy expanse perfect for sunbathing and a day out with the family. The white sand stretches for 15km.
Lacanau hosts a variety of international surfing contests including the Lacanau Pro competition. With waves and conditions best suited for surfing, the beach has become an attractive location for most French and other European surfers. It has even been reported as one of the best surf locations in France!
If you can't surf, lessons are also available at Lacanau-Ocean.
For beach vacationers who don't want to stick to the sand all day, Lacanau also offers nature reserve walks along the inland canals and lakes. Birdwatching, cycling, and horseback riding are other popular activities in the nature reserve.
In addition, Lacanau has its own resort promenade with souvenir shops, cafes, and restaurants all located just past the beach's pristine sand dunes.
Palombaggia, Corsica
Corsica certainly boasts some of the bests beaches in France. One you must visit is Palombaggia!
Located on the French-Mediterranean island of Corse, Palombaggia boasts turquoise waters, white sand dunes, pine trees, pink granite cliffs, and unique wildlife.
Palombaggia has been voted one of Europe's top beaches.
With panoramic views of the uninhabited archipelago of the Cerbicale Islands, Palombaggia reaps many of the rewards of visiting a tropical island without ever leaving France. Geckos, loggerhead turtles, tortoises, tropical birds, and lizards roam the islands allowing wildlife sightings that are impossible in other French regions.
The water at Palombaggia is warm and shallow. Surrounded by luxury villas and hotels, a vacation to Palombaggia is the perfect mix of adventure and relaxation.
Snorkeling, inland hiking, and water sports are also popular on Corsica and neighboring island Folaca. Boat tours are available to explore Cerbicale.
The nearby town of Porto Vecchio offers clubs, restaurants, shops, and more. A picturesque coastal town, Porto Vecchio is the perfect place to end the night after a long day of sunbathing and swimming. Porto Vecchio is also home to Europe's largest outdoor nightclub, Via Notte.
The easiest way to visit Palombaggia is by flying into the Figari airport. Another option is to fly to Ajaccio and drive. This journey takes approximately five hours from Paris. Palombaggia is also accessible by train and ferry, but these routes take much longer.
Plage de Notre Dame, Porquerolles Island
Located on Porquerolles Island off the Côte d'Azur in southern France, Plage de Notre Dame is easily one of the most beautiful beaches in Europe. Located in a wooded bay, the beach has picturesque blue waters and is shaded by magnificent green pines.
Plage de Notre Dame is not accessible by car and requires visitors to either walk or bike to access it. Walking takes approximately one hour. You can also sail into Plage de Notre Dame if you have access to a boat.
Also located on Porquerolles Island is a small village with souvenir shops, cafes, and hotels, and a national park and conservation area.
Just a mile off the French mainland, Porquerolles Island can be reached by ferry.
Calanques d'en Vau, Cassis
Located outside of Cassis in Parc National des Calanques, Calanque d'en Vau is a beautiful inlet beach with blue waters and stunning white cliffs.
A calanque, this beach is a steep-walled inlet on the Mediterranean. Calanques are common in the region, though Calanque d'En Vau is the most beautiful.
Getting to Calanques d'en Vau requires a hike. With two options for a trailhead, the hike takes between one and two hours with the shorter option starting at a carport at Port Miou. Hikers can also begin in Cassis.
Hikers will follow the path to Calanque de Port Pin, another popular beach. From there they can continue inland or along a coastal trail. Both the bush or sea choice requires a steep uphill. At the top of the trail, hikers can either continue on to the scenic overlooks of the Calanque d'En Vau or hike down to the beach.
Allow approximately three to four total hours for hiking Calanques d'en Vau. Though the actual hike only takes one to two hours, the options allow visitors to explore and swim in the beautiful setting.
See also: 15 Best Mediterranean Towns You Can't Miss
Paloma Beach, Saint-Jean-Cap-Ferrat
A pebbled Mediterranean beach, Paloma beach offers sweeping views of turquoise waters and the cliffs of Beaulieu-sur-Mer and Eze. Also the trailhead for the Pointe Sainte-Hospice loop, Paloma offers a great place to relax after the 11.5km hike.
Paloma Beach has always been cited as a beauty. With famous visitors such as Henri Matisse, Elton John, Winston Churchill, and Tom Cruise frequenting its waters, the shaded cove provides both the privacy and luxury of the famous.
Part of Paloma Beach is privatized and only open to customers of the Paloma-Beach Restaurant. This seasonal eatery is open for lunch from Easter to September and for dinner from late May through early September. A culinary experience, Paloma-Beach Restaurant serves Mediterranean fare right on the beach. Umbrellas and lounge chairs are also available to rent from the restaurant.
Paloma Beach is accessible by car, bus, or hiking. Hiking from the Cap Ferrat coastal trail and connecting to the Pointe Sainte-Hospice loop will lead to the beach. To park at Paloma Beach, visitors must use the street parking at the top of the steep hill overlooking the beach.
Étretat, Normandy
The northern region of Normandy has many of the best beaches in France on its territory.
With mesmerizing white cliffs and a dramatic expanse of pebbled beach, Étretat has captured the imaginations of writers and artists over the years. An inspiration for Impressionist artists, the cliffs of Étretat appear in the paintings of Monet and others.
The three natural arches are the highlight of Étretat. One, Arval Cliff and Arch, even resembles an elephant dipping his nose into the English Channel. Many visitors visit the beach at sunset to see the white cliffs lit up by the setting sun.
Located in Normandy, Étretat offers more than just a landscape meant for canvas. With a boardwalk and amenities for sunbathing and swimming, the beach is a popular day-trip destination. In addition, the small resort town of Étretat boasts cafes, souvenir shops, and a historic wooden market square.
Visitors can access Étretat by car and can hike up the cliffs from the beach's boardwalk.
Deauville Beach, Normandy
As the most prestigious beach resort in Normandy, Deauville offers visitors a horse racing track, harbors, upscale restaurants, golf courses, sea therapy, and seaside homes often called the "Parisian Riviera."
Originally built with wealthy tourists in mind, Deauville was backed by investors during its conception in the 1850s. Dr. Joseph Olliffe and his close friend, Emperor Napoleon III's half-brother, the Duke de Morny, looked at what used to be just marshes and a small village and imagined the resort destination of today.
Architect, Desle-François Breney, worked with Deauville's creators to design a town that was attractive to Parisian tourists. Built primarily in Anglo-Norman style, the resorts are high-end and elegant.
The beach itself is long and sandy. Parasols and beach huts line the expanse and offer shade to beachgoers. A boardwalk runs along the beach and connects it to the many marinas and upscale shopping in Deauville's downtown.
A cultural hub and beach destination, Deauville beach is the perfect location for a romantic getaway or luxury vacation.
Deauville Beach is accessible by car or train. It makes for a great day trip from Paris, too!
Côte de Granit Rose, Brittany
This Brittany beach is best known for what it boasts in its name: The Pink Granite Coast. Stretching nearly 30km from Plestin-les-Greves to Louannec, the coastline offers unique landscapes and wildlife viewing.
Rock formations line the coasts and beaches of this granite coast and all have a unique pink hue. These rocks, carved from mineral deposits along the shore, are Côte de Granit Rose's crowning jewel.
Though called "pink", the rocks change color depending on how the sun hits. Sometimes they are a bright copper, but then turn grey when the light moves on. Either way, the granite is a unique and beautiful color and makes Côte de Granit Rose a Brittany must-see.
Humans are not the only ones attracted to the pink formations, varieties of birds also call the coast home creating a haven for birdwatchers and nature walks. Puffins, gannets, and cormorants all call these cliffs home.
Those keen to see Côte de Granit Rose on foot can follow the audio GPS tour, the Seven Wonders of the Coastline, along the Custom Officer's Path. Small villages are also located along the Côte de Granit Rose's trail system and provide visitors with places to rest, eat, and soak in the beautiful landscape.
Côte de Granit Rose is accessible by car, but experiencing the region requires visitors to travel on foot, by bike, or by boat.
La Conche des Baleines, Île de Ré
Best known for still being one of France's wild beaches – compared to man-made beaches like Deauville in Normandy – La Conche des Baleines is a wide and sandy stretch of coast bordering the Bay of Biscay in Aquitaine.
Visitors to La Conche des Baleines swim, participate in watersports, and fish. Usually quieter than other resort beaches, La Conche des Baleines offers privacy as well as a traditional beach experience.
Camping is available near La Conche Baleines, otherwise, hotels are available on Île de Ré near Saint-Martin-de-Ré. The beach itself is remote, but I still expect to see other tourists as it is not desolate.
There is a bridge between the French mainland and Île de Ré so La Conche des Baleines is accessible by car. The island can be reached by car, train, or bus. There is lots of available parking near La Conche des Baleines.
La Grande Plage, Biarritz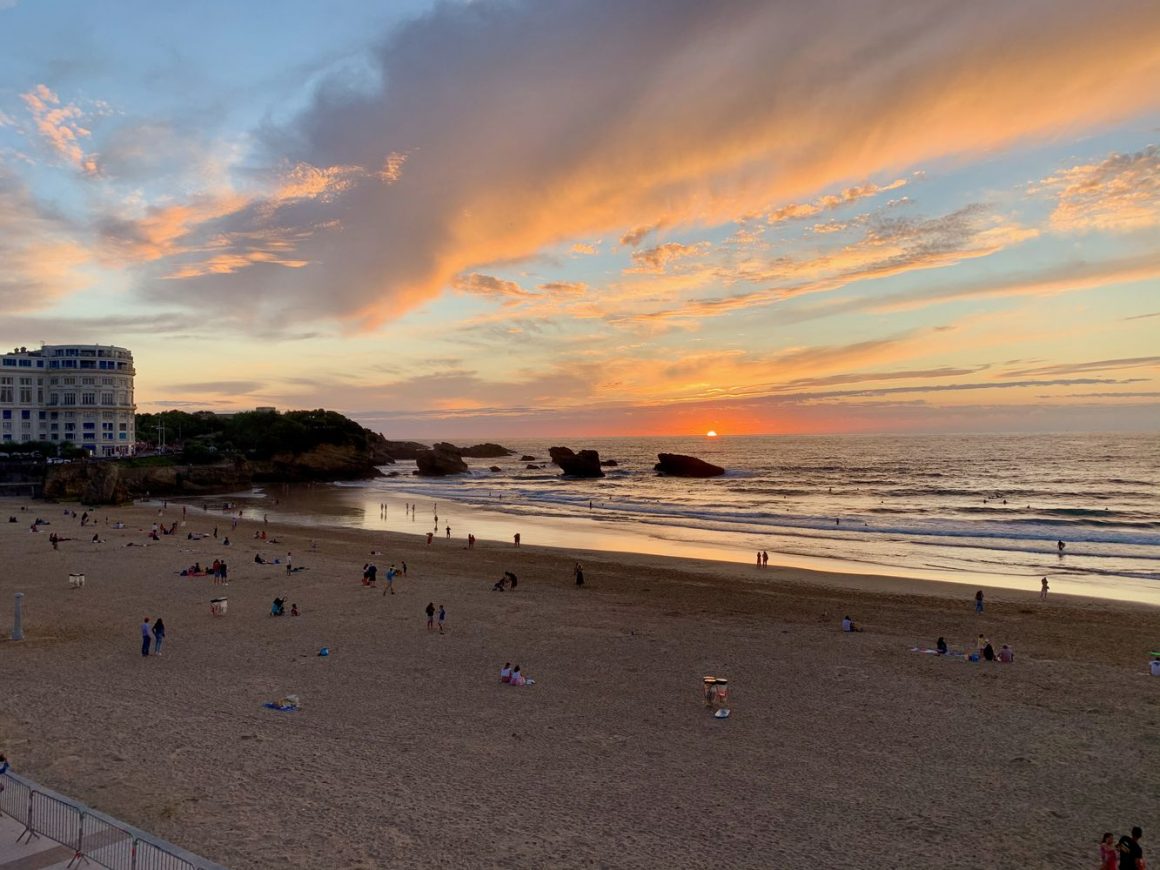 Located in southern France just across the border from the Spanish Basque country, La Grande Plage is a feast for the eyes. With colorful vintage buildings, striped beach umbrellas, and the turquoise Atlantic waters, a visit to La Grande Plage will feel like stepping into a postcard.
Perfect for swimming and other water sports, the town surrounding La Grande Plage offers both adult and children's clubs, restaurants, cafes, oyster bars, and souvenir shops. As the central beach in Biarritz, La Grande Plage is sometimes called "Crazy Beach" due to all of the amenities it offers.
La Grande Plage and the city of Biarritz are surf hubs and the waves on La Grande Plage are famous across Europe for their swells and surf ability.
Architecture buffs can walk to the Biarritz Lighthouse or explore Hôtel du Palais, which was built for Napoleon Bonaparte's wife.
La Grande Plage is accessible by car, train, or bus.
Plage de la Croisette, Cannes
Located in the chic city of Cannes on the French Riviera, Plage de La Croisette is part of a string of beaches stretched between the Mediterranean and the Boulevard de La Croisette.
A hotspot for models and celebrities, Cannes is home to luxury resorts, high-end shopping, and upscale restaurants. Paris' most fashionable residents vacation here regularly, as do Hollywood stars and the world's elite.
A host of the Cannes Film Festival, Plage de la Croisette is the set of red-carpet events and premieres. During this time, note that many hotels and restaurants are closed for private events. 
However, if you sadly weren't invited to walk the red carpet, Plage de la Croisette is a public beach in the midst of luxury. Here you can sunbathe, swim, and lounge on the golden sand. Watersports like jet skiing, kitesurfing, and surfing are also popular.
Plage de la Croisette can be accessed by car, train, or bus.