Yoko Ono is a famous Japanese artist and creative icon, and she isn't slowing down any time soon.
Yoko Ono was born in Tokyo, Japan, on February 18, 1933, into a wealthy banking family. She moved to the United States with her family in the early 1950s and began attending Sarah Lawrence College. Ono became an important figure in the avant-garde art world, engaging in various experimental art performances and installations.
In the late 1960s, she met John Lennon of The Beatles, and the two quickly became romantically involved. They married in 1969, and Ono became a significant influence on Lennon's work. Their relationship was often scrutinized by the media, and Ono was frequently blamed by the public for the Beatles' breakup, although this viewpoint has been challenged over time.
Together, Lennon and Ono engaged in numerous political protests and peace campaigns, famously holding "Bed-Ins for Peace." Musically, they collaborated on several albums, blending experimental elements with rock.
Post John Lennon
After John Lennon's murder in 1980, Yoko Ono faced a period of deep mourning, but she eventually continued her artistic pursuits. In her music career, she released several solo albums, including "Season of Glass" in 1981, which reflected her grief over Lennon's death. She continued to explore various musical genres and collaborated with other artists, becoming an influential figure in the music industry.
Ono's work in the visual arts also continued, including exhibitions and installations that often focused on themes of peace, love, and human connectivity. Her art has been displayed in galleries and museums around the world, reflecting her continued importance in the avant-garde art scene.
Apart from her artistic endeavors, Ono maintained her commitment to peace activism and philanthropy. She has been involved in various charitable activities and causes, particularly those related to peace, human rights, and education. In memory of Lennon, she established the LennonOno Grant for Peace and has been involved in efforts to preserve his legacy.
Yoko Ono's life after Lennon's death has been a mix of personal reflection and public engagement. Her continued artistic creativity, activism, and dedication to her late husband's memory demonstrate her resilience and ongoing impact on both the art world and the broader popular cultural landscape.
"The Riverbed" at Andrea Rosen Gallery
In 2015, Yoko Ono produced a two-gallery exhibition in New York, called "The Riverbed." I have to admit that I stumbled across this show by accident, which made discovering it all the better!
The first room features many stones on the floor, perhaps waiting to be held, as instructed by Ono, "until all your anger and sadness have been let go." Nearby, there are soft black cushions for sitting, and low white tables for drawing and writing with provided pencils and paper. The table is low enough to the ground that an adult or child alike could use them.
Moving into the back room, the walls are lined with white shelves. On each shelf lie multiple broken cups and plates that have been shoddily repaired using glue, tape, rope, and other materials. It's clear these repaired items have come from the central table, where 10 or so gallery-goers have assembled. On the table were heaps of pieces of broken cups and plates, and the supplies needed to put the tableware back together.
Illy provided espresso in the corner, complete with barista service, and cups from Ono's "Mended Cups" series.
It seems the exhibit was indeed participatory because when I visited the gallery again in January, the first room had numerous long, thin strings of rope from wall to wall, obstructing the visitor's path.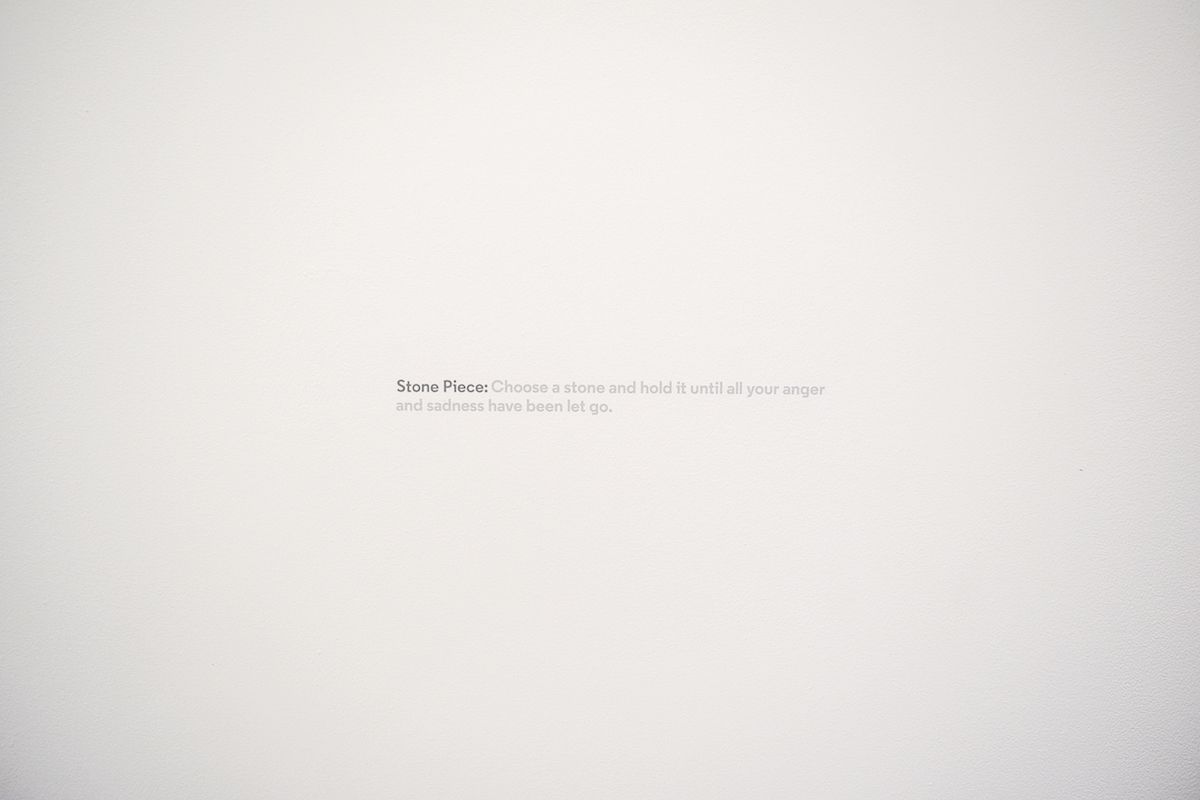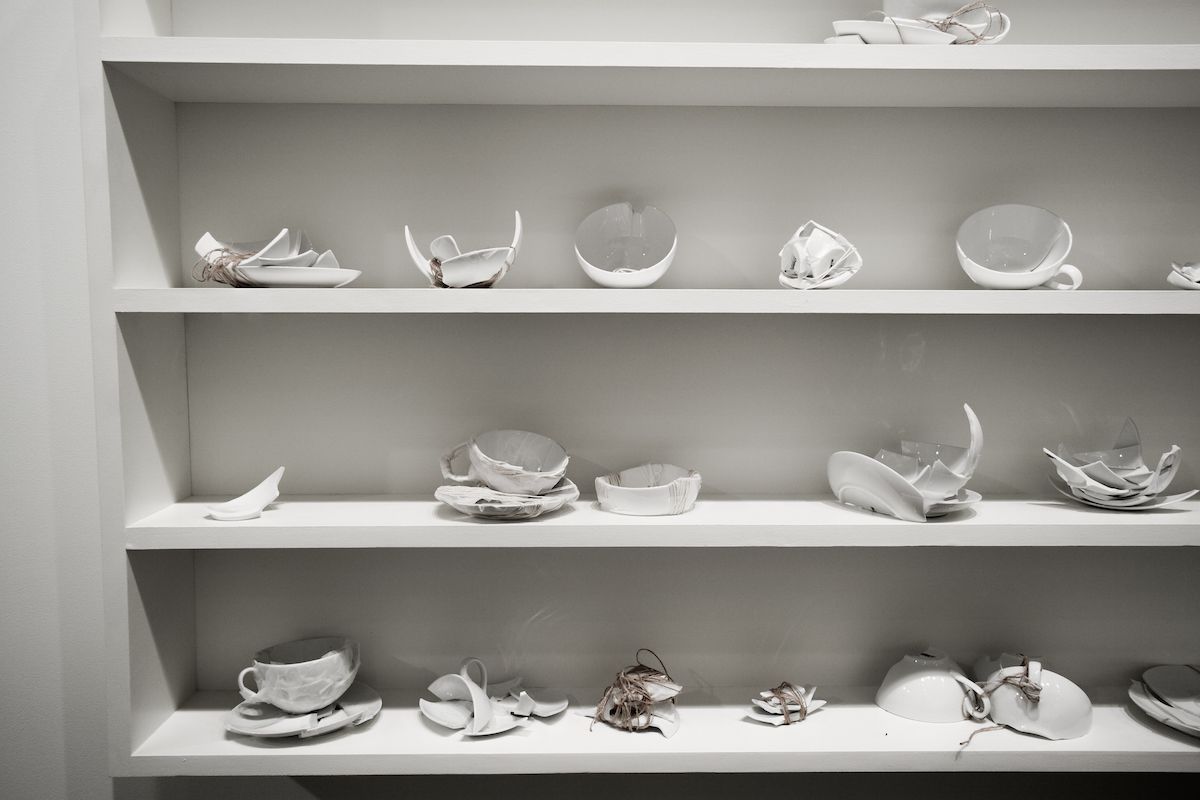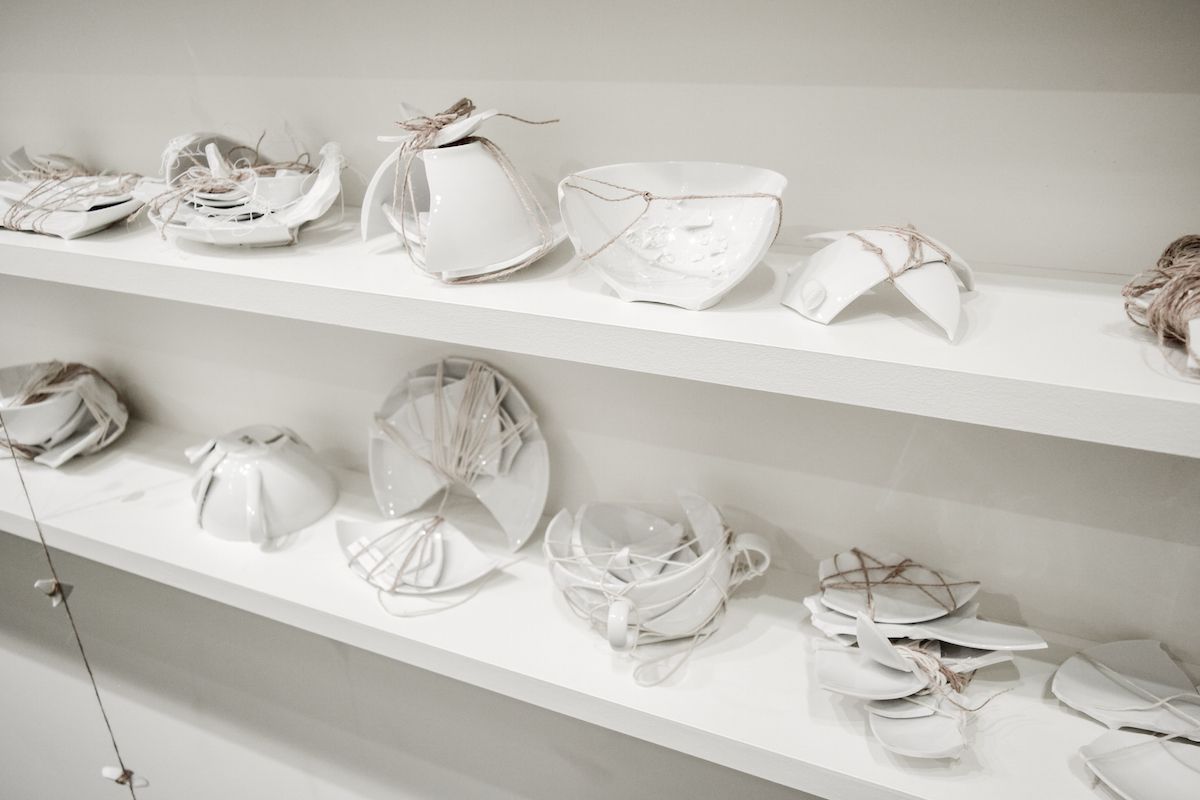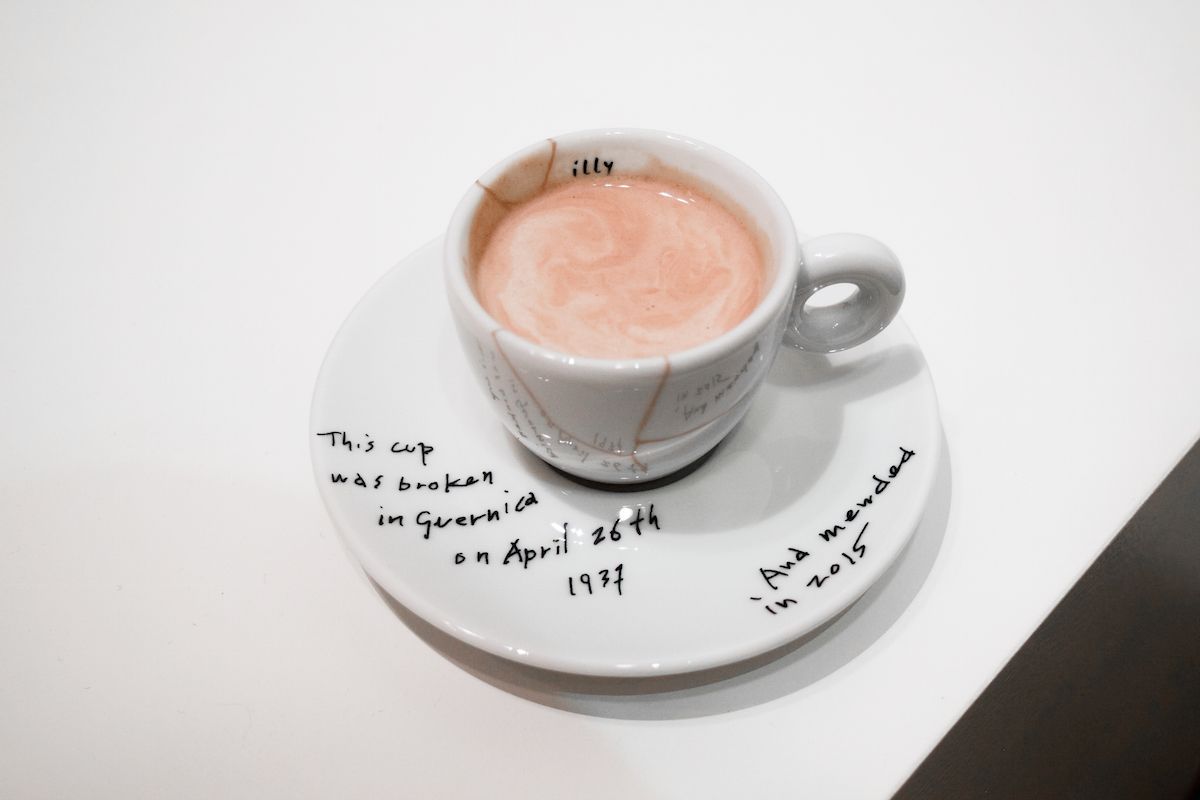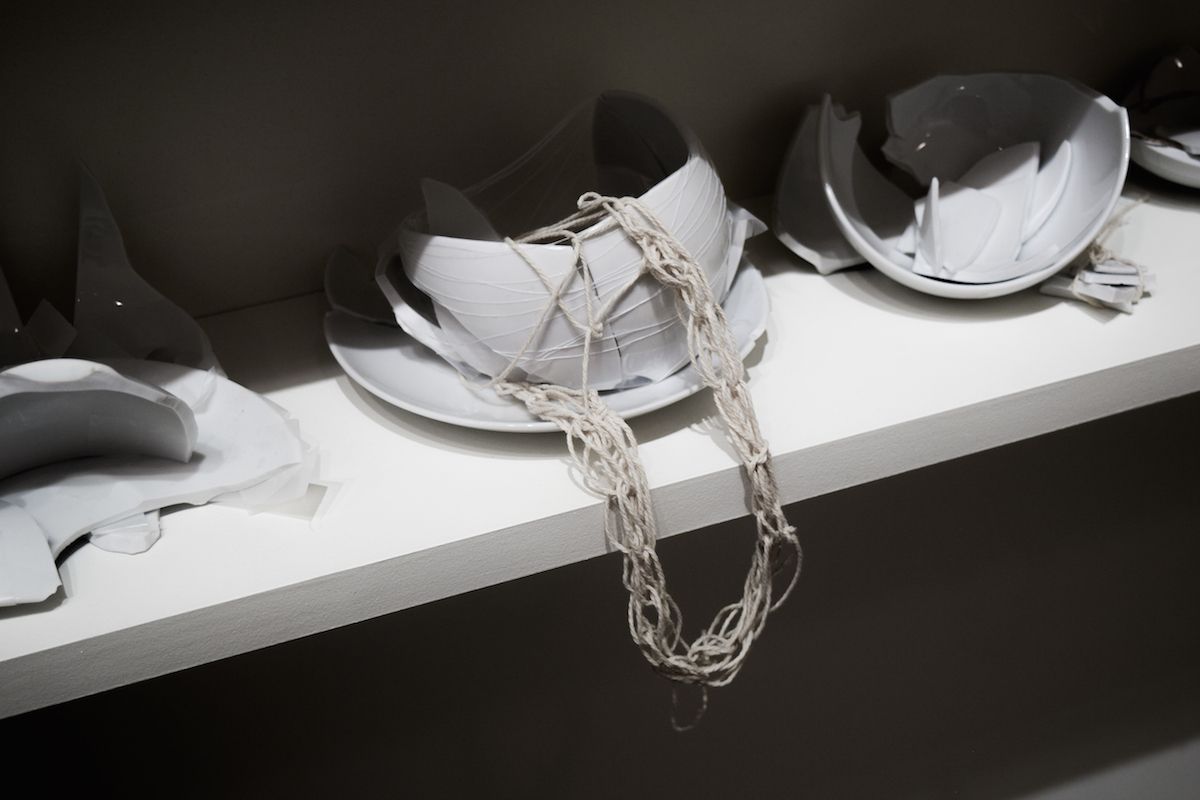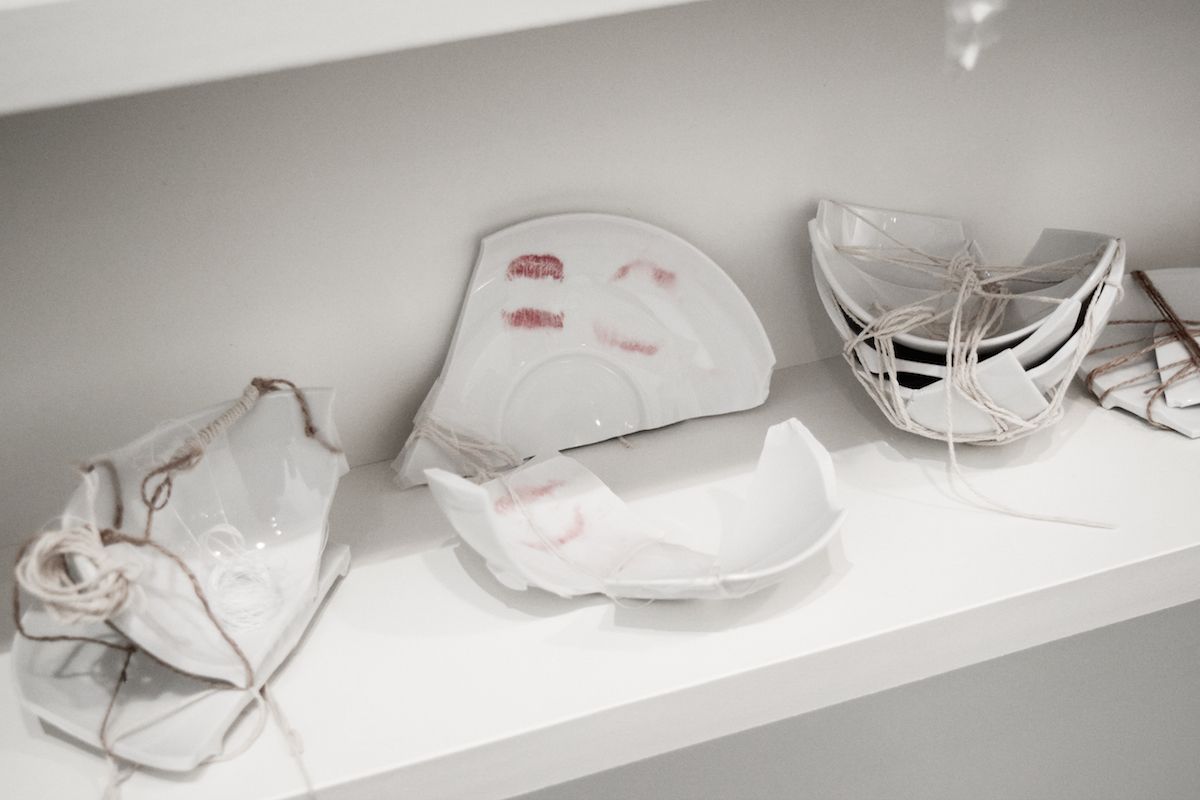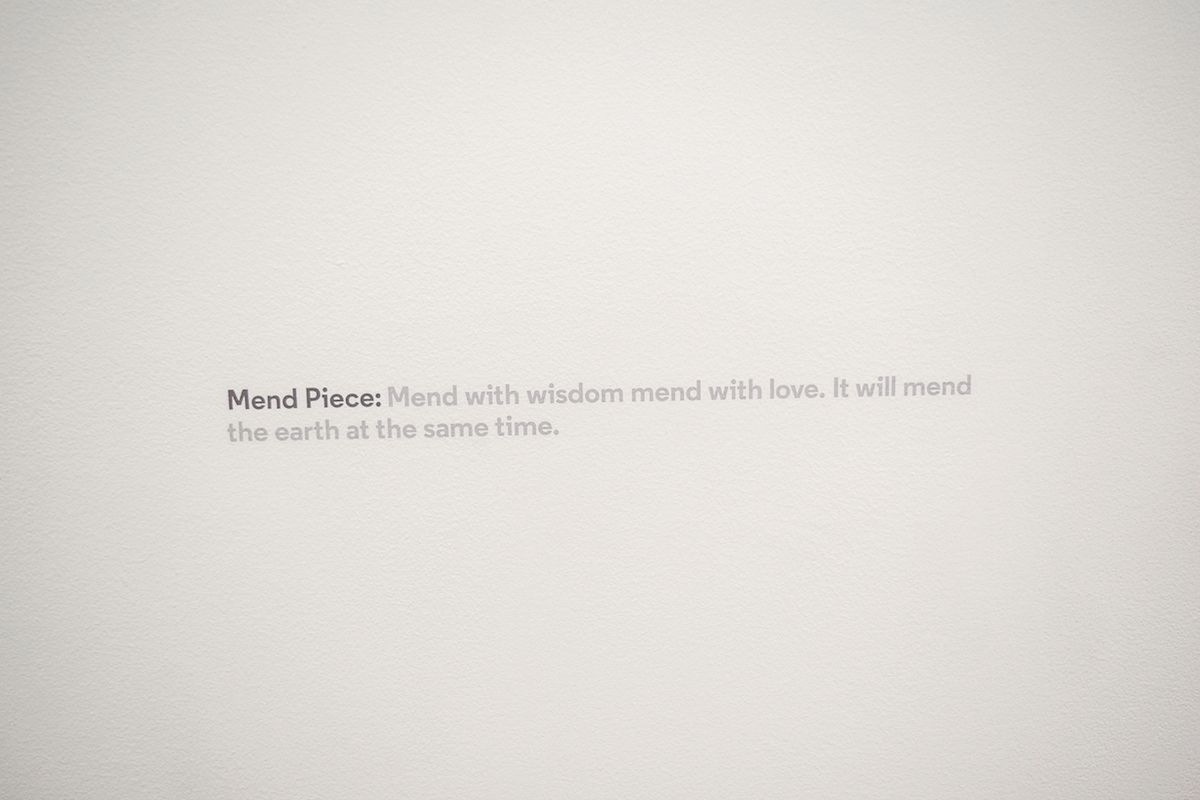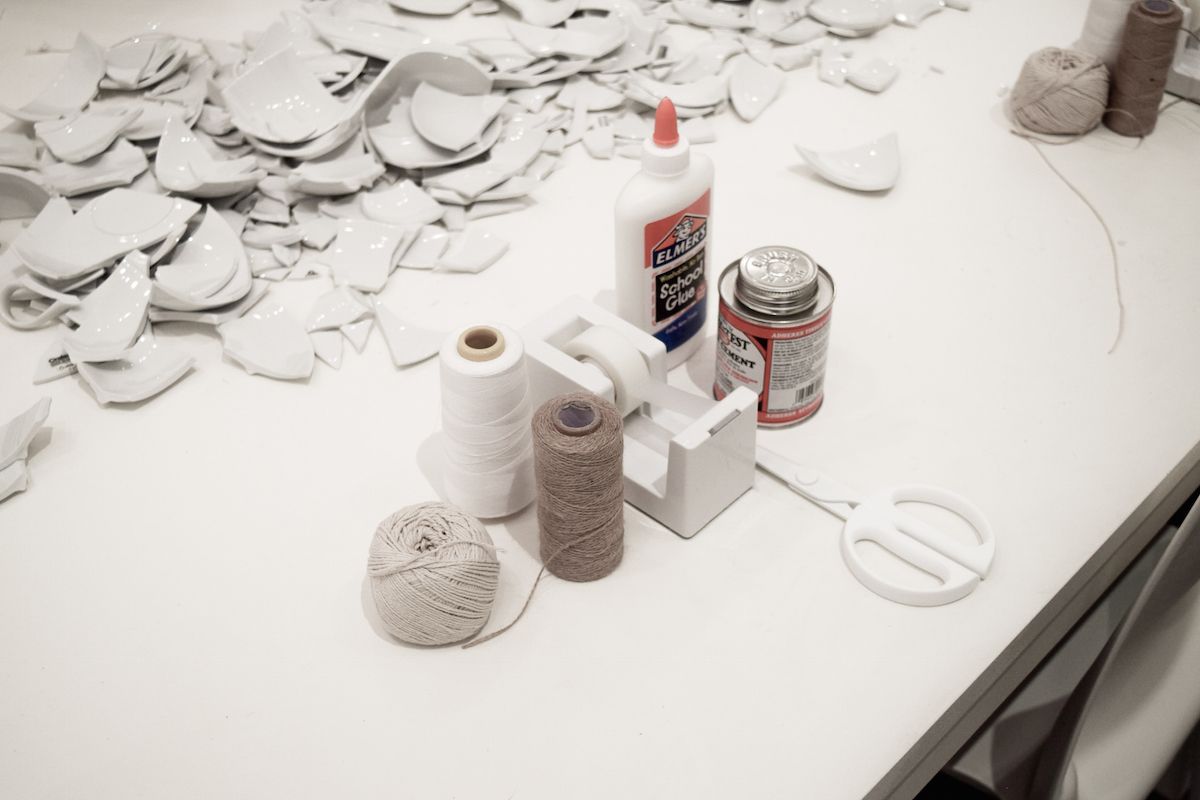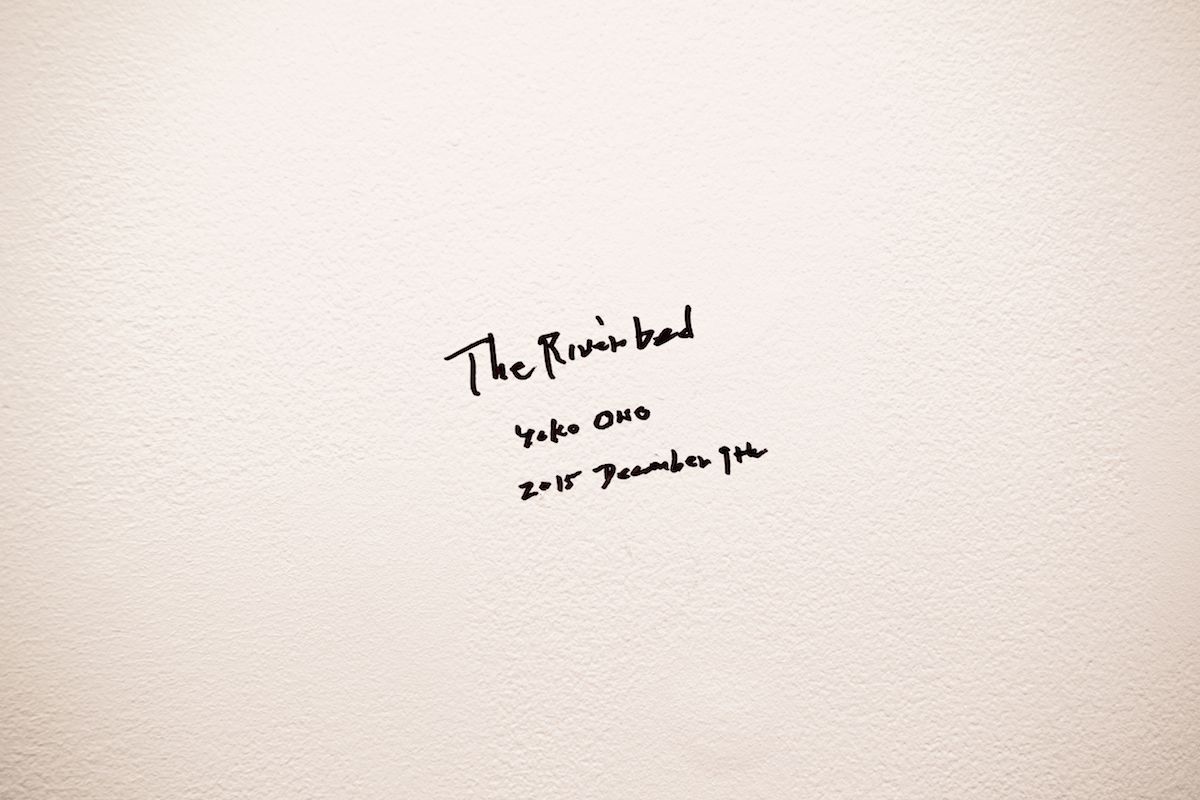 Andrea Rosen Gallery
525 West 24th Street
New York, NY 10011