If there's one kind of film I'll always say yes to, it's a love story between an American and a Frenchie. 5 to 7 is a film that tells the love story of a young New York writer who meets a slightly older married French woman (33 is so old in Hollywood, isn't it?) on the streets of Midtown Manhattan. Each character is an outsider in his or her own way – him, a struggling writer whose parents disapprove of his creative (lack of a) career path, and her, a lonely foreigner who traveled to New York because of her husband's job at the French consulate.
Although the dialogue feels a bit forced during their first few meetings and the main actor is grossly miscast, the film succeeds at bringing a cultural conversation on modern romance in a way that rarely sees daylight here in the United States. By now you can probably guess (if you didn't already know), that the two begin an affair, strictly between the hours of 5 and 7pm. While affairs are commonplace in nearly all cultures, what's unique about this film, is that, unlike the typical American movie affair in which someone usually ends up dead, 5 to 7 explores the idea of having a marital affair out in the open of one's spouse – almost like an open relationship.
At first, Brian feels unethical about beginning a relationship with a married woman. But after a few weeks without her, he gives in and learns that her husband has his own girlfriend as well. At one point, the four of them dine together at a dinner party where Brian meets their children and close friends.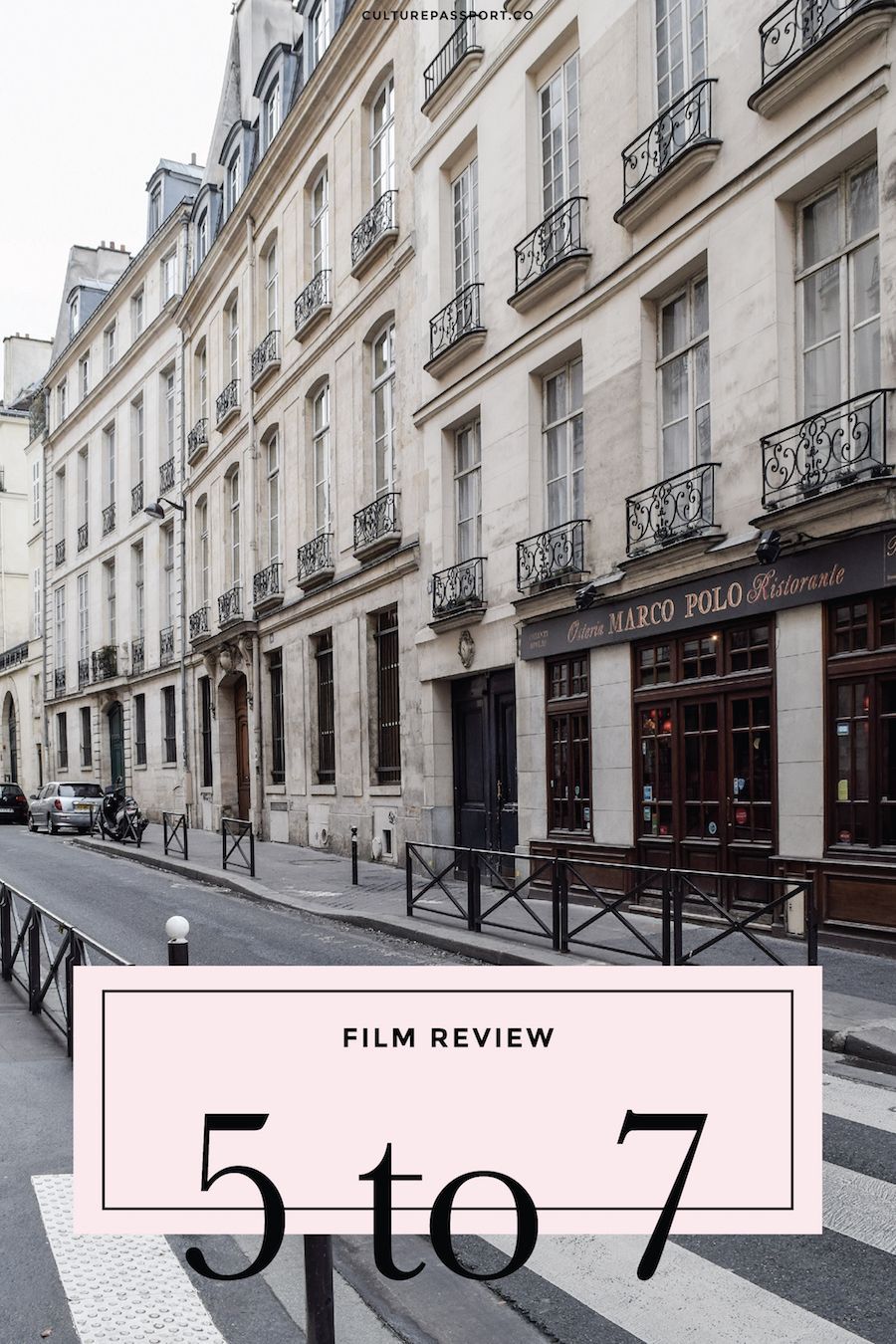 Now, you may wonder why the meetings must occur between the hours of 5 and 7 if her husband is aware of the affair. The hours are less of a literal time frame, and more of a symbol of the unspoken rules of the relationship – namely, a reminder not to fall in love, which our protagonist learns the hard way.
Beyond the impossible love story, I loved the small interactions between the lead characters which gave the film a heart. Cell phones don't play a role in the first meeting of the two characters. They choose a place and a time, and leave it up to fate whether they meet again or not. How very old-fashioned! Another special moment in the film references the cultural differences between Americans and French people, in a scene where she teaches him about wine and he teaches her about beer. "Now please take a buffalo chicken wing to obliterate the palate." You can check out the scene on YouTube, below. (No spoilers, I promise!)
5 to 7 is not your typical Hollywood blockbuster, but that's precisely why I loved it. The film does move slowly at times, but in a way, isn't that a true reflection of life?