A camera is one of the most expensive travel products that you'll invest in. It's arguably one of the most important too, especially if you want to document your trip so you can remember it for many years. The memories you make while traveling will last a lifetime, and a professional camera will make them even more real.
Since travel bloggers rely on their cameras to make a living while traveling, I thought it would be a great idea to do some research into what cameras they use.
If you want to get into travel photography, you will need to invest in the best travel camera to help bring back vacation images that stand out. After all, the epic travel photos that you capture tend to be one of the best-treasured souvenirs that remind you of memories and experiences you had in a place.
But what's the best travel camera for capturing special moments? Fact is, it all depends on your needs. Different people have different budgets and requirements for a travel camera.
That's why we have this simple buyer's guide to help you make the best choice. You will also find three travel cameras you can choose from.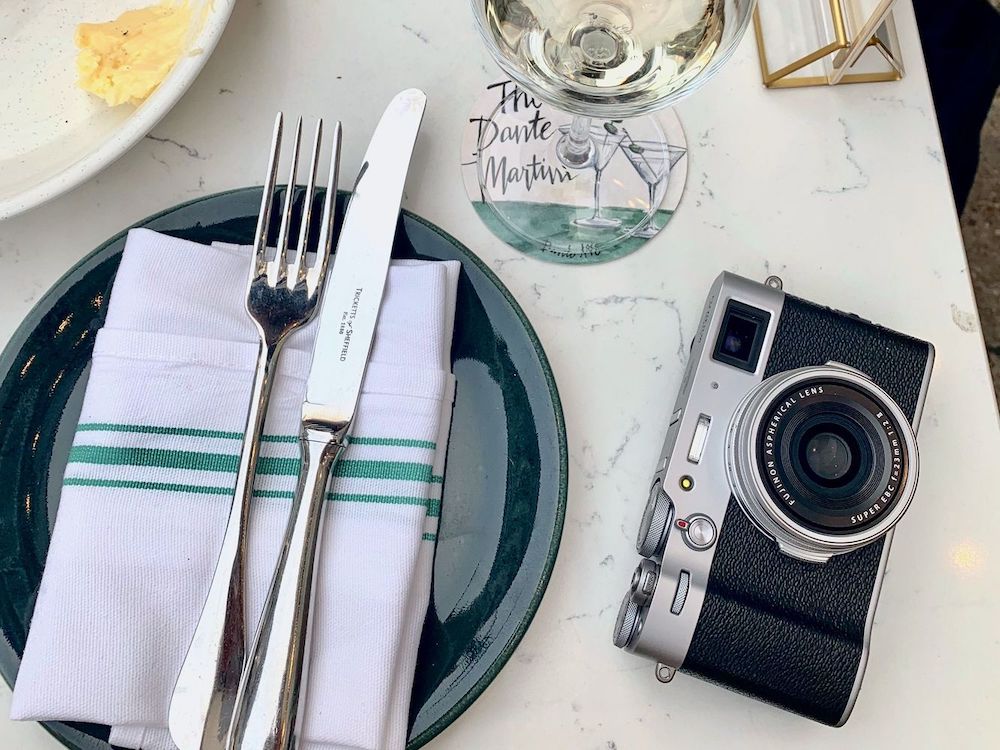 Factors to Consider When Buying a Camera
When shopping for a travel camera, you have first to define your needs. Are you looking for a lightweight gadget? Affordable camera? One that will take professional image quality? Something weatherproof?
Here are factors to keep in mind:
Size and Weight
When traveling, you want to cut down your weight as much as possible. That's why you should go for a camera that's small and lightweight. Luckily, there are plenty of travel cameras that are small in size.
Manual Settings
If you would like to create professional photos, go for a camera that allows you to make manual adjustments to camera settings. Therefore, go for a camera with full manual control if you would like to improve your skills.
Aperture
The lens aperture is expressed in f/numbers (f/1.4, f/2.8. Etc. Lower numbers indicate that the camera can perform well in low light. A camera with lower f/numbers creates a great "bokeh" effect, especially in portraits!
Megapixels
This is what many people consider. When it comes to pixels, don't always go for a camera with more pixels; check sensors. Larger sensors coupled with more megapixels give you greater details, thereby allowing you to "crop" your images without sacrificing quality.
Other features to consider:
HD/4K capabilities
Zoom range
Weatherproofing
WI-FI/Bluetooth
RAW option
Optical Image Stabilization feature
With that in mind, let's now review the top three best travel cameras on the market at the moment:
Best Budget Camera: Panasonic LUMIX DC—ZS70K
The Panasonic Lumix DC-ZS70K is a 20.3-megapixel camera with a small LCD screen that can tilt to allow for self-recording. The camera features an impressive zoom range of 24 – 720 mm, making it ideal for watching the game when hiking or capturing clear shots of the front from the back seat in a concert.
It comes with three function buttons that you can use to switch between various modes, such as 4k photo mode, white balance, AF mode, WIFI, and more. The camera comes with a focus stacking functionality, which combines many shots for a single output image with a better depth of field.
In addition, the digital camera also comes with Panasonic's post focus mode that allows you to choose the focus points of your shots for better image quality. Panasonic also decided to include certain features for enhancing the 4k video recording, such as silent operation mode and the miniature effect.
Pros
It offers a touchscreen display
Offers 4k video resolution
Has built-in Wi-Fi connectivity
It has a long battery life
Affordable price
Cons
Best Compact Digital Travel Camera: Fujifilm X100V
Volant, versatile and viable, the beautiful black Fujifilm X100V boasts impressive imaging capabilities, all while capturing great shots for any street photographer. The screen can tilt, and the body is weather-sealed, not to mention that it throws in many video capabilities, including a 4k video resolution.
Overall, the X100v hits the perfect spot between size and usability and should feel right in your hands. The grip area offers attractive curvature, which makes the gadget secure. It's best for wide-angle shooting, street scenes, lifestyle images, and any on-the-go captures.
Despite lots of praise from many users, there are some caveats. The lens is not optically stabilized, and the manufacturer does not provide any sensor-based or electronic stabilization. Stills will not find any issues with this, but video shooters need to find something to steady it.
Pros
It has an appealing design
It's simple to use
Has a quick focus
It has a built-in ND filter option
Offer touchscreen display
Cons
Lacks image stabilization
Battery life drains too fast
Best Travel Camera for Content Creation: Canon EOS M50 Mark II
The Canon EOS M50 Mark II is the best-selling mirrorless camera in the US right now for a good reason. The successor to the Canon EOS M50 is feature-filled, boasting 4k video capabilities, an excellent 24.1 MP imaging sensor, eye autofocus, and Electronic Viewfinder.
It offers the same shooting speed as its predecessor, with up to 10 FPS without AF and 7.4 FPS with AF and tracking. There's a massive improvement in buffer depth, and now the camera can shoot 10 RAW + JPEG images. You can also use an HDMI output for use in external monitors or recorders.
The digital camera combines the Movie Self Timer Function and the Touch Record Control to allow you to set a countdown timer up to 10 seconds before starting to record. This is a helpful option to avoid some post-processing when you need time to get ready before filming.
Pros
Offers excellent image quality
Has built-in wireless
It has a touchscreen display
Offers video stabilization
Has electronic built-in viewfinder
Cons
It has a low battery life
Lacks environmental sealing
That's my travel blogging camera guide!