I left Munich by train at 15:39 on a Saturday afternoon. I arrived about 30 minutes early and luckily the train was already at the platform so I boarded right away and got settled into my seat. There were no assignments so I was free to sit anywhere in 2nd Class. I was also happy to find a power outlet on the wall!
The train ride was simply enchanting. After traveling through southern Germany, we reached the Austrian border fairly quickly, and shortly after began to make our way through the Alps.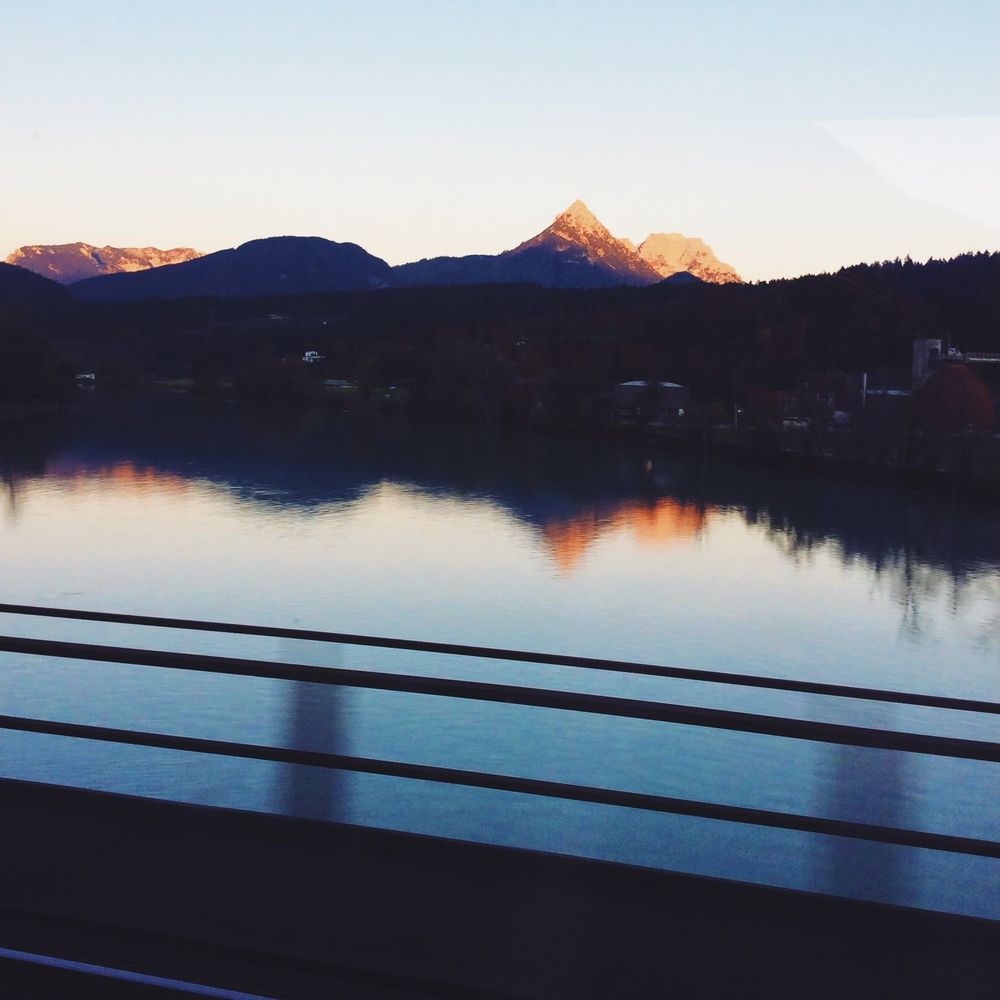 The fall foliage extended into the mountains, some of which were quite steep – even vertical. For a little while we were traveling alongside the river, and at one point, we passed over the water which was a beautiful sight, with the mountains at a distance. For me, it was truly magical as I had never seen the Alps except perhaps from a plane. Unfortunately only the first 2 hours of my ride were sunlit. At around 5:30pm, dusk began to set in for the evening, darkening my view of the Alps.
Around that time, we arrived in Innsbruck, Austria. As we pulled into the station and came to a stop, something surreal happened.
A train pulled into the track across our platform and through the window I saw tables with a rosy red 20s-style lamp on them, bar men dressed in crisp white attire, like something out of The Great Gatsby, and suits hanging in some compartments. The train was a dark forest green with elegant gold detailing. I can't even describe how during this moment, I felt like I was transported to another era. When the train came to a stop, I read the capitalized gold lettering: Compagnie Internationale Des Wagons – Lits et Des Grands Expresses Européens. Towards the bottom, I saw a small white sign with "Venice Simplon Orient Express" written in an Art Nouveau-style font. A few minutes later, we departed, and I was back in reality. Where did that train come from and where was it going? In that moment, I wasn't sure but I was sure that one day I would like to ride it!
At some points, we traveled through a tunnel in the mountains, but not for longer than 5 or 10 minutes at a time. I don't know about others but for me, there is something very relaxing about traveling through a tunnel and having a slight pressure in your ears.
The rest of the train ride was dark. At this point, most of the passengers had departed in Innsbruck, so it was just me and one other man in our train car. There was something eery yet exciting about traveling solo through the Alps in the dark, seeing light only when passing by the occasional tiny Austrian town. The tall forest trees were beautifully silhouetted at times, backlit by the midnight blue night sky.
We passed through the border town on Brenner, situated in Austria near Italy. Signs started appearing in both Italian and Austrian, showing just how intertwined the cultures must be in this area, and also how European country borders are somewhat imaginary.
In the US, if you are driving on an interstate highway, each state greets you with a giant sign that reads "WELCOME TO ____". In Europe, there were no signs when crossing the Austrian or Italian borders. The mountains and the trees look just the same. The only difference is the language.
From there, we crossed the Italian border. Shortly after, we were in a tunnel where my ears began to pop again. By this point, the sky was no longer a dark blue, but rather a pitch black. As we pulled into the various stations, some were totally deserted, despite the early evening hour. The train car was also still nearly empty. I felt a little like Jason Bourne, traveling through Europe almost totally under the radar. Then again, perhaps this was just me romanticizing an unpopular route!