Miami is a vibrant city that seems to expand with every passing year. As more and more people make the move to South Florida, many are wondering what are the best Neighborhoods in Miami? Whether you are looking to become a Miami resident, or you just want to know where to explore during your next trip, these tips on the best Miami neighborhoods can assist!
Wynwood
Wynwood is an up and coming artistic neighborhood in Miami. Known for the hipster crowd it attracts and the massive graffiti art covering the walls and streets, Wynwood is definitely a one-of-a-kind Miami neighborhood. During the day, the many artisanal coffee shops are full of local writers and students. Once the sun goes down, the bars open up and the streets are flooded with young adults hopping from bar to bar.
Design District
If you want to shop til you drop and don't care how much it costs, check out the brand new Design District. Located just a few streets away from Wynwood you will find yourself in a completely different area. The stores are all designer, think Gucci and Cartier, and the restaurants give off that farm to table vibe. The design district is also known for its incredible architecture so make sure you bring your camera and wallet.
South of Fifth
To get the true Miami Beach local experience check out the neighborhood known as south of fifth or SoFI by the natives. The rent prices in this neighborhood would make your jaw drop but luckily it's free to walk around and soak up the sun. SoFi is located as far south on Miami Beach as you can go and has a park at the base of the neighborhood where you can watch cruise ships coming into port. Make sure if you come to South Pointe Park that you bring a coffee and a bagel to sit and relax under the trees for some shade.
Miami Beach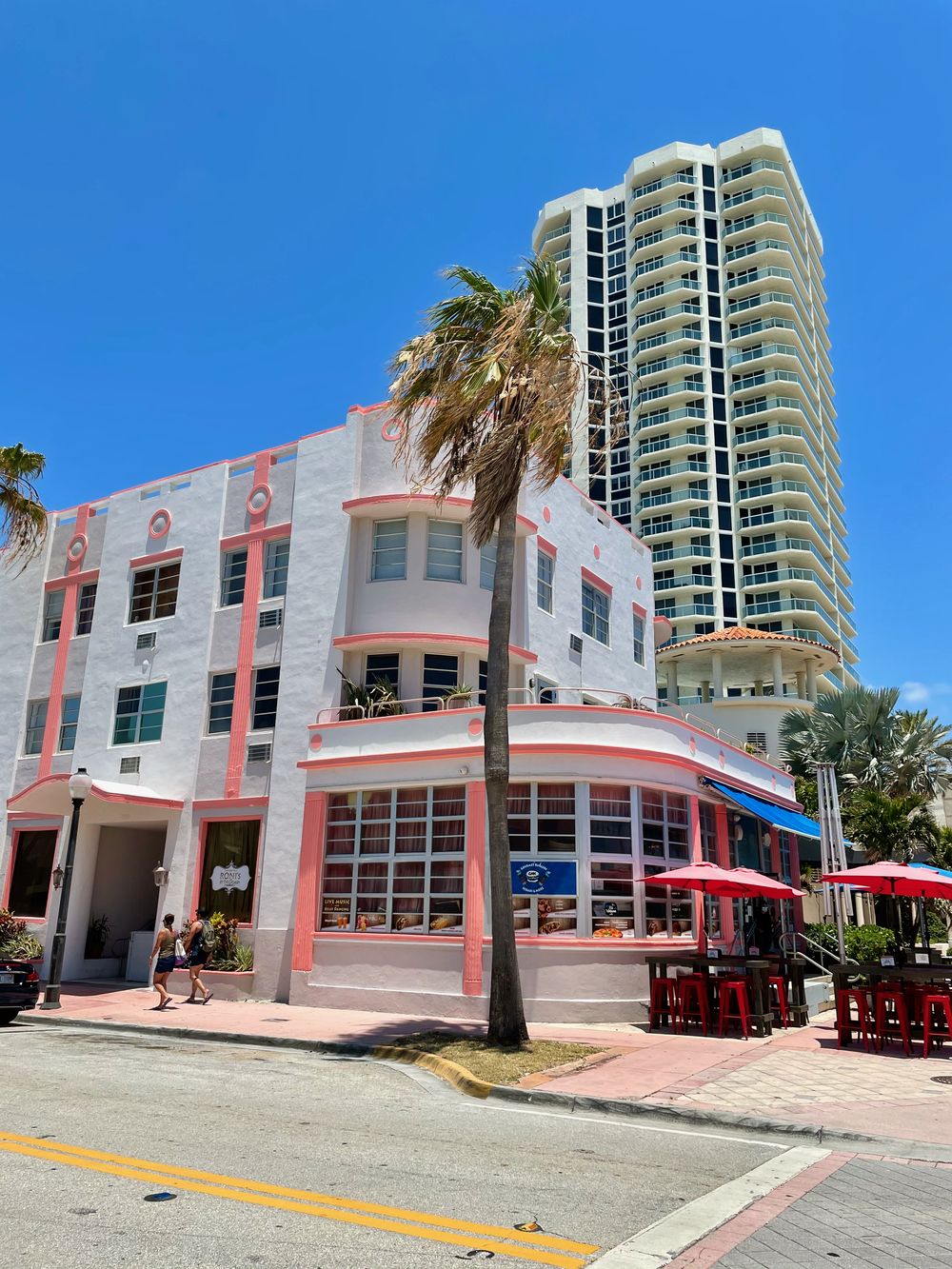 Outside of SoFi you can find the rest of Miami Beach, starting with the famous Ocean Drive. Stroll along Ocean Drive in between familiar spring break hot spots and the beautiful ocean. In my personal opinion, the beaches on Miami Beach are truly some of the best in the nation. Around Miami Beach you can find a few local hangout spots, Sunset Harbor is great for small boutique shopping and breakfast spots. Head to Lincoln Road in the center of the neighborhood for people watching and shopping.
Bal Harbor/Bay Harbor
Just a few miles north of Miami Beach is a more suburban area. Bal Harbor is full of families and children running around on the beach, but for more serious shoppers check out Bal Harbor Shops. Even if you don't want to shop, the mall is all outside and can be a nice outing. Pro Tip: for the best sushi try Makoto in Bal Harbor.
Coconut Grove
Another fun neighborhood to check out is sleepy little Coconut Grove. This area of Miami is a hidden spot for locals to mill about. The grove is full of tree lined streets and residents walking their dogs or stopping by the marina for fresh caught fish. If you are in this area around happy hour time, check out long time Miami staple Monty's for oysters and margaritas. The Grove also has a famous farmers market on Saturdays that will definitely have something for the whole family. Near the grove is Fairchild Botanical Gardens. If you choose to make a stop here, be sure to check out the butterfly exhibit as it's one of my favorites and will really immerse you in the habitat. 
Brickell
If you find yourself craving that big, metropolitan city feel, make your way over the bridge into Brickell. Located right next to downtown, Brickell is full of young professionals bustling about. There is never a dull moment in Brickell and the food, like most places in Miami, is exceptional. Brickell City Center tends to be the main draw for people, a completely outdoor mall that is connected throughout the whole city. Even if shopping isn't your thing, definitely check it out and maybe stop at Casa Tua for a homemade italian meal sure to knock your socks off.
Key Biscayne
At the southernmost point of Brickell you'll find one of Miami's best kept secret neighborhoods. While you do have to drive over 3 bridges to access Key Biscayne, I can guarantee it is worth the trip. Key Biscayne is an island town in the middle of the bay in Miami with beaches on all sides. A sleepy beachside town, Key Biscayne doesn't offer a ton of shopping or restaurants, but it makes up for that with the vast nature preserves on the island. You can set up a beach day at any point on the "key" as locals call it and have a private beach day for yourself. Locals also enjoy biking up and down the bridges, luckily there are city bikes available for rent all over Miami.
Aventura
North of Bal Harbor you will find Aventura, a mix of retirees and newly immigrated Russians take up most of Aventura. Aventura may not have the glitzy allure of Miami, but the food options are definitely under-hyped around Miami. You can find authentic Israeli and Russian meals prepared at little mom and pop restaurants. Additionally, the beaches in Aventura are cleaner and more child friendly. If you want a staycation, check out Turnberry Resort in Aventura for their amazing poolside amenities. For my avid shoppers, Aventura mall is an absolute must, you can find almost every store imaginable, just beat the crowds and don't go on the weekends.
Pinecrest
Another sleepy little neighborhood that is definitely off the beaten path is Pinecrest. Known in Miami for being a residential neighborhood with a high price tag, Pinecrest offers some hidden gems. First up is the Pinecrest fruit stand, an everyday farmers market with local produce and amazing baked goods.
Pick up some treats at the fruit stand and make your way over to Vizcaya for a day full of beauty. Vizcaya is a tropical garden smack dab in the middle of Pinecrest. Once the former estate and villa of a successful businessman, it is now a restored museum open for guests to wander about and explore the lush gardens and beautiful architecture. Insider tip: buy your tickets beforehand to avoid waiting in the sometimes long line if you plan to go during the weekend!