Bonjour dear readers! Is there anything more refined than sipping tea and nibbling dainty sandwiches and pastries in the afternoon? This beloved British tradition has been perfected into an art form in Paris. While exploring the City of Lights, I made it my mission to find the best spots for an indulgent afternoon tea service with the full Marie-Antoinette treatment. From elegant teas at century-old grand hotels, to quaint tearooms filled with flowers and china, Paris offers many lovely settings to indulge in this late-afternoon ritual.
I'm delighted to share my picks for the top places to have afternoon tea in Paris. I'll tell you where to find three-tiered stands bursting with scones, macarons, finger sandwiches, and more, as well as which spots pair their teas with champagne for a truly celebratory experience. Grab your favorite hat and gloves, and get ready to join me as we sip our way through the finest salons de thé in Paris. It's time for tea, darlings!
French Tea Flavors
Afternoon tea in Paris is a delightful experience, often characterized by a range of delicious flavors and exquisite presentations. French tea traditions have been influenced significantly by their historical engagements with different cultures.
In Paris, some of the popular French tea flavors include Bergamot-infused Earl Grey, delicate Jasmine, fruity blends like peach or berry, and aromatic blends incorporating ingredients like lavender and rose.
It is also common to find teas flavored with traditional French spices and herbs. Tea houses and cafes in Paris offer an extensive range of teas, sourced both locally and internationally. When partaking in afternoon tea in Paris, you can also enjoy French pastries, such as macarons, madeleines, and éclairs, which perfectly complement the tea experience.
Don't hesitate to explore different tea houses in Paris to find the blends and flavors that suit your palate. Each Paris tea house offers a unique selection of teas and delicacies – here are my best recommendations!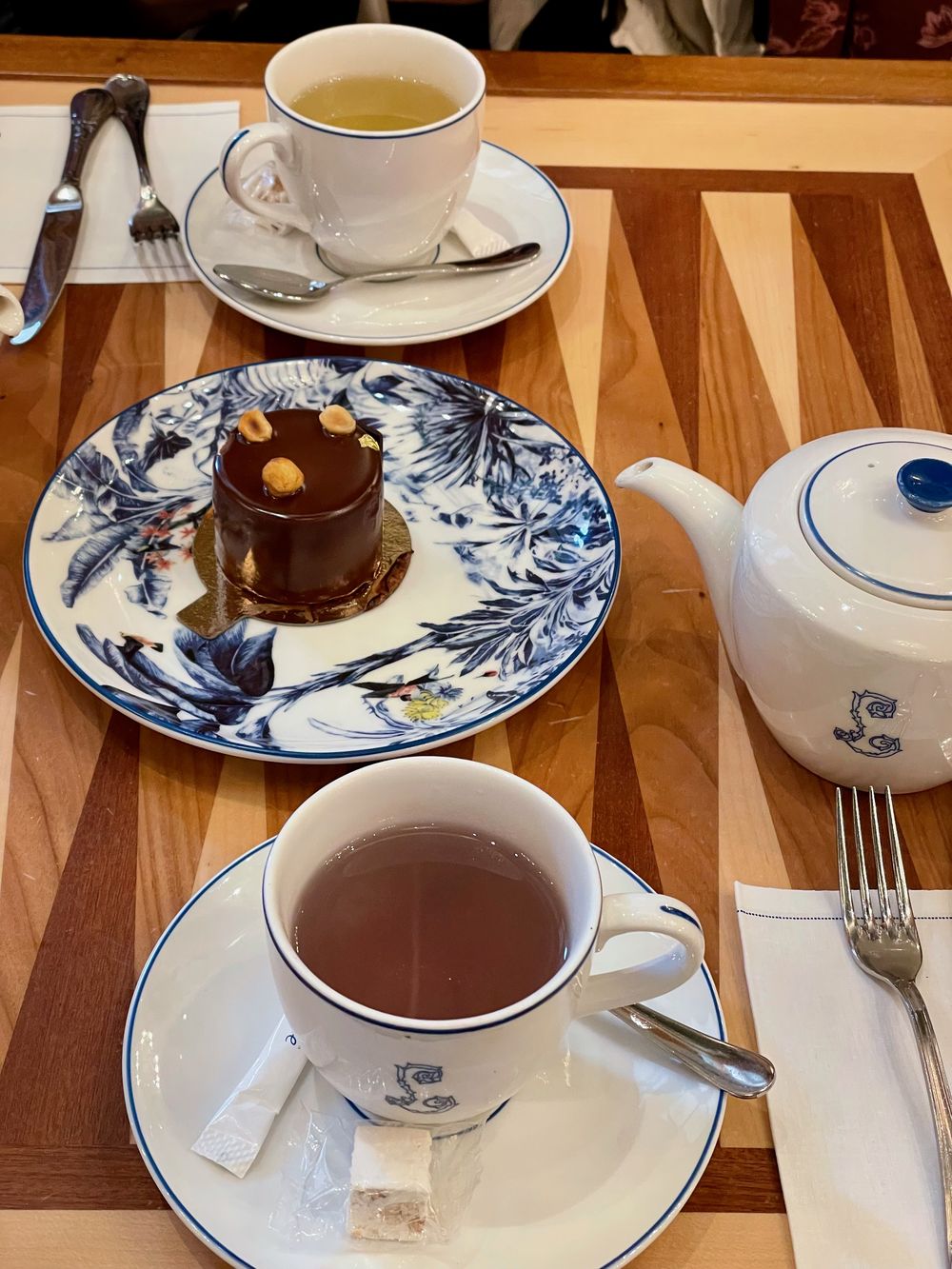 High Tea in Paris
High tea in Paris is often a luxurious affair, characterized by a selection of fine teas accompanied by a variety of pastries, sandwiches, and sometimes even light meals. It is an opportunity to unwind and socialize in an elegant setting, usually in the late afternoon or early evening.
Hôtel Ritz Paris
The Hôtel Ritz Paris, established in 1898 by César Ritz, stands as a beacon of luxury and sophistication, playing host to numerous high-profile guests over its storied history. The Ritz in Paris offers an opulent high tea experience in the Salon Proust, where you can savor a variety of fine teas and exquisite pastries in the hotel's grand salon, often accompanied by live harp music. This historic establishment, renowned for its luxury and elegance, promises an afternoon of indulgence and relaxation.
Angelina
Angelina, founded in 1903, has a long-standing reputation as a prestigious Parisian tearoom, attracting famed figures like Coco Chanel with its luxurious ambiance and renowned pastries.
Angelina, a beloved Parisian institution, is renowned for its rich hot chocolate and signature Mont Blanc pastry, offering a high tea experience that marries classic elegance with culinary delight. A visit to Angelina allows one to immerse themselves in a quintessentially Parisian atmosphere, highlighted by a selection of premium teas and gourmet pastries.
Café Antonia
Café Antonia, nestled in the Hôtel Le Meurice which dates back to 1815, is named after the hotel's first guest, offering a modern and artistic twist to the traditional Parisian high tea experience.
Café Antonia, situated in the luxurious Hôtel Le Meurice, presents a relaxed and chic environment where you can sip refined teas, accompanied by delightful pastries and light dishes crafted with a contemporary twist. The establishment is characterized by its artistic interior and laid-back atmosphere, making it a popular choice for a casual yet upscale high tea experience.
Hôtel Lutetia Paris
Hôtel Lutetia in Paris opened in 1910, has a rich history as a gathering place for artists and intellectuals. For tea at Hôtel Lutetia, you can indulge in a lavish high tea set against the backdrop of its stunning and historically significant architecture. Renowned for its innovative culinary offerings, the 5-star hotel provides a selection of premium teas and a diverse range of delicacies, from sweet pastries to savory delights, letting you enjoy a balanced and indulgent afternoon reprieve.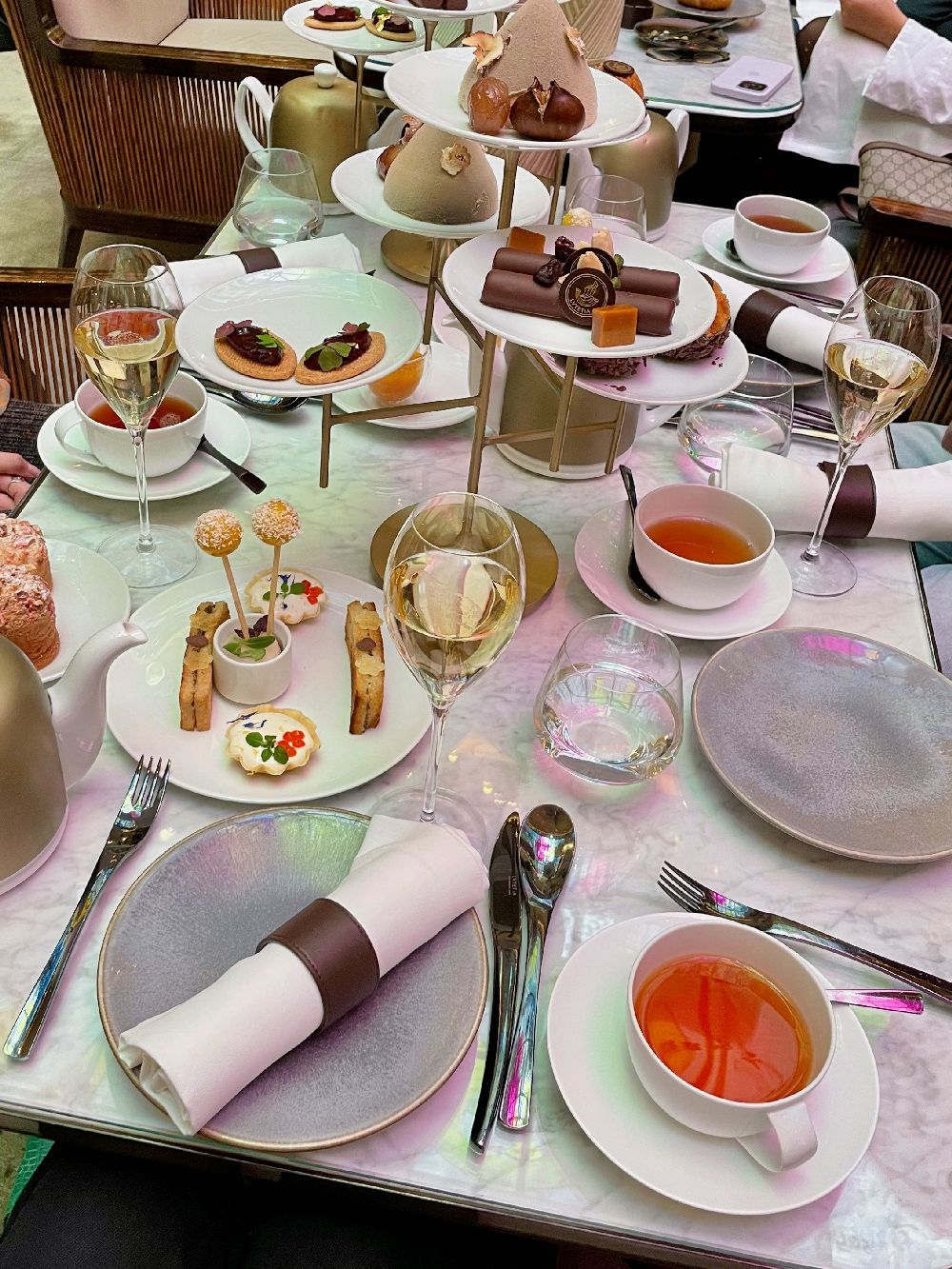 Best Tea Rooms in Paris
Here are the best tea rooms in Paris.
Mariage Frères
Mariage Frères, a historic tea house established in 1854, offers a vast selection of teas sourced from across the globe, providing a unique and immersive high tea experience that pairs tradition with modern gourmet cuisine. The establishment is renowned for its museum-like ambiance, where visitors can explore the rich history of tea and appreciate the elegance of the French tea ceremony.
Nina's Vendôme
Nina's Vendôme is a charming tea house known for its exclusive teas, which are delicately flavored using petals from the roses and apples of the King's Kitchen Garden at Versailles. This boutique establishment, often noted for its Marie-Antoinette tea, offers an exquisite high tea experience characterized by a harmonious blend of history and flavors in a quaint and serene setting.
Le Loir dans La Théière
Le Loir dans La Théière is a popular spot that captivates visitors with its bohemian atmosphere and home-made, generous pastries. This cozy tea house, named after the river Loir, offers an eclectic, laid-back high tea experience with a selection of teas that perfectly complement their famed lemon meringue tart and an array of other delicious pastries.
Le Jardin de Mademoiselle
Le Jardin de Mademoiselle is a relatively newer entrant in the Parisian tea scene, distinguishing itself with a feminine and floral décor that promises a tranquil high tea experience amidst the bustling city. Guests can indulge in a fine selection of teas, paired with a variety of sweet and savory treats, which are thoughtfully curated to offer a delightful afternoon respite.
Café Lapérouse Concorde
Café Lapérouse Concorde, situated near the historic Place de la Concorde, combines luxury with heritage, offering a high tea experience steeped in Parisian history and culture. The establishment provides a refined setting where guests can savor premium teas accompanied by a selection of gourmet delicacies, all while soaking in the magnificent views and the rich history that embodies the heart of Paris.