Have you been to a pharmacy in France? The differences are quite astonishing. Here's a helpful guide for navigating pharmacies in France, no matter what your needs are.
Pharmacies in France are renowned around the world and for good reasons. They are distinguished by their distinctive green cross signs, which are ubiquitous and symbolize a reliable haven for medical advice and body care products.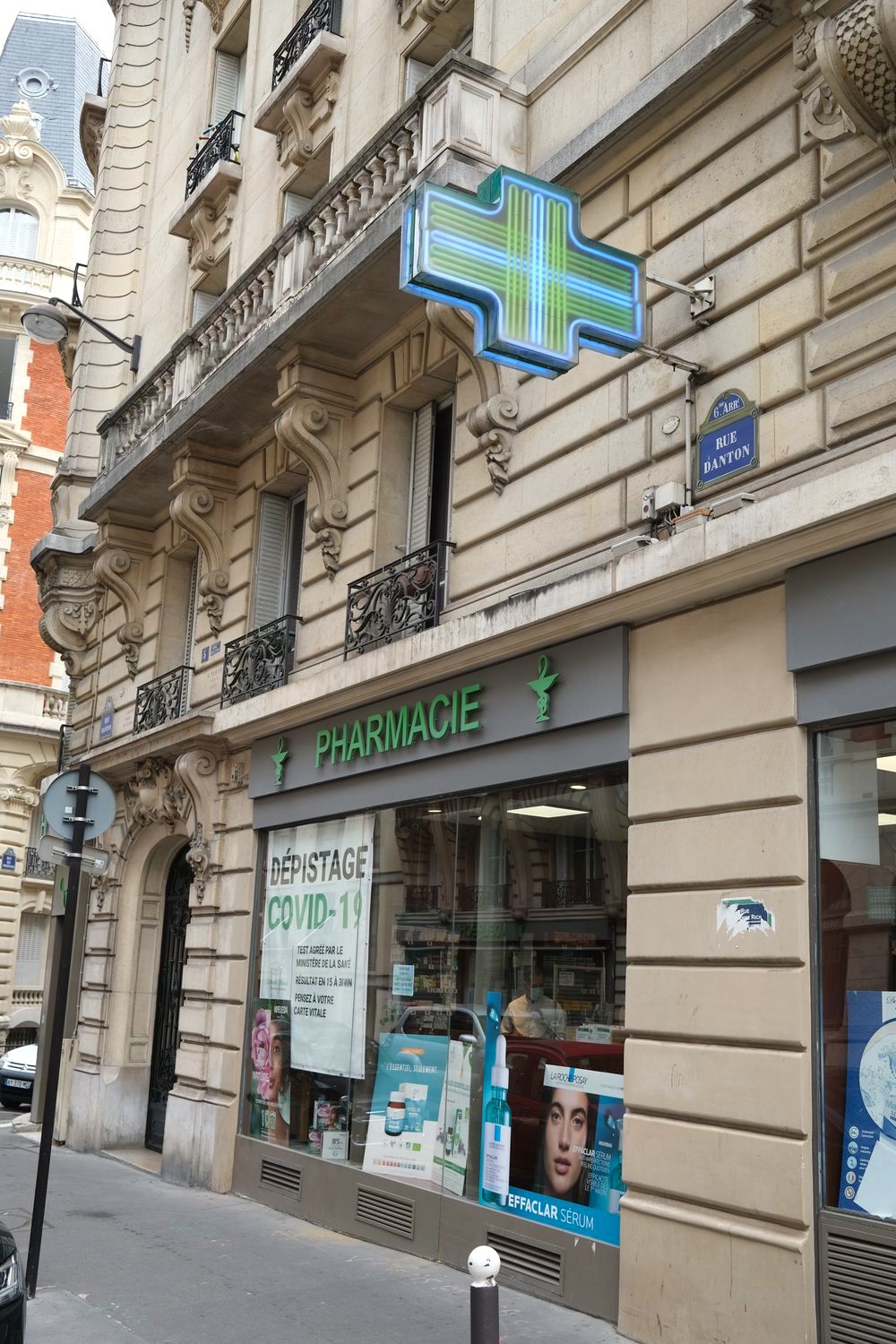 Best Pharmacy in France
CityPharma on a corner of Rue du Four in Paris, is famed for selling French pharmacy skincare products at competitive prices and is a popular spot for locals and visitors. Its impressive selection of French skincare brands means you can always find what you're looking for.
Best French Pharmacy Products
In addition to offering over-the-counter and prescription medicines, they sell hundreds of pharmaceutical-grade skincare and beauty products, formulated based on scientific research and expertise in pharmacology.
French pharmacies adhere to stringent quality control measures, ensuring that products on their shelves are of the highest standard.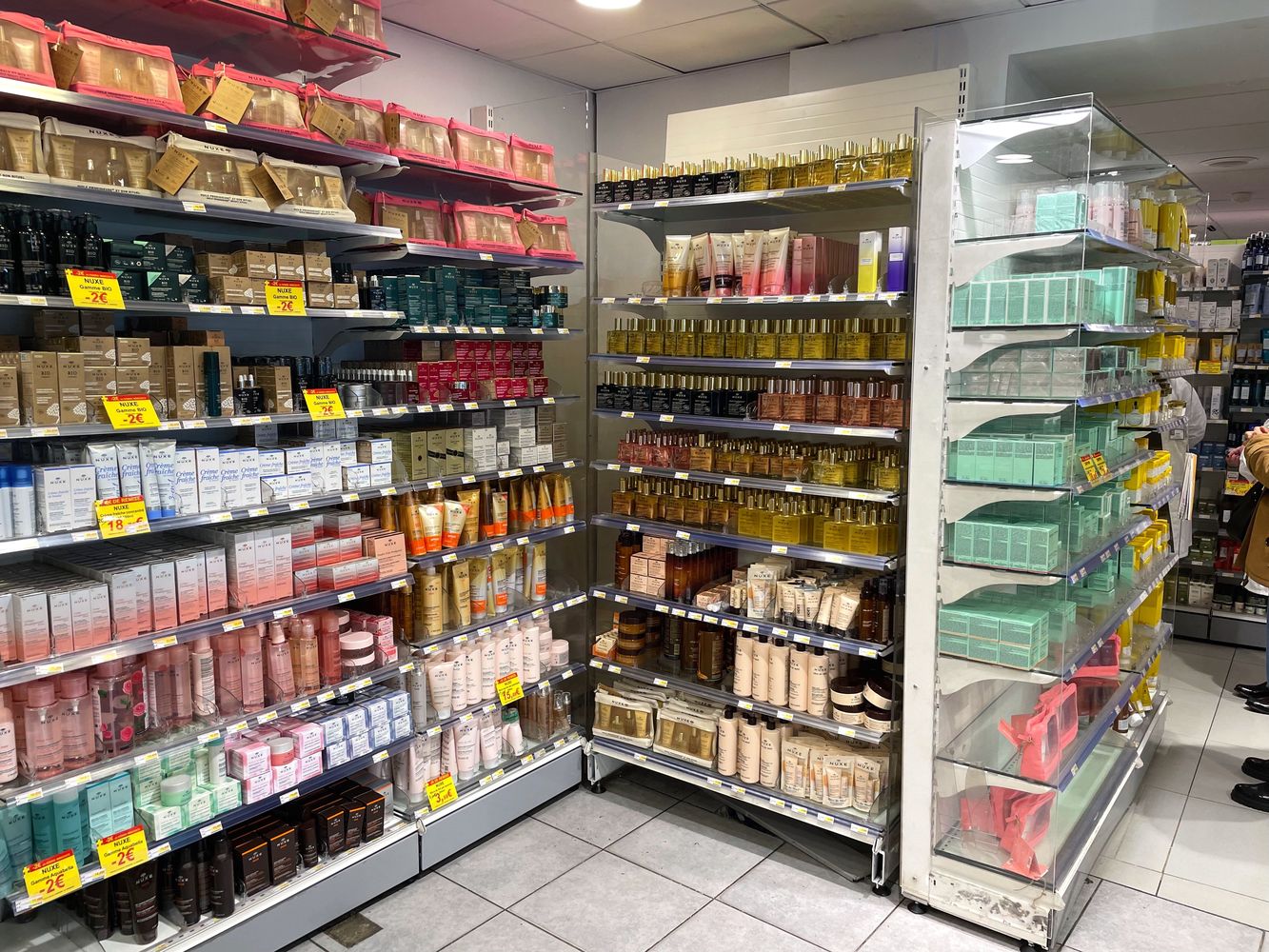 French pharmacies are a treasure trove of high-quality skincare products, renowned worldwide. Here are ten skincare products that have been revered for their effectiveness and are almost always available at French pharmacies:
Bioderma Sensibio H2O Micellar Water: A gentle yet effective cleanser that removes makeup and impurities without irritating the skin.
Embryolisse Lait-Crème Concentré: A versatile moisturizer that nourishes the skin and can also serve as a makeup primer.
La Roche-Posay Anthelios Melt-in Milk Sunscreen: A high-protection sunscreen that is renowned for its lightweight and non-greasy formula.
Nuxe Huile Prodigieuse: A multi-purpose dry oil that can be used on the face, body, and hair, known for its nourishing and repairing properties.
Caudalie Vinoperfect Radiance Serum: A serum designed to boost the skin's radiance and reduce the appearance of dark spots.
Avène Thermal Spring Water: A soothing spray that calms irritated skin and provides a refreshing burst of moisture.
Vichy Mineral 89 Serum: A hydrating and fortifying daily booster, known for an anti-aging plumping effect, smooth texture and skin-strengthening properties.
Klorane Dry Shampoo with Oat Milk: A well-regarded dry shampoo that absorbs excess oil and adds volume to the hair.
A313 Vitamin A Pommade: an over-the-counter retinoid treatment, highly esteemed for its potent effects on the skin, containing vitamin A to promote skin cell turnover, helping to address issues such as acne, fine lines, and uneven skin tone.
Biafine: a topical ointment to treat burns and wounds, helps to promote faster healing and reduces the risk of scarring. Used as a remedy for skin irritations like sunburns, minor cuts, and even as a nourishing treatment for dry or distressed skin.
French Pharmacy Staff
French pharmacies are not merely retail outlets; they are staffed with highly trained pharmacists who are capable of providing expert advice and guidance on medical issues. These pharmacists often build a rapport with the local community, offering personalized service and fostering a trusting relationship with customers.
Each pharmacy is independently run and no pharmacist is allowed to own two pharmacies at once. This ensures a level of personalized attention not found in chain stores.
Each staff member at a French pharmacy has a degree in pharmacology. The rigorous French pharmaceutical educational system ensures that pharmacists are well-prepared to dispense medical guidance and adequately address health concerns.
---
The culture surrounding pharmacies in France is one that places an emphasis on health and well-being, making them a vital part of the community fabric. Their reputation is built on a foundation of quality, expertise, and a comprehensive approach to healthcare and well-being.