Confession: I want to move to Europe.
I feel quite guilty for saying that because I know how many millions of people around the world would do anything to hold a US passport – and I try not to take my luck for granted. However, the older I get, the more I realize that my heart just doesn't belong in the US. I think it's common for people to "want what they don't have" so to speak, which is why so many Europeans want to live in America, and vise versa. All over the world, the expat community is growing.
A huge part of why I love Europe is that most places, even small towns, are fairly walkable, and easily accessible via public transportation. (Trains!) Most places in the US are not at all structured this way. If there is a "downtown" or "city center" it's still only somewhat walkable – and will likely have tons of cars parked on the streets anyway.
How Americans Can Move to Europe
Here are a few tips for Americans looking to move to Europe:
Get a visa – Americans need a visa to live in Europe long-term. The type of visa you need will depend on your purpose for moving (work, study, retirement, etc). Some popular options are student visas, work visas, and retirement visas. Do research to find the visa that fits your situation.
Find a job – Having a job offer or contract will make getting a work visa much easier. Start your job search well in advance and leverage any connections you may have in Europe. Getting hired by a European company is the easiest route.
Look into citizenship by descent – Some Americans have ancestry from European countries. Look into whether you're eligible for dual citizenship by descent which would make living and working in Europe much easier.
Research areas to live – Decide which European country or region you want to move to. Do extensive research to learn about the cost of living, job market, housing, healthcare, taxes, and laws there to make sure it's a good fit.
Save up money – Moving overseas can be expensive. Have an emergency fund saved and enough finances to support yourself for the first few months until you get settled with housing and income.
Downsize and consolidate – Get rid of clutter and possessions you don't need so it's easier to make the overseas move. Consider shipping items vs. bringing them on the plane.
Handle healthcare – Know how you'll get health insurance coverage in your new country. You may need to purchase a private policy as an expat.
File taxes – Understand the taxes both in the US and your new country of residence. You may still have to file US taxes as an American citizen abroad.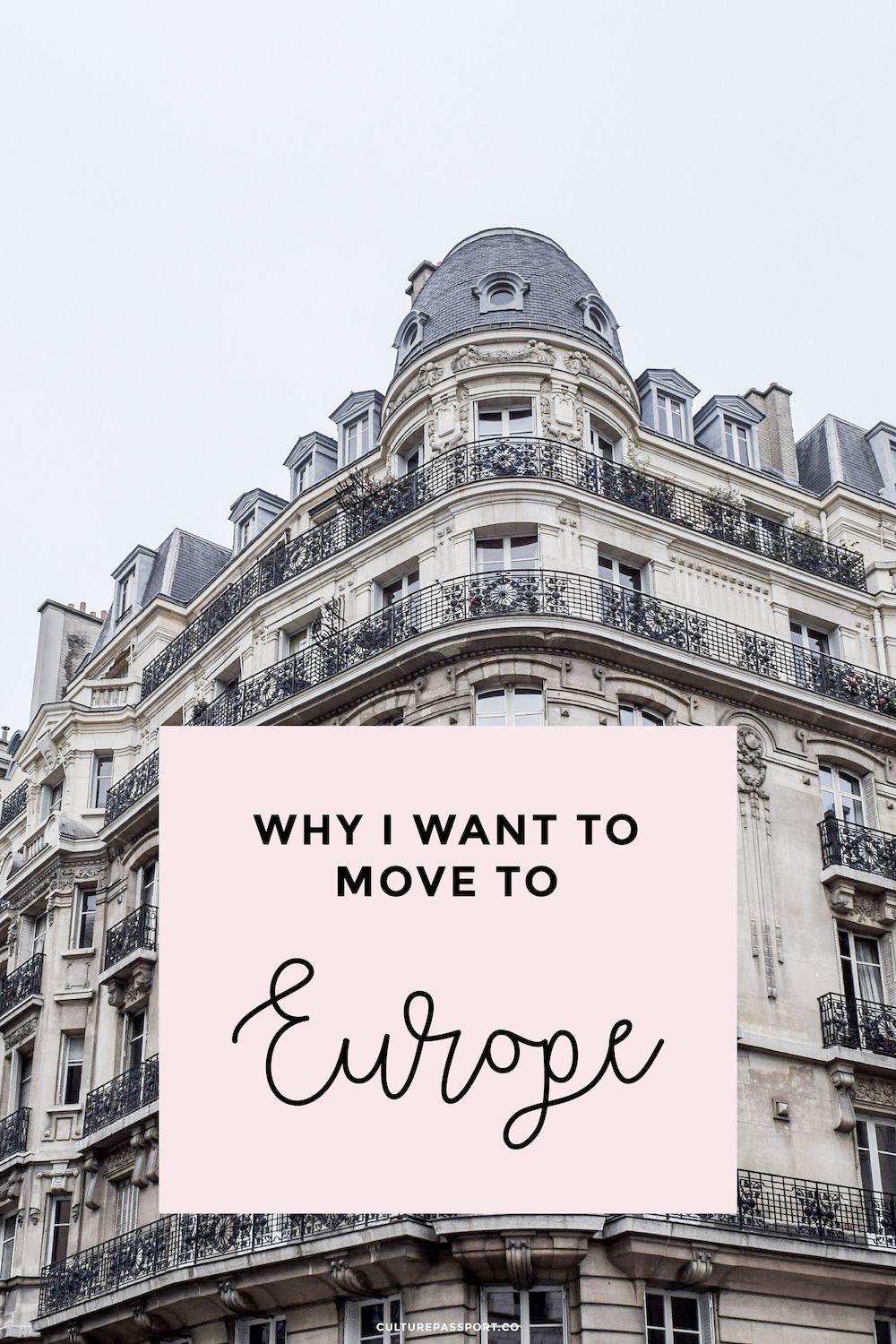 Why I Want to Move to Europe
For me, I wonder if my desire to leave has something to do with where I am from. I was born and raised in a small town in Connecticut, about an hour and a half outside of New York City. Connecticut is certainly a beautiful, peaceful state, but for me, it's simply boring.
It was alway my dream to live in New York City – I thought that's where I belonged. So in 2009, when i was 18, I did it. I lived in Manhattan for 7 years – the last two of which I knew I had to leave. The city is great when you are young and having fun, but at some point, the craziness, non-stop lifestyle and population density can wear on you. I hated being packed on a subway underground, and I hated walking on a crowded sidewalk above ground.
There really wasn't anywhere else to go either, as far as big cities. New York is the only city I had a remote interest in living in throughout the whole United States. I didn't want to live on the west coast as I'm not as "laid-back" as the lifestyle seems there. I didn't want to live in the central United States because I prefer to be near a coast. In the East, that left Washington DC, Miami and Boston. Boston was too boring, Washington DC is too political (and also boring) and Miami – although I love visiting – has a somewhat negative reputation and is a very seasonal city.
Everything in the US is also very new – our buildings are never more than a few hundred years old, and our traditions can only date so far back. In Europe, you meet people who have an old street named after their family surname, or who have a vineyard passed on to them from several generations back. There are storied traditions, customs, and even languages and dialects present in certain regions. Towns can be many hundreds or even a thousand years old.
I love how Europe is big and small at the same time. If you're tired of the country you're in, you can easily visit (or move to) another country in the European Union that has a totally different culture than your own. Better yet, live near the border so you can have the best of two (or three!) countries at your feet! While the regions of the US are certainly diverse, they are nowhere near as varied as the countries of Europe.
So there it is: why I want to move to Europe. Have you ever thought about moving to Europe?