As an avid traveler, over the years I've learned what my essential travel beauty products are. While it's easy to amass a large collection of beauty products at home, when traveling, one needs to be a bit more selective when deciding what to bring. After all, there's a limited amount of suitcase space available. Personally, while I love my beauty products, I won't prioritize my make-up over my clothes. Not to mention, there's those pesky liquid limits that prevent you from bringing full-size products. So with those things in mind, I try to purchase travel size beauty products and only bring the essentials!
Pro Tip: Buy the travel size of your favorite beauty products, but keep the bottle so you can refill it when you get back home. It's cost-effective to refill rather than to re-buy.
When I travel, these are the travel beauty products that make the cut for me: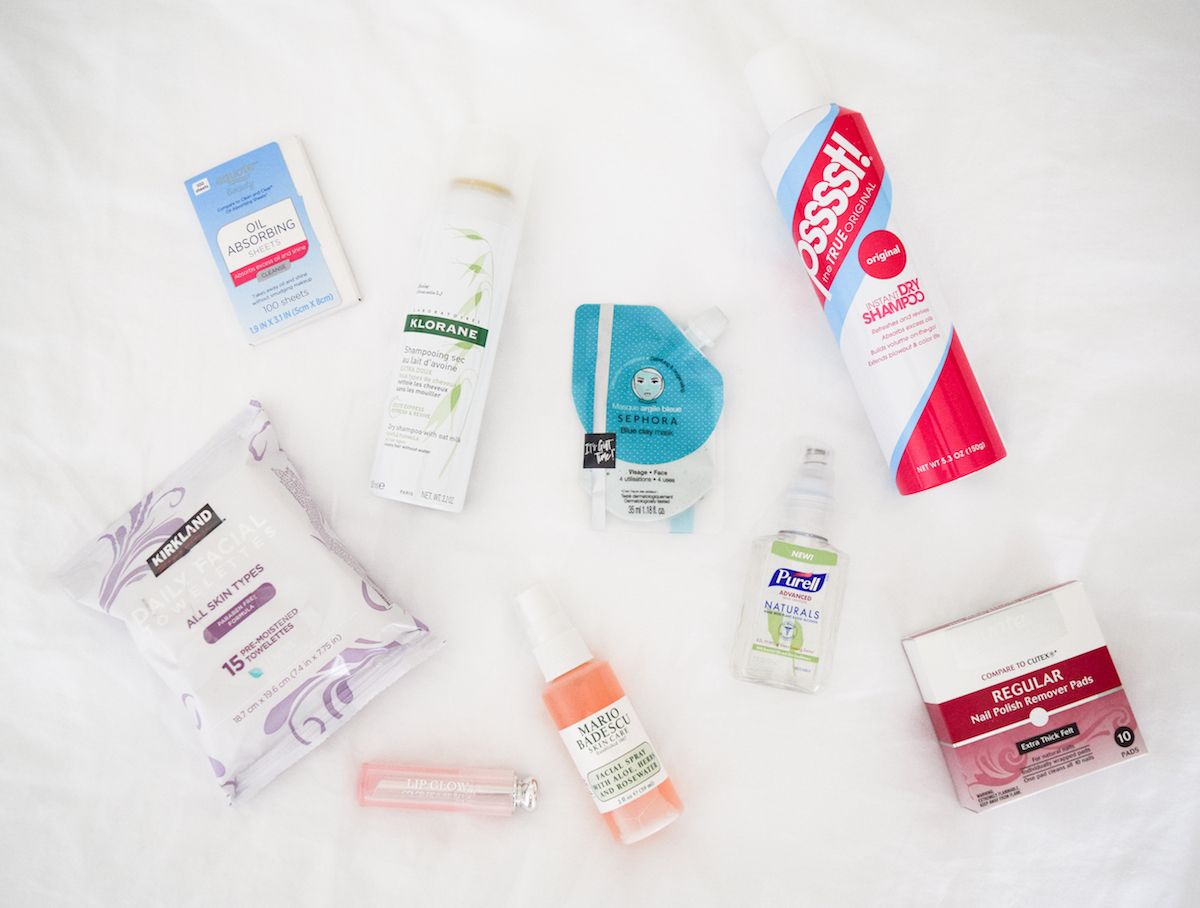 1. Oil-Absorbing Sheets
Oily skin is a huge problem for me when traveling, and luckily, these sheets soak up any excess oil on my face in a few seconds flat. They come in a package the size of a small business card case, making it super easy to pop into my handbag.
2. Dry Shampoo
Dry shampoo is a lifesaver when traveling. It saves me time in the morning, and as an added benefit, gives my hair a nice volume boost! My favorite dry shampoo is by Klorane, but when money is tight, I opt for this cheaper version!
3. Setting Spray with SPF
Since I try to get up as early as possible to photograph during the natural daylight, SPF is a must for me, as my face is exposed to harmful UV rays for many hours! I love this setting spray which allows me to wear makeup and still protect my face from sunburn!
4. Make-up Remover Wipes
Since liquids are always a pain to deal with when traveling, I opt for facial cleansing wipes which clean my skin and remove my make-up – no liquid needed! I love these wipes so much that I even use them when not traveling :)
5. Nail Polish Remover Pads
If you paint your nails often, you should also think about getting nail polish remover pads, so you don't have to worry about liquids! These things are a lifesaver for long-term travel!
6. Sephora's Easy Smoky Eye
Need a dramatic look without bringing eyeshadow and a brush? Grab this two-in-one smokey eye from Sephora for the perfect nighttime look in half the size!
7. Avocado Mask Sheet
While I may go for a fancy mask at home, when traveling it's easiest to use a peel-away mask sheet that I can toss entirely when done. The Sephora mask sheets come in individual packaging, making them perfect for travel!
8. Tinted Lip Balm
Tinted lip balm is my go-to lip color for keeping my lips hydrated and flush with rosy color at the same time. While I love the matte look, it isn't as practical when traveling, so tinted lip balm is the answer. It's also super easy to apply without a mirror, making it the perfect solution for on-the-go lip color. Dior Lip Glow is my favorite.
9. Lip2Cheek Lip & Cheek Color
For a two in one, lip color and blush, try the Lip2Cheek Lip & Cheek Color from Nordstrom or Sephora.
10. Hand Sanitizer
Ok, so maybe this isn't a beauty product per se, but getting sick while traveling isn't a great way to stay beautiful. So, travel-size hand sanitizer is a must for me when traveling. Airplanes are some of the germiest places so generous application is best. I travel with Purell. I also keep the small bottle it comes in, and when it runs out, I refill it from a larger bottle at home!
11. Facial Mist
I was always skeptical about facial sprays until a coworker gave me this one as a holiday gift, and since then, I'm sold! A refreshing blast of rosewater is just what I need after a long flight where my skin gets dehydrated. It's also super convenient to just whip out and spritz. No application process or messy clean-up involved. I recommend a rose water facial mist like this one from Sephora.
What are your favorite travel beauty products you can't live without when traveling?

11 Beauty Products I Won't Travel Without
My Favorite Travel Beauty Products
The Traveler's Guide to Beauty Products
Travel-Friendly Beauty Products I LOVE