Mexico City has become an unlikely sought-after destination for art and architecture admirers. With hundreds of museums dotted throughout this sprawling Mexican metropolis and plenty of architectural wonders, it's hard to know which sites are truly worth a visit.
I've composed a list of ten sites I would love to make a trip to (I haven't been to all but they're certainly on my list!). Unfortunately during my visit to Mexico City I became sick one week and couldn't make it to all these places.
Frida Kahlo and Diego Rivera are highly represented throughout the city which so clearly adores them. There's also several Luis Barragán architectural sites which help shape Mexico City's upcoming status as a top tier cultural destination.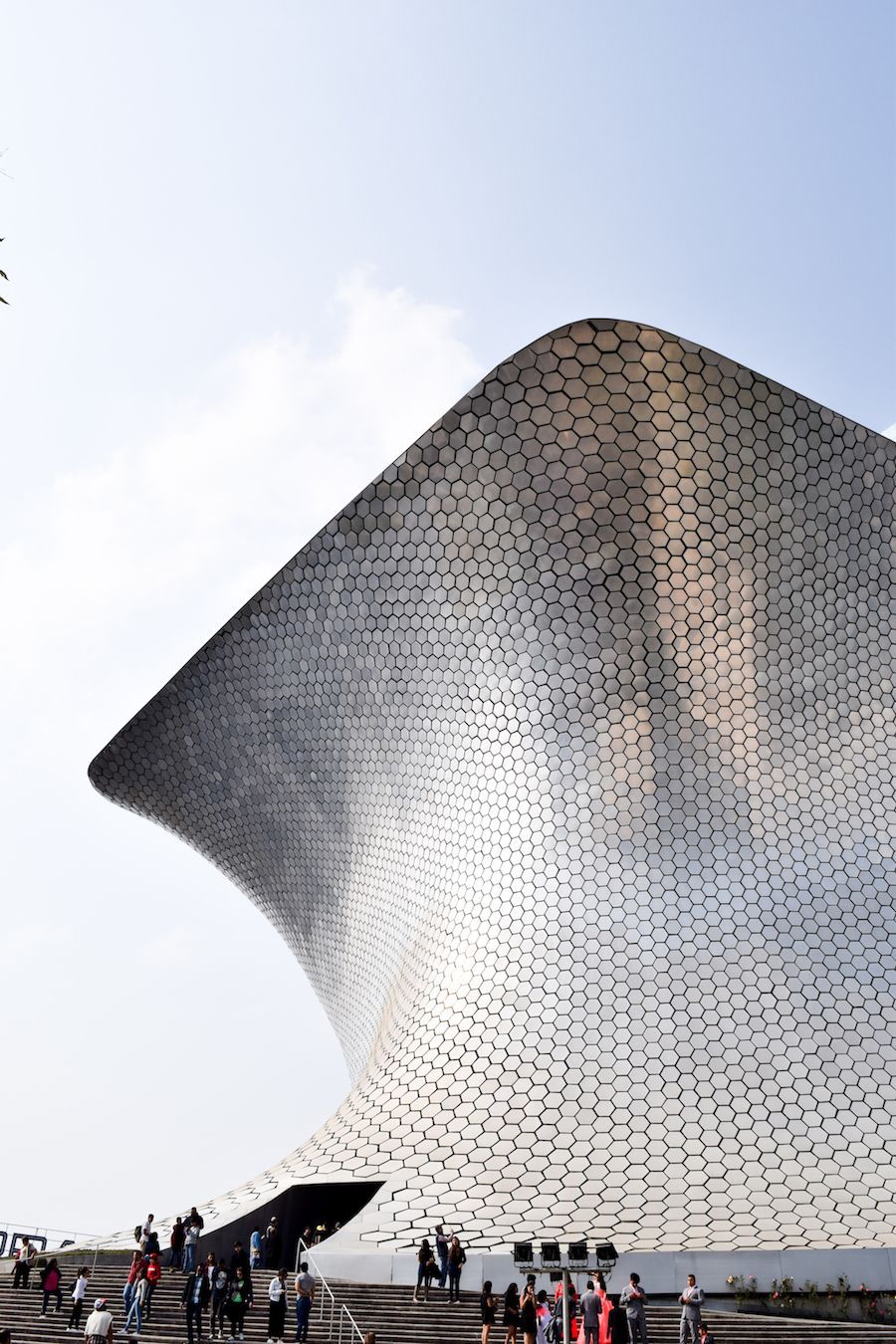 1. Soumaya Museum
At the Soumaya Museum, you'll find an incredibly diverse collection of French sculptures, Italian paintings, Mexican tile work, and even Chinese traditional art. Read about my visit to this famous Mexican museum founded by Mexico's richest man, Carlos Slim.
Boulevard Miguel de Cervantes Saavedra 303
2. Museo Jumex
Just next door to the Soumaya is the Jumex which houses a lovely collection of contemporary art to compliment the historical works from the Soumaya.
Boulevard Miguel de Cervantes Saavedra 303
3. Palacio de Bellas Artes
The neoclassical architecture of this gorgeous museum is worth a visit alone. Inside, find important cultural events, murals by Diego Rivera and different exhibitions.
Av. Juárez, Centro Histórico
4. Frida Kahlo Museum
This bright blue former home of female artist Frida Kahlo is a super popular destination for art lovers. Get a sense of how Kahlo lived by visiting this house filled with her works.
Londres 247
5. Casa Estudio Luis Barragán
If you have a chance, be sure to check out the former home and studio of celebrated architect Luis Barragán.
General Francisco Ramírez 12-14
6. Museo Casa Estudio Diego Rivera and Frida Kahlo
This blue and red home and studio is a must-see for any traveler to Mexico City. Lined in cactuses, you can see the former workspace of Mexico's most famous art couple Frida Kahlo and Diego Rivera.
Calle Diego Rivera s/n
7. Museo Anahuacalli
Diego Rivera was a avid collector of pre-Hispanic Mexican art and amassed around 50,000 works during his lifetime. The Anahuacalli museum was where he decided to preserve them as a tribute to his home country.
San Pablo Tepetlapa
8. Museo Dolores Olmedo
Dolores Olmedo was a Mexican businesswoman who opened her collection to the world through this museum. The complex hosts five different buildings with 145 paintings by Diego Rivera.
Av México 5843
9. Casa Gilardi
This bright pink home stands out like a sore thumb in Mexico City. In fact, it is the last home built by revered architect Luis Barragán. The house was built around a jacaranda tree, and according to Google reviews, the owners sometimes offer tours!
General Antonio León 82
10. Cuadra San Cristóbal
Located in the suburbs of Mexico City is the colorful architectural playground of Luis Barragán. The bright pink walls and flowing water of this space are certainly worth a trip outside the capital city.
Cda. Manantial Ote. 20, Mayorazgos de los Gigantes, 52957 Cd López Mateos, Méx.

---
There are really an endless amount of museums you can visit as an art traveler in Mexico City.
Some other honorable mentions are:
Diego Rivera Mural Museum – I visited this one quickly, it's essentially just the mural itself with a concurrent contemporary art exhibition
Museo Nacional De Arte MUNAL – Mexico's National museum of Mexican art.
Museo Tamayo Arte Contemporáneo and Museo Arte Moderno – both located at the eastern portion of the Bosque de Chapultepec park.
PS. Don't miss my Mexico City Travel Guide.
What are your favorite art museums in Mexico City?