With its alluring Art Deco architecture, vibrant nightlife, and beautiful white sand beaches, Miami Beach is one of Florida's top vacation destinations. As a travel blogger always on the hunt for the most stylish and luxurious accommodations, I'm excited to share my picks for the top hotels in Miami Beach.
Today I'll reveal my top five hotel recommendations based on amenities, location, service, and that extra dose of glamour that makes a hotel truly unforgettable. I'll showcase the best of Miami Beach's iconic resorts and boutique gems, from historic icons to modern masterpieces.
Whether you're planning a romantic weekend getaway or a fun beach vacation with friends, you'll discover the ideal Miami Beach hotel for your next trip after reading my list of where to stay in this sultry seaside paradise.
With the city's world-class decadence, swaying palms, and gorgeous ocean vistas, Miami Beach sets the stage for an extraordinary vacation. Keep reading to learn about my hand-picked list of the finest hotels ready to welcome you with sun, surf, and spectacular style.
Finding the perfect hotel can make or break your experience. Whether you're a discerning traveler seeking luxury or a budget-conscious explorer, there's a hotel in Miami Beach that's just right for you.
Best Upscale Party Hotel: Fontainebleau
Best 4-Star Hotel: AC Hotel by Marriott
For a blend of comfort and sophistication, the AC Hotel by Marriott is my go-to choice. This 4-star gem offers contemporary design, excellent service, and a prime location just steps away from the beach.
Located right on Collins Avenue, this modern hotel impresses with its chic modern design and killer ocean views. Unwind in the rooftop pool or savor tapas and cocktails at the chill rooftop bar.
With sleek rooms and a rooftop pool that boasts breathtaking ocean views, the AC Hotel is a haven for those who appreciate modern luxury without the hefty price tag. For an upscale but affordable beachfront stay, book the AC Hotel Miami Beach.
With an ideal location, sleek style, and four-star amenities like a fitness center and free Wi-Fi, it's a sophisticated choice without the five-star price tag.
Best Budget Hotel: Hotel Belleza
Traveling on a budget? Hotel Belleza is one of Miami Beach's best values, with rooms starting under $100.
Travelers looking to maximize their Miami Beach experience without breaking the bank will find Hotel Belleza to be an ideal choice. This budget-friendly gem offers clean, comfortable rooms and a prime location, making it a perfect home base for exploring the city. The decor channels a breezy beach cottage vibe, and it's just a short stroll to both the beach and trendy Española Way.
Take advantage of free perks like beach chairs, towels, and Wi-Fi. Its affordability allows you to spend more on the experiences that matter most in this vibrant destination. The continental breakfast saves you a few bucks on dining too. It's proof you don't have to break the bank to stay on the sands of South Beach.
Best Affordable Party Hotel: The Goodtime Hotel
For those who crave a lively atmosphere, The Goodtime Hotel is your ticket to an unforgettable Miami Beach experience. This affordable party haven, founded by Pharrell Williams and David Grutman, boasts a vibrant design, a lively pool scene, and a buzzing on-site restaurant.
This affordable hotel is mere steps from the center of South Beach nightlife. The funky budget option has a 1960s throwback style and pool parties with DJs. Its location near Ocean Drive and Washington Avenue puts you in the heart of the action. Rooms are small but colorful, and some have balconies for primo people-watching.
It's the perfect choice for travelers who want to immerse themselves in Miami's nightlife while staying within budget.
For Eco-Conscious Travelers: 1 Hotel South Beach
Eco-conscious travelers will find their sanctuary at 1 Hotel South Beach. This luxurious, eco-friendly retreat is a paradise for sustainability fans. From reclaimed wood furnishings to a rooftop garden and farm-to-table dining, every aspect of this hotel is designed with environmental responsibility in mind.
This luxury resort minimizes its environmental impact by repurposing reclaimed materials during construction. In-room recycling, farm-to-table dining, and a Tesla house car emphasize its green cred.
Guests can enjoy a pristine beachfront location and indulgent amenities, all while making a positive impact on the planet. If sustainability is a priority, 1 Hotel South Beach is the top eco-friendly hotel pick.
Unwind at the magnificent rooftop pool or unwind at the eco-friendly Bamford Wellness Spa. It's where sustainability meets Miami Beach poshness.
Best Historical Hotel: Faena
History buffs and culture lovers will be captivated by the elegance of the Faena Hotel. A symbol of Miami's Art Deco era, this historical gem transports guests to a bygone time of glamour and sophistication.
For an artful stay, Faena Hotel Miami Beach is set in the charming Saxony Hotel, built in 1947. This lavish property pays homage to Miami Beach's retro history with its ornate Spanish-style decor.
With its opulent decor, world-class dining, and proximity to cultural attractions, the Faena is the perfect choice for those seeking an immersion into Miami Beach's rich history.
Dine at the decadent restaurant by star chef Francis Mallmann, catch a cabaret show, or lounge poolside surrounded by opulent red umbrellas.
For history buffs, it envelopes you in Miami Beach's romantic mid-century aesthetic.
Best Spa Hotel: The Standard Spa Miami Beach
For travelers looking for a serene escape, The Standard Spa Miami Beach is the ultimate destination.
Pamper yourself at The Standard Spa Miami Beach, where wellness reigns supreme. This upscale hotel boasts a massive hydrotherapy pool, aromatic steam room, and soothing massages.
The tranquil oasis offers a holistic spa experience, including hydrotherapy, yoga, and wellness treatments. Treatments incorporate natural elements like clay and deep-sea algae. With sound therapy, meditation, and yoga, this spa hotel provides the blissful Miami escape you've been dreaming of.
Set against the beautiful backdrop of Biscayne Bay, this hotel provides the perfect balance of relaxation and rejuvenation.
For Family Travelers: Eden Roc Miami Beach
Families will find paradise at Eden Roc Miami Beach, a luxurious yet family-friendly resort. This grand 1950s hotel dazzles with multiple pools, restaurants, and kids' amenities like mini bathrobes and child-friendly menus. Book a family suite or cabana by the pool.
With its spacious suites, kid-friendly amenities, and a stunning oceanfront location, it's an ideal choice for those traveling with children. The hotel also offers a range of family-oriented activities and dining options to keep everyone entertained.
If you're traveling with kids, Eden Roc Miami Beach checks all the boxes for an amazing family vacation. Parents can indulge at the spa while the kids enjoy activities at the Eden Roc Kids Club. With its privileged location and endless amenities, the whole family will have a blast.
Best Chill High-End Hotel: The Setai
The Setai exudes barefoot elegance, making it the top pick for a splurge-worthy yet laidback luxury stay. This Asian-inspired hotel surrounds you with tranquil ponds, serene fountains, and Zen-like minimalism. The Setai provides an oasis of relaxation for those who prefer a tranquil escape.
Spend your days lounging poolside on a cushioned daybed or book a private yoga class. With an upscale but unpretentious ambience, it's an indulgent escape from bustling South Beach.
Discerning travelers in search of a serene and luxurious retreat will be enchanted by The Setai.
Best Upscale Party Hotel: Fontainebleau
If you're looking to party in serious Miami style, the iconic Fontainebleau is the place to stay. This lavish hotel opened in 1954 and has been a celebrity hot spot ever since.
This upscale party hotel is famous for its lively nightlife scene, pool parties, and luxurious accommodations.
Hang at the massive poolscape, go clubbing at LIV nightclub, or relax at the luxe spa. With posh decor, trendy restaurants, and nightlife, its vibrant energy never quits. Get ready to party like a VIP during your Fontainebleau Miami Beach vacation.
Best Luxury Hotel: Miami Beach Edition Hotel
Walking through the Miami Beach Edition grounds is so lovely. The interior is decorated with a minimalistic and neutral-toned palette. Think white couches and round marble tables. The pool area and adjacent restaurant provide more white couches, bright pink flowers, and of course, many signature Miami Beach green palm trees.
Be sure to pop into the Market for breakfast, and later, dance the night away in the Basement for drinks.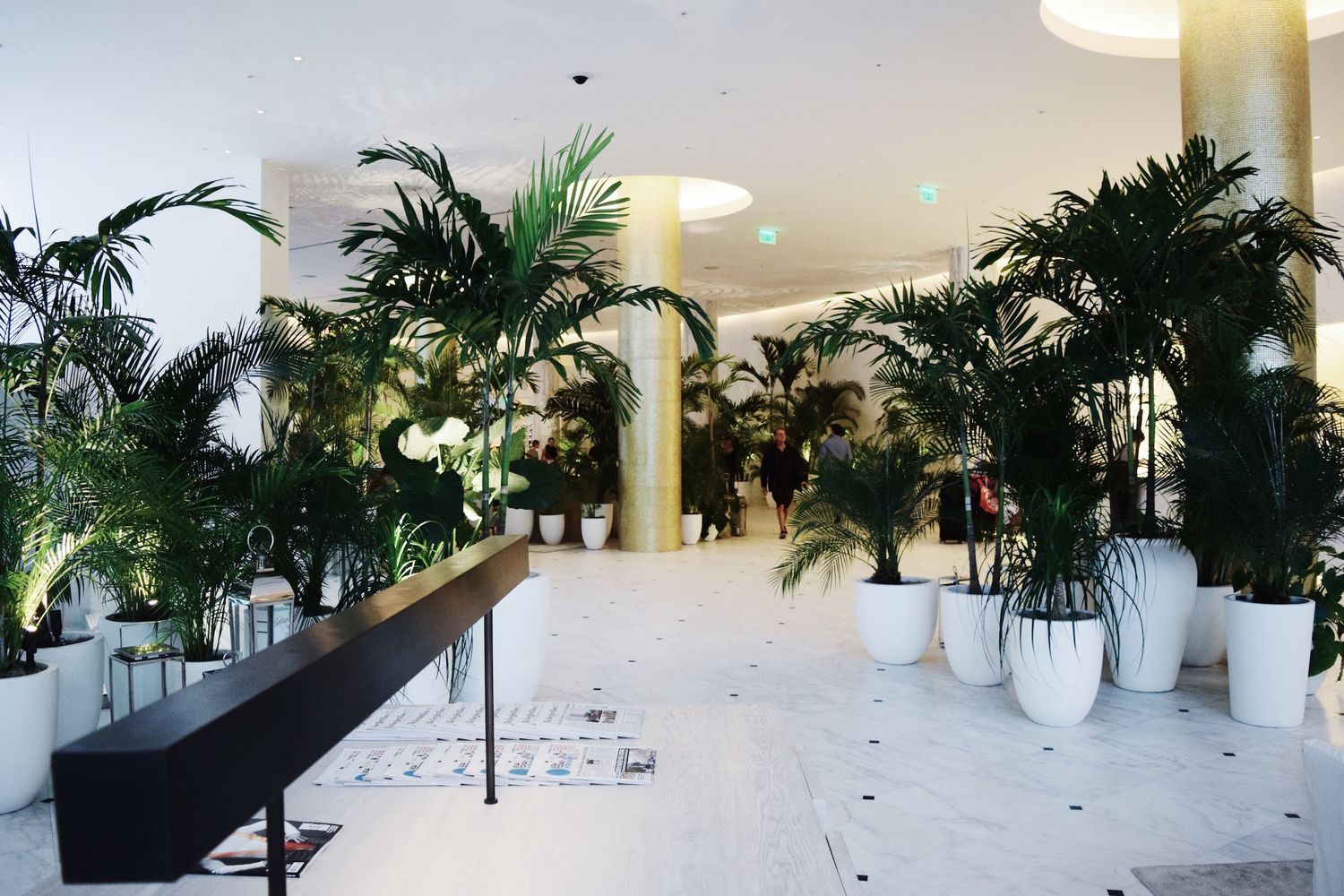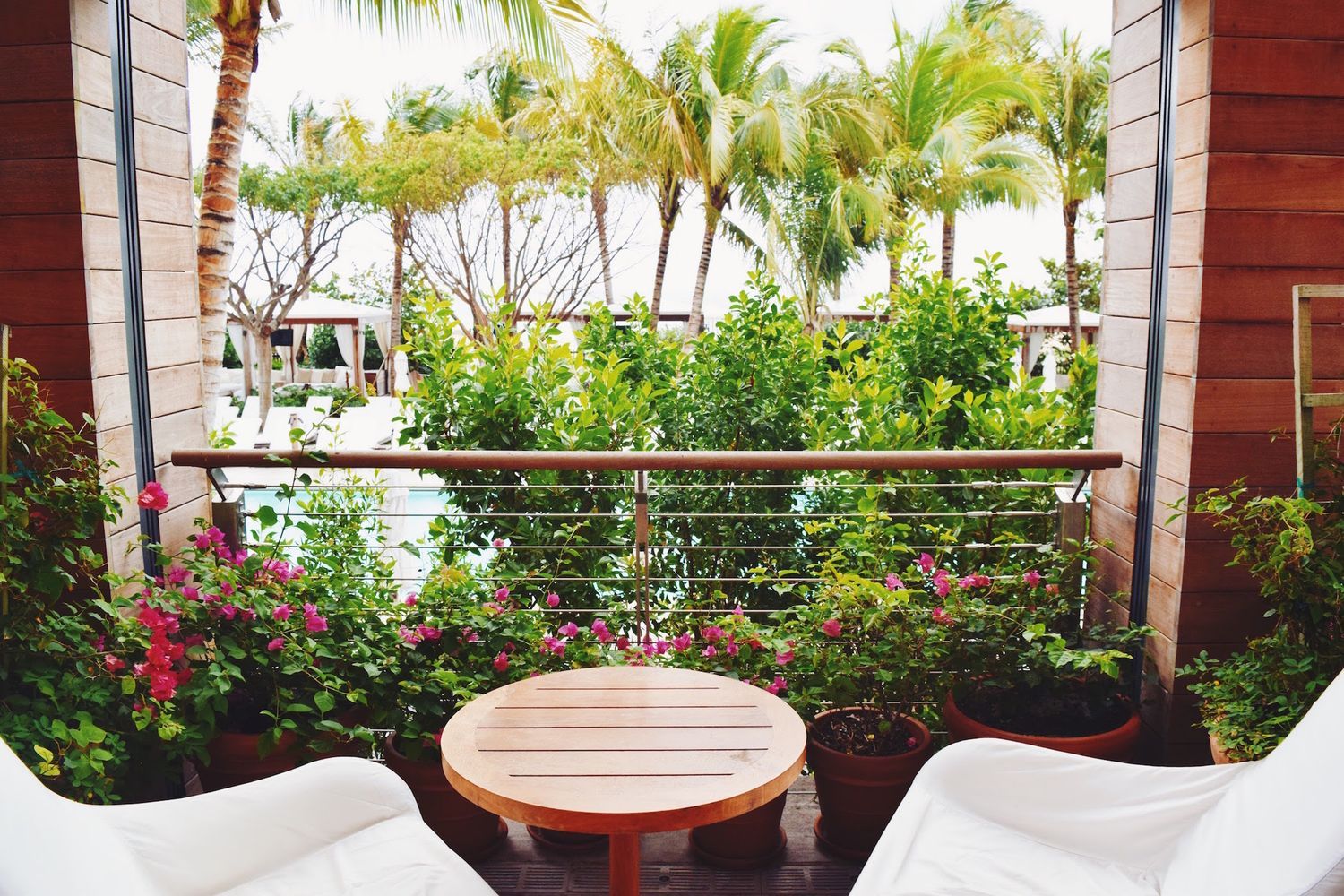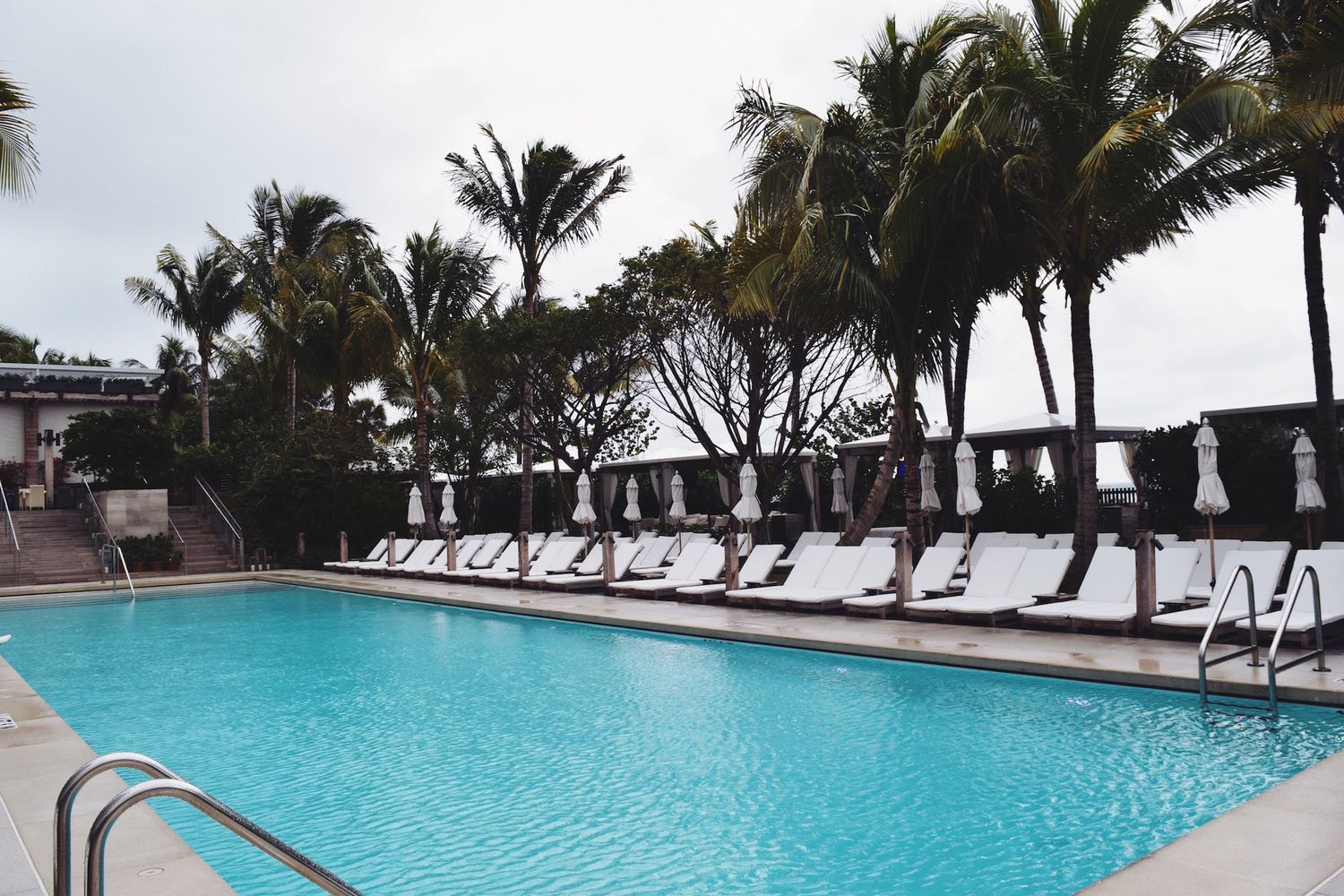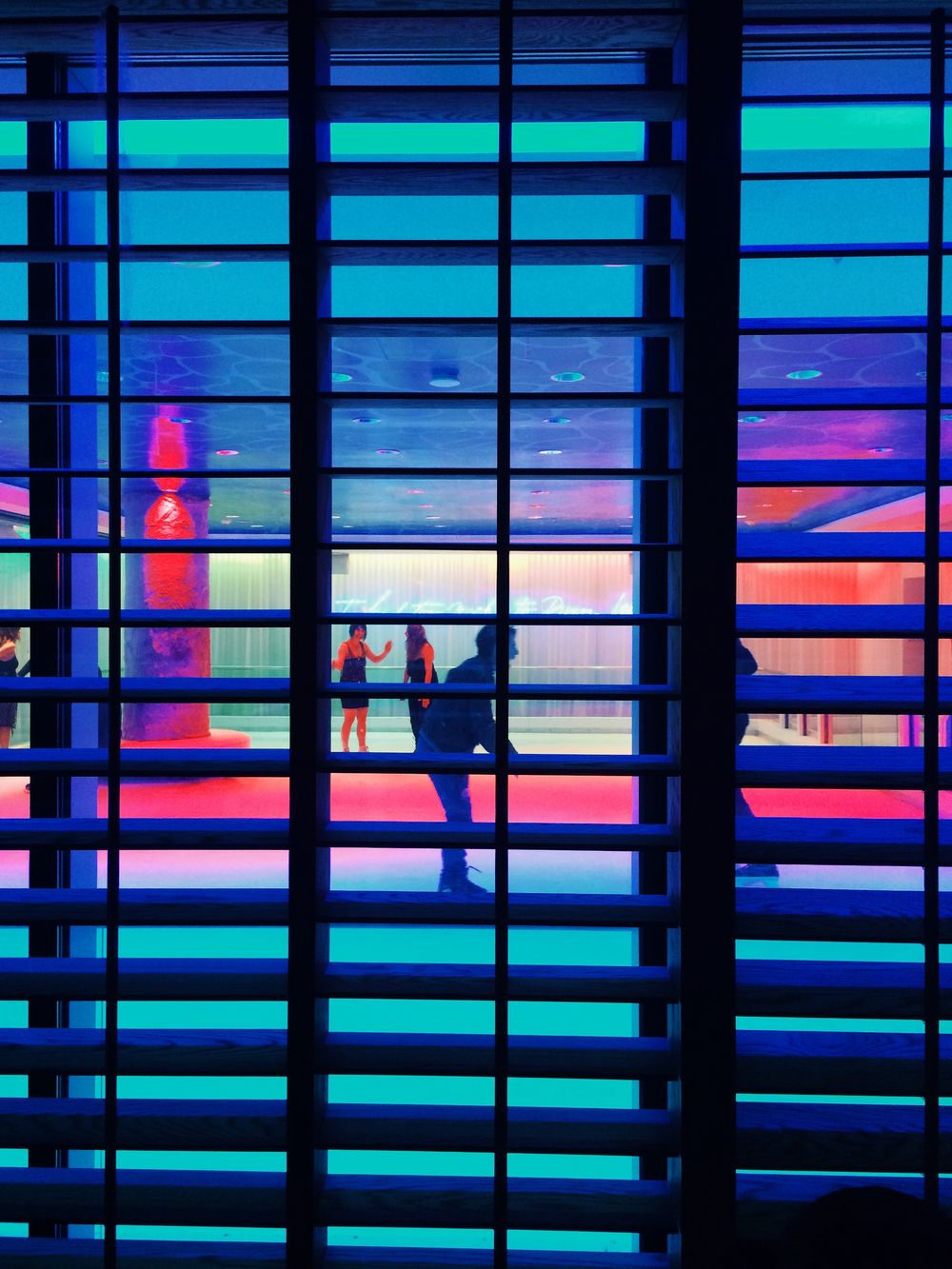 Miami Beach offers hotels to suit just about any type of traveler. With sea views, sunshine, and endless amenities, Miami Beach's hotels make your vacation dreams come true.
Whether you want budget-friendly accommodations, eco-conscious retreats, historical charm, family-friendly options, or upscale party experiences, this guide has you covered! Your stay in Miami Beach will undoubtedly be enhanced by choosing the hotel that best aligns with your travel style.
Whatever vibe you're seeking, you'll find the perfect place to stay in this South Florida paradise.