In some instances, you may need to send a Lettre Recommandée, or Registered Letter, during your time as a resident in France. This formal step is necessary to have judicial proof that someone has received a letter from you. The recipient must show their ID and sign for the letter.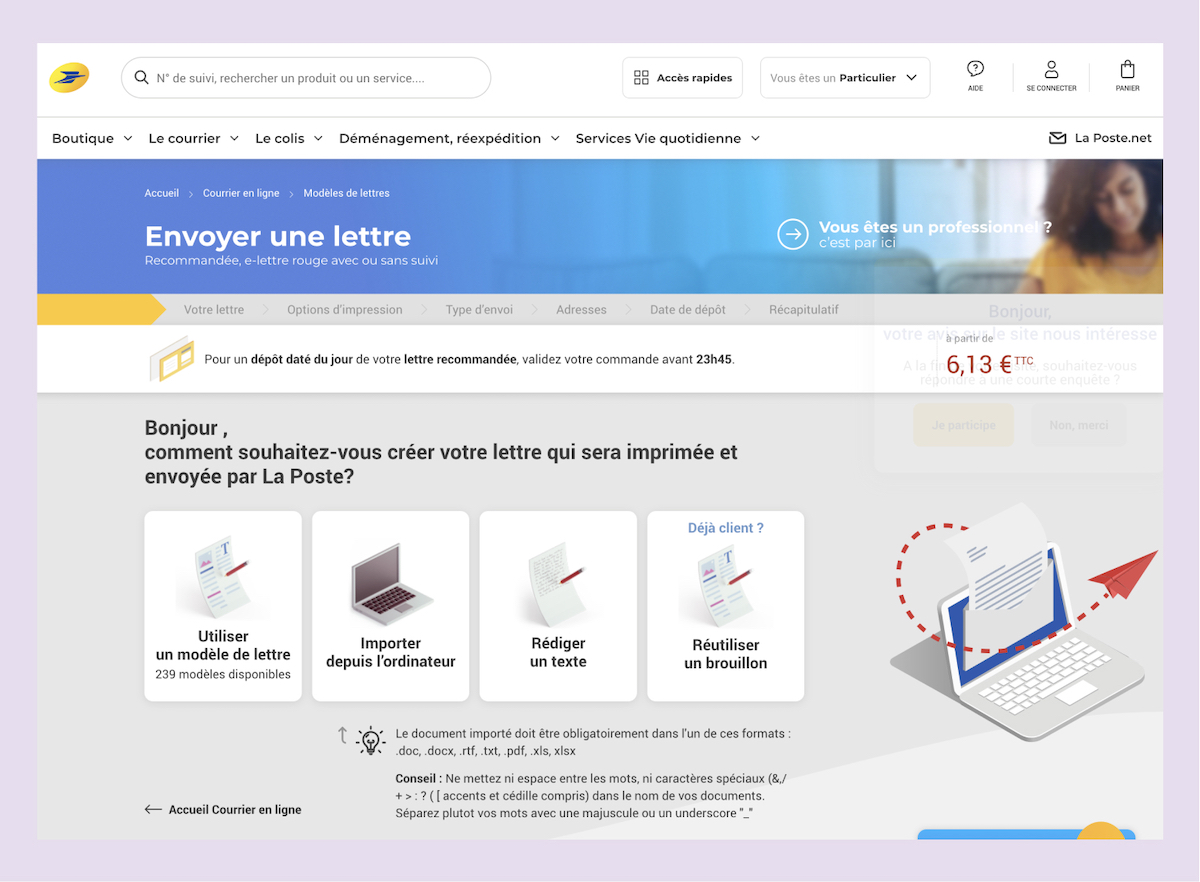 What is a Lettre Recommandée?
A Lettre Recommandée is the French version of registered mail. It can be used in legal proceedings.
What is a Lettre recommandée avec accusé de réception?
A Lettre recommandée avec accusé de réception is a piece of registered mail with proof of reception. The recipient must show their government-issued ID and sign off upon receipt of the letter.
How much does it cost to send a Lettre Recommandée avec accusé de réception in France? At the time of writing, it cost me 6,13 € to send a 2-page letter recommandée plus 1,15 € for the "avis de réception" plus 0,22 € of TVA for a total of 7,28 €.
How to Send a Lettre Recommandée Online
If you live in France, you can simply visit your local French post office to send a Lettre Recommandée. If you don't live in France, you can send registered mail online! You can use the Post Office's letter templates or upload your own document that you have prepared. The Post Office will print, fold and expedite the letter on your behalf.
Here is how to do it.
Visit the Registered Letter page of the French Post Office website.
Create an account with La Poste if you do not have one already.
Click the yellow "J'envoie ma lettre recommandée en ligne" button.
Create Your Registered Letter
Choose how you want La Poste to create your French registered letter.
Use a Letter Template
Choose "Utiliser un mod`ele de lettre" to use one of the 231 pre-written templates available for common situations. Administrative and public service procedures, housing, various cancellations, judicial proceedings, banking and insurance letters, professional life letters, and even business templates are available.
Upload A Document
If you have already created the document you need to send, you can simply upload your file by clicking "Importer depuis l'ordinateur." Formats accepted include standard files such as pdf, doc, txt, and xls.
Write Your Own Text
If you prefer to write your own free form text, choose "Rediger un texte."
Edit a Draft
You can edit any previously drafted letters by clicking "Reutiliser un brouillon."
I chose to upload a document that I had already created using another letter template online.
Once you upload your document, you can click "Aperçu de votre lettre" at any time to preview how it looks.
Remember, if you are American and you choose to edit your own document, don't forget to change the Page format into A4, which is the standard French letter size.
If everything looks good, you can continue by clicking "Valider le contenu de la lettre"
Choose Your Letter Formatting Options
You can choose to have your French registered letter formatted in black and white or color (for 30 cents more).
You can also select whether you prefer a multi-page document to be printed on both sides (recto/verso) or separately with multiple pages printed on one side only. There is no extra charge for the one-sided printing option.
Once you've selected your letter formatting options, click "Valider les options d'impression."
Choose Your Delivery Method
Here you can select the type of French registered mail you would like to send. "Lettre recommandée" should be selected by default. You should check "Avec avis de réception" to receive legal proof with the recipient's signature.
As you can see, the icon confirms that you will receive "Preuve Juridique" by sending this type of registered mail.
Click "Valider l'affranchissement" to continue.
Enter the Sender's (Your) Address
Enter the sender's address here (yours) if you have not already.
Unfortunately, this step only allows addresses within France and its overseas territories including French Guiana, Guadeloupe, Martinique and Réunion, Mayotte, Saint-Barthelemy, and Saint-Martin.
Click "Valider votre adresse" to continue.
Enter the Recipient's Address
Enter the recipient's address here.
Click "Valider l'adresse du destinataire" to continue.
Choose the Send Date
Here you can select the date you wish your French registered letter to be sent. By default, today's date is automatically selected. You must finalize the payment before 23h45 for today's date to be used as the official sending date. You can select a date up to 3 months in the future for your French registered letter to be sent.
Click "Valider et voir le récapitulatif" to continue.
Verify Your Letter
Double check all your selections and ensure your registered letter appears the way you want it to ("Aperçu de votre lettre") with the right options.
Click "Ajouter au panier" to continue. Click "Voir mon panier" to pay.
Pay
Pay for the registered letter to be sent at this step. Luckily, you can use an American credit card to send a French Registered Letter (Lettre Recommandée) online through La Poste.
That's it! Keep an eye on your email to receive a receipt.
Proof of Receipt
I received proof via email of my French registered mail delivery about one week later to an address just outside Paris. The French Post Office estimated the delivery takes about 3 days but because I sent my letter to a residential address, it's likely the recipient was at work during the week and didn't receive it until Saturday for that reason.
A PDF was attached to the email which included the date of letter distribution, the recipient's signature, and the identity card they used to receive the letter.