From design-driven interiors to luxury icons and amenities, old-school New York City boutique hotels are undoubtedly some of the best hotels for many of us. Apart from their aesthetic abode and next-level elegance, old-school boutique hotels are also bustling with character, providing people with a taste of what life was like during the Jazz Age of New York and before.
In New York City, boutique hotels are commonplace, along with chain hotels. With fantastic NYC boutique hotels to choose from, you'll be pleasantly overwhelmed by the options available to you. From hotels with bold designs and rich histories to rooftop bars, full-body massages, picturesque views, and indoor gardens, finishing a splendid NYC day in one of these hotels would be a dream.
Here are some of the best NYC boutique hotels you can spend your day in while in New York.
1. The Bowery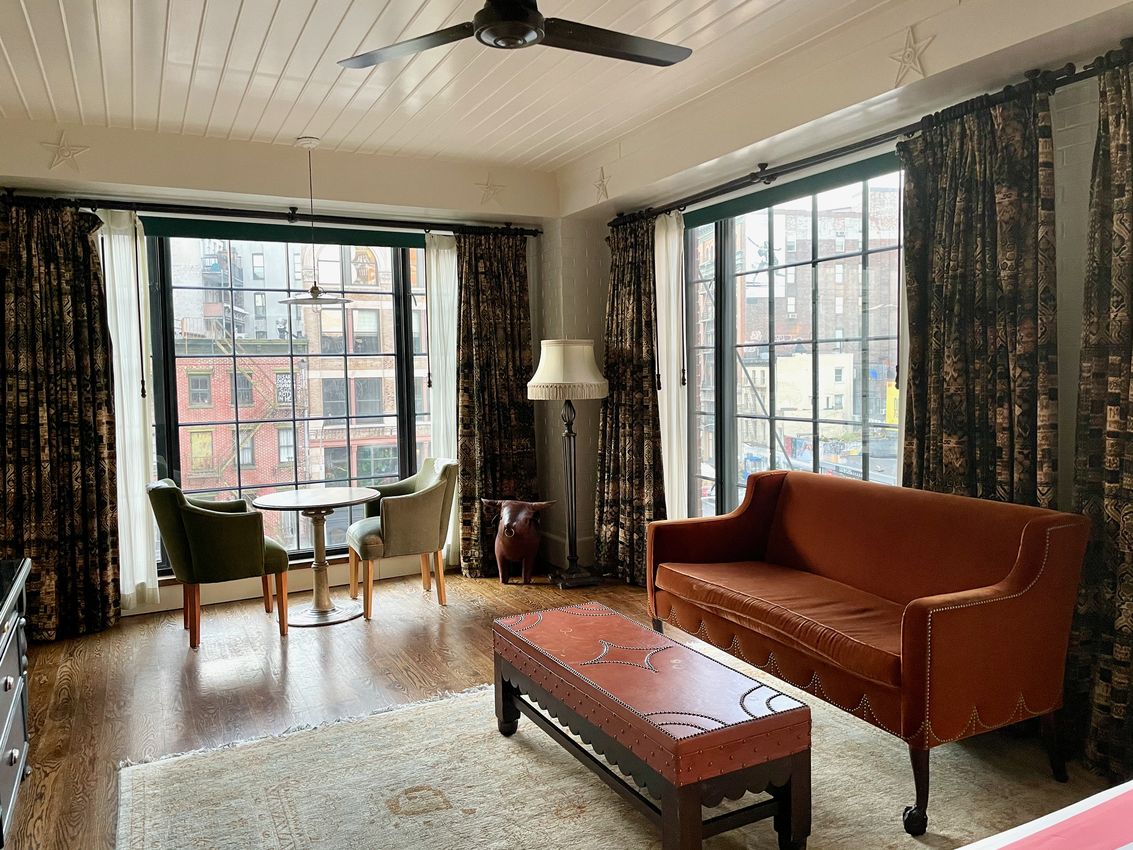 Somewhere along the East Village, you'll find a stand-out, timeless landmark that is the Bowery Hotel. The Bowery Hotel is the kind of place where seeing a celebrity is an everyday occurrence, mainly because you'll probably spot a few cozying up with their drinks in the lobby. Not only that, this boutique hotel doesn't skimp on its amenities as well; when you're exhausted after a long day and ready to rest for the night, you'll be guaranteed a deep and comfortable sleep because of the hotel's antique furnishings and rather unique feel. Read my Bowery Hotel review for my thoughts on my stay there!
2. The Ludlow Hotel
The Ludlow Hotel takes your breath away with its spectacular views of New York City bridges and skyscrapers. During the 19th century, the Lower East Side neighborhood was mainly recognized for its seediness and sheer poverty alongside brothels, vice, gangs, and violence. It included a multicultural mix of Jewish immigrant populations, Irish immigrants who riled up anti-immigration locals, and slaves who were fleeing the south.
Now, The Ludlow Hotel is famous for being a center of culture and art, though the immigrant influence still remains definitive as many historic institutions regard it. It's also home to stunning contemporary art galleries, with an interior that is immersive of its history and cinematic adventure.
3. The Greenwich Hotel
Located in a charming and prime spot in Tribeca, the Greenwich Hotel is adorned with impeccable designs courtesy of New York's leading firm: Grayling Design. Since its official opening back in 2008, the hotel has already earned its name for its discretion and its sheer uniqueness in terms of privacy and service that piques the interest of celebrity guests.
Moreover, it also has obsessive and intricate construction largely accounted for by thousands of costly and handmade bricks. Despite this, the interior remains unfussy and delightfully understated.
4. The Marlton
When it comes to NYC boutique hotels, the old always has a place for the modern. Located in the heart of the Greenwich Village, the Marlton hotel has housed plenty of counterculture personalities over the decades, such as Lenny Bruce, Valerie Solanas, and Kerouac. Before, the hotels of Sean MacPherson were among the first ones to carve a new path away from futuristic minimalism, opting to embody the concept of retro romance. To date, the hotel serves as a haven for literary-minded individuals seeking a tranquil break.
5. The High Line Hotel
The High Line Hotel is situated ideally among the prettiest blocks in Manhattan, which is the West 20th. This 60-room NYC boutique hotel first opened its doors to the public in 2013, occupying a residence in a section of a then-working theological seminary since the 1800s. Guests who check in at the High Line Hotel will particularly enjoy oysters and champagne during their visits in warm months and will be pleased by its luxurious suites and rooms made of distinct antique furnishings and plush bedding.
6. Gramercy Park Hotel
The legendary Gramercy Park Hotel has unfortunately closed its doors. You could find the legendary Gramercy Park Hotel in a quiet area of Lexington Avenue just right before the street runs into the wonderful Gramercy Park. The neighborhood surrounding Gramercy Park Hotel is primarily high-end and largely residential. However, guests will be delighted to discover how it's a five-minute walk to Union Square, a central subway hub, and New York City's premier farmer's market site.
Built n 1925, the hotel was engulfed in bohemian history and was reopened in 2006 for a significant interior redesign that relied heavily on old-world goods, velvet, and world-class art. It has hosted former President John F. Kennedy, Babe Ruth, and Mary McCarthy. Gramercy Park Hotel offers a wide range of luxurious rooms and suites that are intricately designed, with a fitness center that allows you to enjoy the breathtaking views of the park across the street.
Let's hope it reopens soon!
7. The Beekman
Initially established in 1883, this nine-floor Beekman Hotel building was among the first skyscrapers constructed in the Financial District in Lower Manhattan, featuring an open-atrium center and a pyramidal skylight at its very top. The Beekman once housed law offices in the Victorian era and was even regarded as the Temple court.
Now, The Beekman is a full-on elegant space improved further by restaurants, bars, and classy rooms that effectively complement the hotel's aesthetic and classic atrium and lobby. Its ornate and trademark metal handrail gratings make the floor feel as if it was taken directly out of a turn-of-the-century film. The Beekman is easily one of the top NYC boutique hotels because of its striking and sleek interior and amenities such as fine-dining restaurants and living-room-like bars.
To make the most of a New York trip, I highly recommend staying in one of these old-school NYC hotels to give you a true feel for old New York.