Over 50 songs reference the city of Nantes, making it the second most sung-about city in France, after Paris of course. Its most famous resident was probably science fiction writer Jules Verne who was born there in 1828.
Located on the Loire River, Nantes was originally the shipbuilding capital of France and was a bustling industrial center. Now, it is a vibrant city that combines elegance, art, and its industrial past into an unforgettable weekend getaway.
Nantes' history alone is worth the visit. The home of Brittany's last Duke, François II; science fiction writer, Jules Verne; and France's famous queen, Anne of Brittany, Nantes has served as inspiration for both royalty and laymen alike.
Things to Do in Nantes
During your weekend in Nantes you can choose to travel back in time, explore the imaginations of history's most brilliant minds, or eat your way through modern French cuisine.
Just follow the green line – a sidewalk marker for Nantes best sights and eateries – to discover all that Nantes' winding streets have to offer.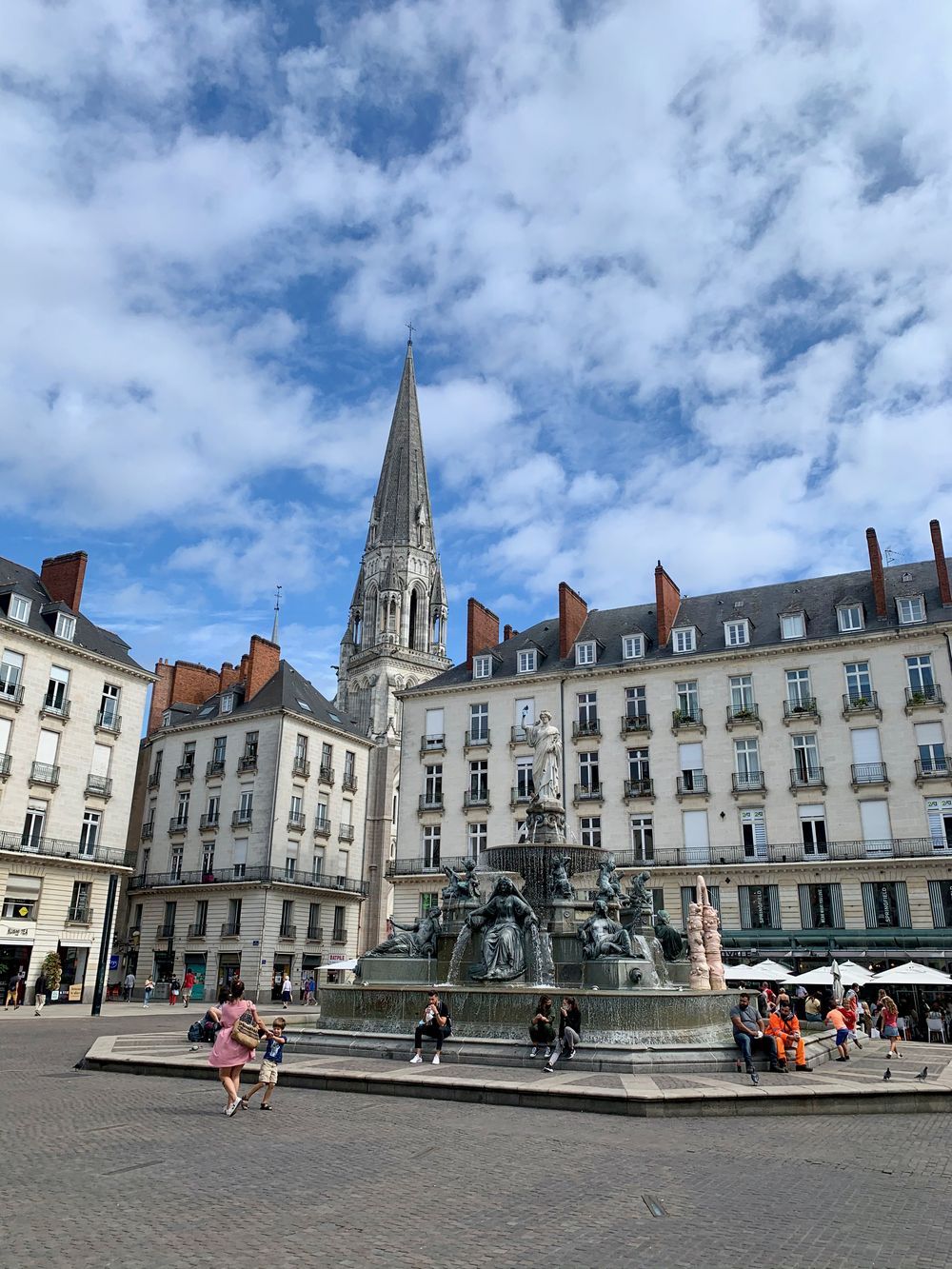 Château des Ducs de Bretagne
Located in the center of Nantes' Medieval district, the Château des Ducs de Bretagne, is the perfect stop for history buffs and French nerds alike. Home to six centuries of historic artifacts and architecture, the castle allows visitors to travel back in time to the 15th century when the structure was constructed by the last Duke of Brittany, François II. 
Originally built as a military fortress against the French king and a residence of the Brittany ducal court, Château des Ducs de Bretagne eventually became the main residence of French royalty when visiting Brittany until it was sold to the city of Nantes in 1915.
In 1924, the castle became a museum and held exhibitions until the 1990s when the City of Nantes began to restore the structure and honor its historic importance. The castle and museum were opened to the public again in 2007 after being fully restored to its former glory.
When visiting the museum today, it is a model of modern museography. Integrating multimedia stations and displaying internationally renowned exhibits about the Slave Trade and World Wars, the Château des Ducs de Bretagne allows visitors a glimpse into not only Nantes' history, but all of Europe's.
The museum courtyards and ramparts are open every day to the public. The interior rooms and exhibits are open Tuesday through Sunday. Admission is only required for the interior parts of the castle. A one-day fare costs 8€.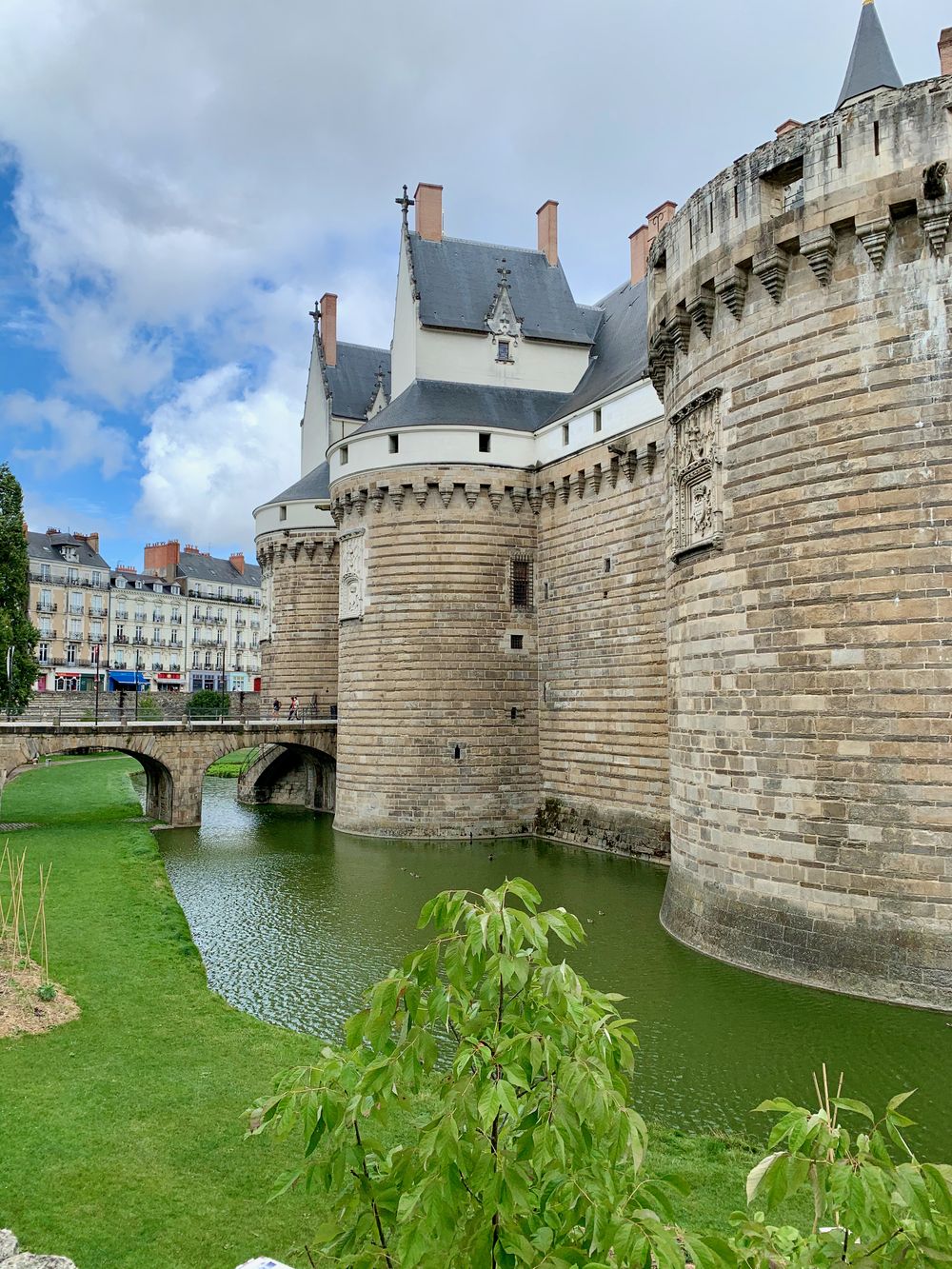 Cathédrale Saint-Pierre
The Cathédrale Saint-Pierre remains one of Nantes' crowning jewels even after the July 2020 fire that has closed its interiors and tours to the public.
Construction began on this cathedral in 1434, however, construction wasn't completed until 459 years later in 1893, making it one of the longest-running religious construction projects in France. The long-running construction was worth it though, as the cathedral stands taller than Paris' Notre-Dame.
Inside, the Cathédrale Saint-Pierre houses a grand organ, 15th century stained glass windows, crypts, and the tombs of François II and Anne of Brittany. Though these sites are not currently accessible to the public, the grand views of the cathedral's exterior white stone facade make for a lovely visit and walk by.
Eat at Lamaccotte
Lamacotte is an upscale, must try, French eatery located in the heart of Nantes near the Château des Ducs de Bretagne. Decorated in trendy and modern pastels, the restaurant is home to British born chef, Maxime Fillaut.
Though not originally French, Fillaut has worked his way into the French cuisine industry after time at both the Clarence in Paris and La Mare aux Oiseaux outside of Nantes. Lamaccotte has rightfully earned its Michelin star acclaim with Fillaut at the helm.
Lamaccotte's menu rotates each week according to season and product availability. Made entirely from local ingredients, Fillaut aims for restaurant patrons to savor the moment with each unique dish. At the time this article was published, Lamaccotte's menu included an eggplant tempura appetizer with melon and granny smith vinaigrette topped with wasabi-coriander white cheese; a grilled duck leg with carrot puree, miso condiment, and olive juice for the main entrée; and a floating island of strawberry and strawberry mint for dessert.
Visit Lamaccotte's website to reserve a table for this uniquely French dining experience.
Passage Pommeraye
For fashion and architecture, the Passage Pommeraye is the place to explore. Built in 1843, the Passage Pommeraye boasts three stores of artisan shops and boutiques all beneath a beautiful glass ceiling.
The Passage Pommeraye was designed to keep shoppers out of the rain, while also providing an air of luxury. Similar to the covered passages of Paris' shopping district, the Passage Pommeraye allows shoppers to stroll and admire the elegant shop wares.
An ornate staircase and other architectural embellishments are sure to catch the eye of even the most dedicated shopper.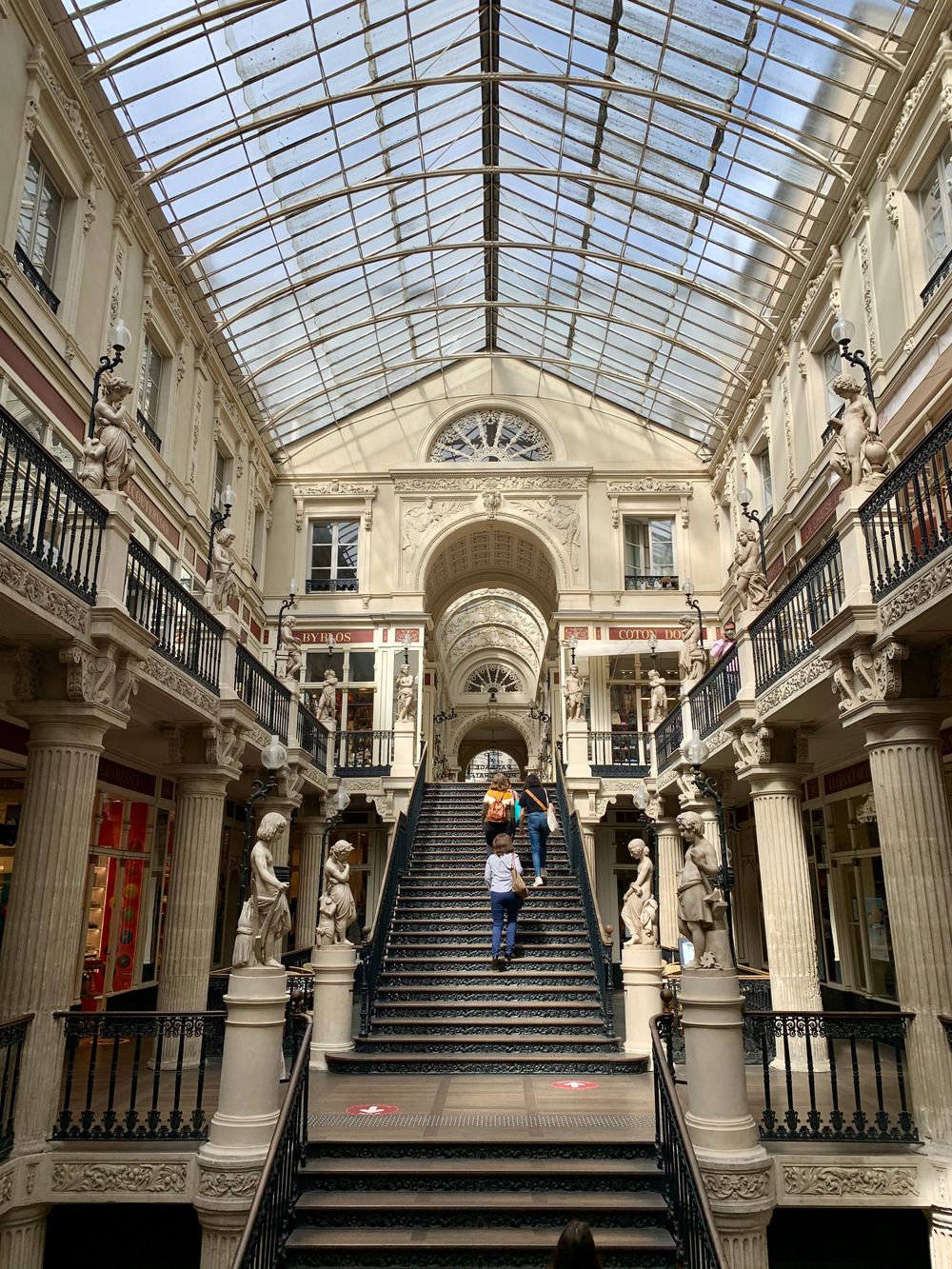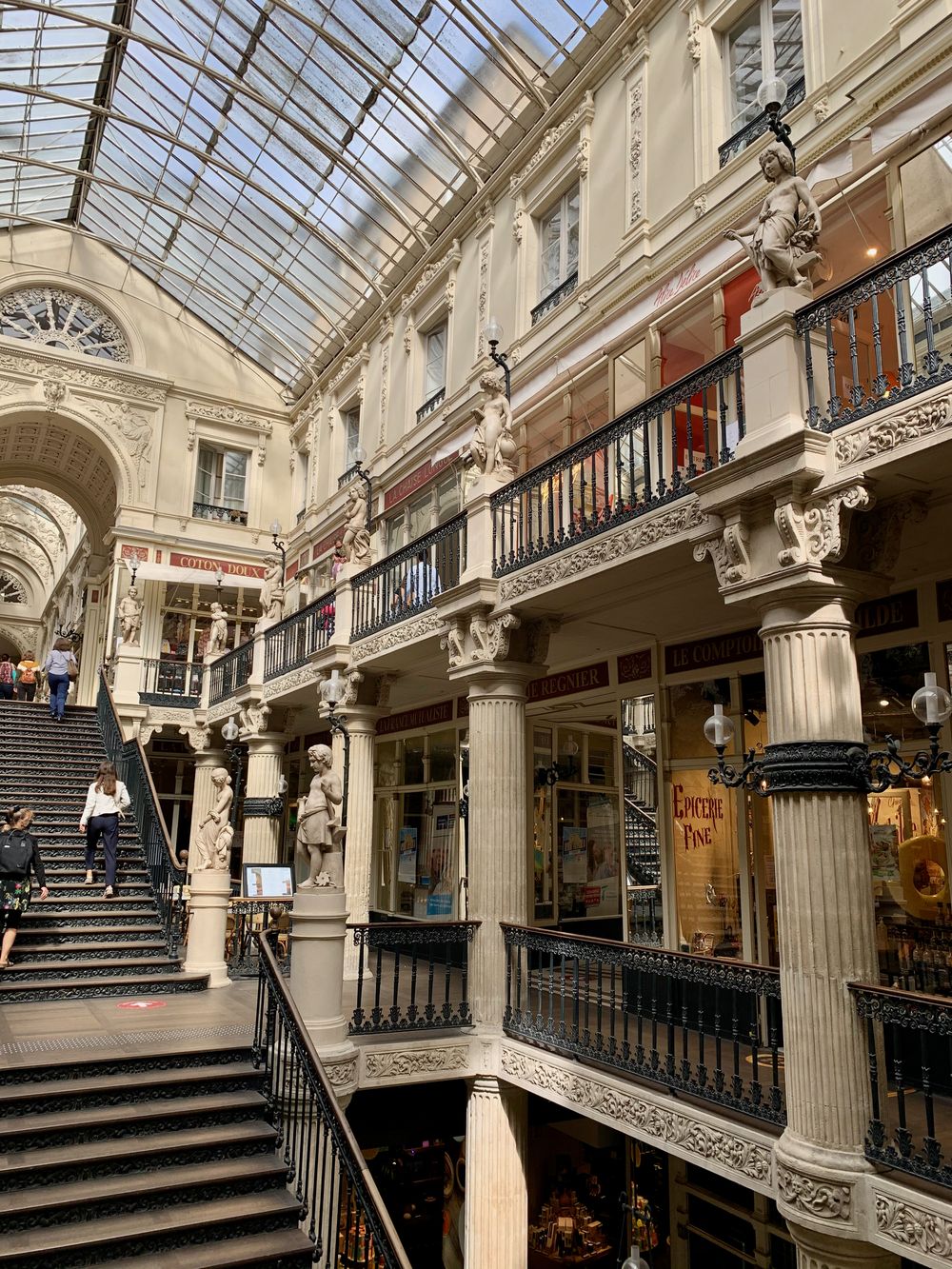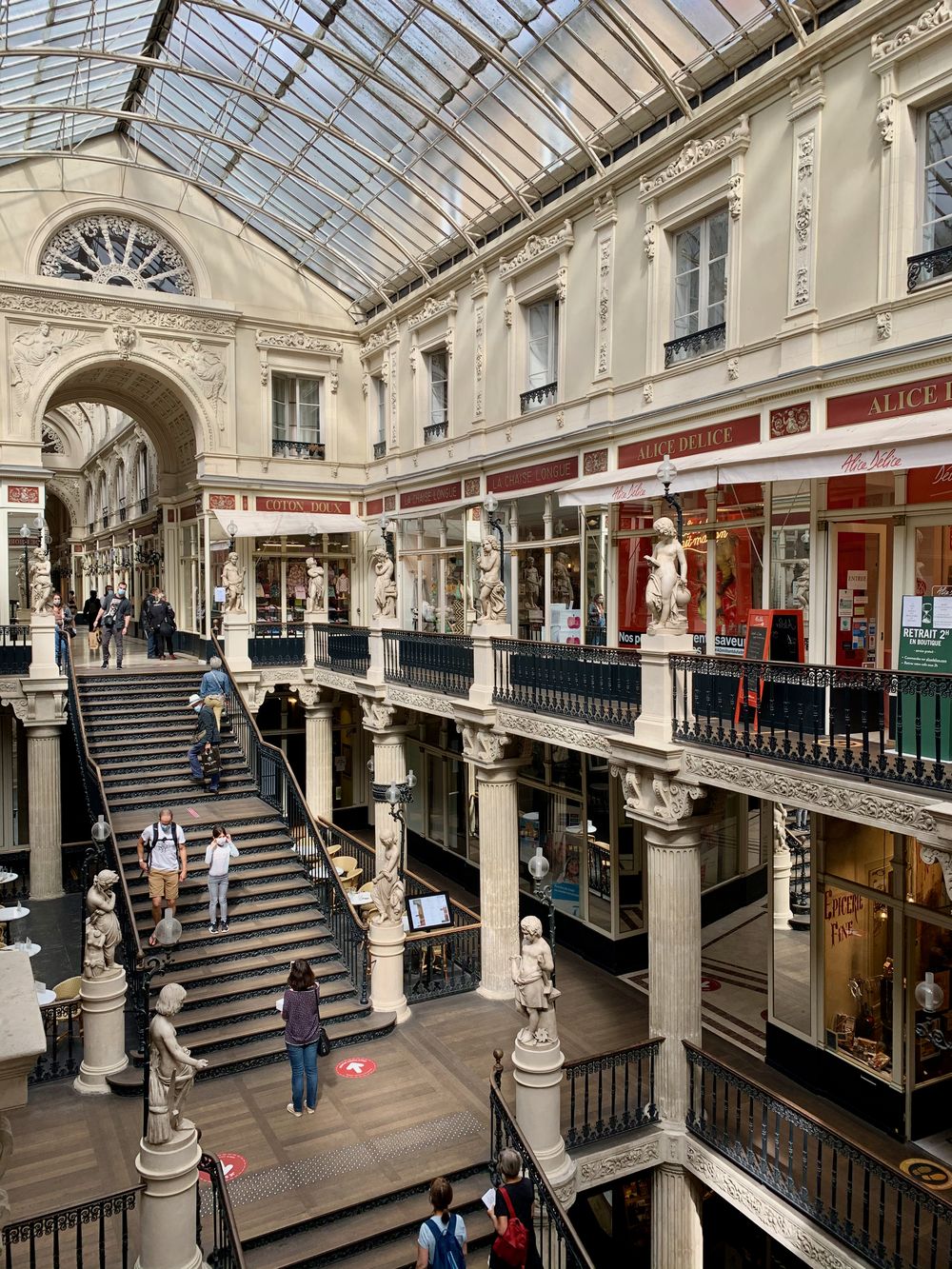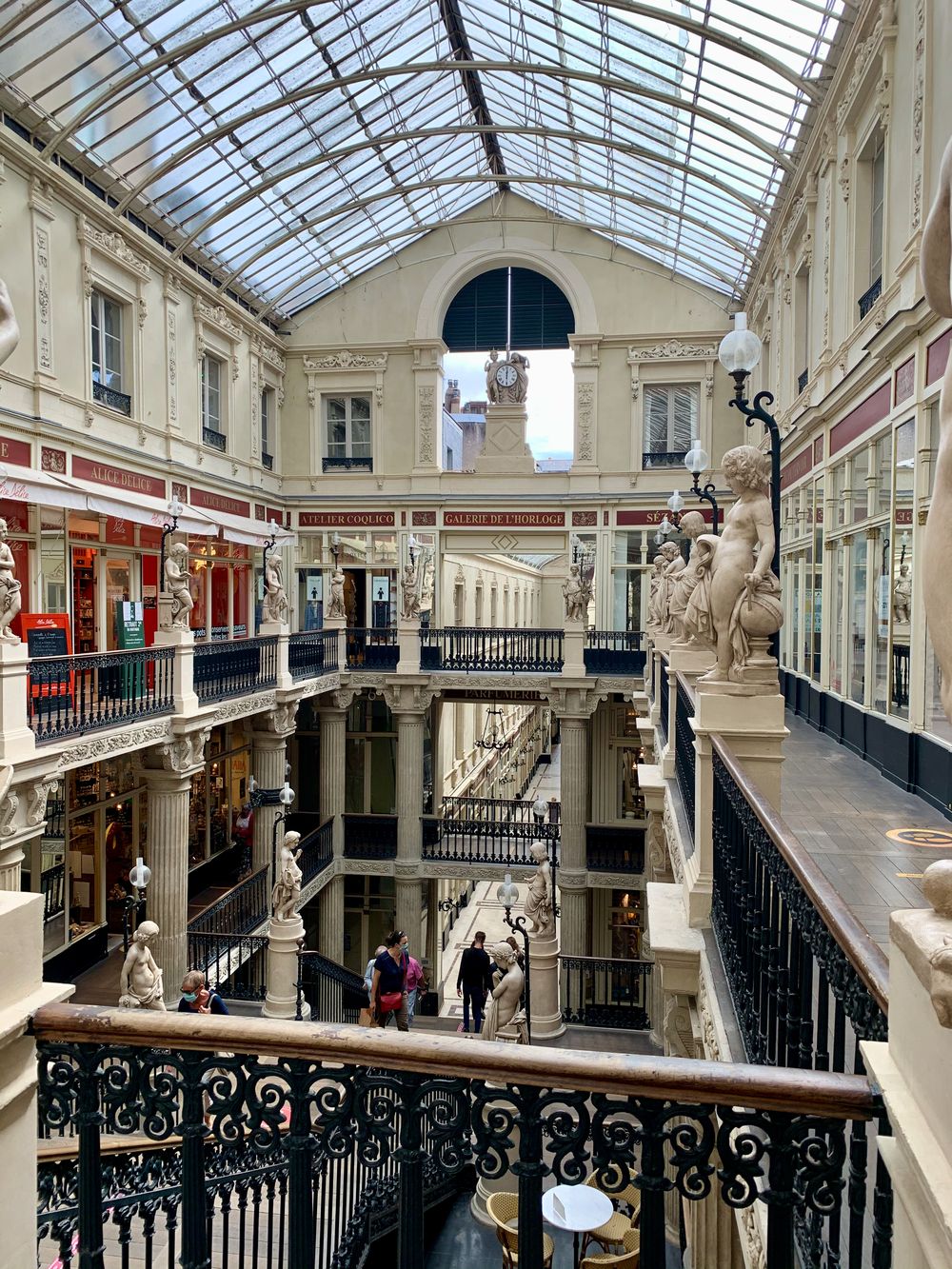 Les Machines de l'Île
Created by designers François Delarozière and Pierre Orefice, Les Machines de l'île or the Machines of Isle Nantes, is an interactive and imaginative adventure for the whole family. Inspired by the fictional worlds of Jules Verne's books, Leonardo Da Vinci's mechanical imaginings, and Nantes' own industrial history, this exhibition shows off the process of its designers' work to tourists and locals alike.
Featuring a giant mechanical elephant, an interactive laboratory of nature-inspired machines, and a three-story carousel, this attraction aims to expand visitors' imaginations and entice them to take part in the designers' creative process.
Located across from the Jules Verne museum and on Nantes' former shipyards, this artistic project is a perfect example of Nantes' seafaring history and characters.
Open hours at Les Machines de l'île vary each day, so check out their website to plan a trip. Tickets must be purchased for each attraction at Les Machines de l'île and can be purchased online or at the door. However, tickets do sell out quickly for this attraction!
Jules Verne Museum
Jules Verne, the author of Journey to the Center of the Earth and 20,000 Leagues Under the Sea, is famously one of the founders of science fiction. He was also born and raised in Nantes, France.
The Jules Verne Museum in Nantes is a beautiful tribute to the author. Housed in a 19th-century historic home overlooking the Loire River and Nantes, the museum is home to a collection of Verne's personal items, handwritten manuscripts of his early works, and other exhibits detailing his life and work. Located nearby the museum is the Vernes' country home, a place Jules went to often.
The museum is open every day with the exception of Tuesdays. Admission is €3.00. The museum exhibits are exclusively in French. However, translated guidebooks are provided for some parts of the museum.
Le Lieu Unique
Now a popular music venue and cultural center, Le Lieu Unique, or The Unique Place, started as a biscuit factory. Built in 1895, the building was already innovative for its time due to the junction towers added in 1909 and its concrete and metal construction processes. The biscuit company, Lefèvre-Utile, moved out of the building in 1986 leaving the structure unoccupied.
Le Lieu Unique began its second life as a cultural center in 1989 when a small theatre troupe began to use the abandoned building for a variety of creative pursuits. In 1994, the Center de Recherche et Développement Culturel (CRDC) began to host large cultural events in the building leading the director, Jean Blaise, to petition the city of Nantes to not only preserve the space but sanction its use as a cultural and performing arts center.
Today you can visit Le Lieu Unique and enjoy its traveling exhibitions and small concerts. Visitors also have access to a cafe, bookstore, record shop, restaurant, Turkish bath, and even a nightclub. Entrance into Le Lieu Unique is free, but check their website for event ticket prices and exhibition entry.
Île de Versailles
Just a few minutes walk from Nantes' city center sits this Japanese Garden. Built on a former artificial island used by Nantes' tanners and carpenters, the Île de Versailles, has since been turned into a place of tranquility and beauty.
With waterfalls, gardens, river views, and three zen Japanese-inspired buildings, Île de Versailles, remains one of Nantes' most peaceful oases. Here visitors can rent a boat to drive around the island or just wander the many trails and footpaths through the flowers.
Visit the Maison De l'Erde for traveling exhibitions and a walk around the Zen gardens. The gardens are free to visit but are only open for certain hours each day depending on the season.
Eat Well
ArnO is a highly-rated French boulangerie in the middle of Nantes. Berlin 1989 is a cool, industrial style restaurant to check out.
---
Have a lovely weekend in Nantes!