There's something quite nostalgic about traveling by bus through America. These American bus companies are the best ways to travel across the country for cheap. I recently took the bus from New Haven, CT to Boston and saved a lot of money compared to taking the overpriced Amtrak train. Here are the best US bus companies to travel by coach for cheap across the country!
Greyhound
Greyhound is an iconic American bus company that has been around since 1914. It's one of the oldest American bus companies still in operation. Greyhound started as a bus service between Hibbing and Alice in Minnesota and has since grown to become one of the largest intercity bus companies in the United States. Greyhound serves over 3,800 destinations across North America, providing more than 16,000 daily departures.
Greyhound offers a variety of services for travelers, such as express service, Wi-Fi, and reclining seats. In addition to its intercity routes, Greyhound also provides charter services, airport shuttles, and sightseeing tours. With its extensive network of US routes and convenient services, Greyhound has become a popular choice for travelers across the United States.
PeterPan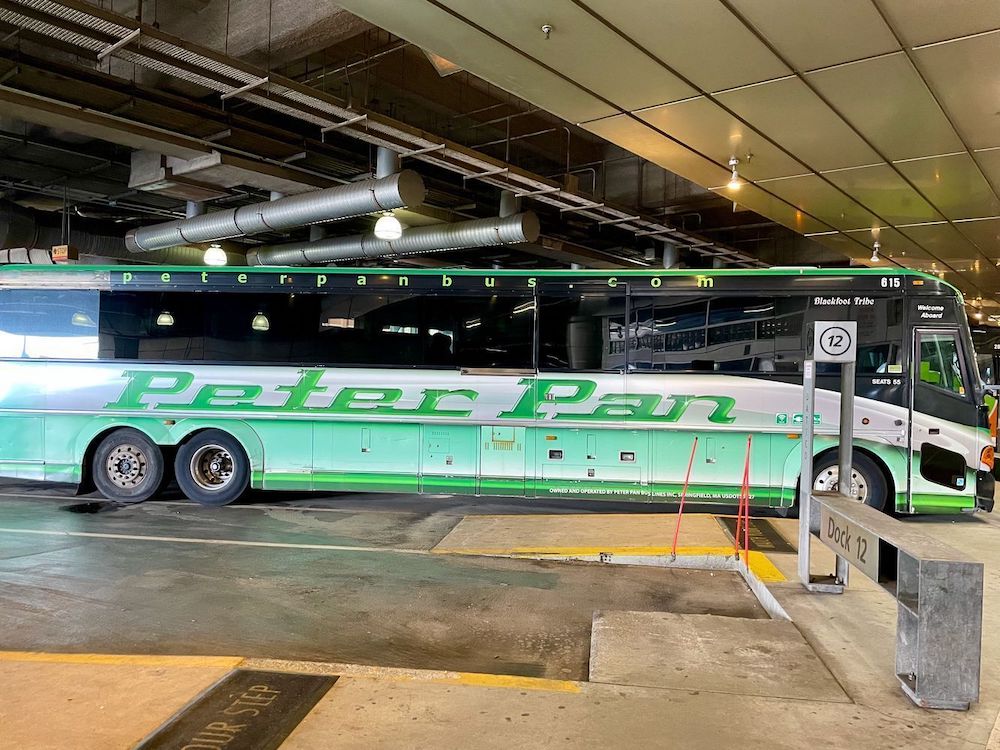 PeterPan Bus Lines is a family-owned and operated business that has been providing safe and reliable bus transportation to travelers in the United States since 1933. Starting out as a small local carrier in Springfield, Massachusetts, the company has grown to become the largest privately-owned intercity bus company in the Northeast.
PeterPan now offers a wide range of bus services and routes, connecting hundreds of cities and towns throughout the Northeast, Mid-Atlantic, and Southeastern United States. Popular destinations include New York City, Boston, Washington D.C., Philadelphia, Baltimore, Richmond, and Atlanta. Each of their buses come equipped with modern amenities such as free Wi-Fi and power outlets, and their low-cost fares make travel by bus an attractive option for budget-conscious travelers.
Megabus
Megabus is one of the leading budget bus service providers in the United States. It offers convenient, low-cost city-to-city travel with more than 100 destinations across the United States, Canada, and Mexico. Megabus is known for its new and updated buses, free Wi-Fi, and power outlets on board. Its fleet of buses includes double-decker coaches, as well as single-level coaches that provide a comfortable and safe ride.
Megabus' routes cover major cities, including New York City, Chicago, Los Angeles, San Francisco, and Washington, DC. Its dedicated customer service team and online booking system make it easy for passengers to plan their travel and book their tickets. Megabus is an excellent option for those looking for a budget-friendly way to travel around the country. Fares start as low as just $1!
Dattco
Dattco is a family-owned bus transportation company that has been in operation for over 80 years. Founded in 1925 by the Dattner family, the company has grown from a small, local service in Connecticut to a regional provider of bus services throughout the Northeast, including Connecticut, Massachusetts, Rhode Island, and New York. Dattco offers a variety of bus routes, from commuter services to school bus services, charter services, and more.
Dattco is dedicated to providing safe, reliable, and convenient transportation services to its customers. Dattco has a long-standing reputation for providing quality customer service, and the company is dedicated to meeting the needs of its riders and the communities it serves.
Flixbus
FlixBus is a German long-distance ridesharing company that began in 2013 with three founders: Jochen Engert, André Schwämmlein, and Daniel Krauss. It is a subsidiary of FlixMobility GmbH, and has since become one of the leading bus companies in the Western world. FlixBus operates bus routes throughout Europe, including Germany, Austria, France, Italy, and the Netherlands. Flixbus has expanded to the United States, Canada, Mexico, and the United Arab Emirates.
FlixBus offers travelers a convenient and affordable way to travel around the US, providing modern buses with comfortable seating, free Wi-Fi, and power outlets. It has a fleet of green buses that use advanced technology to provide customers with a comfortable and eco-friendly journey. It also has a reliable network of experienced drivers.
With its extensive network of routes, Flixbus connects many of the major cities in the United States and Canada, including Los Angeles, San Francisco, New York, Chicago, Toronto, Montreal, and Vancouver. Flixbus recently acquired the popular BoltBus company, making it one of the biggest American bus companies. The company has experienced tremendous growth since its inception, and now serves more than 200 million passengers per year.
Lux Bus
Lux Bus America is a nationwide bus transportation service that offers travelers a reliable and convenient way to get around the United States. Founded in 2003, the company quickly grew to become one of the largest bus operators in the United States. Lux Bus America currently operates more than 4,000 buses across the country, connecting major cities like Los Angeles, San Francisco, Las Vegas, Chicago, and New York. The company also offers services to popular vacation spots such as the Grand Canyon, Yellowstone National Park, and Yosemite National Park.
Lux Bus America is committed to providing safe, comfortable, and affordable transportation for customers. The company offers a variety of amenities on each bus, including air-conditioning, reclining seats, free WiFi, and plenty of legroom. Lux Bus America is proud to be the premier provider of bus transportation for Americans.
Vamoose
Vamoose is an American bus company founded in 2006 that provides bus transportation between New York City and the Washington, D.C. metropolitan area. Vamoose Bus routes include service from the Port Authority Bus Terminal in Manhattan to Bethesda, MD and Arlington, VA, as well as service from Union Station in D.C. to Grand Central Station in Manhattan.
The company has developed a strong reputation for its reliable service, comfortable buses, and a variety of amenities such as Wi-Fi, power outlets, and on-board movies. Vamoose Bus provides safe and reliable transportation for its customers and continues to expand its routes to meet the needs of its growing customer base.
TripperBus
TripperBus is an intercity bus service provider that has been in operation since 2006. The company was founded by three friends who wanted to make traveling by bus more convenient and affordable. TripperBus operates a network of routes throughout the United States, connecting major cities such as New York, Boston, Philadelphia, Washington DC, Chicago, Atlanta, Miami, and Los Angeles.
In addition to traditional routes, TripperBus also offers express trips that allow passengers to get to their destinations quickly. The company also offers direct service to airports and other popular destinations. TripperBus prides itself on providing reliable and affordable transportation for travelers, allowing them to explore new places and see the country in a cost-effective and safe manner.
---
Have you traveled on any of these American bus companies?